The Manchester City Captain Candidates Minefield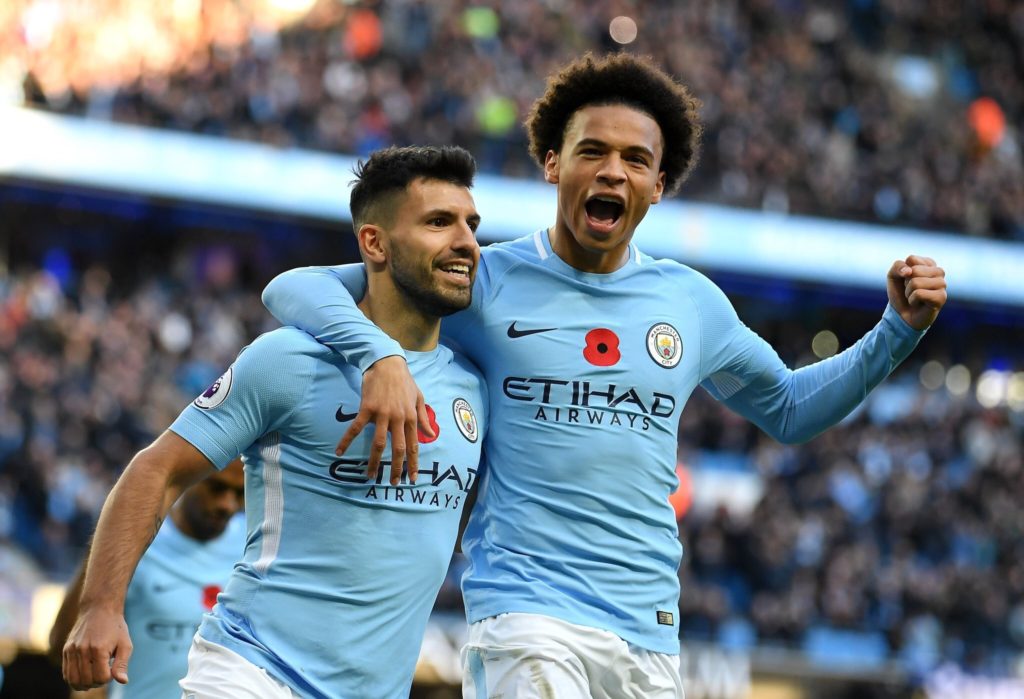 City players are leading the way in Fantasy Premier League, but with Pep's rotation, can we consider them as captain?
The Story so far
Manchester City have an 8 point lead at the top of the Premier League. They are averaging 3.5 goals per game and 6 of their players make up the top 20 FPL points scorers. FPL managers are now settled on owning 3 City players and having a strong bench to overcome rotation. However, Pep's rotation causes major problems when giving their players the armband. I've delved into the statistics to decide whether we can captain any City players.
Return Percentges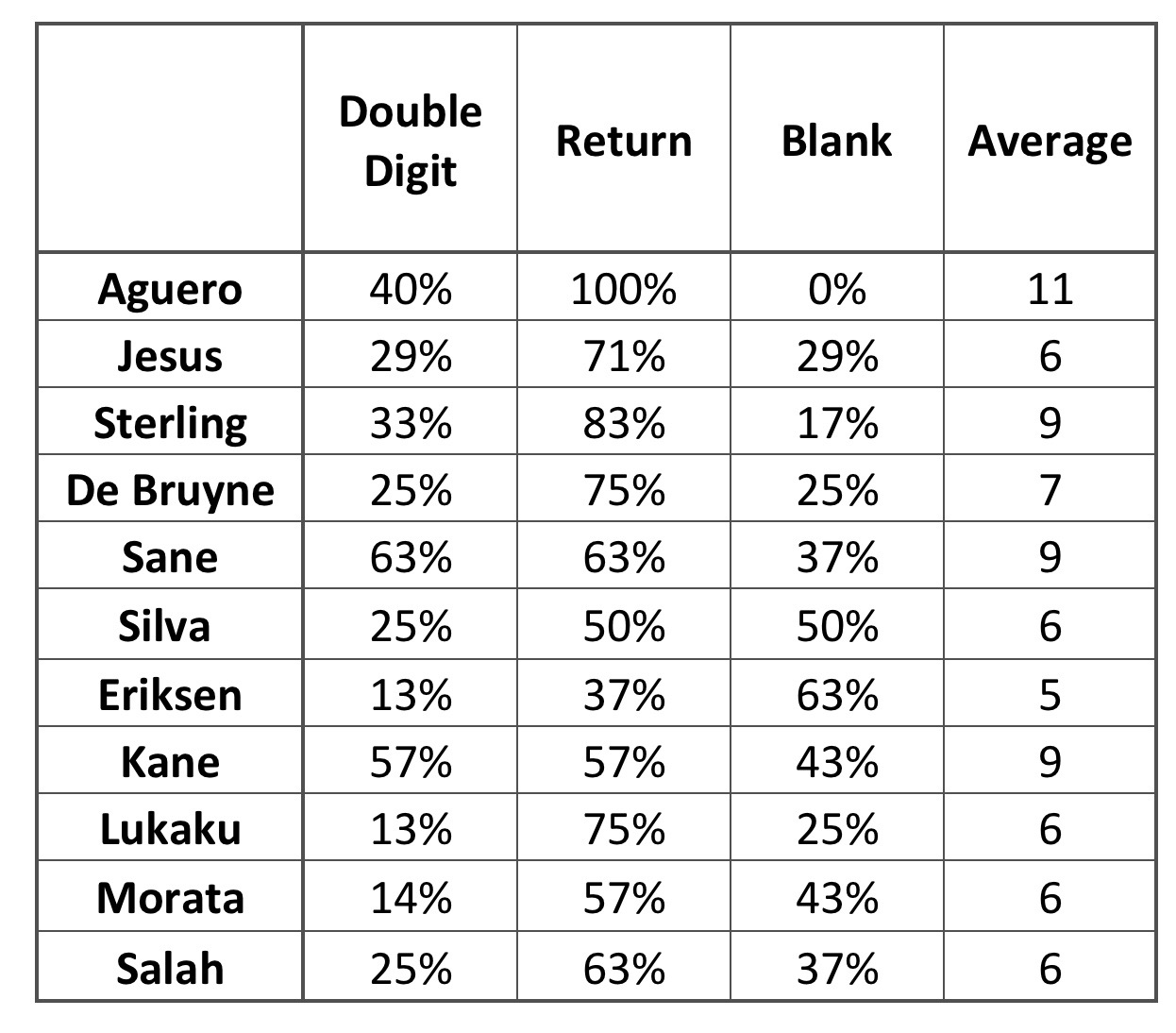 The above table compares City assets with other leading FPL players and captain contenders, with their returns from Gameweek 4 onwards. We can see that Kane, Aguero, Sterling and Sane lead the way. Sane is the most explosive and Aguero is the most consistent. In the Premier League, Aguero has returned in every game he has featured, so looks to be a safe contender. Kane and Salah are the only players that can compete with City in terms of double digit returns, but both are more inconsistent than the City options.
Gameweek Breakdown

The table above shows appearance status and point statistics since Gameweek 4. Jesus is not as consistent or explosive as Aguero with two blanks, one from a start and one from the bench. Interestingly, in Gameweek 11 he returned managed to return from the bench.
In attacking midfield, Sterling is the most consistent returner, with just a blank in Gameweek 7. Sane is the most explosive of all their players with double digit returns in 67% of games since he established his place in the squad. He has started every game since Gameweek 7, but has had 2 blanks.
De Bruyne and Silva have started every Premier League game, with the same amount of double digit returns since Gameweek 4. De Bruyne has greater consistency with less blanks and a higher average, so could be considered a better captaincy option than Silva.
All Competitions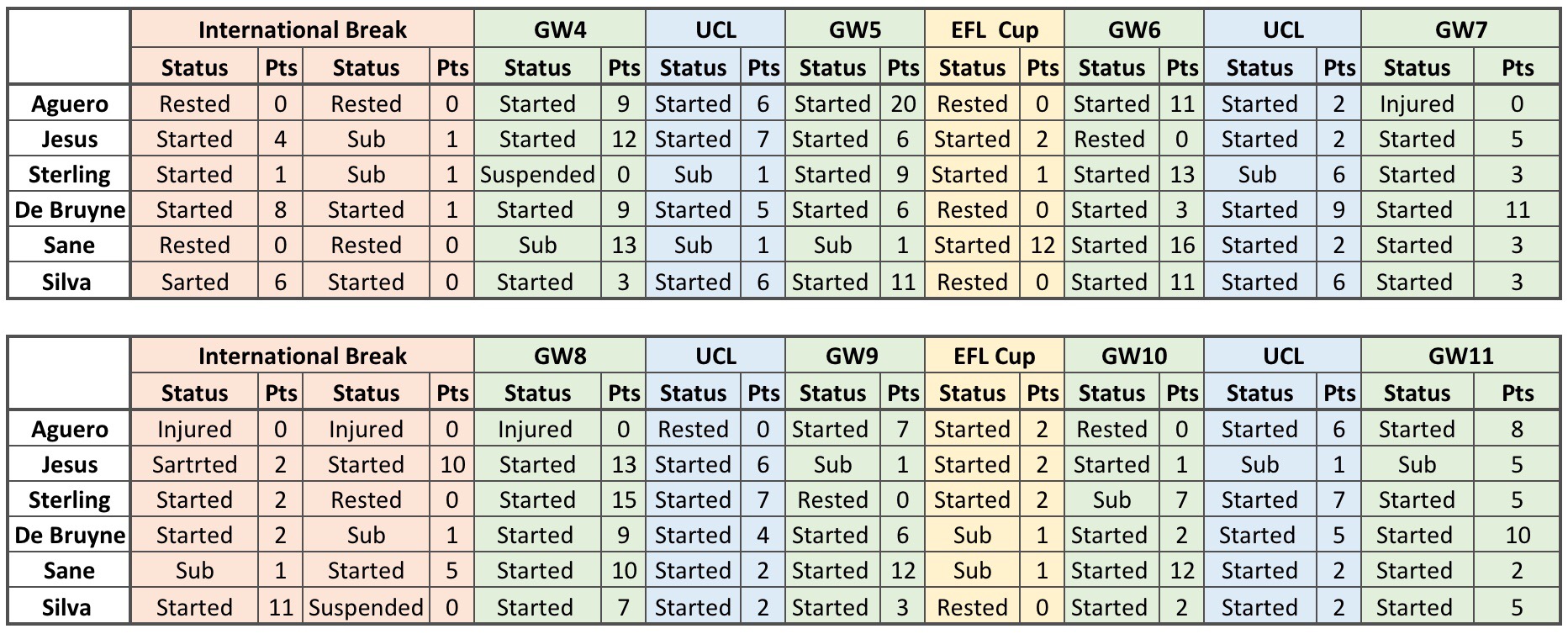 The table above shows appearances and convertered FPL points for club and country, since the first International Break. Jesus, Sterling and Sane have had two consecutive non-starting appearances. We can't assume that just because they've been rested or appeared as a substitute in the previous game, that they're a guaranteed starter in the next. Silva and De Bruyne look rotation proof at the moment, with rests in the EFL Cup, but this will change with the busy festive schedule.
City have now qualified for the knockout stages of the UCL with two games to spare. Pep will want to win the group, but they face the two weaker teams in their final two games. This may give him the opportunity to rest key players and play his best starting XI in the Premier League. Expect less rotation between gameweek's 12-13 and gameweek's 15-16.
Conclusion
Aguero looks to be the best captaincy candidate from this City side, as long as you have a strong vice captain in case he is rested. At present, De Bruyne can also be considered worthy of the armband. Manage expectations with this captaincy pick, he's likely to get returns but they are unlikely to be double digit. Kane faces Arsenal in Gameweek 12, so it could be the perfect time to give Aguero that armband.
Remember to check out my guide to the Festive Fixture Schedule and Form Vs Fixture Charts for Gameweek 12.
 
There's plenty of contests on Sportito during the International Break – a Daily Fantasy Football Site where you can win cash prizes. If you sign up here, using sign-up bonus code HOLLY5, you'll get £5 credit. What do you have to lose?