Argentina v Netherlands match report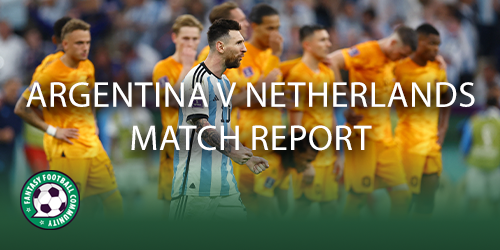 The World Cup continues. Our Friday matches conclude here. We take a look at the Argentina v Netherlands. We will highlight the line-ups, pick out the key moments and standout World Cup Fantasy performances during the match.
Covering the Argentina v Netherlands match can be very useful to World Cup Fantasy managers. Highlighting line-ups, key moments and standout fantasy performances can aid decisions regarding future transfers, captaincies and chip strategy.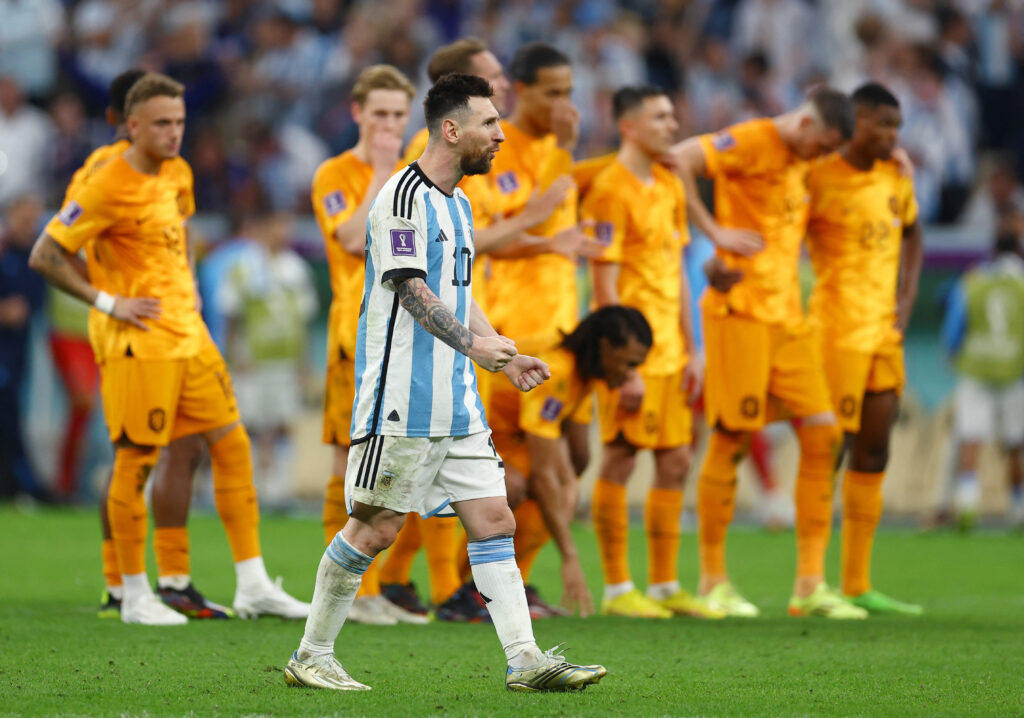 Line-ups – Argentina
Lionel Messi (£10.5m) starts and will be looking to extend his fantastic form and many managers within the community will be pinning their captaincy hopes on him for this match. Defender Marcos Acuna also (£4.5m) starts the game after some doubt.
Netherlands
Denzel Dumfries (£6m) starts the match. The defender managed to score and create two assists in his previous match against USA. Striker Memphis Depay (£8.5m) also starts and he will be hoping to extend his form after scoring in the last round.
Key moments
The game is underway.
Both sides have enjoyed possession early on and the game is quite even.
GOAL! Defender Nahuel Molina (£5.5m) receives a pass from Lionel Messi and beats the goalkeeper with a tidy finish! 1-0 Argentina.
Defender Jurrien Timber picks up a yellow card for his foul.
Marcos Acuna receives a yellow card for his foul and will miss the next match if Argentina do progress.
Argentina defender Cristian Romero (£5.5m) picks up a yellow card for his foul.
The whistle blows for half time.
The second half is underway.
CHANCE! Lionel Messi threatens the Netherlands goal with his free kick and comes close but not close enough.
Denzel Dumfries fouls his opponent in the box and gives away a penalty.
GOAL! Lionel Messi put his penalty away comfortably! 2-0 Argentina.
Memphis Depay receives a yellow card for his foul.
GOAL! After a flurry of long balls one of them is successful. Netherlands midfielder Steven Berghuis floats a ball into the box and striker Wout Weghorst directs his header into the back of the net! 2-1 Argentina.
CHANCE! Luuk De Jong places a fantastic volley just past the goalkeepers post.
GOAL! UNBELIEVABLE! Netherlands midfielder Teun Koopmeiners clips a ball into the box from a free kick and he coolly places the ball past the Argentina goalkeeper. 2-2!
The match is going into extra time.
Extra time
The first half of extra time is underway.
It was a very quiet first period without significant chances for either side.
The second half of extra time is underway.
Defender Gonzalo Montiel (£5m) picks up a yellow card and will miss the next match if they progress.
CHANCE! Argentina striker Lautaro Martinez (£8m) has a great chance to score but his shot is blocked by the defender.
CHANCE! Argentina midfielder Enzo Fernandez (£5m) hits a long range shot which bounces off the post.
The game finishes and we are going to penalties.
Penalties
MISS! Defender Virgil Van Dijk misses the first penalty which is stopped by Emi Martinez (£5.5m).
GOAL! Lionel Messi coolly slots his penalty giving Argentina a 1-0 lead.
MISS! Emi Martinez pulls off another great save to stop Steven Berghuis scoring.
GOAL! Argentina midfielder Leandro Paredes (£4.5m) gives Argentina a 2-0 advantage.
GOAL! Netherlands finally convert one of their penalties via Teun Koopmeiners. 2-1.
GOAL! Gonzalo Montiel makes it 3-1 with his cool finish.
GOAL! Wout Weghorst steps up and places his penalty to the left of Emi Martinez. 3-2.
MISS! Enzo Fernandez flies wide of the left post.
GOAL! Luuk De Jong levels the score with his penalty.
GOAL! Lautaro Martinez scores and send Argentina through to the semi finals of the World Cup.
Denzel Dumfries picks up his second yellow card of the game.
Standout World Cup Fantasy performances
Lionel Messi earned a huge nine points for his goal and assist.
Nahuel Molina hit seven points after his goal.
Marcos Acuna matched his teammate after earning the penalty and securing the clean sheet before before being replaced.
@FPLReactions's (Louis) comments
Argentina did look the better side for parts of the game but struggled to contain the Netherlands long ball tactic at the latter stage of the match. It was surprising Netherlands did not maintain their long ball tactic during extra time.
Lionel Messi, is, of course a must moving forward but Nahuel Molina is the standout defender for World Cup Fantasy managers, Both Acuna and Montiel are suspended for the semi final so it is worth remembering that. Hopefully, managers have the option of investing in Angel Di Maria.
---
You can stay up to date with all of our World Cup Fantasy articles right here.