Why experienced FPL managers prefer cheap goalkeepers
We look at the reasons why FPL managers put faith in cheap goalkeepers and whether £4.5m options will remain popular for 2022/23.
FPL managers have historically chosen to play with either two cheap rotating goalkeepers, or a set-and-forget premium. The 2022/23 season will see premium goalkeepers come down in price, so will this mean managers pay a little more for their shot-stoppers?
Recent seasons
Using the data from Fantasy Football Scout's Members Area, we can see the top-scoring FPL stoppers of recent times.

Highlighted in gold are the goalkeepers that began with a £4.5m price tag. Not only are they sat alongside the premium assets but, in two of the last three campaigns, the top-scoring goalkeepers started with this bargain price.
2021/22 was poorer than usual, when compared to the past heroics of Emiliano Martinez, Nick Pope, Dean Henderson, Illan Meslier and Neil Etheridge. Yet Aaron Ramsdale was the default choice for many until clean sheets disappeared towards the end. After Gameweek 24, he ranked second in his position and was fourth following Gameweek 29.
The benefits of cheap goalkeepers
As seen above, the reason for committing to £4.5m goalkeepers is because they offer value-for-money. Identify the right one and you could have the right coverage of a strong defence that still allows enough shots for save points – and therefore bonuses – to be collected.
Every three saves bring in one point and are part of the criteria when the Bonus Points System (BPS) adds further FPL points post-match. There is a sweet spot to be found.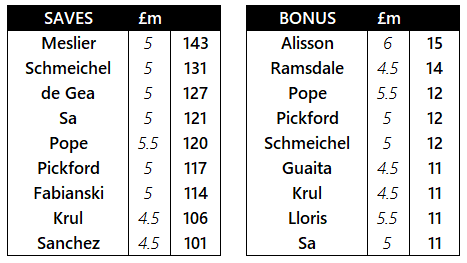 Last season's saves and bonus points were dominated by those costing either £4.5m or £5.0m. Unlike in other positions, where even the better budget picks tend to still be a distance behind premiums, cheap goalkeepers sit and dine alongside the best.
The problem with expensive goalkeepers
Not only does it feel inefficient to spend precious money on a budget-friendly position but elite goalkeepers tend to play behind outstanding full-backs that fight for the affection of FPL bosses.
Alisson has Trent Alexander-Arnold and Andrew Robertson, Ederson has Joao Cancelo and Edouard Mendy has Reece James and Ben Chilwell. Incredibly attacking players that regularly deliver returns at both ends.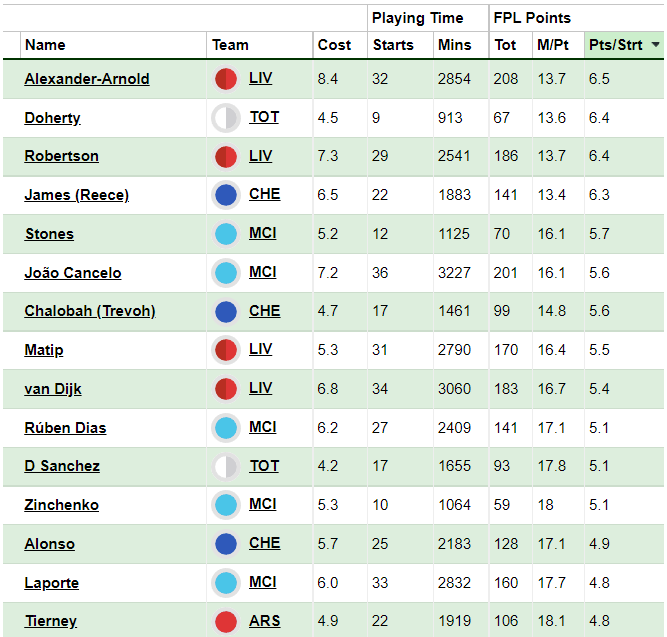 Within this list of top defender points-per-starts, only the 4.9 of Alisson would enter from goalkeepers.
2022/23 price reveals
So it was a surprise to see the Liverpool number one drop to a £5.5m starting price for the upcoming season. This time, those at FPL Towers clearly want to set prices that force managers to think.
By default, Alisson, Ederson and Mendy would be overlooked in favour of attacking teammates. But at such low prices, is there now a temptation to save money by having Alisson (£5.5m) over Alexander-Arnold (£7.5m)? Or Mendy (£5.0m) instead of James (£6.0m)?

At a time when FPL managers desperately want to squeeze in Mohamed Salah, Son Heung-min and Erling Haaland, perhaps this is the smart sacrifice.
Best £4.5m goalkeepers
Recently, 17 of the 20 assumed starters were included in the price reveals. Only Ederson, Lukasz Fabianski and Dean Henderson await theirs.

Whilst the price drops of Alisson, Mendy and Martinez are interesting, here are some of the standout £4.5m options.
David Raya (Brentford)

Following last season, where a serious knee injury restricted him to just 24 starts, David Raya is backed to bring in points during Brentford's generous opening fixtures. If his 95 points extended at the same rate over 38 games, he'd have ended on 150.
Robert Sanchez (Brighton)

Only five goalkeepers kept more clean sheets than the 11 of Robert Sanchez. Furthermore, Brighton's solid defence conceded fewer goals (44) than the likes of Arsenal and Man United. These early fixtures are full of FPL potential.
Vicente Guaita (Crystal Palace)

The Eagles had a quietly-brilliant defence last season. They ended with the fifth-best defence for conceding attempts (443), shots inside the box (267) and expected goals (46.73). However, what likely stops managers from going all-in for Vicente Guaita is a tough start and the rotation threat of Jack Butland. The England international started three of the final four outings, with eight overall.
Illan Meslier (Leeds)

From the team that conceded 79 goals? Yes but, as seen earlier, this terrible defence ensured that Illan Meslier made the league's most saves. Back down to £4.5m, the early fixtures look strong. Yet the main question is how will Leeds cope without Raphinha and Kalvin Phillips.