Who is the best Aston Villa midfield option?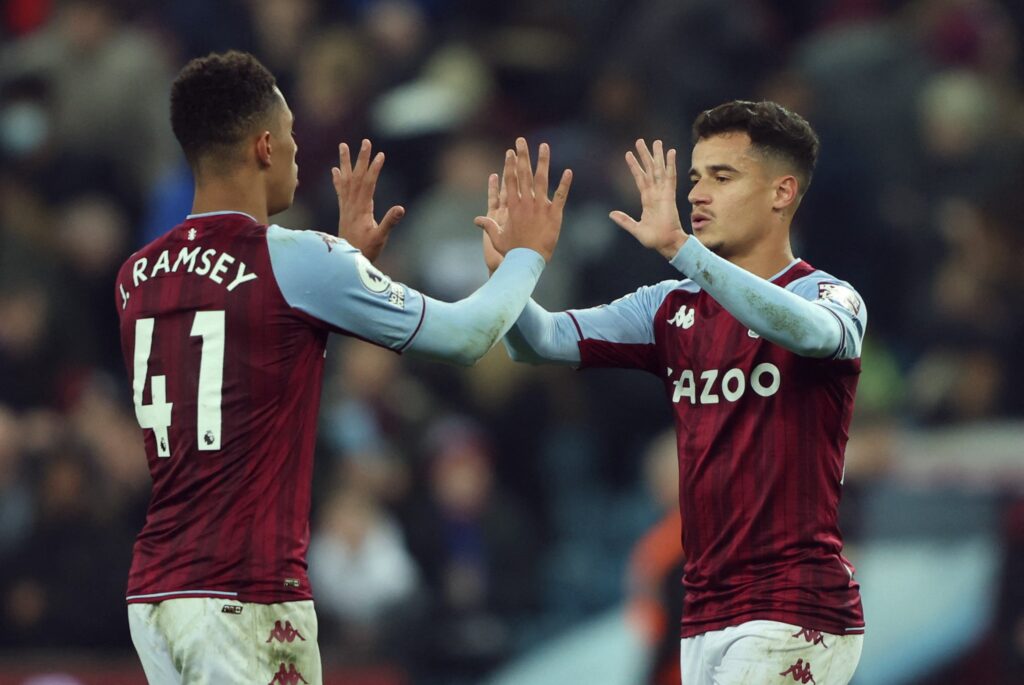 Aston Villa made a fantastic start to life under Steven Gerrard. Although they have not returned the results they would have wanted in the last few Gameweeks. With a Double Gameweek coming up in Gameweek 28 as well as an attractive run of fixtures to the end of the season, which midfielder is the best pick?
Aston Villa play in what is currently one of only three fixtures which will definitely go ahead in Gameweek 30. For FPL managers investing in the Villans could be wise as it allow managers to benefit from their double as well as avoiding a blank Gameweek.

Whilst Aston Villa have some challenging fixtures between now and the end of the season there should be plenty of opportunity of points returns. Villa also have a further fixture still to be rescheduled against Burnley.
Phillippe Coutinho
FPL managers around the world were excited to see the return of Coutinho to the Premier League. In his five previous seasons in the Premier League for Liverpool Coutinho registered:
38 goals
35 assists
42 Clean sheets
73 goal involvements
24 double digit hauls
73 bonus points
Since arriving at Villa Park Coutinho has returned two goals, three assists, one clean sheet and three bonus points in five Premier League matches. Only Ramsey has returned more goals for Villa than Coutinho since he arrived on loan ahead of Gameweek 22. No Villa player has assisted more goals than Coutinho in the same period.
In his five Premier League matches Coutinho has had 12 goal attempts. Joint most across the Villa side with Buendia. Six of those chances have been from inside the box and one was classed as a big chance. Only striker Ollie Watkins has had more penalty area touches in this period that Countinho. Watkins has 16 in comparison to Coutinho's 14.
Jacob Ramsey
Starting the season at just £4.5m, under Gerrard Ramsey has become the go too budget enabler for many FPL managers. However, Ramsey is far more than just a benchable budget player. Since Coutinho arrived at Aston Villa Ramsey is top for expected goals (xG), expected assists (xA) and expected goal involvements (xGI) across the Villa team. Ramsey's three goals since Gameweek 22 is also a team leading total.
Over the course of the 2021/22 season Ramsey has five goals and an assist to his name. He has also returned three double digit hauls. Ramsey is still owned by just 8.7% of the game, however his underlying stats make him a far more than an enabler. For managers wanting to invest in the Villa midfield for the upcoming double Ramsey is a great option at a fraction of the price tags of his teammates.
Emi Buendia
Injury has meant that Buendia's season has been somewhat disrupted. He has started 18 games so far this season, making 22 appearances and being subbed off 14 times.
Buendia has returned two goals and three assists so far. he has had 47 touches in the penalty box and 31 attempts on goal. His 67 FPL points equate to a point every 21.5 minutes.
At £6.2m Buendia sits in between the prices of Coutinho and Ramsey. Many FPL managers have flocked to Coutinho as a result of his Premier League history as well as his explosive debut for Aston Villa. Coutinho is owned by 19.2% of the game and Ramsey by 8.7%, where as Buendia is owned by just 1.1% of the game. This could be an opportunity for FPL managers to invest in a good differential as Buendia has the best xA across the Villa team in the last four matches. He has also had the most goal attempts in the same period.
Coutinho v Ramsey v Buendia
The new Fantasy Football Scout members area is perfect for running comparisons between the different assets.
The radar graphs highlight the key stats summaries in visual form. They show the different strengths of each player in comparison to the others.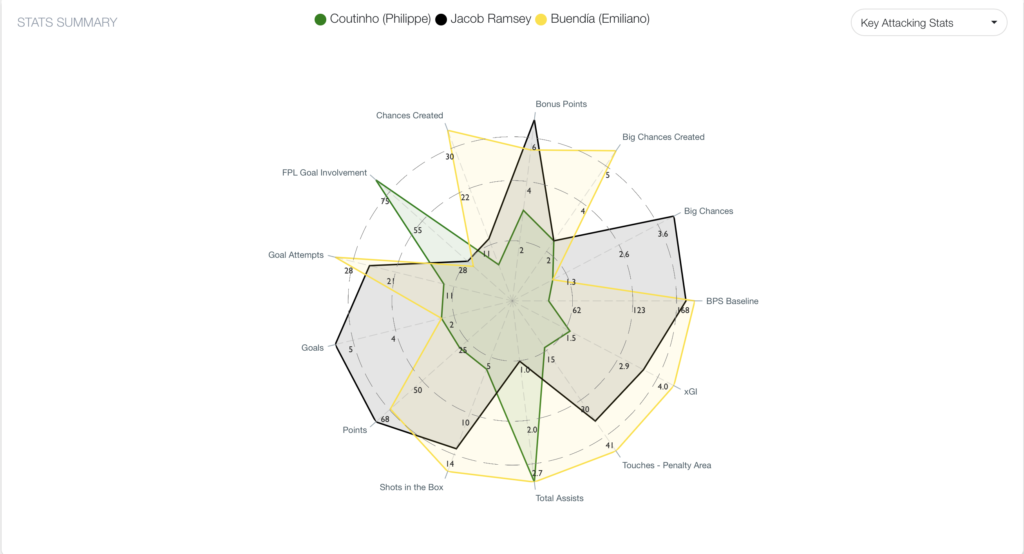 The members area also allow the stats to be shown visual form with the winning stat in green. The more green the better the potential for the player.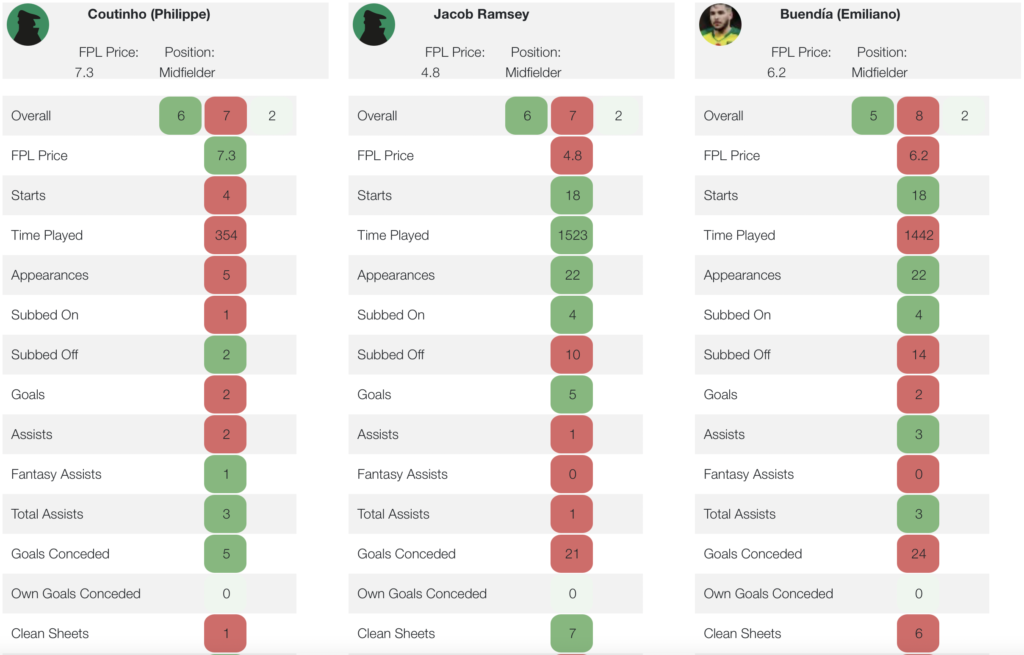 It is also possible to compare the different heat maps for the players that are being compared.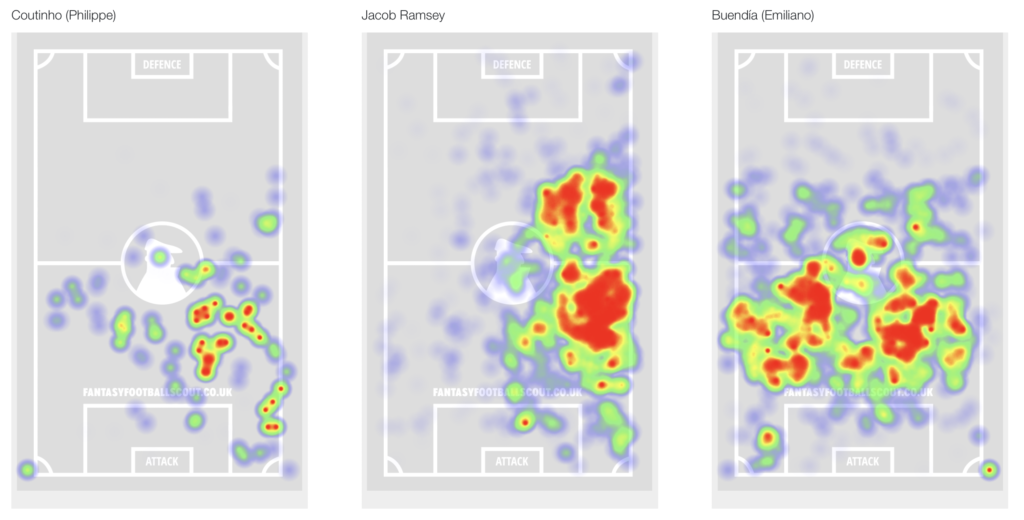 Overall
It is possible for managers to double up on Villa midfielders, even with their recent dip in form. Ramsey's price point makes him the perfect option to exploit Villa's Double Gameweek without having to sell other key assets. However, as a result of his price point managers could also double up on the Villains. both Buendia and Coutinho could make excellent options alongside Ramsey. However if managers do not want to use two midfield slots on Villa assets the double up with Lucas Digne or Matt Cash looks promising too.