UCL Fantasy Matchday 2 Review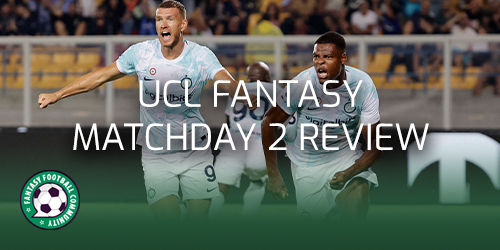 We take a look at the UCL Fantasy Matchday 2 review. The second round of Champions League Fantasy is now over. We pick out the key events and which players performed well in terms of goals, assists, clean sheets and player of the match awards.
Reflecting back on any given Matchday can help UCL Fantasy managers. Getting a good idea of which teams and players are in form can help us with future decisions like what chips we use, which players to bring in, which teams to back and a lot more.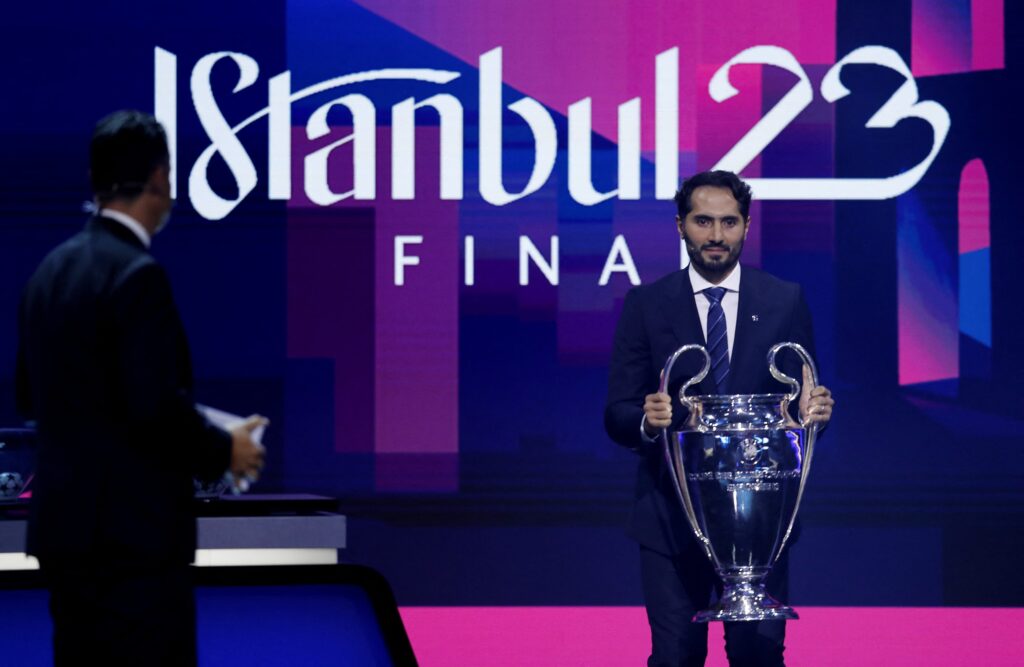 Sporting v Tottenham
The visitors came into the match as favourites, this was quickly corrected as Sporting played the perfect game. The Portuguese side came away with a 2-0 win. Key moments came from forward Paulinho (£8.5m). He hit eight points for his goal and player of the match award. UCL Fantasy favourite and midfielder Goncalves (£7.5m) who hit six points for his assist.
Sporting goalkeeper Adan (£4.5m) continued his fine form. His clean sheet and six shots saved meant he collected eight points.
Plzen v Inter
The Italian visitors came away with a comfortable 2-0 away lead. The standout UCL Fantasy performance came from defender Dumfries (£5.5m) who scored and kept a clean sheet. Some managers within the community even captained the Dutch wing back.
Forward Dzeko (£7.5m) also came away with success, hitting nine points for his goal and assist. Midfielder Brozovoic (£6m) received the player of the match award whilst also notching up 11 ball recoveries, taking his total to nine points.
Leverkusen v Atletico
The Spanish side came into the side as heavy favourites but that wasn't to be. Leverkusen took a shock 2-0 home win after losing six matches in all competitions so far. It was midfielder Andrich (£6m) that took away the bulk of the points with his 10. Those points consisted of a goal and a player of the match award.
For those managers that backed Atletico defender Reinildo (£4.5m), he was subbed off after his clean sheet points came in and before Leverkusen scored. This meant he came away with a cool seven points whilst his teammates were less successful.
Bayern v Barcelona
In arguably the biggest clash of the week, we saw a meeting between two European giants. Barcelona missed some huge chances, this resulted in the German side taking their own and winning 2-0. We saw another big fantasy performance from midfielder (£9.1m) Sane. The German international picked up a goal to take his Matchday 2 total to nine points.
Young midfielder Musiala (£7m) matched Sane's total due to his assist and player of the match award. The biggest haul came from defender Hernandez (£5.1m). He picked up a huge 13 points for his goal and clean sheet.
Marseille v Frankfurt
The home side were in great form coming into this meeting, whilst the German side were not. Frankfurt edged Marseille, pinching the three points with their 1-0 away win. The big returns came from midfielder Kamada (£7m) with nine points and Lindstrom (6.5m), also a midfielder, with eight points.
Liverpool v Ajax
English side Liverpool came into the match in poor form, or at least in comparison to their usual high standard. Dutch champions Ajax took their elite form into the game, but it was the home team that edged the score line in their 2-1 win.
Ajax midfielder Kudus (£5.2m) continued his excellent form in all competitions after collecting seven points for his goal. The popular Liverpool midfielder Salah (£11m) scored to take his match total to seven points. Liverpool defender Matip (£5m) hit a whopping 12 points for his goal and player of the match award.
Porto v Club Brugge
The Portuguese team came into the matchup as heavy favourites and once again Club Brugge were underestimated. However, Club Brugge completely dismantled Porto in a 4-0 shock victory. One of the highest point scorers was Jutgla (£5.5m). The budget forward stole the show against Porto with his goal, assist and player of the match awarding, whilst also collecting 14 points for his efforts.
Milan v Dynamo Zagreb
The Italian League holders took their first win in the Champions League this season in their 3-1 over Croatian side Dynamo Zagreb. Milan midfielder Saelemaekers (£6.7m) continued his great start to the UCL campaign with his seven points. Those points came from his goal. Milan forward Leao (£8.5m) also returned. The 13% owned forward also scored to match his teammate.
Shakhtar Donetsk v Celtic
It was a tightly contested match between both sides that resulted in a 1-1 draw. A player many UCL managers will be watching moving forward is Celtic midfielder Jota (£6.5m). The Portuguese attacker came away with five points for his player of the match award.
Also returning was Shakhtar Donestk midfielder Mudryk (£6.2m). His goal resulted in a very good seven-point return.
Rangers v Napoli
Rangers remained within their patch of poor European form after they were swept aside by Italian team Napoli. Midfielder Anguissa (£5.6m) created and assist to provide his owners with an eight-point return. However, it was fellow teammate and midfielder Politano (£7m) taking the spoils with his 11-point haul. Those points came from his goal and player of the match award.
Chelsea v Salzburg
Although the English side dominated, Chelsea couldn't edge the result. Chelsea midfielder Sterling (£9.5m) took player of the match and scored a goal to hit 10 points. Salzburg midfielder Okafor (£7.6m) collected seven points for his goal.
Real Madrid v Leipzig
It may have taken the Spanish giants a little longer than expected to break down Leipzig, but they got there in the end after their 2-0 win. Real Madrid midfielder Valverde (£6.5m) hit a huge 12 points with his goal and player of the match award.
The extremely popular Junior also picked up some points. The Brazilian only managed an assist resulting in a six point return.
Juventus v Benfica
Benfica's overall form sits as one of the best amongst the top teams in Europe. That was again reflected in their 2-1 win over Juventus. Benfica midfielder Neres (£7m) picked up nine points for his goal and player of the match award.
Man City v Dortmund
The German side struck first but that wasn't enough. Fantastic strikes from striker Haaland (£11.1m) and defender Stones (£5m) were enough to win the game 2-1 and provide returns of six and 10 points. Man City midfielder De Bruyne (£10.5m) picked up the player of the match award and combined with his assist, hit eight points.
Copenhagen v Sevilla
The game finished 0-0 in a very hard-fought draw for both sides. Copenhagen midfielder Zeca picked up the player of the match award giving him seven points. All defenders picked up some well-earned points between the sides.
Maccabi Haifa v PSG
It was a matchup that a lot of UCL Fantasy players were looking forward to. Heavily captained forward Mbappe (£11.1m) carried on his brilliant form as he scored to reward his owners with nine points. Teammate and fellow forward Neymar also scored, providing his owners with six points.
---
Stay up to date with all of our UCL Fantasy content, all in one place, right here.