UCL Fantasy expert team reveals for Matchday 11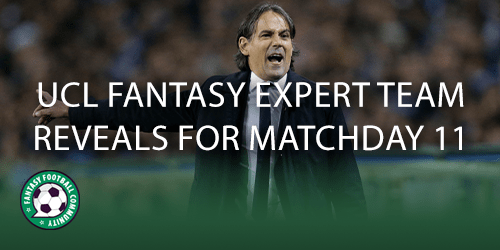 We check out some UCL Fantasy expert team reveals for Matchday 11. Champions League Fantasy returns! We take a look through some of the most experienced managers teams ahead of the new round. We will see why they have made some of their decisions and some of the things that could change within their teams.
As the Matchday 11 deadline approaches thick and fast, UCL Fantasy managers will be scrambling to clarify some big decisions. Looking at expert team reveals for Matchday 11 can help bring clarity to our own decisions within our teams. This week there will be five team reveals for Matchday 11 for you to check out.
@FplToni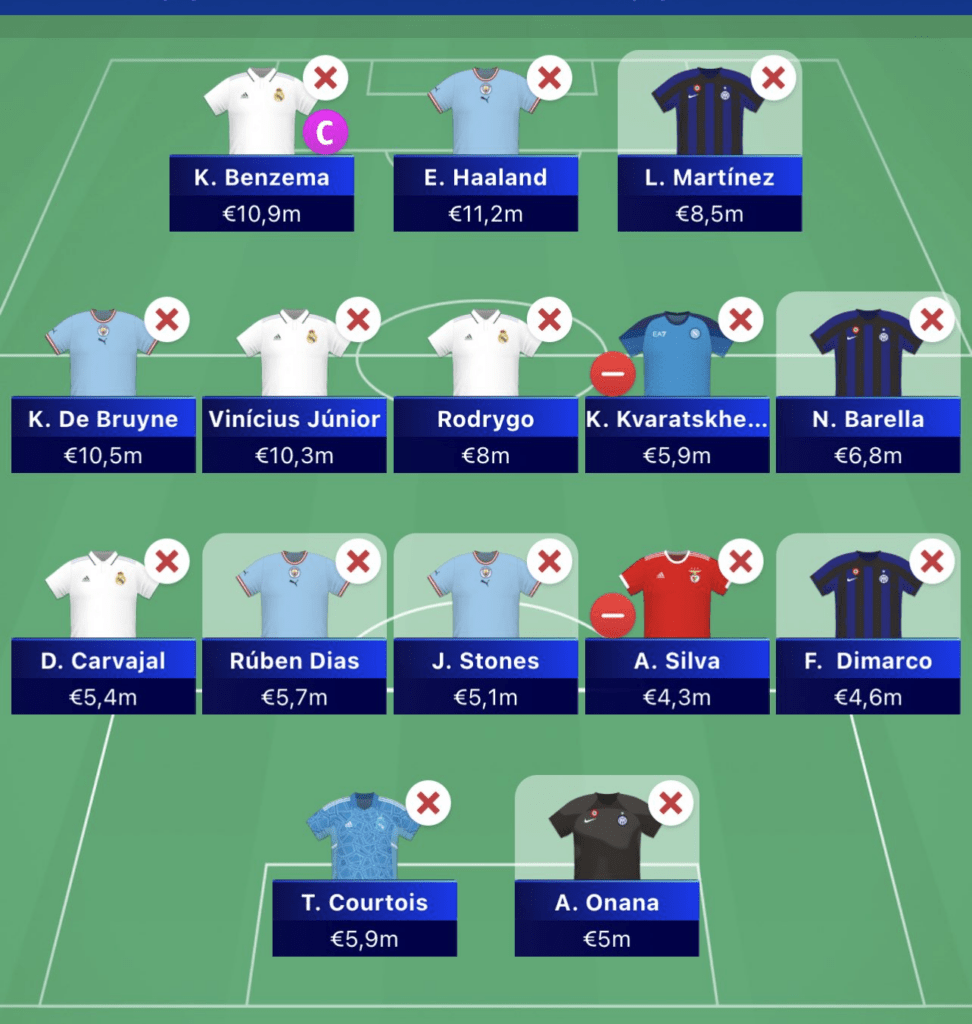 Notes
Results weren't kind to me and I have eight players out. This means I am more likely to take a hit this week.
I already have five Real Madrid players and I expect them to go out so I have to try and predict the winner for the second match and as you can see I went for Inter.
I don't expect Madrid to keep a clean sheet so a hit could pay off this round if Inter keep one and I don't expect a lot of goals in this match.
Haaland/Lautaro Captains.
Good luck everyone and enjoy some punts if your team wasn't highly affected with eliminated players.
@FPL_Crisk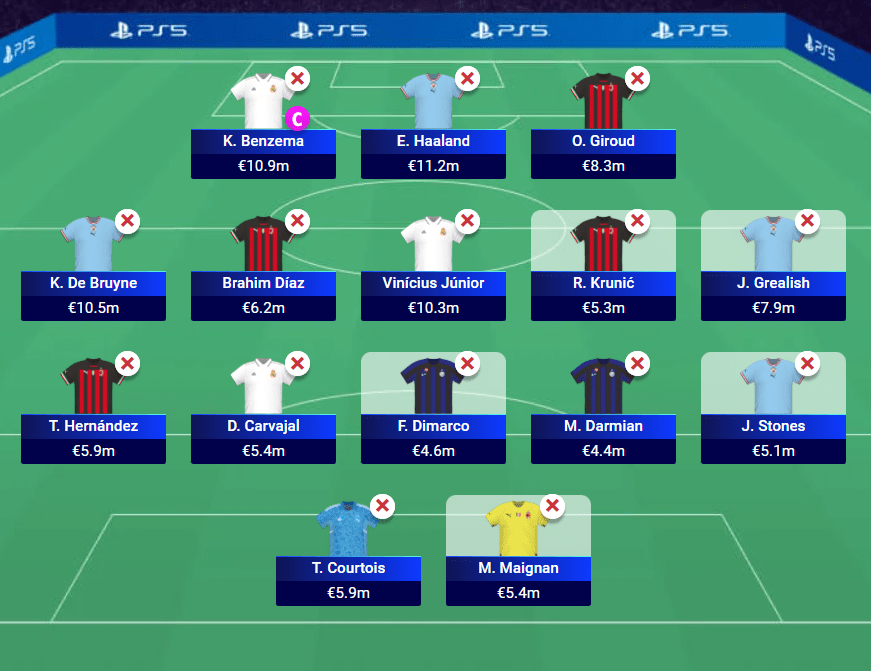 Notes
Five transfers proved to be enough to take care of injuries and eliminated players. I could have also spent money in a way to have less than 15 "viable" players but a stronger line-up value wise. However, but I'm fine with my options here.
1. Vlachodimos -> Maignan: already having a player from the Tuesday game, I needed one from the "Euroderby", and Maignan feels the one with the highest ceiling with his excellent save rate and penalty saving expertise.
2. Ake -> Stones: the injured Ake needed some replacement, and looking at City defenders, Stones seems the one I would trust the most to get a surprise bullet header in goal.
3. Di Lorenzo -> Dimarco: Inter have lots of cheap defenders in Acerbi, Dimarco and Darmian. I already own the former, and with Gosens injured the Italian wingback is a very good option with his eight seasonal goals.
4-5. Kvara and Joao Mario -> Grealish and Krunic: I'll describe these two moves as one because they are deeply intertwined. I wanted one between Grealish, Rodrygo, Calhanoglu and Saelemakers. The Belgian is cheap enough to let me afford Bennacer who plays at CAM, but he isn't nailed and my midfield would be composed of three ACM players, which is too punty even for a diehard Milan supporter like myself.
Getting Krunic (who's nailed at CDM) gives me enough funds to afford one of the other three options. I'm going towards Grealish because I tend to feel like City is getting to Istanbul, but I'm going wait until Tuesday night to finalize the transfer in case he happens to be rotated out of the starting eleven.
@FplRossoneri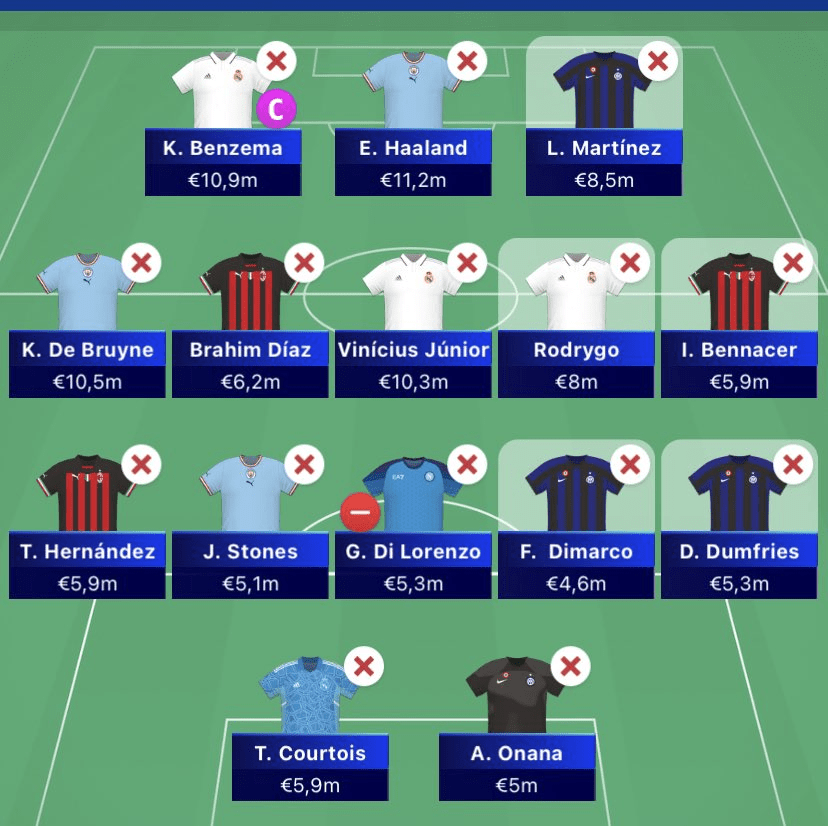 Notes
I had six players out from the last round so will use my five free transfers to bring Lautaro in for Osimhen (he would be Leao if we get confirmation that he starts.
Kvaradona and Mario for Rodrygo and Bennacer.
Rodrygo is a lock but fifth midfielder position could be anyone really. I also really like Barella, Brozovic, Rodri, Kroos and Tonali.
In defence James and Grimaldo out for Dimarco who is a lock for me, Dumfries could become Carvajal or Calabria if I feel like it. Di Lorenzo will remain on the bench as I don't want to take a hit.
Captaincy for Day one is either Vini Jr/Benzema or Haaland and then second day if required, will be Lautaro/Leao or Theo.
@uclfantasypod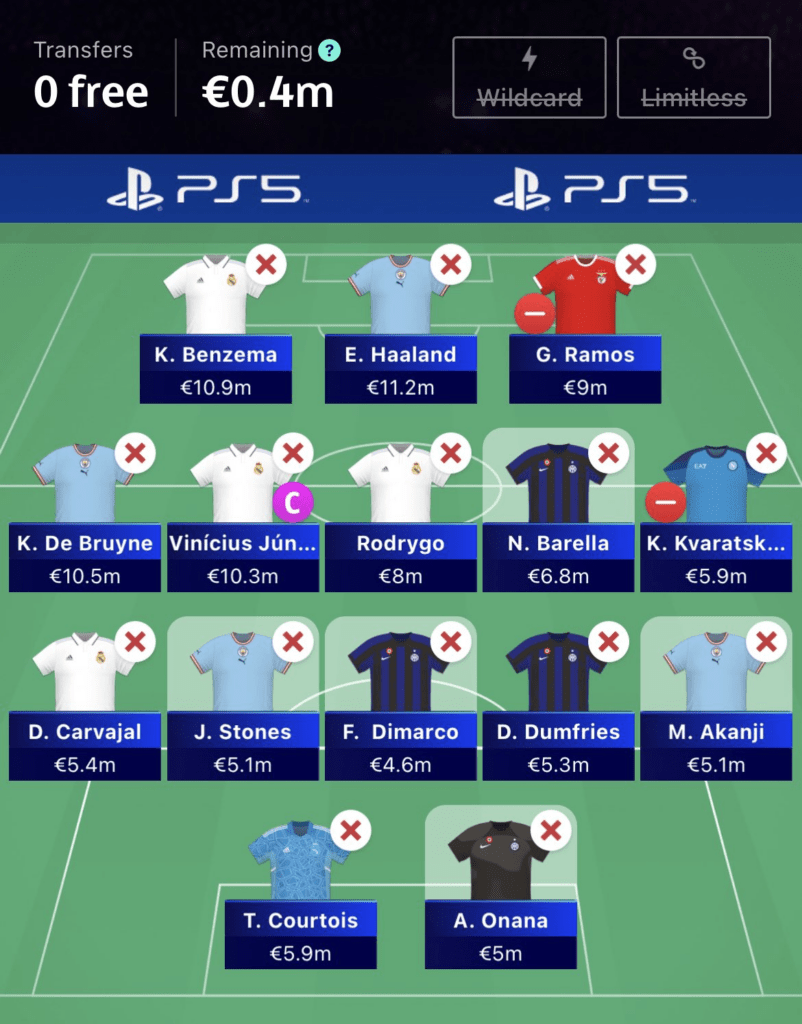 Notes
The idea is to load up on Inter defence because of Leao's injury and Inter's impressive record against the big Italian clubs recently.
Ake is injured so I'm thinking about bringing in cover for him as Man City look really impressive at the moment and I don't expect many goals for either team in Madrid.
Onana, DiMarco and Stones are nailed for me. Question marks are whether I want a Man City midfielder (Grealish, Gundogan or Silva) or if I want to punt on Barella/ Bennacer in the ,Milan derby.
These choices will determine my last defensive change due to budget.
@TheLineUpBrazil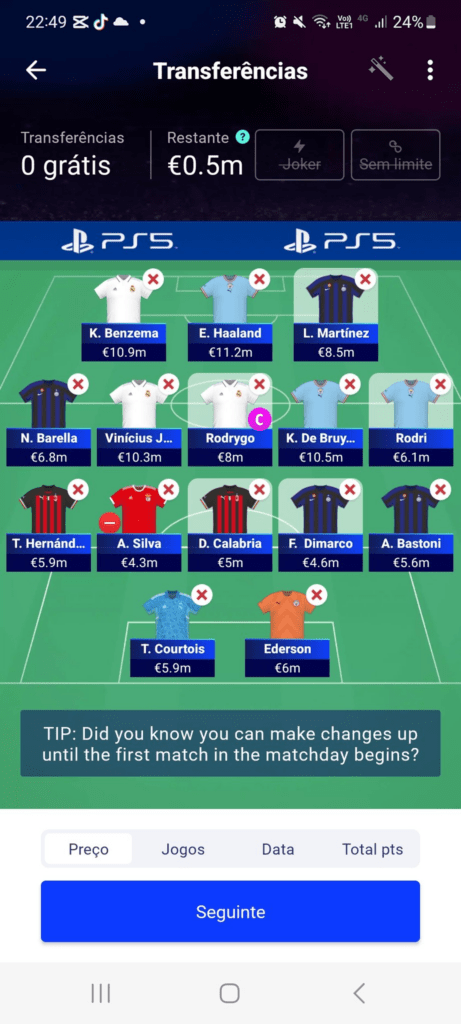 Notes
Courtois – Best average of saves in UCL and is playing first leg at home. Ederson – he'll be on the bench to be a starter in the second leg.
Theo Hernandez – Very attacking weapon and ranks first in my ranking of defenders.
Dimarco – ranks second on my defender list. He has also managed six goals and eight assists this season.
Bastoni – Adding two Inter and two Milan. I'm betting a 0-0 in the derby.
Calabria – Here for being the defender leader of recovered balls.
A Silva – An eliminated player stays because I can only make five changes.
Rodri – Leader of RBs for Midfielders.
Vini – First on my ranking, no brainer.
KDB – Second on my ranking.
Rodrygo – Picked up three goals, one assist and one player of the match award in his last five matches.
Barella – in his price bracket is the best option.
Haaland – is Haaland and Benzema – is Benzema.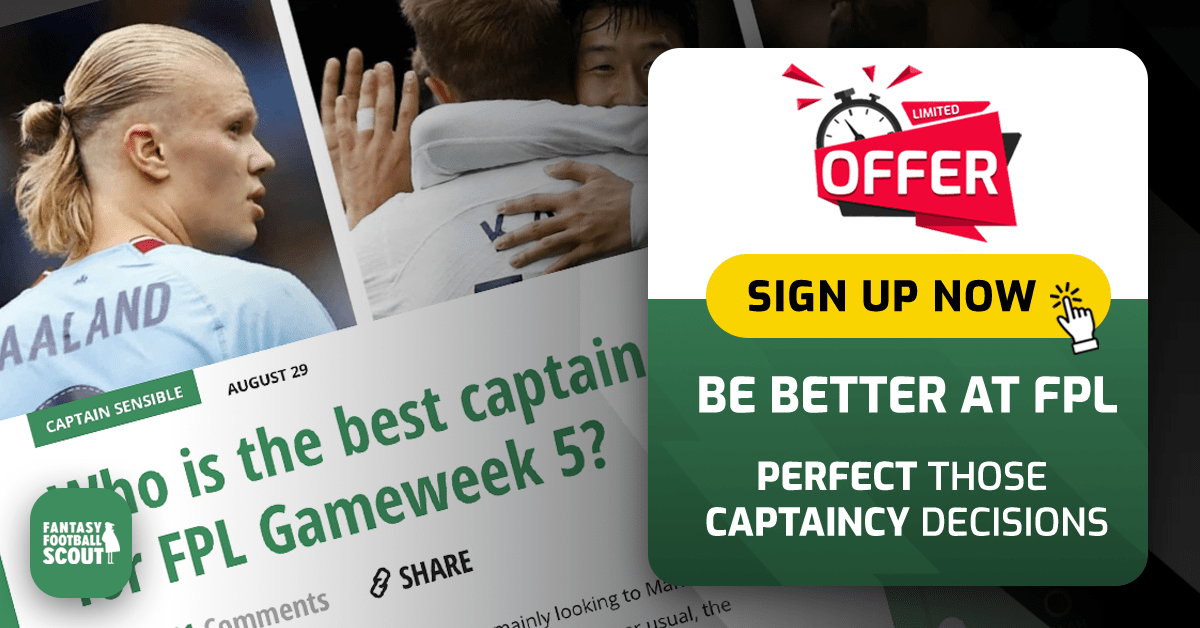 ---
Come and check out all of the best picks for UCL Fantasy Matchday 11 in our article right here.