UCL Fantasy expert team reveals for Matchday 1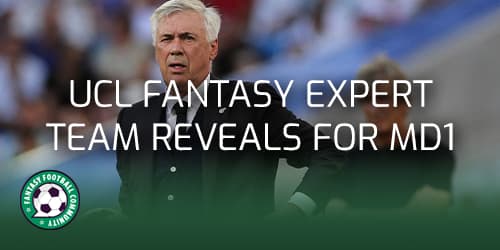 We check out some UCL Fantasy expert team reveals for Matchday 1. Champions League Fantasy is here! We take a look through some of the most experienced managers team ahead of the new campaign. We will see why they have made some of their decisions and some of the things that could change within their teams.
As the Matchday 1 deadline approaches thick and fast UCL Fantasy managers will be scrambling to clarify some big decisions. Looking at team reveals for Matchday 1 can help bring clarity to our own decisions within our teams.
@uclfantasypod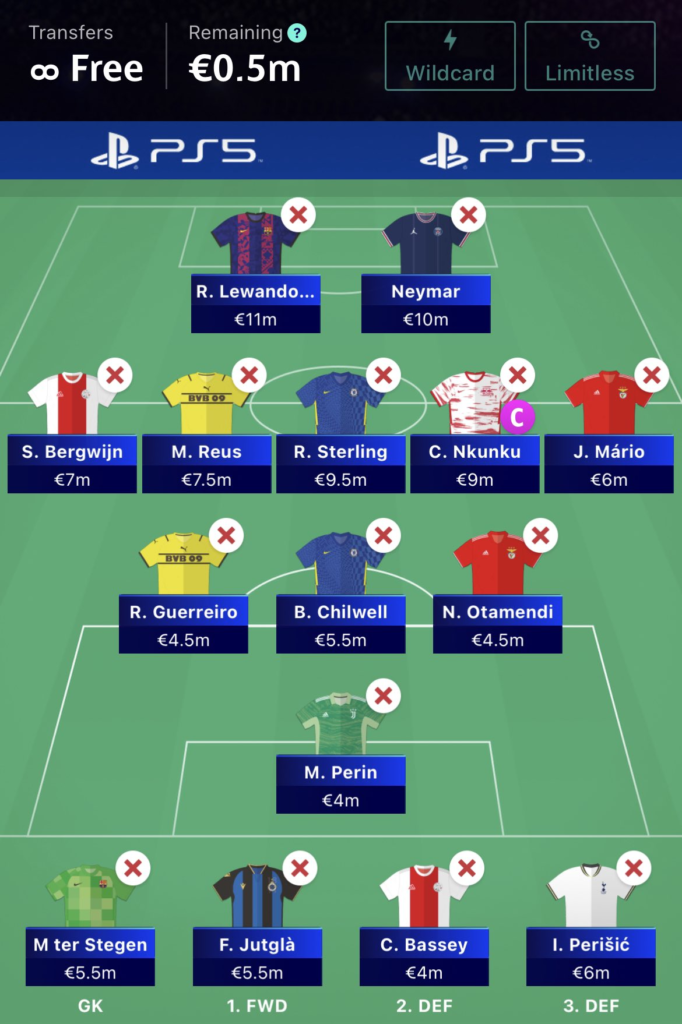 Notes
This is me until the deadline when I see team news. I'll make moves from there.
@FplRossoneri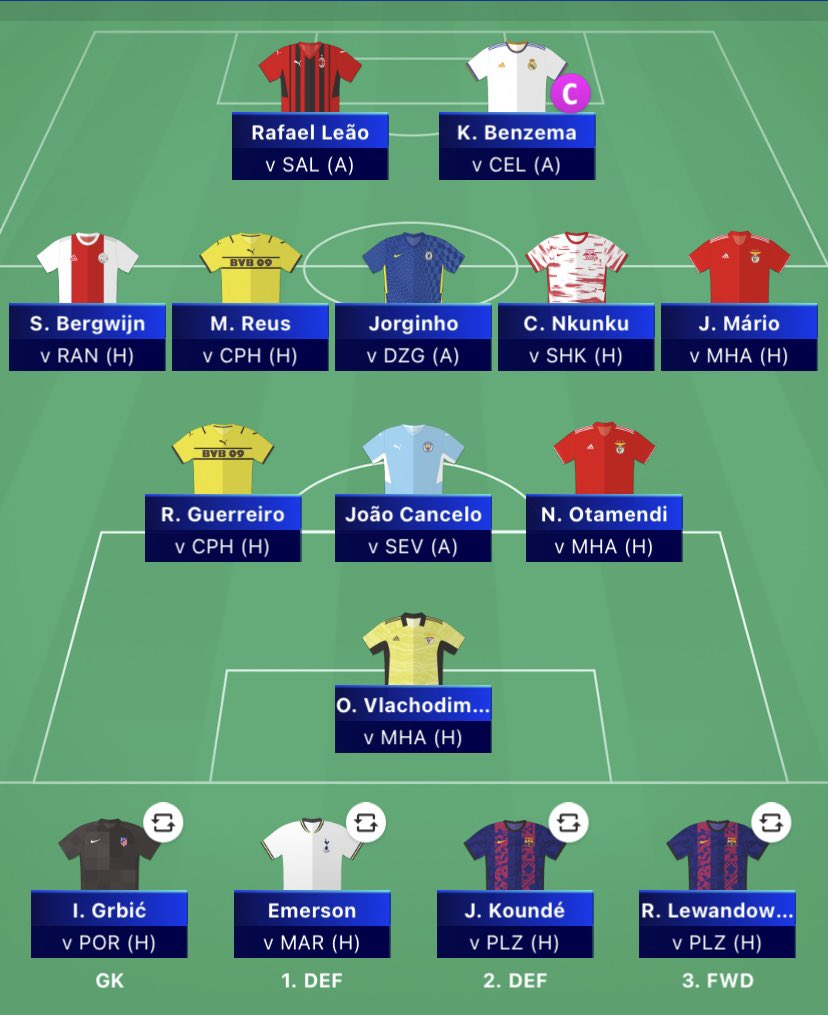 Notes
This is me for now until we get line-ups. Captaincy is not set in stone yet, I'm constantly changing between Nkunku, Reus and Benzema. I will make a call closer to deadline.
My focus is to attack the Matchday 1 fixtures and then wildcard or limitless in Matchday 2.
I have gone with a lot of in-form players who have good fixtures. I also have a 70/30 split for players who play on the first day.
Further, I have tried to keep in mind penalty takers so have the likes Jorginho and Joao Mario as well. I like where I am at the moment so let's see!
@Konate_FPL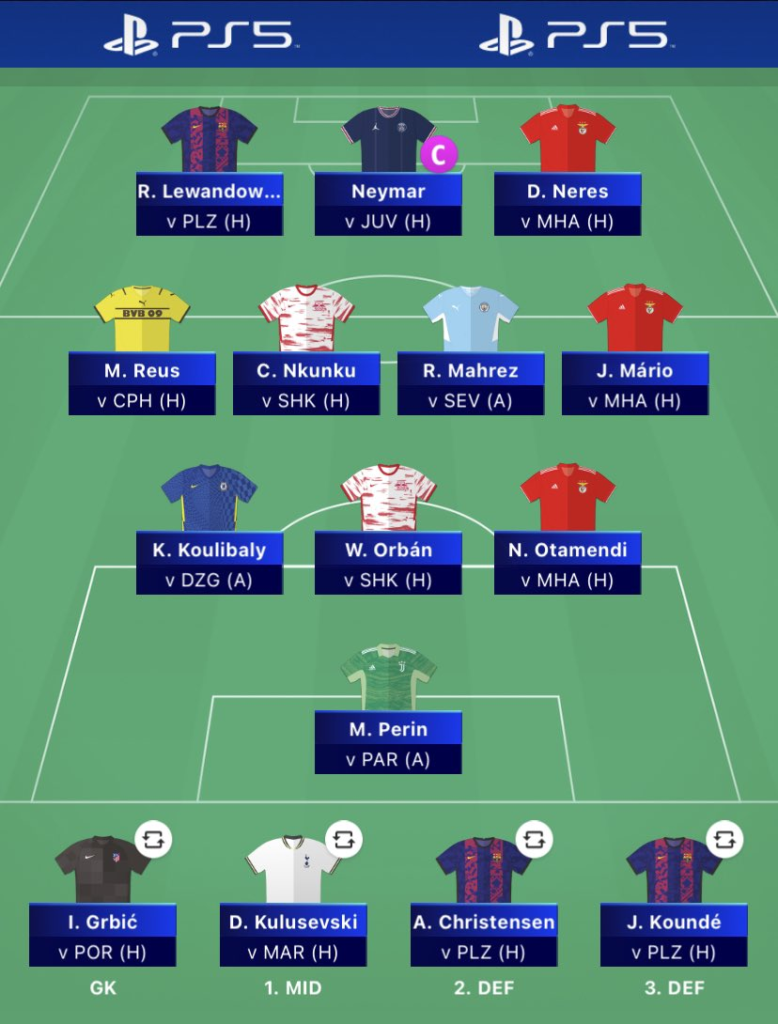 Notes
There are a few tweaks likely but I'm happy with the core of the team.
Double Leipzig targeting a poor current Shakhtar.
Triple Benfica against the lowest rated team in the competition.
Triple Barcelona against the second lowest rated, and a few other options.
Kulusevski against Marseille is a nice go at the price.
Neymar will be my day one captain, in form currently, had a bit of a rest on the weekend and Juventus look nothing like they used to be.
Mahrez as a punt as I think he'll start.
@TheLineUpBrazil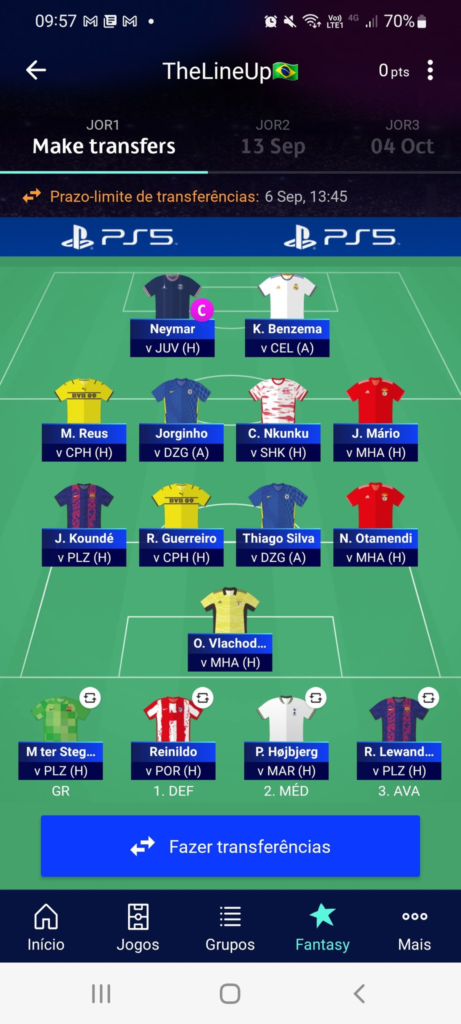 Notes
Important to say that this team is only for Matchday 1.
Vlachodimos facing Maccabi and Pasveer also has a nice fixture against Rangers.
Guerrero (4.5m) against Copenhagen. I'm Going to monitor whether he is playing.
Koundé, the new Cafu, has got Plzen. He is great at ball recoveries and delivering.
Thiago Silva, always a wall defensively and ball recovering a lot too.
Otamendi, doubling on Benfica, also has the ball recovery factor.
Reinildo, only here by price and ball recoveries.
João Mario is in great form and takes penalties.
Jorginho is a penalty taker and Hojberg makes the team too due to ball recoveries and already has two goals this season.
Nkunku a unanimity, facing a defensively chaotic Shakhtar Ukrainian side.
Reus makes the team; I think I need one Dortmund pick and that is him.
Benzema was last season's best player.
Lewandowski, scoring often, my captain if Neymar fails who's in form lately.
@FplToni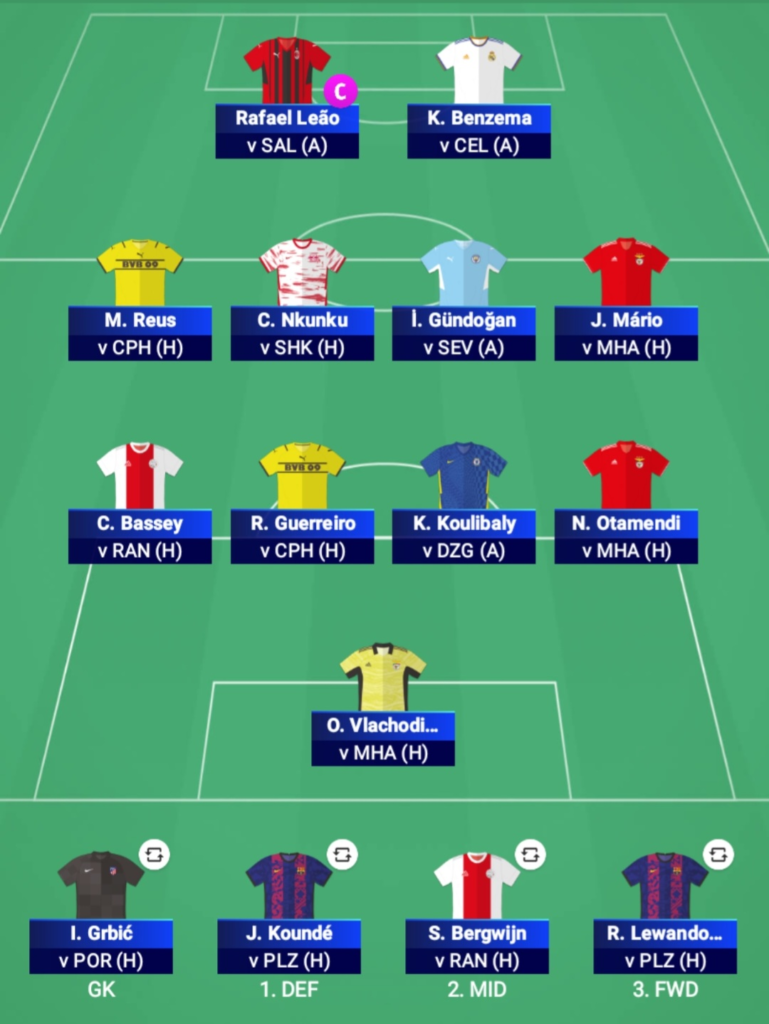 Notes
Here is my team currently, I'm not 100% locked but need to see other press conferences and early line-ups for Dortmund players.
@PuntsandPoints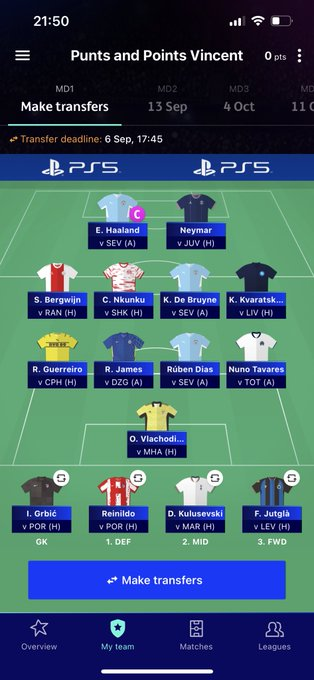 Notes
One budget option for each position, £0.5m in the bank.
Tavares is the punt in defence, three goals already but don't expect clean sheets.
Kvaratslhelia is the Budget pick on midfield, four goals and one assist so far and Bergwijn is in due to similar reasons.
Jutgla makes the team with five goals and three assists, also passes the eye and stat test.
Brobbey is popular as well, but Jutgla does it for me.
Triple City is a rotation risk, but their money is easy to move. Nkunku is on fire again and a potential differential captain.
For now, that armband is on Haaland, though players that are not locked include the likes of Reinaldo, Guerreiro, Kulusevski, Vlachodimos, and Gribic. With the current line-up limitless is in the thinking for matchday 1 or 3. However, this may change if I see potential to score even higher independent of the current set up.
---
Still figuring out your chip strategy? We take a look at the best way to use your chips this season here.