UCL Fantasy best picks for Limitless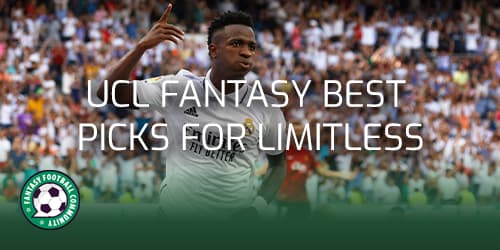 We take a look at the UCL Fantasy best picks for Limitless. With the second round of the Champions League ahead we use stats, fixtures and form to shortlist some of the best options for managers using the Limitless chip in Matchday 2.
Limitless is one of two chips offered to managers by UCL Fantasy. When activating the Limitless chip managers have opportunity, within the same formation restrictions, to have an unlimited budget. Meaning we can include as many premium options as we want to help target the round ahead.
Denzel Dumfries
Inter have an upcoming match against Plzen in Matchday 2. The Czech side were heavily beaten 5-1 by Spanish side Barcelona in Matchday 1. This could indicate Plzen as a team to target.
£5.5m wing-back Dumfries became a fantastic fantasy asset in the Euros fantasy game after scoring two goals. That attacking threat has continued into the new domestic season in Seria A. His one goal and one assist are a reminder of how offensively dangerous the Dutchman can be. With good potential for the clean sheet and attacking potential, Dumfries could be one of the best picks for Limitless.
Vinícius Júnior
Real Madrid face a meeting against Leipzig in Matchday 2. The German side have struggled to gain any consistency in all competitions. This was reflected in their previous game against Shakhtar Donetsk when they lost heavily 4-1.
Vinícius Júnior continues his fantastic form of last campaign. The Brazilian has now played five matches in La Liga and has already returned four goals and one assist. Totalling five goal contributions equalling his total for matches played, Vinicius Junior becomes an irresistible pick for Matchday 2. 
Erling Haaland
Man City remain one of the strongest scorers in terms of quantity amongst Europe. The English side continue to dominate the attacking underlying stats within their own league and play Dortmund in Matchday 2. 
Haaland has the opportunity to face his former side Dortmund, which could add to his motivation. Already this season domestically, Haaland has played six matches and already netted 10 goals and created one assist. The in-form powerhouse could be extremely difficult to leave out of those fantasy sides. Haaland has to be one of the best picks for Limitless.
Kylian Mbappé
PSG stand out as one of the top teams to target in Matchday 2. With a match up against Maccabi Haifa next whom struggled against a blunt looking Benfica in their 2-0 defeat, PSG will be hoping to ease their way to the three points.
The standout option from the PSG attack is Frenchman Mbappe. The super star continues to rival some of the best players in the world for goals and assists. In his first six fixtures in the French League he has already bagged seven goals. This top form only continued into the Champions League after his brace of goals against Italian giants Juventus.
João Cancelo   
Another essential for Limitless players will be Portuguese Man City defender Cancelo. Man City have some of the best defensive stats in the Premier League, that form has translated into the Champions League after their Matchday 1 clean sheet.
The attacking full back spends most of his time in the oppositions half, already an indicator that he could be worth the investment. His appeal took another boost after Matchday 1 after his two assists and clean sheet took him to a whopping 15 points.
Other great options on the limitless
Reece James (Chelsea)
Kevin De Bruyne (Man City)
Hakimi (PSG)
Jota (Celtic)
Perisic (Tottenham)
Martinez (Inter)
Neymar (PSG)
---
Who are the best captains for Matchday 2? We answer that in our article right here.