Should we still target Bournemouth?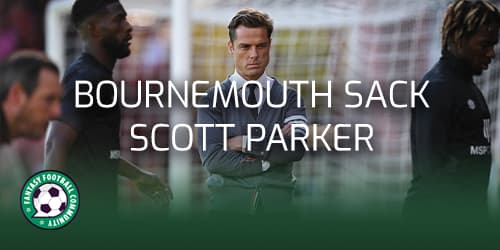 On the Tuesday 30th of August Bournemouth announce that they have parted company with manager Scott Parker. Was this just as a result of the 9-0 defeat to Liverpool or is there more to it? We assess whether we should still target Bournemouth in FPL.
Bournemouth have announced that they have parted company with manager Scott Parker. in the statement the club stated:
In order for us to keep progressing as a team and a Club as a whole, it is unconditional that we are aligned in our strategy to run the club sustainably. We must also show belief in and respect for one another.

AFC Bournemouth announcement on the sacking of Scott Parker
This suggests that the decision to sack the manager was not simply as a consequence of the 9-0 defeat in Gameweek 4.
Who is in charge?
The club face Wolves on Wednesday evening. In their statement Bournemouth explained that Gary O'Neil will take interim charge of the team. They also stated that he will be assisted by Shaun Cooper and Tommy Elphick.
Fixtures
Between now and Gameweek 14 Bournemouth only face one of last seasons top six teams.

What does this mean for FPL?
Many FPL managers had been targeting Bournemouth as a result of their current form. The Cherries conceded 16 goals in the last three matches in the Premier League. As a result many FPL managers were looking to bring in attacking players from the teams that Bournemouth are facing. With the sacking of Scott Parker is this still a good policy?
Normally when a new manager is appointed we see some new manager bounce. With the transfer window closing at the end of the month if Bournemouth can appoint a manager and get some transfers over the line they should be able to strengthen.
Managers should keep a close eye on Bournemouth's match against Wolves in Gameweek 5 on Wednesday. The result of that game should give FPL managers more insight in to if the team are still one to target.
What is new manager bounce?
When a new manager is appointed we normally see some new manager bounce. New manager bounce is when a club that had been previously playing badly improve. The bounce is a term used to describe the improvements that we see in the form of the same team and players that the old manager was working with.