Should we keep Jota with the arrival of Luis Diaz?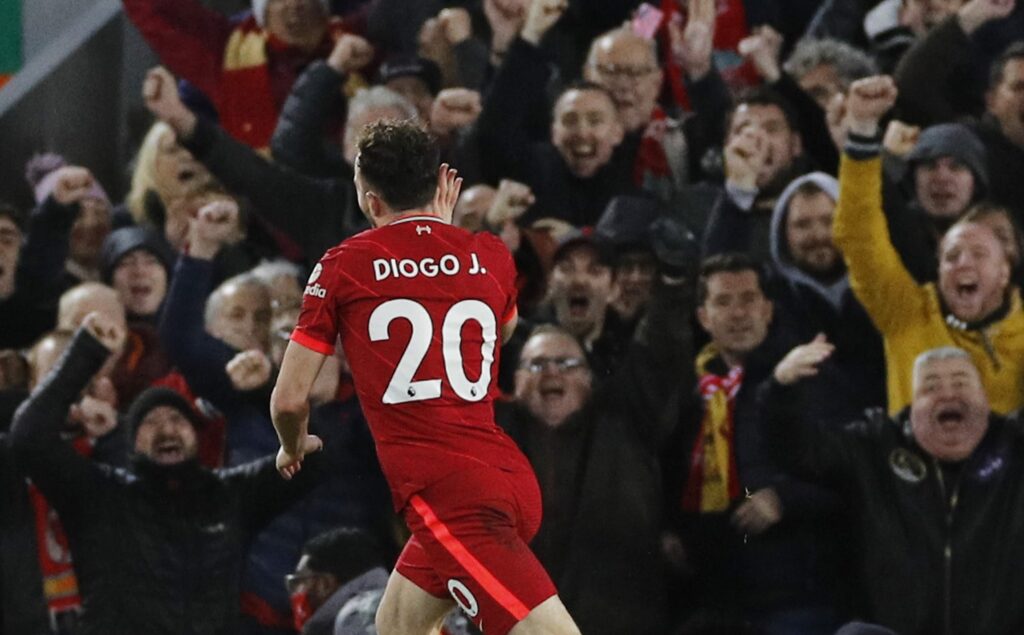 Spurs were very keen to bring Luis Diaz to North London during the transfer window, however Liverpool were able to secure his signature. What does his arrival on Merseyside mean for FPL and should we keep Jota in our FPL teams?
Diogo Jota has been a popular FPL option so far this season and he is currently owned by 39.7% of FPL managers. Jota has returned 109 points from 21 matches so far this season including two double digit hauls.
Across his four seasons in the Premier League Jota has returned 35 goals, 14 assists, 34 clean sheets, 10 double digit hauls and 36 bonus points. Jota since Gameweek 12 Jota is also tied first for goals scored with Salah and Sterling with six and he has the best expected goals (xG) tally for midfielders at 7.60.

However, since Salah and Mane left for AFCON Jota has returned just one assist. FPL managers invested in Jota were likely expecting more from the Portuguese international in the two matches against Brentford and Crystal Palace.
With Salah and Mane both making it through to the Semi-Finals of AFCON we know that they will both now play on Sunday in either the Final or the third/fourth play off match. This means that they will have just four days between the end of the tournament and Liverpool's Gameweek 24 fixture against Leicester.
As a result many FPL managers are now debating what to do with their Liverpool assets and as part of this whether they should keep Jota.
AFCON
Many FPL managers sold Salah ahead of Gameweek 22 when he left to join up with the Egyptian squad for the African Cup of Nations. However, all of the sellers likely had a plan to bring Salah back in to their FPL teams.
For some FPL managers an early move on Salah to have him back in their squads for Gameweek 24 looked likely. However, his progression in AFCON as well as the arrival of Diaz may have altered their plans.
For managers still looking to bring in Salah a large part of the conversation in the FPL community was bringing him back for Jota and moving from the midfield double up to a defensive one with Robertson and Alexander-Arnold.
However Jota remains the second highest scorer in the division and selling him may not sit easily with some FPL managers who may prefer to keep the midfielder and use one of their remaining midfield slots on Salah.
New Arrivals
What does the arrival of Luis Diaz mean for Jota? Will he play less minutes? Is he now a rotation risk? These are just some of the questions in the FPL community following Liverpools signing of Diaz, however Liverpool fans don't seem concerned for Jota.
Diaz signed for Liverpool from Porto for £50 just before the end of the transfer window and has been priced in FPL at £8.0m, £0.4m cheaper than Jota is currently listed at.
We believe he has everything needed to fit into our way and adapt to the Premier League, both physically and mentally. He is a player who is hungry for success and knows you have to fight to get what you want.

He is a fighter, no doubt. He's a skilful team player who has always the goal in mind.

Klopp about Diaz
As a left sided midfielder Diaz's arrival is unlikely to trouble Jota as Diaz will be primarily competing for a starting spot with Sadio Mane.
When Liverpool signed Jota he was competition for Roberto Firmino who turned 30 this year and we have seen Firmino play far less minutes this season both through rotation and injury. Jota has started all bar three games for Liverpool this season and this is unlikely to change as a result of Diaz.
Therefore if fear of minutes from Diaz was the grounds for FPL managers to sell it appears that they should keep Jota. However, could Jota's goal involvement decrease with more creativity down the left?
Luis Diaz
Prior to his transfer Diaz played 18 matches for Porto in the Primeira Liga this season, returning 14 goals and four assists. In comparison in his 20 matches Mane has returned eight goals and one assist so far this season.
Diaz also has two Champions League goals to his name from six matches played in the competition.
Whilst therefore Diaz is unlikely to provide huge competition for Jota in terms of minutes, indeed they are likely to form part of future proofing Liverpool's attack he could take minutes away from Mane or have to share game time with the Senegalese international.
But could Diaz be a better option and save FPL managers an important £0.4m in budget?
When Salah and Mane return from AFCON and Klopp has had a change to work with his front five we will likely get a better feel for how Diaz will play in that Liverpool attack. For now FPL managers looking for security and to stay invested in the Liverpool attack should keep Jota. However, with a more long term approach once Salah is back if managers want a single attacker he will be the Liverpool player of choice.
For managers wanting to maintain the double up ahead of Gameweek 24 keep Jota, with a view to monitoring how Diaz settles and his Premier League minutes knowing that a swap from Jota to the Liverpool new signing could be easily achieved in a couple of Gameweeks time if he takes Mane's spot a plays down the left alongside Salah and Jota.