Should I play a chip in January?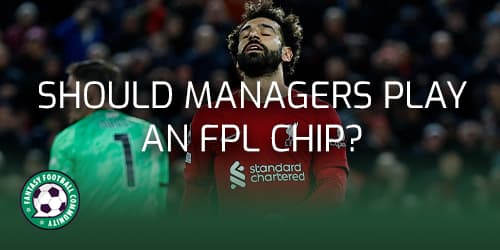 When the Premier League announced the rescheduling of matches it meant double gameweeks in FPL were also scheduled. With five teams playing additional matches in January and February we take a look at whether the New Year is a good time to play a chip.
Wildcard
Normally the majority of FPL managers play their second Wildcard in January. This often coincides with fixture swings as we as the January Transfer Window being open. However, this season FPL managers will have only just passed through the Unlimited Transfer Window. As managers will have only just had the opportunity to change their entire teams many may look to hold the Wildcard until later in the season.
The second Wildcard can be used any time from December 26th through until the end of the season. Therefore holding it for later in the campaign could make it more valuable.
Bench Boost
A lot of FPL managers like to play their Bench Boost chip straight after their Wildcard. This means that their squads are fully established and ready of the opening gameweek. Managers could choose to Bench Boost straight after the Unlimited Transfer Window however, there may be some rotation depending on when players return from the World Cup.
Playing the Bench Boost in January could still be a good idea though, even if managers don't Wildcard. With a new squad of 15 thanks to the unlimited window managers may find that, for example, their Fulham assets are nearly always on their bench. Therefore managers may like to Bench Boost in Gameweek 19 when Fulham play twice to maximise their potential returns. indeed if managers believe all 15 of their players will play then playing the Bench Boost chip in one of Double Gameweek 19, 20 or 23 could be a good option.
Triple Captain
Perfect fixtures, perfect player, perfect form?
These are the key decisions for FPL managers when deciding if they should play the Triple Captain chip. For managers targeting a double gameweek makes sense. However, when we look at the potential matches in the doubles so far scheduled there is not an obvious choice.
Erling Haaland/Kevin De Bruyne – Gameweek 20 – Man United and Spurs, Gameweek 23 Aston Villa and Arsenal
Harry Kane – Gameweek 20 Arsenal and Man City
Mo Salah – No Double
With plenty of fixture congestion in January and February FPL managers may also worry that their player won't play twice.
Whilst managers can play the armband on one of the Double Gameweek players, it may be better to hold the chip in the hope of a better set of double gameweek fixtures later in the season.
Free Hit
The Free Hit can be the perfect chip for a double gameweek. Playing the chip in a double means that FPL managers can maximise the number of players that they have playing twice. However, with managers able to use the unlimited transfers to prepare for the double gameweeks this may not be necessary.
Overall
January and the upcoming double gameweeks could be the perfect moment for managers to play their chips. However, there is plenty of scope for waiting until later in the season. Especially as there are games still to be rescheduled as well as the impact of the World Cup to be seen.