Season Review: Gameweek 1-30

With just eight Gameweeks to go to the end of the season FPL Shake n Bake (Brett) has taken a look back at the season so far. He reflects on the highs and lows as well as what is to come in Gameweek 31 and beyond in this season review.
Total Points: 1949
Current Rank: 123,782
Chips Remaining: 1x Free Hit
After four disappointing seasons, I'm currently on course for my best overall rank since the 2016/17 season, so I must be fairly happy with how I'm getting on….but I still feel a big sense of what if.
Season Review: Gameweek 1
My Season got off to a solid start in Gameweek 1. In the days leading up to the deadline, I'd toyed with going without Bruno Fernandes. At one point I even had Mo Salah missing from my line up, as I constantly toiled to get the perfect balance.
I remember listening to a Scoutcast once where Joe claimed that despite playing against 7million+ people in the world, your biggest enemy is yourself. The more I tinkered, trying to find that perfect line-up, the more I drifted away from what I wanted from a team. In the week leading up to the season, I read Toby Margetts and Gianni Buttice's book: Fantasy Premier League: Unlocking The
Secrets To A Top 1% Finish.
There was a line about premium assets at the start of the season, which rang true. If you and everyone else pick the premiums, and they don't perform….
You're all in the same situation. If you go without them, and they bang in the first week (as Bruno did with his hattrick against Leeds), then you're already chasing points. So in I went with Bruno and Mo.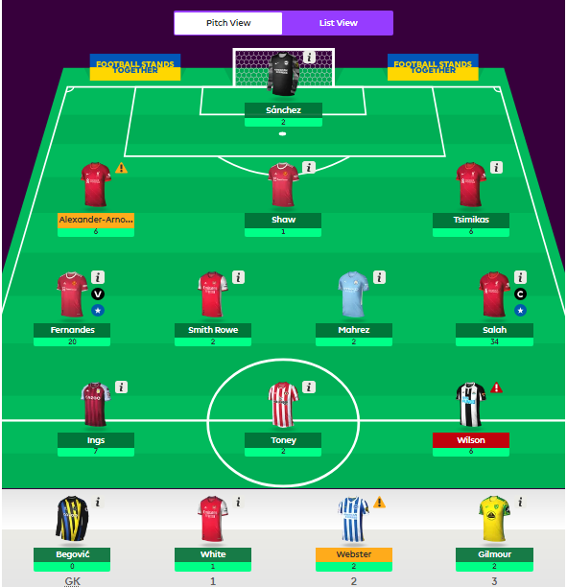 With Konstantinos Tsimikas, a gift from the gods, and Trent Alexander-Arnold making up my Liverpool trio. Both banking clean sheets. With goals from Danny Ings and Callum Wilson I was up and running with 88 points and a starting rank of 1.3m. 
Season Review: Gameweek 4
The Pre-season plan was to try and save my wildcard for as late as possible, but I ended up clicking the button after Gameweek 4. 
Thinking back to that period now, and the likes of Ferran Torres and Adama Traore were the names everyone wanted in their teams. Do Barcelona's scouts follow FPL Twitter?! I avoided the traps, but I look back at my lineup for Gameweek 5, and can sell I fell for some others.
Paul Pogba came in to replace Bruno after he set the world on fire with a crazy assist count early in the season. In came Romelu Lukaku after his impressive first few games at Chelsea. Patrick Bamford joined the ranks, played one game and then was injured until Gameweeek 15. Reece James also came in and played just 29 minutes over four Gameweeks. Luckily I kept him for his 53 points over the next four Gameweeks.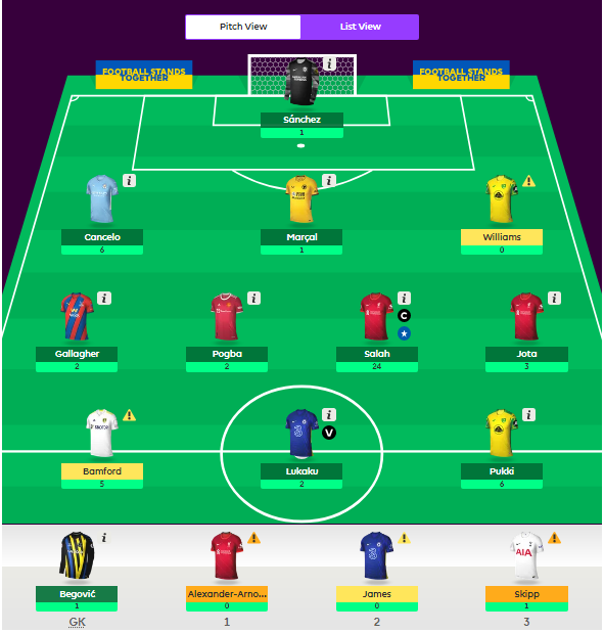 With a demoralising red arrow with my Wildcard side in Gameweek 5 I dropped to 1.5m in the world. 
Rather than panic and chase points back, taking hits as in previous seasons, I stuck true to the course. With only one hit between Gameweek 7 and Gamweek 17, I slowly set about climbing the leader board. 
Season Review: Gameweek 16-22
Salah, Trent,  Cancelo, Antonio, Jota, James, Livramento, Christensen, Saka, Raphinha, Gallagher, Pukki and even Josh King returned for me as I rose to  238k after Gameweek 16. 
A lot of my success came as I happily played five at the back. Trent, Cancelo, James, Livramento and Christensen were a great platform for my side. There was the odd benching headache with Connor Gallagher the unfortunate one to miss out, and punish me. Teemu Pukki was kind in that he was always my first sub, and only ever seemed to score in gameweeks where he came off my bench, and Salah was Salah (and always had the armband).
Then Covid hit. Games were cancelled, players were missing, and the hits started coming. I'd survived the first 16 weeks of the season with just one points hit, but in the next six weeks, I used 32 points on transfers. In that period I also used a free hit chip – for a team which actually did worse than my original team would have. 
A 12 point hit in Gameweek 21 paid dividends. In Came Vladimir Coufal (12 points), Declan Rice (8 points),  Dominic Calvert Lewin (0 points, after missing a penalty) and Jarrod Bowen, after a last minute rumour about Phil Foden being stricken down with Covid. Bowen was handed the armband, and delivered a bumper haul of 42 points and I broke into the top 150k for the first time this season. 
Season Review: Gameweek 23
Despite this though, I wasn't happy with the balance of my team, I ended up with double Watford in attack. I also came very close to handing the Triple Captain armband to Emmanuel Dennis in his disastrous Double Gameweek 23. Soon started dropping rank, and again hit the Wildcard button early.
Similar to early in the season, my first week with my new squad delivered a red arrow. But again I had faith. I'd opted for Andy Robertson rather than Diogo Jota as my third Liverpool asset. Kevin De Bruyne was a week place holder for Salah, and Harry Kane had come into my side. 
I'd also eyed up some potential Double Gameweeks, bringing in Nick Pope and Wout Weghorst from Burnley.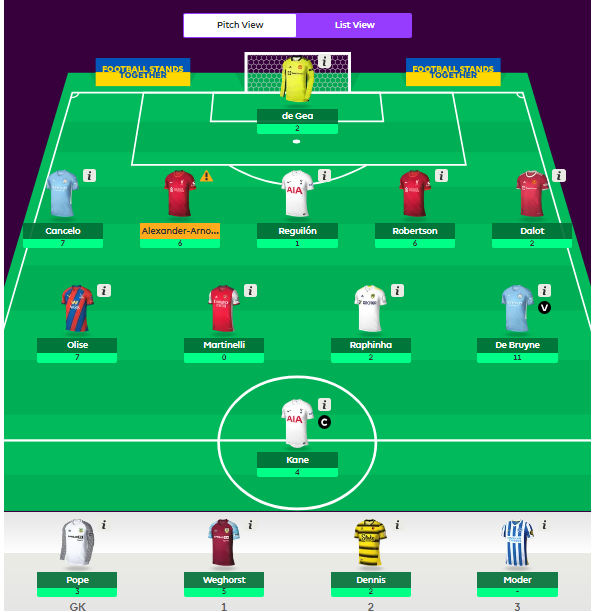 I actually spent quite a bit more than usual on keepers on my Wildcard, doubling up Pope and David De Gea with the dup combining for 35 points for my team (40 if you include Pope's extra five as a captain) over the next four Gameweeks, before they've both been moved on again. 
Season Review: Gameweek 25
In Gameweek 25, I again gambled without Salah, and again got away with it. Fernandes came in for a one week punt as captain for United's Double Gameweek and delivered with a goal against Brighton.
Then came Gameweek 26. I think it's my highest ever points tally in a single gameweek. With Sergio Reguilon frustrating me since I'd brought him in on my Wildcard, he was replaced by Conor Coady. Scared of going without Salah again he came back, and was immediately handed the Triple Captaincy armband as a welcome back present. 
The reunion was glorious. Mo delivering a mighty 84 points, for the first time this season, all three of my forwards scored too. I got 13 points each from Andy Robertson and Nick Pope, and returns from Alexander-Arnold and Raphinha helped boost my score to a gargantuan 170 points. With a Gameweek rank just outside of the top 5k, I halved my overall rank from 280k to 140k.  
Season Review: Gameweek 27-30
Gameweek 27 saw me jump early on the Dejan Kulusevski train. He hasn't disappointed before a couple of eight point hits set me up for Gameweek 29 and a Bench Boost. I switched both keepers to Dubravka and Ramsdale. In came Thiago Silva for Chlesea's Double Gameweek and North London duo Matt Doherty, and Bukayo Saka joined the ranks.
This time I cracked the top 5k Gameweek rank with 130 points. However, the Bench Boost disappointed delivering just eight points as Silva was rested.  Dubravka losing his clean sheets in the 93rd and 97th minutes of his Double Gameweek was another cruel blow. I was however, tantalisingly close to the top 100k after captaining Kane rather than Salah.
Kane kept the armband for Gameweek 30 as I went in with eight players with a fixture. Covid wiped me down to six with both Aaron Ramsdale and new signing Christian Eriksen both missing their games, leading to a red arrow, and leaving me in 123k with eight weeks to go to the season. 
Rest of the season
Looking ahead, I'm hoping to roll my transfer in Gameweek 31. The doubles don't excite me, and I've already got Weghorst.
I'm still undecided about my remaining Free Hit. I've already got four Double Gameweek players for Gaemweek 33. I also like a lot of my Single Gameweek players. Things can change though, so I could be forced into action. 
Before the start of the season, I had the same aspirations of many.
The top 100k is within my reach, and with a bit of luck I might be able to reach the top 50k.
---
Making plans for the end of the season? We take a look at the best outfield players of the season so far.