When does Legomane think the eleven outstanding matches will happen?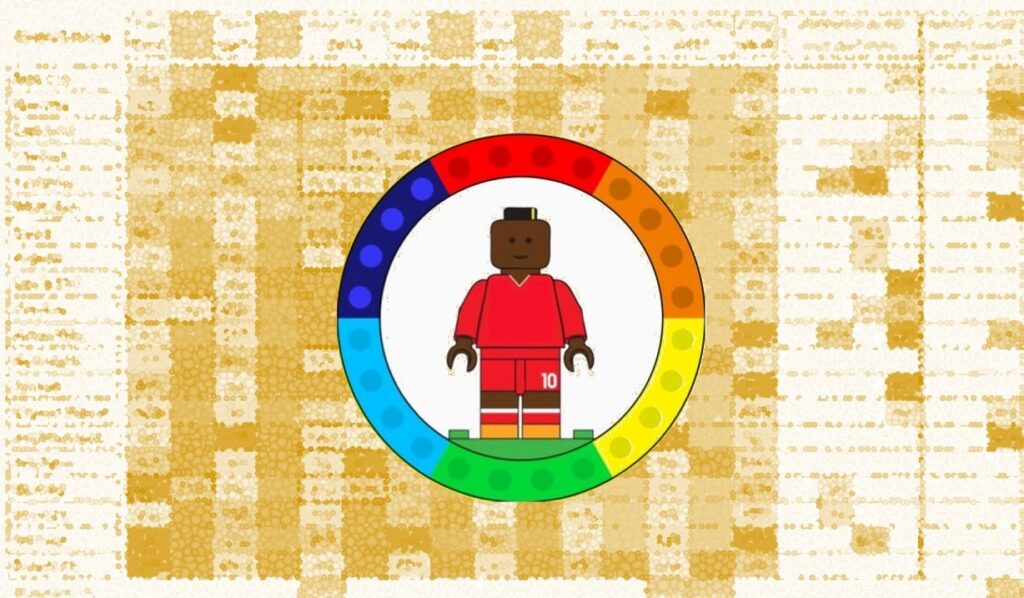 Last week, seven previously-postponed matches were added to the FPL schedule, creating two Double Gameweeks. There are eleven left to add.
---
FPL schedule
As of last Tuesday, there is now a Double Gameweek 31 – for only two teams – and a larger Double Gameweek 33.
Added to Gameweek 31: Burnley v Everton
Added to Gameweek 33: Liverpool v Man United, Chelsea v Arsenal, Everton v Leicester, Newcastle v Crystal Palace, Man City v Brighton, Burnley v Southampton
Thanks to visually-brilliant Legomane graphics, this is the confirmed schedule so far: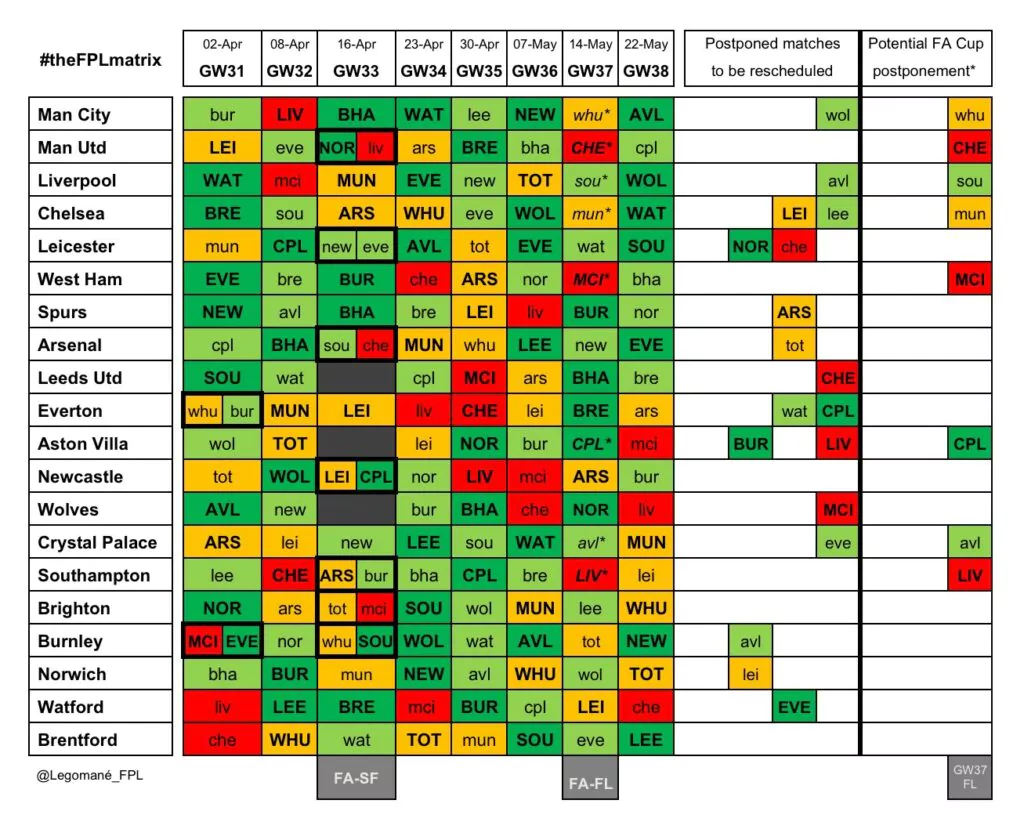 As mentioned in Fantasy Football Scout's feature, there are nine matches still to be added and two more will move once the FA Cup final of Gameweek 37 is decided.
Therefore, there will likely be sizeable Double Gameweeks in 36 and 37, alongside some minor ones.
So where does Legomane think these eleven outstanding fixtures will go and how should FPL managers prepare?
Games-in-hand
The only completely empty midweek in the calendar is Gameweeks 36, although Gameweek 37 is likely empty too. The latter could see West Ham in the Europa League final but, even then, they have a maximum of one moving fixture. It'd be easy to accommodate.
For these two gaps, Aston Villa, Chelsea, Everton and Leicester have two games-in-hand. Brentford, Brighton, Man United, Newcastle, Southampton and West Ham have none. The remaining ten have one.
However, with four Gameweek 37 matches in jeopardy due to FA Cup final participants, either Chelsea or Aston Villa will end up with three. This depends on which way the the Blues' semi-final with Crystal Palace goes.
Because these exceptional Covid circumstances allow Premier League matches to run on Champions League midweeks, one of Villa's three could move to either Gameweek 34 or 35 – likely Burnley (H).
As for Chelsea, defeat to Real Madrid would open up two more vacant slots. Yet eliminating Los Blancos and reaching the cup final would create three postponements with only two places to put them. Is a Triple Gameweek is on the cards?
Another team likely to double in those successive weeks is Leicester, should they progress in the Europa Conference League. Everton could too, although they have the freedom of potentially playing one beforehand.
To conclude, Legomane thinks as many games as possible will be stuffed into Double Gameweek 36, with possibilites of a smaller double in 37 depending on Leicester's continental explots and whether Crystal Palace defeat Chelsea at Wembley. Aston Villa, Burnley, Everton and their Watford/Crystal Palace opponent could get a movement into Gameweeks 34 or 35.