New double gameweek announcement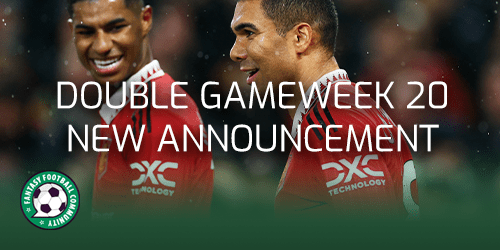 The Premier League and Official FPL have announced that two more teams will double in Gameweek 20. The new double gameweek announcement on Sunday has come as a result of the weekends FA Cup results. Here we take a look at the announcement and what it means for FPL managers.
Crystal Palace were knocked out of the FA Cup having lost to Southampton in the third round. Manchester United won their third round tie. This means neither side will require a third round replay and therefore their postponed match has been rescheduled.
The Premier League have announced that Crystal Palace v Manchester United will take place on Wednesday 18th of January.
Official FPL have announced that the match will form part of Double Gameweek 20.
Who plays twice in Gameweek 20?
Spurs, Man City, Crystal Palace and Man United will all now play twice in Double Gameweek 20.
What does this mean for FPL managers?
Spurs and Man City were already scheduled to play twice in Gameweek 20. However, this was dependant on neither side needing a replay in the FA Cup. Many FPL managers were holding their transfers in order to ensure that the teams would play twice. With transfers still to play managers will now have time to make the right choices.
This is good news for FPL managers who will now have more choice of doubling players.
Over the course of this week we will look in more depth at how FPL managers can make the most of Double Gameweek 20. Keep an eye on our FPL page for all the detail you need.