Most popular transfers ahead of Gameweek 11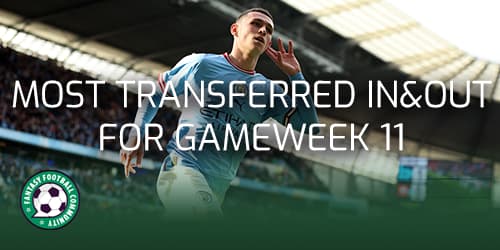 Watching the transfer market is one of the biggest parts of FPL management. Ensuring that your players don't drop in price and cost you team value is key. We assess the transfer market and the most popular transfers ahead of Gameweek 11.
Players rise and fall in price in FPL based on the number of transfers in or out they have. Here we look at the most popular transfers ahead of Gameweek 11.
Top transfers in
After of the Gameweek 11 deadline on Friday evening Phil Foden (£8.2m) was the most transfers in player. The City midfielder had over 635,000 transfers in between Gameweek 10 and 11. The midfielder faces Liverpool on Sunday in Gameweek 11 and then does not have a fixture in Gameweek 12.
Brighton's Leandro Trossard was in action on Friday evening against Brentford. He was the second most transferred in player at the Gameweeek 11 deadline with over 521,000 new managers. The midfielder is Brighton's top scoring player so far this season.
Defenders Kieran Trippier and Joao Cancelo were the third and fourth most transferred in players respectively. The former earning over 465,000 new managers with Cancelo just over 405,000. Trippier faces Manchester United in Gameweek 11 followed by Everton in Gameweek 12. Cancelo was the top points scorer in Gameweek 10. The defender scored 18 points and faces Liverpool in Gameweek 11. However, Cancelo does not have a fixture in Gameweek 12.
Tottenham's Eric Dier has been ever present in the Spurs team this season. His certainty of starts will likely have been attractive to FPL managers, especially as a result of all the defensive injuries. Dier has also shown some attacking threat this season. The defender has scored two goals and has some set piece threat. 367,000 managers transferred in Eric Dier. Spurs face Everton in Gameweek 11 and then Manchester United in Gameweek 12.
Top transfers out
Having picked up an injury against Arsenal in Gameweek 10 Liverpool's Luis Diaz was the most transferred out player ahead of Gameweek 11. Luis Diaz was sold by over 1.1million managers ahead of the deadline. The Liverpool midfielder is expected to be out until the new year.
Liverpool teammate Trent Alexander-Arnold is the second most highly sold player ahead of Gameweek 11. Alexander-Arnold had over 942,000 sales ahead of Gameweek 11. The defender has had a difficult start to the season and also went off with an injury in Gameweek 10 which will keep him out for a couple of weeks.
Chelsea's Reece James picked up an injury in the Champions League. Manager Potter's comments that the defender will have a scan this weekend have seen FPL managers flock to sell. James has been sold by over 927,000 managers.
WIth injury concerns over Aleksandar Mitrovic he was the fourth most transferred out player this week. The Fulham player was sold by over 367,000 managers ahead of the game against Bournemouth.
A number of the top transfers out ahead of Gameweek 11 were also made as managers prepared for Blank Gameweek 12. Managers were selling players with injuries or without a Gameweek 12 fixture.
---
Wondering who are the best premium picks? Check out our recent article