Fantrax Draft Gameweek 11: The Gold League Experience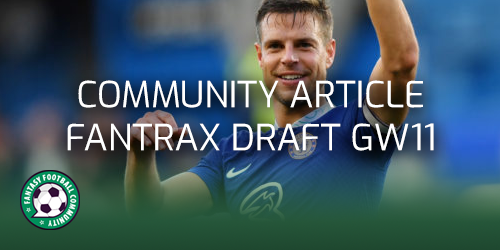 Will from Fantasy Football 92 is back to talk us through his Fantrax Draft Gold League competition. Here, he looks back at Gameweek 10 and upcoming trades.
"Seven years of drafting. A 'Draft We Must' league title. An 'International Genie League' title. A 'Draft Community League Champions Cup' title. It's not often you get to brag about your Fantasy Football achievements, so I'm grabbing this opportunity with both hands!"
Why the (not so) humble brag? Well, my Togga/Fantrax experience has inadvertently landed me with my biggest and toughest task so far – qualification to the Draft Community Gold League – and here I am writing about my experience. This is unarguably the toughest league, one where I could genuinely finish dead last… hopefully not, eh?
REVIEW
There was a very tough fixture in Gameweek 11 against Payet Posse legend DannyNoll, as well as the start of our Champions Cup title defence!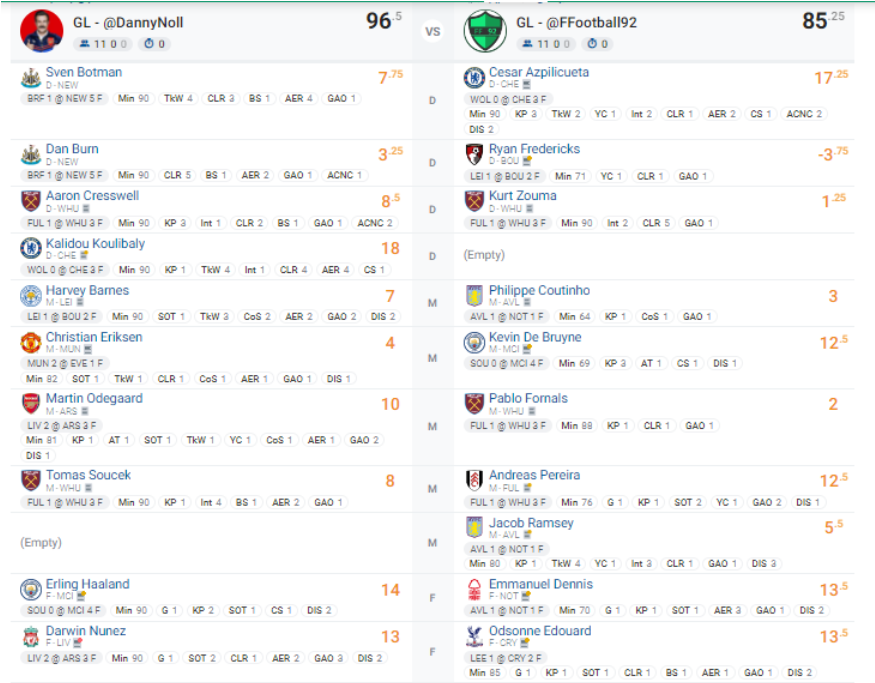 Another week, another average score, another loss. A big score is coming, I'm sure of it (have to be) but once again in this league, it's not quite enough.
Despite 'surviving' Erling Haaland's measly 14 points and seeing goals scored by Emmanuel Dennis, Odsonne Edouard and Andreas Pereira, Danny got the victory. There's no point in dwelling on the narrow defeat, so let's talk about how I'm looking to turn things around.
The eagle-eyed among you will notice a new face in my team above, none other than the super Kevin De Bruyne. I sold Mohamed Salah and Jack Harrison to get him in, a move that I felt I'd achieved on the cheap. KDB is the game's best player, in my opinion.
However, he didn't deliver as I'd hoped against Southampton, scraping 12.5 points. Never mind. The plan is to immediately sell him in order to boost squad quality. Unsurprisingly, I've had lots of offers. Tune in next week to find out which offer I managed to negotiate.
And that's the plan to turn things around. Firstly, trade, trade, trade. And then pre-empt things on the waiver wire.
My pick of Cesar Azpilicueta paid off as I predicted a rest for Reece James. Suddenly, due to the midweek injury suffered by James, Azpi has a bit of trade value. Nice.
In this bad situation, trading is probably my only option. As soon as a player has a good week (bar elite assets) I'm looking to ship them out whilst they have some value. I should have done this far earlier with Harrison, which is a huge regret.
My last, very obvious piece of advice is to not give up. He will correct me if I'm wrong but last season's Payet Posse champion JStep25 had a 1-6 record during the first seven rounds before he somehow went on to clinch the title. Coincidentally, he is my next league opponent!
FANTRAX DRAFT: THE CHAMPIONS CUP TITLE DEFENCE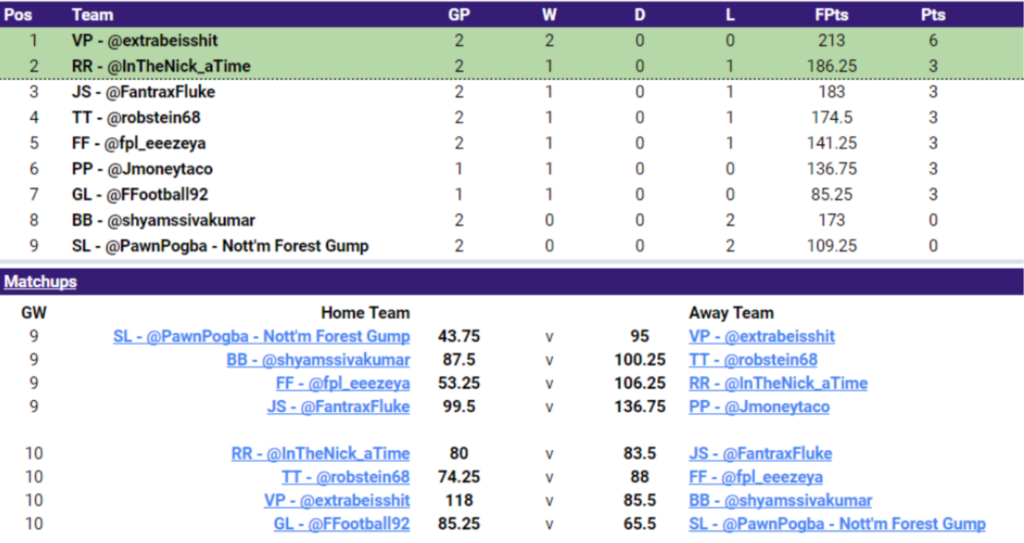 This week saw the start of my Community League Champions Cup title defence. Last year I was crowned as the 'Champion of Champions' – not strictly true but it was a pretty monumental achievement – as I beat 107 other managers to emerge victorious.
It's that achievement that has brought about the pain and torture of taking part in this season's Gold League.
After a recent bye week, my campaign started here with a fortunate win over Silver League participant PawnPogba by 85.25 points to 65.5.
I probably sound like a broken record but this is going to be one heck of a group to get out of. Only the top two will progress, so realistically you can only afford a maximum of two losses.
To give you an idea of how tough it'll be, Payet Posse participant and league leader JMoneyTaco somehow has a team involving three first-round picks of Salah, James Maddison and Gabriel Jesus. Sweaty.
In total, three of our group members lead their leagues – JMoneyTaco, PawnPogba and FantraxFluke – with extrabeisshit currently second in his division.
Then there's little old me down in eighth. Still, the defending champion. That's all that matters.