MLS Fantasy Round 6 team reveals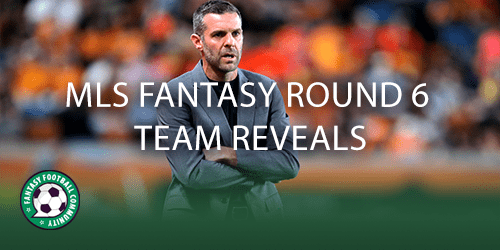 The brand new campaign continues! We take a look at MLS Fantasy Round 6 team reveals from some of the most experienced managers around. They share their thoughts on their teams going into the new round including captaincy.
Looking at some MLS Fantasy Round 6 team reveals can be extremely beneficial for new managers. Seeing some of the best assets, who managers will be looking to captain and their general thoughts can help bring clarity within our own teams.
@dmpwright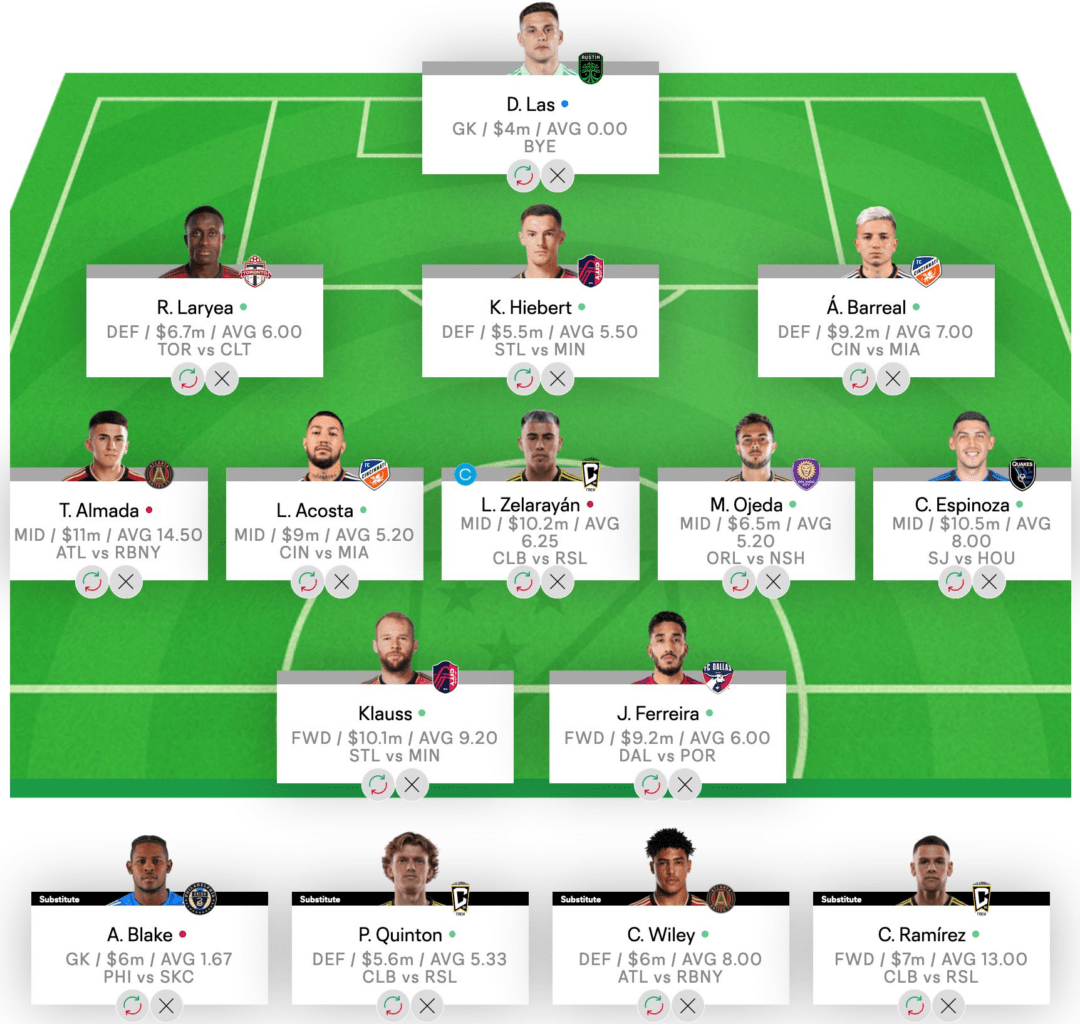 Notes
At the moment I am only running with one goalkeeper.
I am currently on Andre Blake, providing he returns to the line-up on Saturday; if he's still out, I will likely pivot to one of Sean Johnson or Maarten Paes.
In defence, Barreal picks himself for his offensive potential. I'd love to have Gressel too for the same reason, but can't stretch to him for budget reasons.
Wagner is also in contention for me if Blake starts; however, Wagner has been flagged as having a potential hamstring issue.
It's worth noting though that Wiley is likely to play LB rather than LW this week with Gutman out.
In midfield, Almada (my likely captain) and Espinoza are must owns – although beware the Red Bulls (Atlanta's opponents this week), who have a reputation for shutting down playmakers such as Almada.
Zelarayán and Lucho Acosta have favourable home fixtures, while shot-happy Martín Ojeda is a budget-friendly pick that has done well the last couple of weeks.
Gazdag, Carles Gil (if he starts) and Löwen are also in my thoughts for midfield picks.
Upfront, Klauss was one of the first names in my team this week. However, I'm not expecting St Louis City to rout Minnesota, who have looked impressive so far this season.
Elsewhere, one of Brandon Vazquez, Jesús Ferreira or Jordan Morris will occupy my second forward spot, while I fancy Christian Ramírez to do well again against the lacklustre Real Salt Lake.
@Mahoney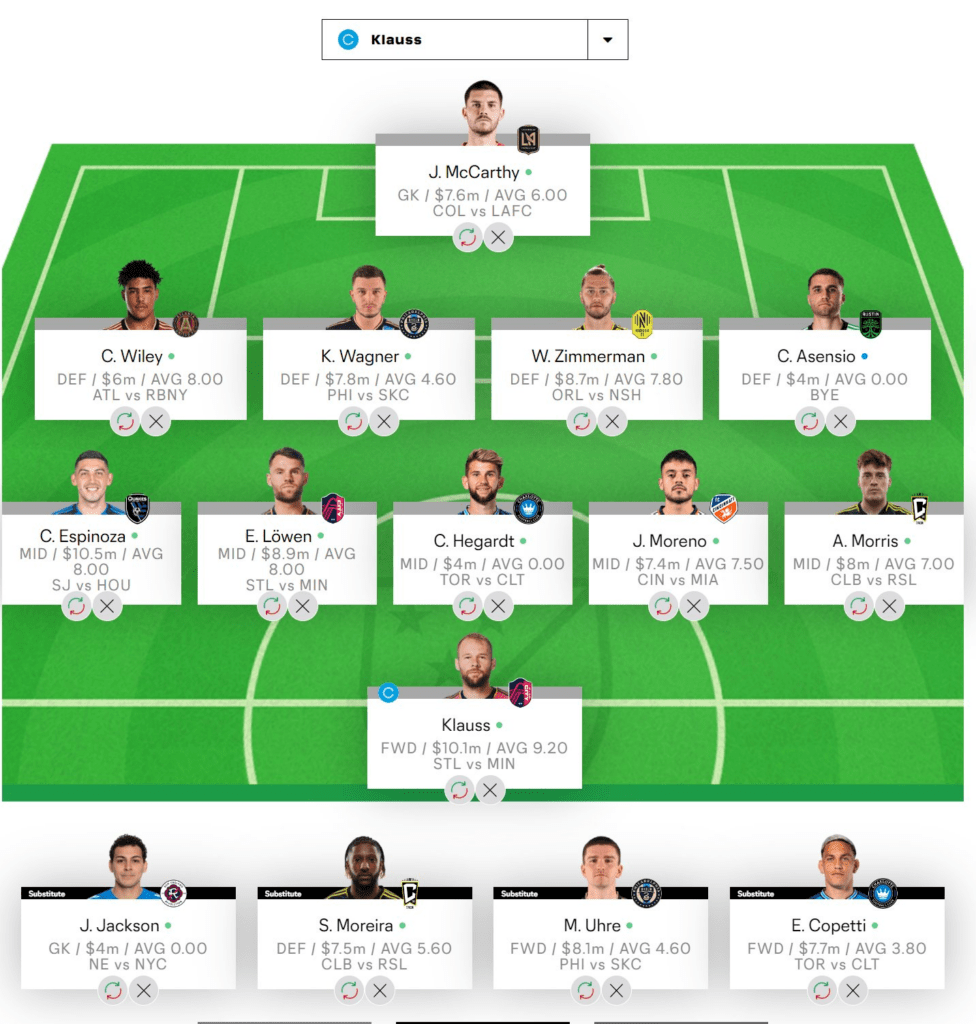 Notes
Round 5 = Solid Points and a green arrow from 4k to 3,482.
Captain Klauss for this week with the STL goal train continuing.
Minnesota don't give up many goals but lots of good options are on the road this week.
Copetti back in on the bench as he is the focal point for Charlotte though tough matchup up in Toronto.
McCarthy in goal for a good matchup with Colorado even though on the road.
Moreno comes in for Cincy who have heated up.
@_FutboIOscar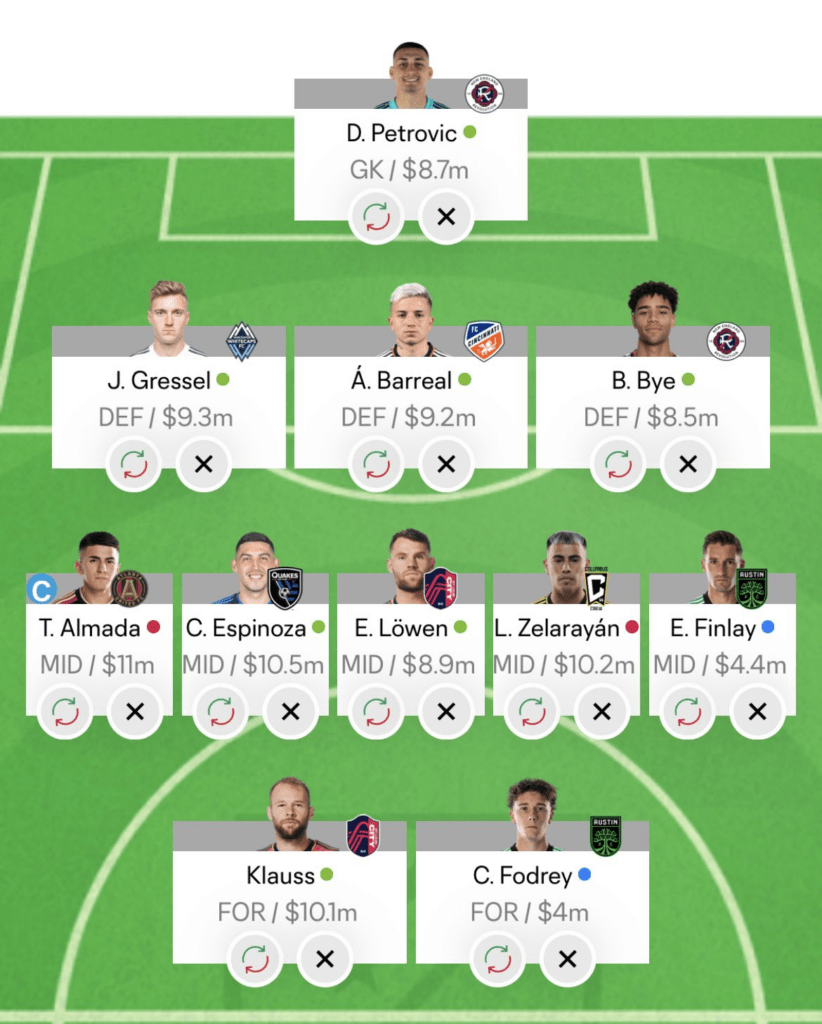 Notes
72 points in Round 5 saw another red arrow from 139th to 156nd.
Djordje Petrovic (8.7m) – The Serbian goalkeeper has a good chance of adding to his three clean sheets in a home game against NYCFC.
Alvaro Barreal (9.2m) – The Cincinnati defender is a lock for me this week. He has huge attacking potential and a favourable fixture against Inter Miami who are winless in their last three games.
Thiago Almada (11m) – Atlanta will be looking to bounce back after being battered by Columbus Crew last week. They were dismantled without their Argentinian playmaker who was away on international duty.
Joao Klauss – The Brazilian forward sits on five goals and two assists this season. He has a great chance of adding to that tally against Minnesota United this week.
I currently have my captaincy armband on Thiago Almada but Barreal, Espinoza, Zelarayan and Klauss are all good options as well.
@melvinmbabazi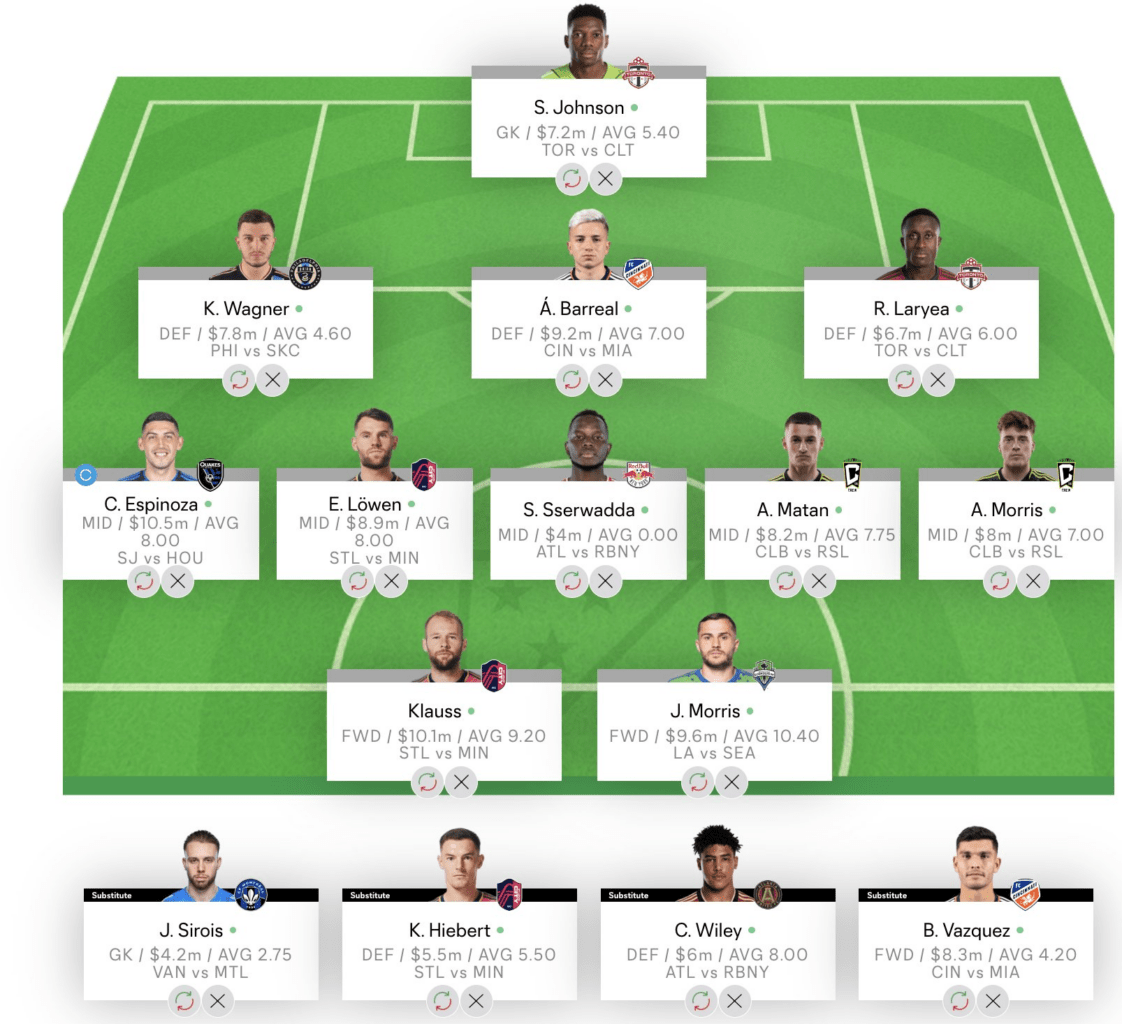 Notes
Defenders: Kai Wagner (PHI; 7.8m) : Philadelphia Union have the best odds for a win and a clean sheet in Round 6. Wagner also tops MLS defenders for crosses.
Midfielders: Eduard Lowen (STL; 8.9m): Lowen has a great fixture and great odds. He leads for big chances created, key passes and crosses for St. Louis City SC. He also has a 8.0 points per game average which is good.
Cristian Espinoza (SJ; 10.5m): A premium midfielder who is top in the MLS for for big chances created (five), key passes (18), crosses (19). He is nailed in my team.
Forwards: Joao Klauss (STL; 10.1m) : Klauss has scored 46 points in the Last five games. He ranks sixth in the MLS for shots and second for shots on target. He is on form and a good pick this round.
My captain will be Espinoza.
@Anurag_B_ST4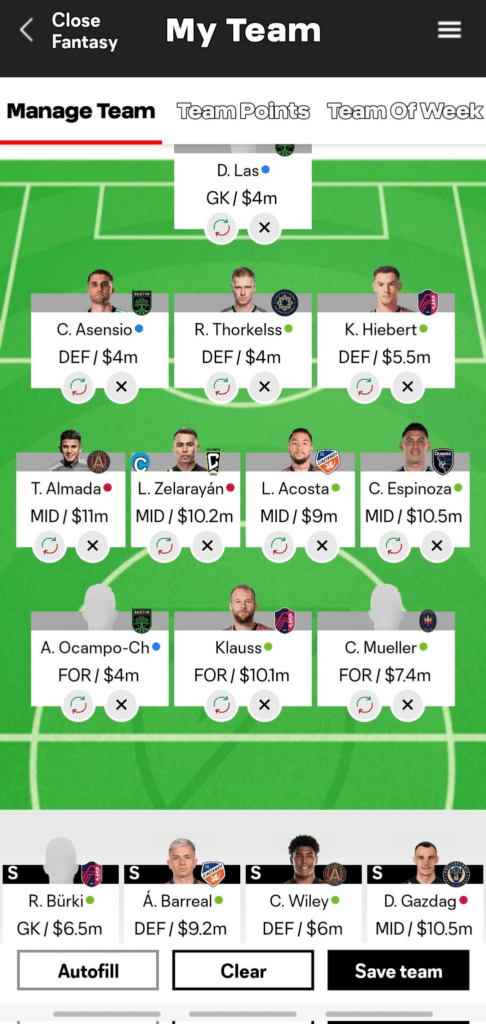 Current OR: 33rd.
This weeks schedule is a bit tight so there is less keeparoo/switcheroo options. My current draft using these strategies may change as we get closer to the deadline with line-ups.
Goalkeepers: Burki, STL have surprised everyone and he has racked up great points in the last two rounds, so is prime for another price rise as well (Takaoka and Marcinkowski are 2 potential late keeparoo options).
Defenders: Cincy have a good match and Barriel is one of most attacking defenders this season. Wiley, OOP Def, ATL at home and getting many of key players back from ITL duty. Hiebert, An attacking defender in STL defence that have been good so far.
Midfielders: Almada, nothing to add that is different from others would say and did not play Argentina's last game.
Zela, another ITL duty return, we have seen what CLB was able to do even without him last week, this week he has a great game against RSL and currently, has the armband for me.
Acosta, Cincy's main man and has a great matchup against Miami. Espinoza keeps racking points even if he doesn't necessary return. He is home to Houston, a great matchup.
Gazdag, may be goal dependent but again, has a great home matchup against SKC.
Forwards: Klauss has taken the MLS by storm so far. He should continue his form in a great matchup against MIN.
Mueller and Chicago have a great home game against DC. He has returned in the last two rounds, so is on a price rise regardless if he returns or not, with a late game, also potential switcheroo if needed to upgrade scrubs.
Across all four positions, many other players could come into thoughts as line-ups come out and with this week, all games being essentially at same time, switcheroo/keeperoo strategies may not stick.
@eytexi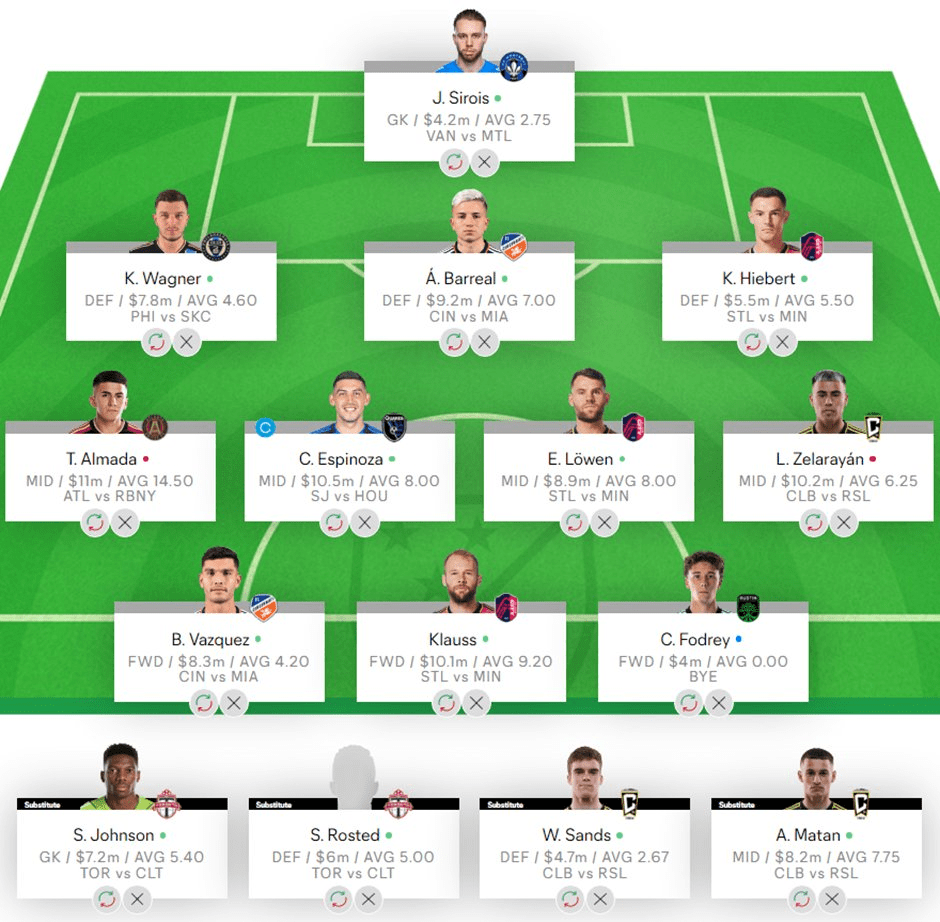 Notes
Although I don't expect Kai Wagner to start following his 'precautionary MRI' due to hamstring discomfort, he remains in my side until early team news can provide some clarity. Not only do Philadelphia have the week's best winning and clean sheet odds, but Wagner ranks first and second amongst MLS defenders for crosses (16) and key passes (11).
Eduard Löwen's form makes him an easy selection for Round 6; he leads St. Louis City players for big chances created (four=second in MLS), key passes (12 =10th in MLS), crosses (seven), and final third passes (69).
Kyle Hiebert and João Klauss complete a St. Louis City triple-up. Despite rising 2.1m since the season began, it's impossible to overlook Klauss when you consider his 9.2 points per game average, 17 shots (=sixth in MLS), and nine shots-on-target (=second in MLS).
Cristian Espinoza becomes my sixth different captain in as many weeks; his 19 crosses (first in MLS), 18 key passes (first in MLS) and five big chances created (=first in MLS) put him on a total of 42 creative contributions. The next best? Kai Wagner (29).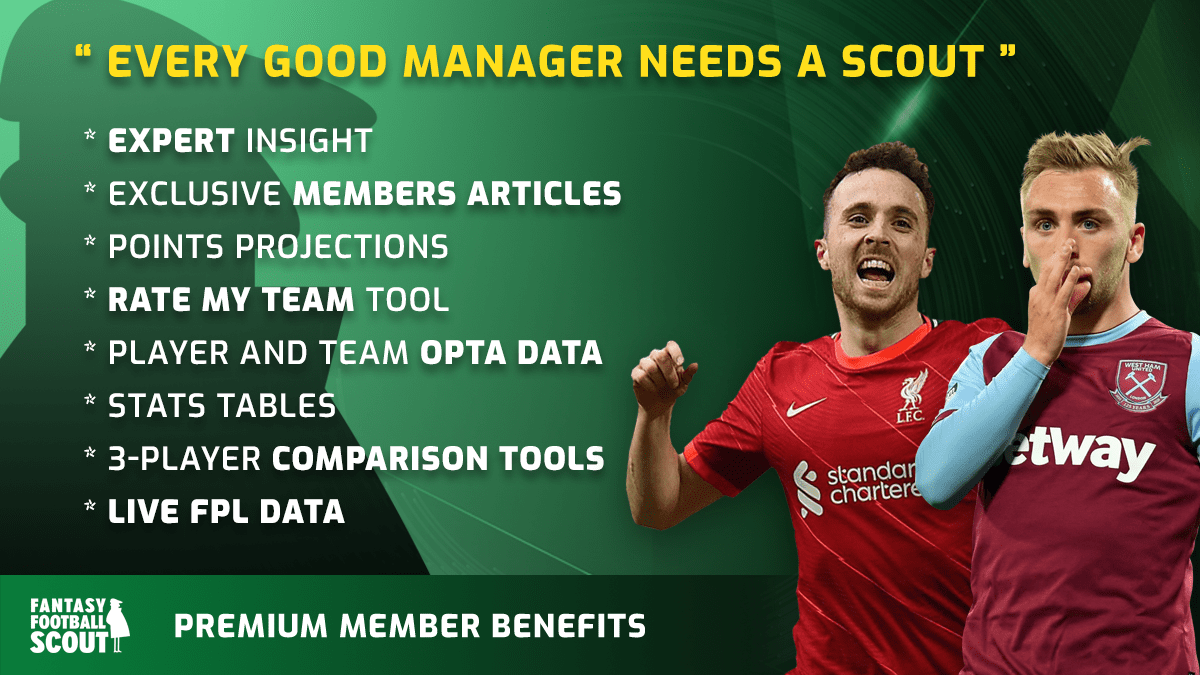 ---
Who is the best captain in Gameweek 29 FPL? We look at the standout options and pick out the best in our article here.