MLS Fantasy Round 10 team reveals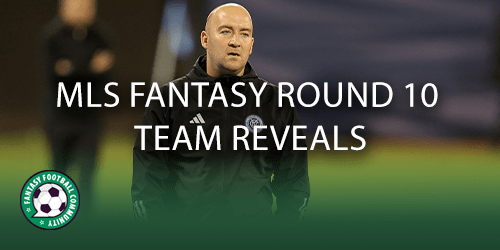 The brand new campaign continues! We take a look at MLS Fantasy Round 10 team reveals from some of the most experienced managers around. They share their thoughts on their teams going into the new round including captaincy.
Looking at some MLS Fantasy Round 10 team reveals can be extremely beneficial for new managers. Seeing some of the best assets, who managers will be looking to captain and their general thoughts can help bring clarity within our own teams.
@dmpwright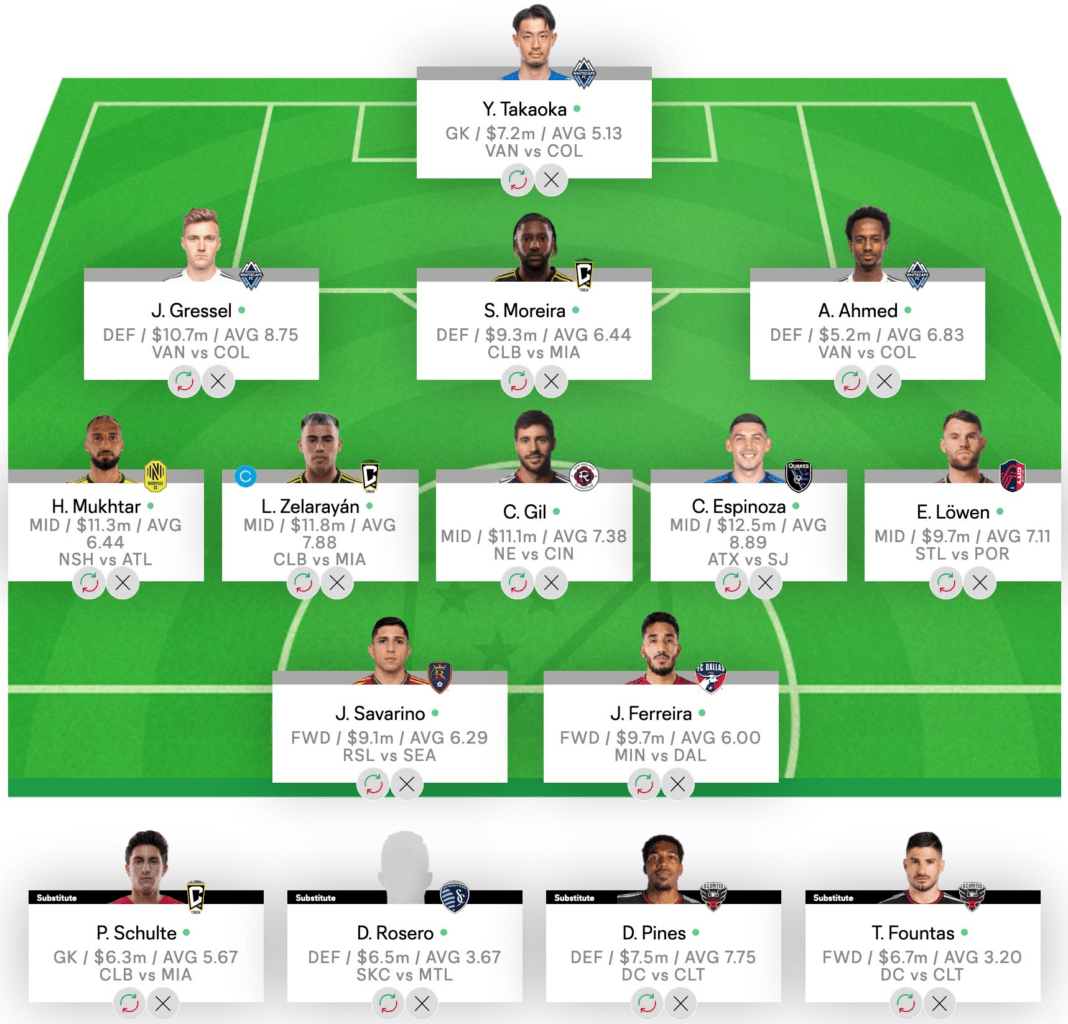 Notes
Patrick Schulte and Yohei Takaoka are locked in as my goalkeepers thanks to matchups against Inter Miami and Colorado, respectively, both of whom have poor away offences.
In defence, I've matched Schulte with Steven Moreira and Takaoka with Julian Gressel and Ali Ahmed Besides Columbus and Vancouver, I don't see many good defensive matchups this week, so my other two defenders may end up being line-up dependent.
I currently have Dany Rosero and Donovan Pines for their floor and the possibility of a clean sheet but they will be bench plays at best.
In midfield, Hany Mukthtar, Carles Gil and Lucas Zelarayán, who will be my captain, are all locks this week.
Thiago Almada is a reluctant omission at the moment; however, Nashville have shown themselves to be defensively resilient at home.
Cristian Espinoza is hard to overlook despite another potentially tricky away matchup this week, having delivered a goal or an assist in all but two MLS fixtures so far this season.
My final midfield spot is up for grabs. I currently have Eduard Löwen, who faces a weak Portland defence and is likely to be on all set pieces with Klauss out injured, although I may end up pivoting to Lorenzo Insigne.
Jefferson Savarino is my only forward lock. RSL also tend to well on home soil.
My other forwards are Taxi Fountas and Jesús Ferreira. Ferreira's fantasy returns have increased since he's started playing at the 10. While DC United should do well at home to Charlotte – with Fountas offering better value than the more expensive Christian Benteke .
Brian White and Federico Bernardeschi, if fit, are also in my thoughts for forwards this week.
@_FutboIOscar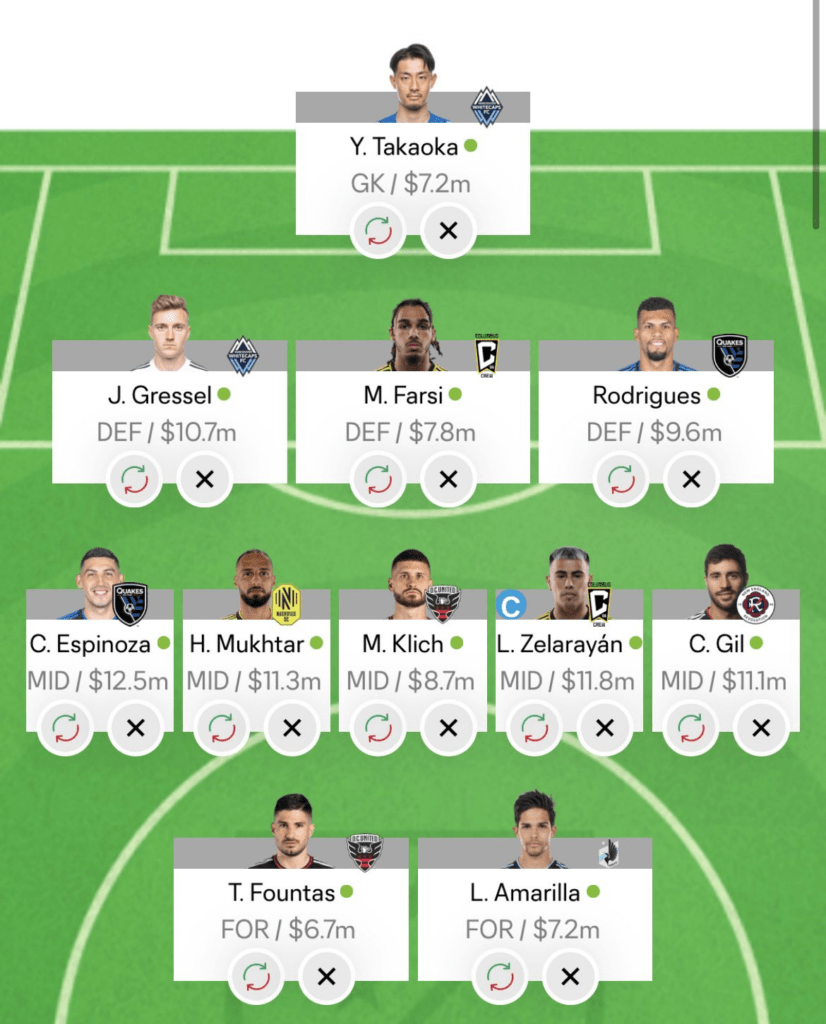 Notes
I hit 90 points in Round 9 which saw me drop to 22nd in the world.
I have gone for Takaoka (7.2m) and Brady (6.4m) as my goalkeepers this week. Both have favourable home matches on paper. I also like the look of Schulte if he starts, Mille and Pulskamp.
Julian Gressel might be a boring pick this week but with a good home match he is a must have in everyone's side.
My midfield pick this week is Hany Mukhtar. The reigning MVP from last year is starting to heat up with three goals and one assist in his last four appearances.
With no standout attackers this week I am going for three cheaper ones in Fountas, Amarilla and Salloi with good home games. I also like the look of Bernardeschi if he starts.
My captain this week will be Zalarayan. If I feel bold I might go for either Gressel or Klich.
@melvinmbabazi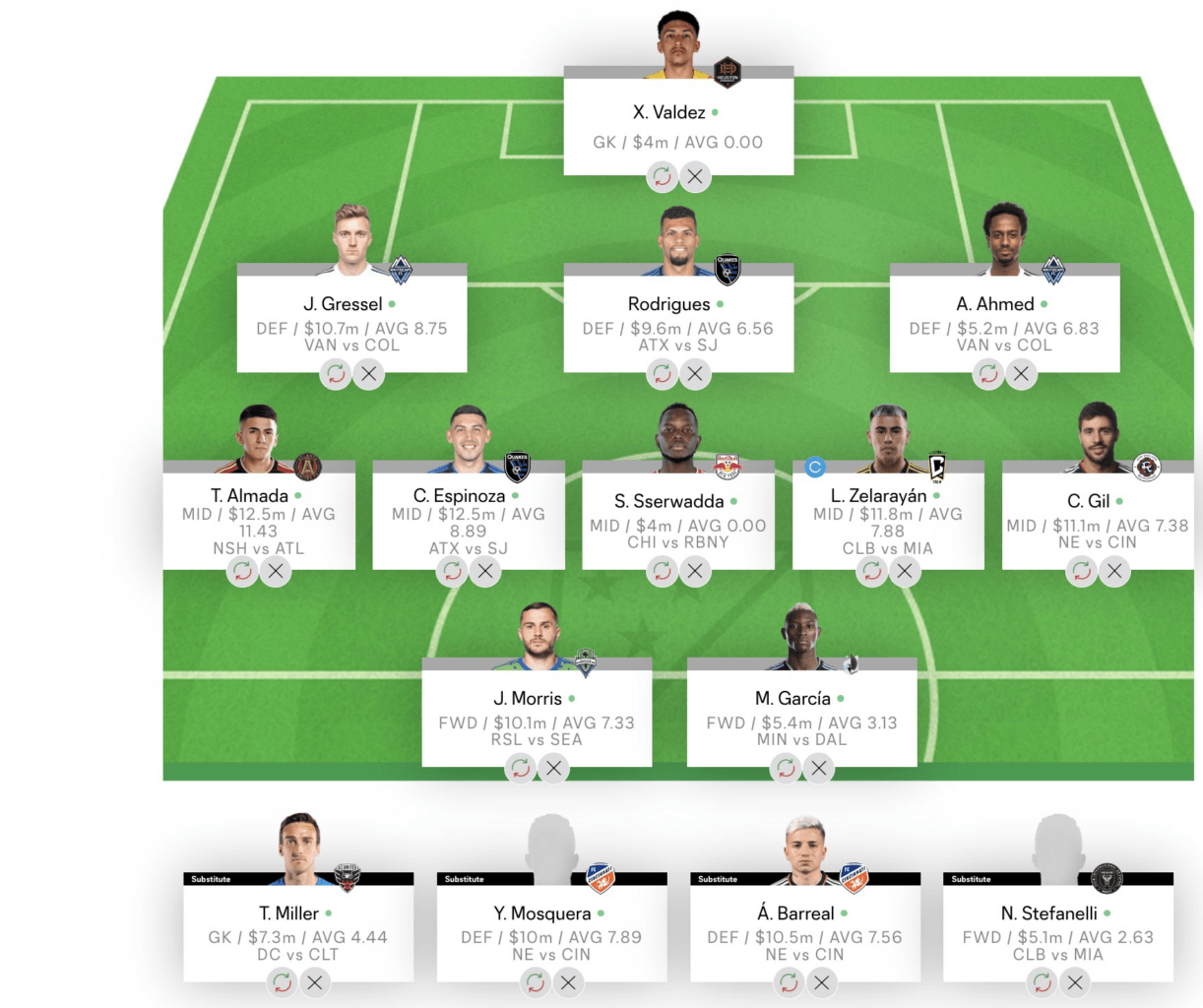 Notes
Defender: Ali Ahmed (VAN; 5.2m); Ahmed has 38 points in his last three games and plays OOP and is only 5.2m! Vancouver Whitecaps FC have three consecutive clean sheets and are likely to continue vs Colorado Rapids this weekend.
Midfielder: Cristian Espinoza (SJ; 12.5m); Premium midfielder, Espinoza has been on fire in 2023. He has scored five goals in his last four games. He's also averaging over nine fantasy points per game, look for Espinoza to continue to fuel the San Jose attack.
Midfielder: Thiago Almada (ATL; 12.5m), Another Premium midfielder, Almada has four goals and six assists in seven games this season. Almada also has produced eight big chances created making him a good pick this round.
Midfielder: Lucas Zelarayán (CLB; 11.8m) Columbus crew have the best-winning odds this round. Zelarayán has recorded 30 shots this season making him one of the highest in MLS. Great pick.
My captain is likely to be one of Espinoza or Zela.
@eytexi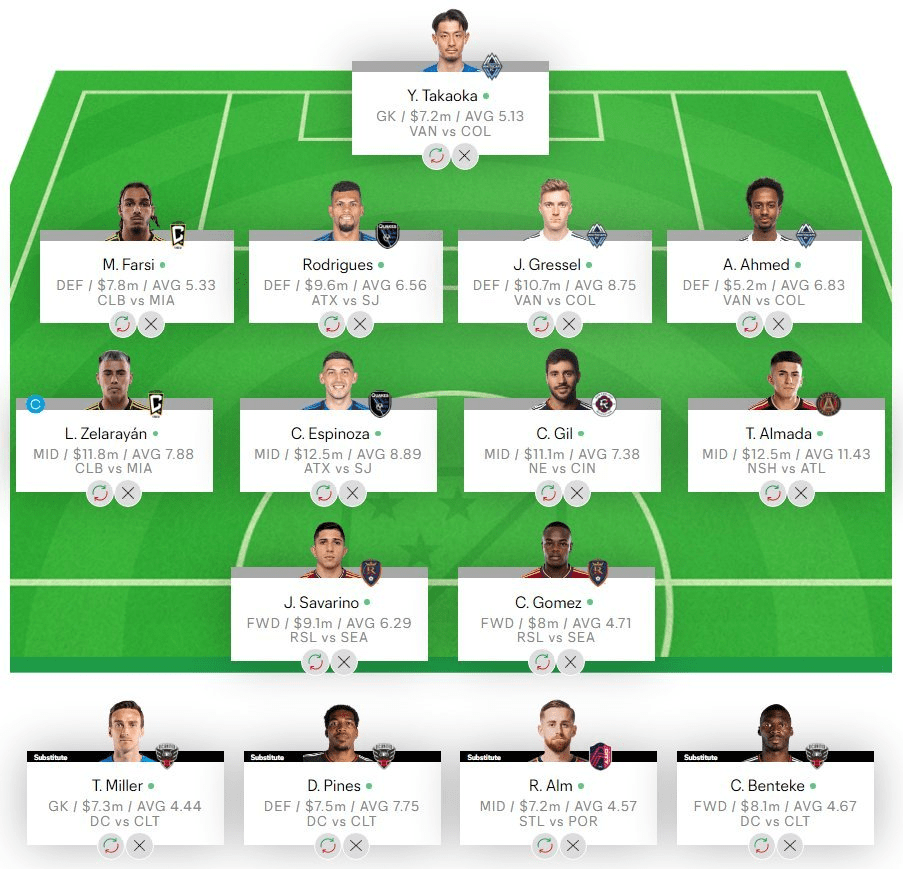 Notes
The DC United goalkeeper has two clean sheets in his last four outings, and earned himself a half-million rise after five saves and 13 recoveries in Gameweek Nine. DC have the MLS' third best clean sheet odds (2.62) for Round 10, Miller's bonus accumulation giving him a great floor regardless of the shut-out.
I'll be doubling-up on the DC United defence, with Tyler Miller joined by Donovan Pines. I've been eyeing-up Pines and his 7.75 points-per-game average for a couple of weeks now. His goal, nine recoveries and ten major defensive contributions in Round 9 have cemented his place in my side.
Another defender in great form is Columbus Crew's Mohamed Farsi; he has a 6.8 points-per-game average over his last five appearances. Crew have the MLS' BEST winning (1.70) and clean sheet (2.37) odds this weekend; only Zelarayán can top Farsi's eleven key passes at Crew, whilst his 111 final third passes ranks fourth at the club and 51-clear of any other Crew defender!
Julian Gressel and Ali Ahmed combine for a second defensive double-up at Vancouver Whitecaps; they have the MLS' second best winning (1.72) and clean sheet odds (2.50) this weekend. Over the last three fixtures, the duo have combined for 73 fantasy points, including three consecutive clean sheets.
Jefferson Savarino is the form man up-top. Real Salt Lake's main man has five goal involvements in his last three games, and I have confidence that he won't stop here. Although opponents Seattle Sounders have conceded just seven times this season, all of these have come on the road and they're yet to keep a MLS clean sheet away from home.
@Mahoney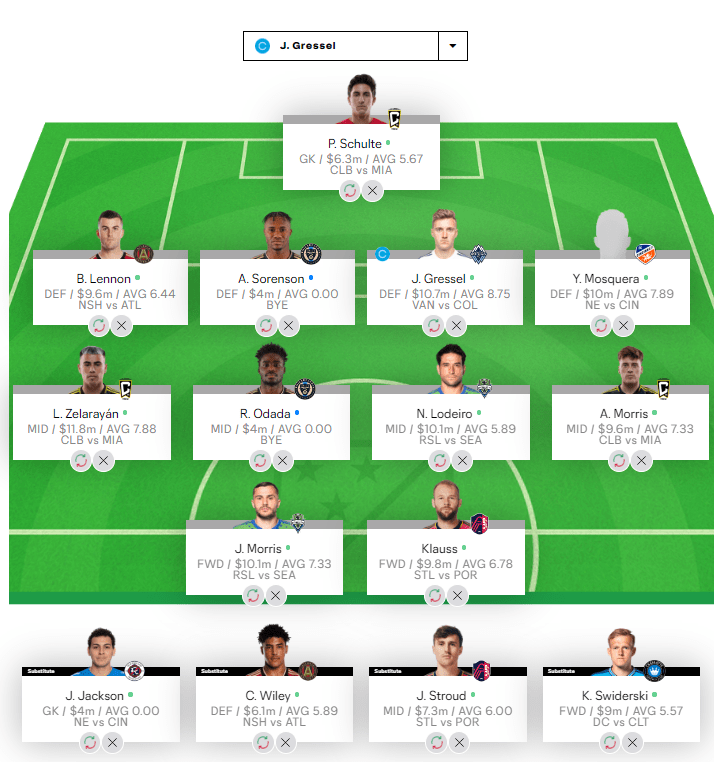 Notes
71 points last week and OR up to 1,589.
Gressel comes back in after the bye to host COL.
Loading up on CLB back at home against MIA with a GK and MID.
Adding Jordan Morris up front for Bouganga.
Gressel captaincy looking good this week.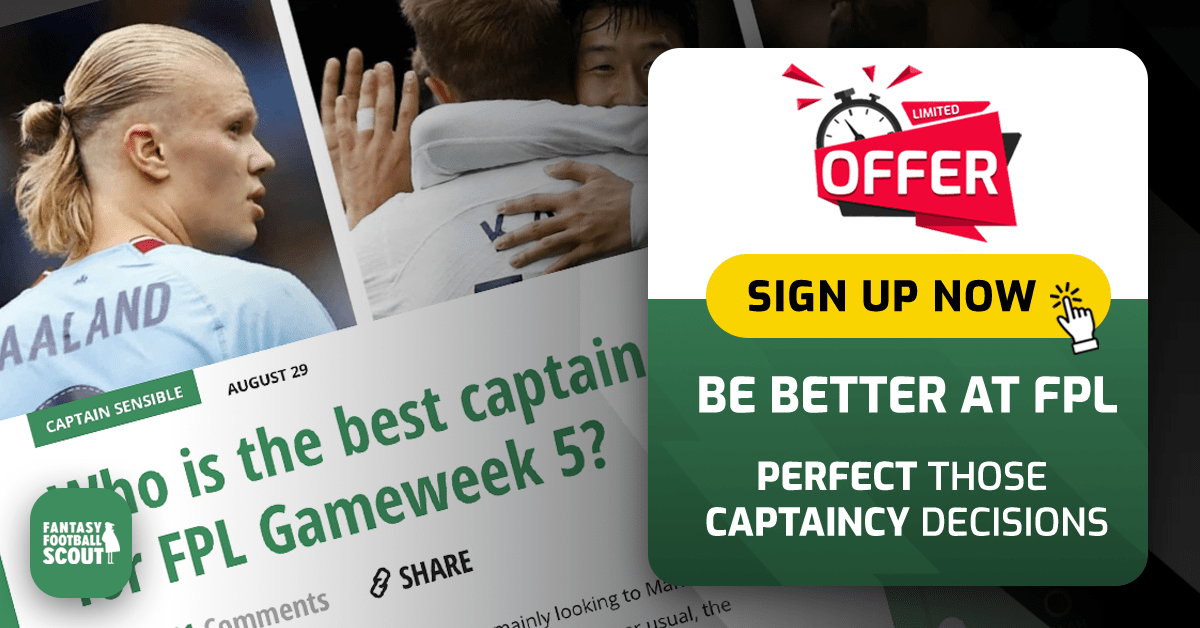 ---
Are you using the wildcard in FPL this week? Check out our best wildcard for Gameweek 34 right here.