Key FPL transfers ahead of Gameweek 34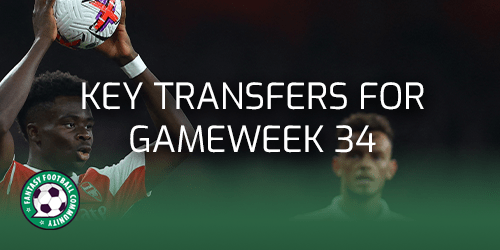 The dealdine for Gameweek 34 is at 11am. Here we take a look at the transfer market and the key FPL transfers. FPL managers can also check who is popular and who isn't through the Official FPL website. Here we look at the key FPL transfers ahead of Gameweek 34.
The transfers below show the movement of players ahead of the Gameweek 34 deadline. These are the key FPL transfers ahead of Gameweek 34.

Loading ...
FPL transfers ahead of Gameweek 34
Top transfers in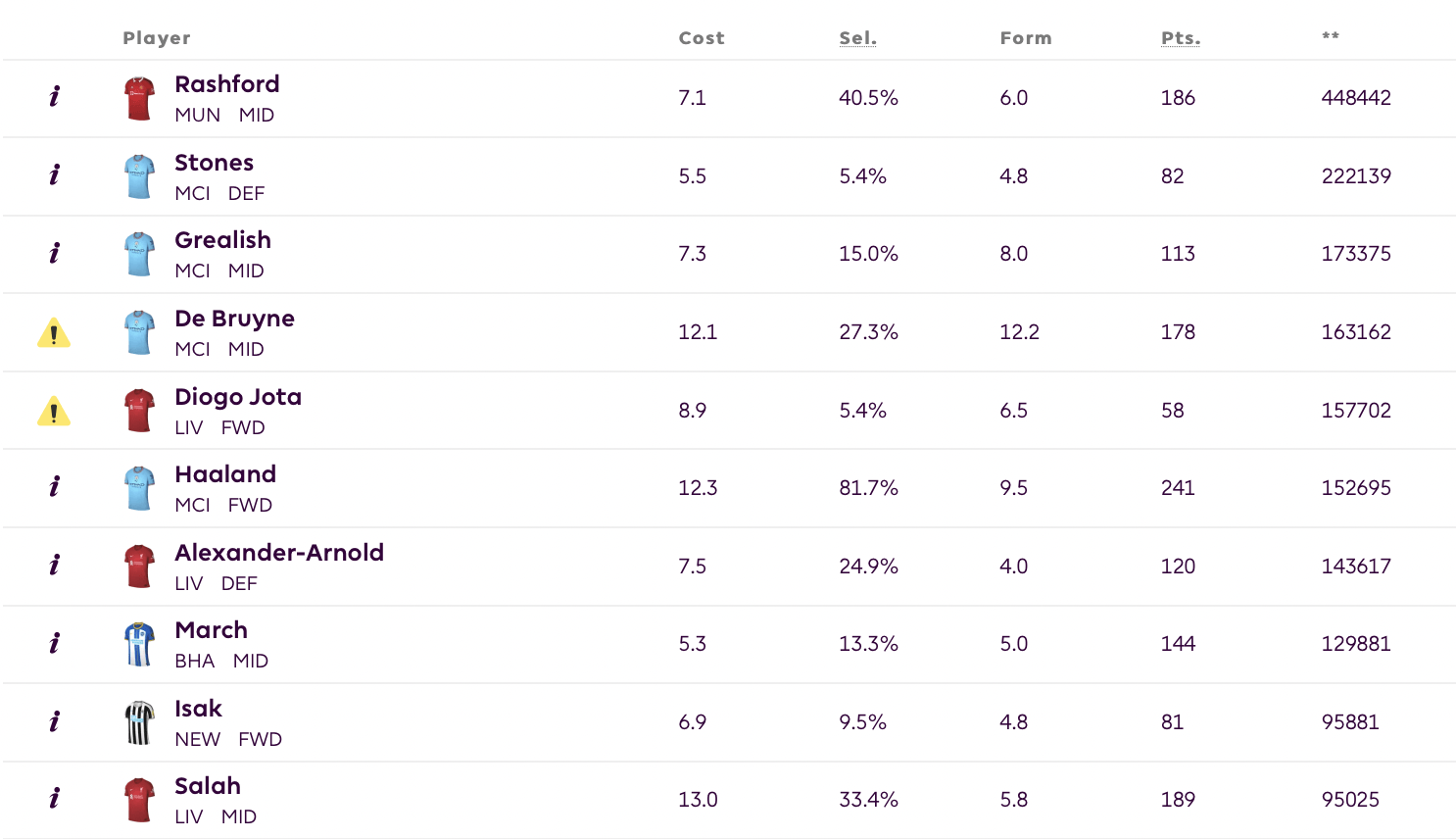 Man United's Marcus Rashford (£7.1m) is now back from injury and returned a goal and an assist in Gameweek 33. He is the most transferred in player ahead of Gameweek 34. He has over 448,000 new managers so far. Man United have a double gameweek in Gameweek 34.
Despite Man City failing to keep the clean sheet in Gameweek 33, John Stones (£5.5m) scored and picked up a bonus point. As a result he is the second most popular transfer in ahead of Gamweek 34. a So far the midfielder has over 222,000 transfers in.
Jack Grealish (£7.3m) remains a popular target for FPL managers. The midfielder has a double gameweek in Gameweek 34 and again in Gameweek 37. Grealish has over 173,000 transfers in this week.
Kevin De Bruyne (£12.1m) scored a brace in Gameweek 33 and was the highest scoring player of the gameweek with 19. He has had over 163,000 transfers in so far, however he is flagged with a muscle injury as a result of Wednesday's game against Arsenal.
Diogo Jota (£8.9m) like De Bruyne is also flagged in the game. The forward was removed on 58 minutes in Gameweek 33, leaving his owners frustrated with just one point returned. has found form at Jota has over 157,000 new managers.
Top transfers out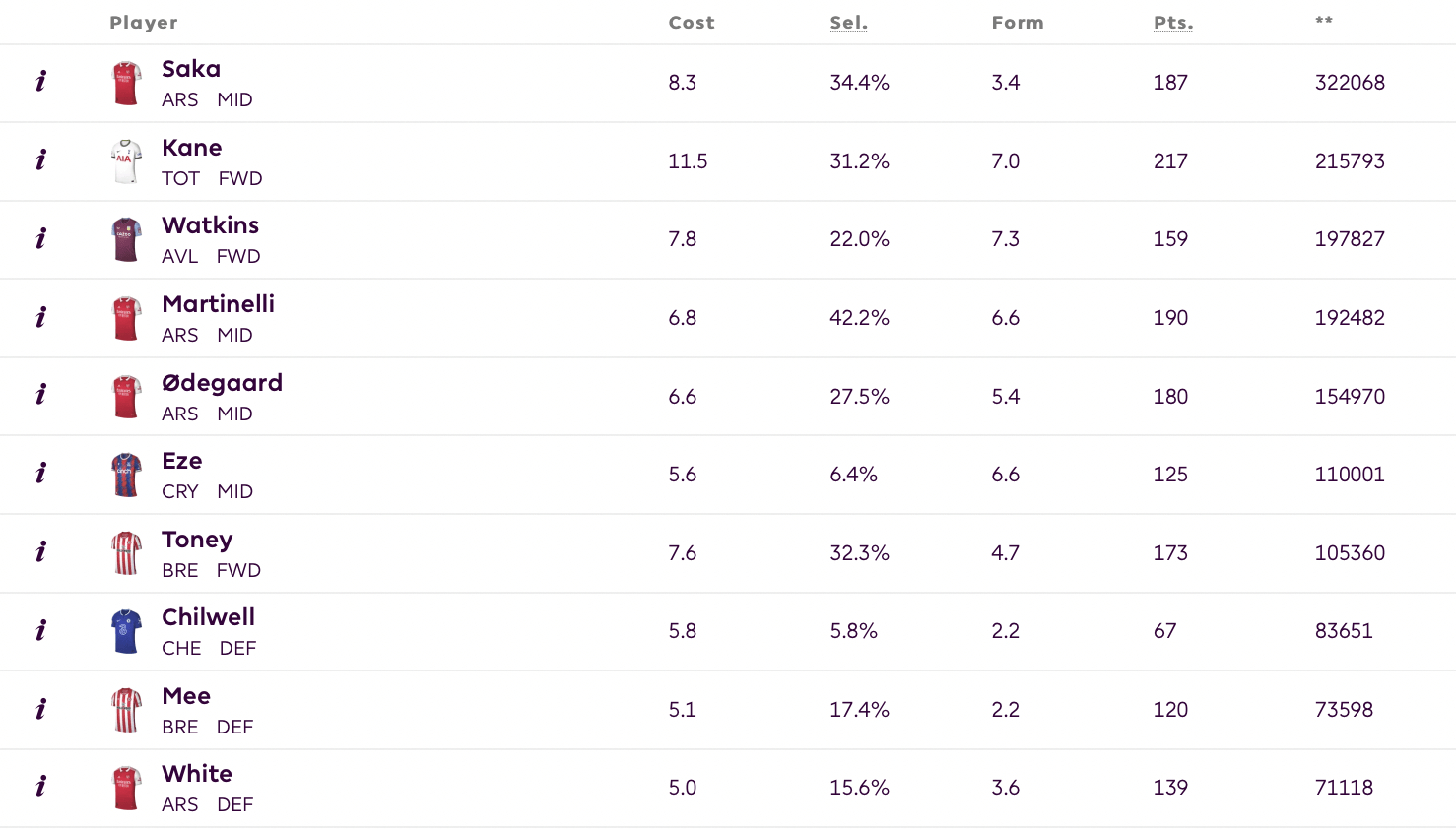 Arsenal's Bukayo Saka (£8.3m) failed to return in Gameweek 33 as Arsenal lost to Man City. He also has no further double gameweeks this season. The lack of a double gameweek is making their assets popular sales for managers. Over 322,000 managers have parted company with Saka.
Harry Kane (£11.5m) returned two assists and three bonus points in Gameweek 33. Despite this he is the second most popular transfer out ahead of Gameweek 34. Kane is the second highest scoring forward so far this season. Over 215,000 managers have sold Kane ahead the Gameweek 34 deadline.
Ollie Watkins (£7.8m) was in a fantastic run of form, however the forward has now failed to return in his last two matches and has a single gameweek against Man United in Gameweek 34. As a results he is the third most transferred out player this week. Watkins has been sold by over 197,000 managers.
Gabriel Martinelli (£6.8 m) and Martin Odegaard (£6.6m) are the fourth and fifth most transfered out players. They like Saka only have a single gameweek in Gameweerk 34 when they play Chelsea. Arsenal have failed to win in their last four league matches, losing to Man City in Gameweek 33 and drawing with Liverpool, West Ham and Southampton. They have been sold by 192,000 and 154,000 managers respectively.
---
You can catch up with all of our great FPL articles here.