Key FPL transfers ahead of Gameweek 24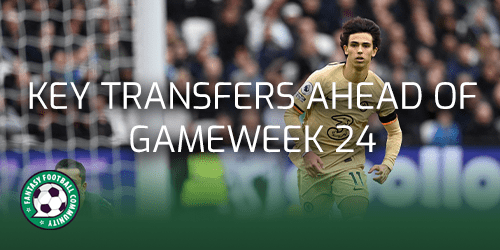 Gameweek 23 ended on Wednesday evening with the rearranged match between Man City and Arsenal. Gameweek 24 kicks off at lunch time when Aston Villa face Arsenal. Here we take a look at the transfer market and the key FPL transfers. FPL managers can also check who is popular and who isn't through the Official FPL website. Here we look at the key FPL transfers ahead of Gameweek 24.
The transfers below show the movement of players ahead of the Gameweek 24 deadline. These are the key FPL transfers ahead of Gameweek 24.

Loading ...
FPL transfers ahead of Gameweek 24
Top transfers in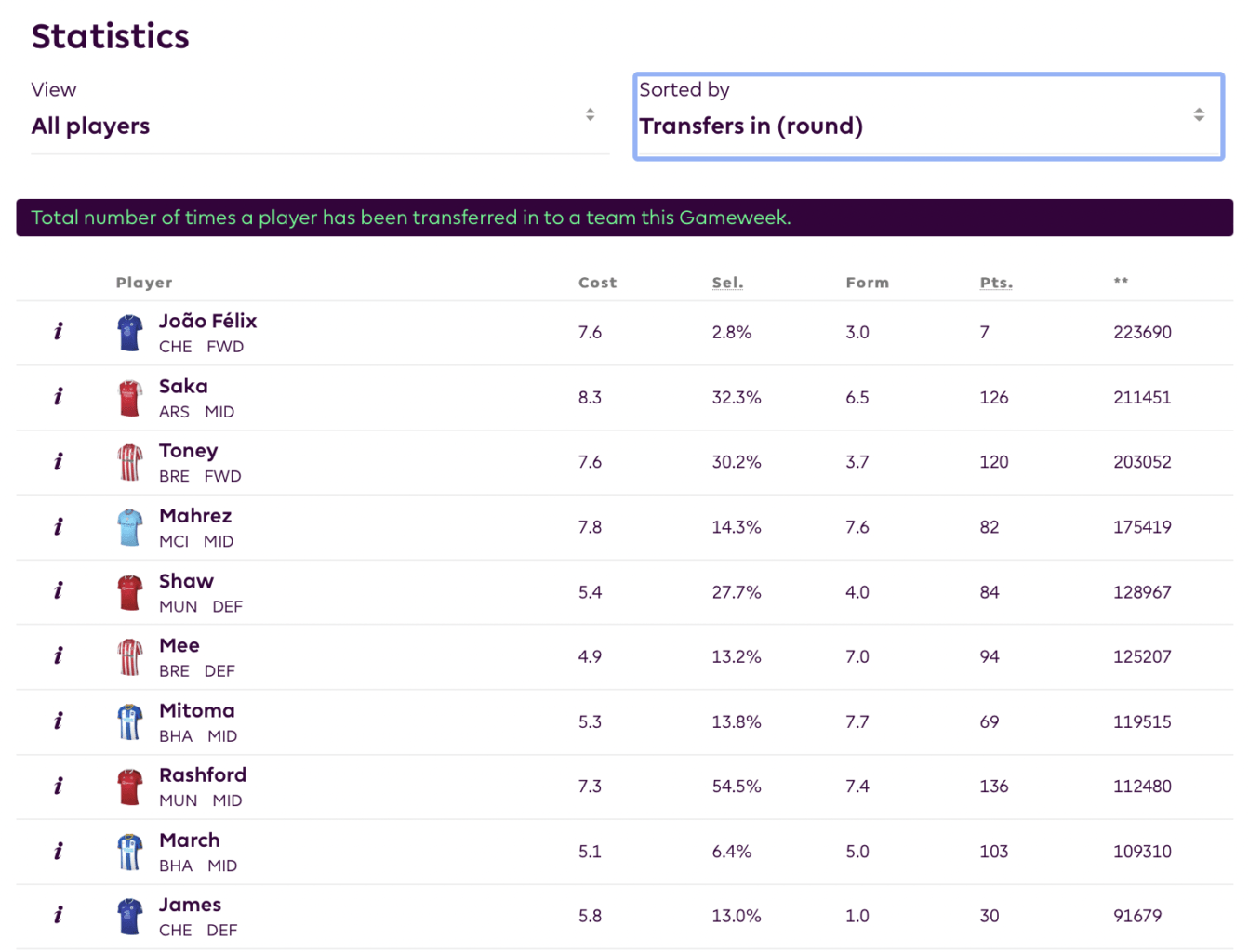 Chelsea's Joao Felix (£7.5m) returned from suspension in Gameweek 23. The forward scored a goal and registered three bonus points. Chelsea's nice run of fixtures, alongside games in the blank gameweeks, mean that the forward is a popular buy for managers this week. So far the he has 223,000 transfers in.
Bukayo Saka (£8.3m) has had over 211,000 transfers in so far and is the fourth most popular transfer target ahead of Gameweek 24. Saka has returned in five of Arsenal's seven Premier League matches since Gameweek 17.
Ivan Toney (£76m) will blank in Gameweek 25. Therefore the 203,000 managers who have brought him in this week will need a plan to manage that. Toney scored against Arsenal in Gameweek 23 to put himself back on FPL managers radars.
Riyad Mahrez (£7.7m) is the fourthmost popular transfer in. The midfielder scored a penalty and got an assist in Man City's first match of Gameweek 23. Mahrez has had over 175,000 transfers in since the Gameweek 23 deadline.
Luke Shaw (£5.4m) scored 12 points in Gameweek 23. He registered an assist, a clean sheet and three bonus points. 128,000 managers have purchased Shaw this week.
Top transfers out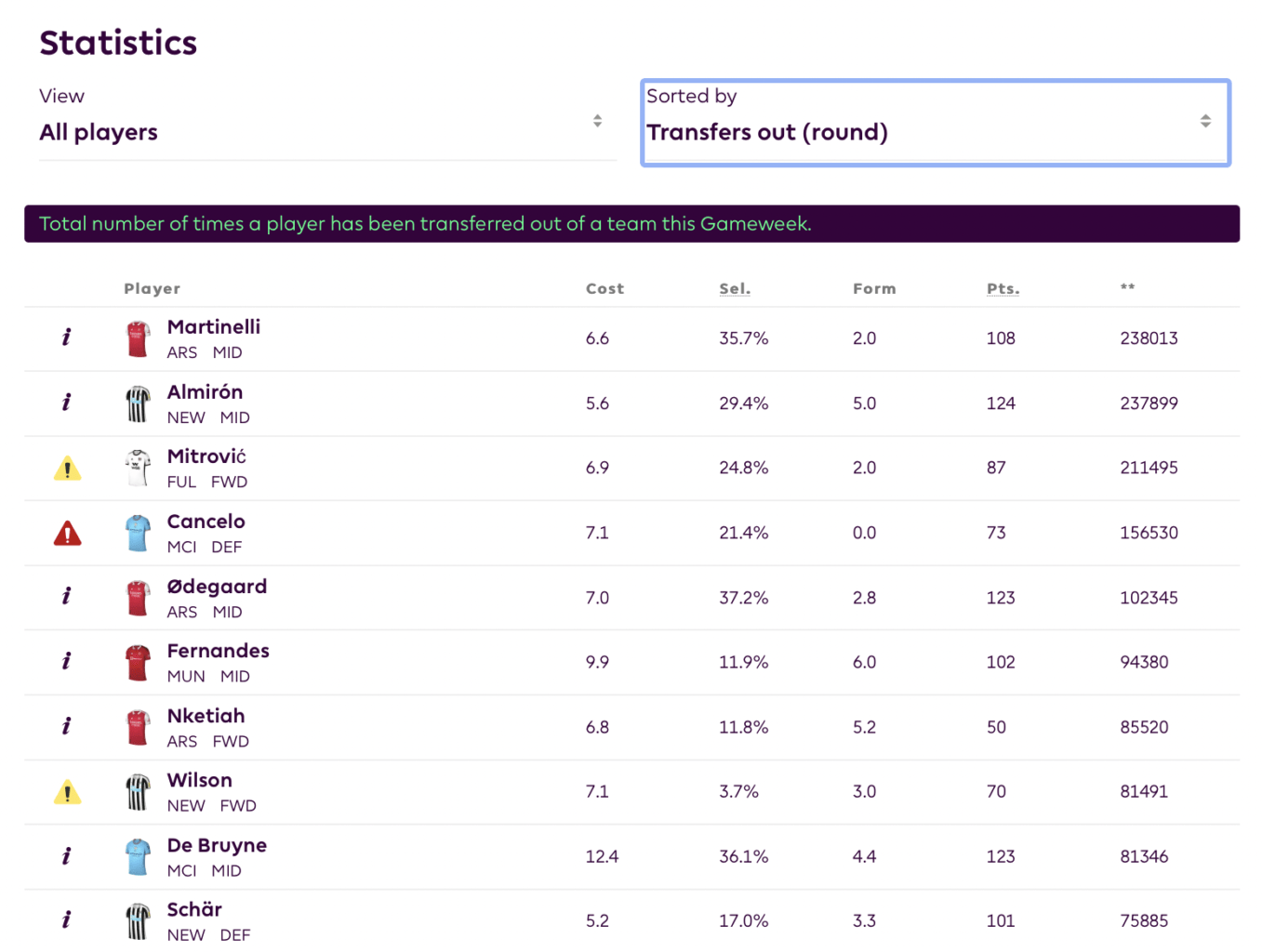 Gabriel Martinelli (£6.6m) is the most transferred out player. Martinelli has failed to returned in the last five gameweeks. Many managers are worried that Martinelli is now a rotation risk having been substituted for Trossard in the last three matches. Especially as Trossard scored when he came on in Gameweek 25. Martinelli has been sold by over 238,000 managers.
Miguel Almiron (£5.8m) scored in Gameweek 23. However, with a match against Liverpool in Gameweek 24 and a blank in Gameweek 25 he is proving a popular sell. He has since returned five blanks. Almiron has been sold by over 237,000 managers.
Fulham's Aleksandar Mitrovic (£6.9m) has also failed to returned in each of his last four Premier League matches. He is also currently yellow flagged. Over 211,000 managers have parted company with Martinelli.
Man City's Joao Cancelo (£7.1m) has joined German side Bayern Munich on loan for the rest of the season. He is the second most expensive defender in the game and no he will not play again this season he is an easy sell for managers. Over 156,000 managers have sold Cancelo ahead the Gameweek 24 deadline.
---
You can catch up with all of our great FPL articles here.