Key FPL transfers ahead of Gameweek 23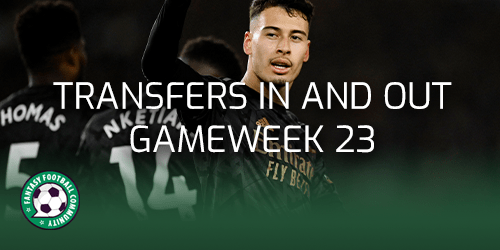 Gameweek 22 ended on Wednesday evening with the rearranged match between Man United and Leeds. Gameweek 23 kicks off on Saturday 11th February when West Ham face Chelsea. Here we take a look at the transfer market and the key FPL transfers. FPL managers can also check who is popular and who isn't through the Official FPL website. Here we look at the key FPL transfers ahead of Gameweek 23.
The transfers below show the movement of players ahead of the Gameweek 23 deadline. These are the key FPL transfers ahead of Gameweek 23.

Loading ...
FPL transfers ahead of Gameweek 23
Top transfers in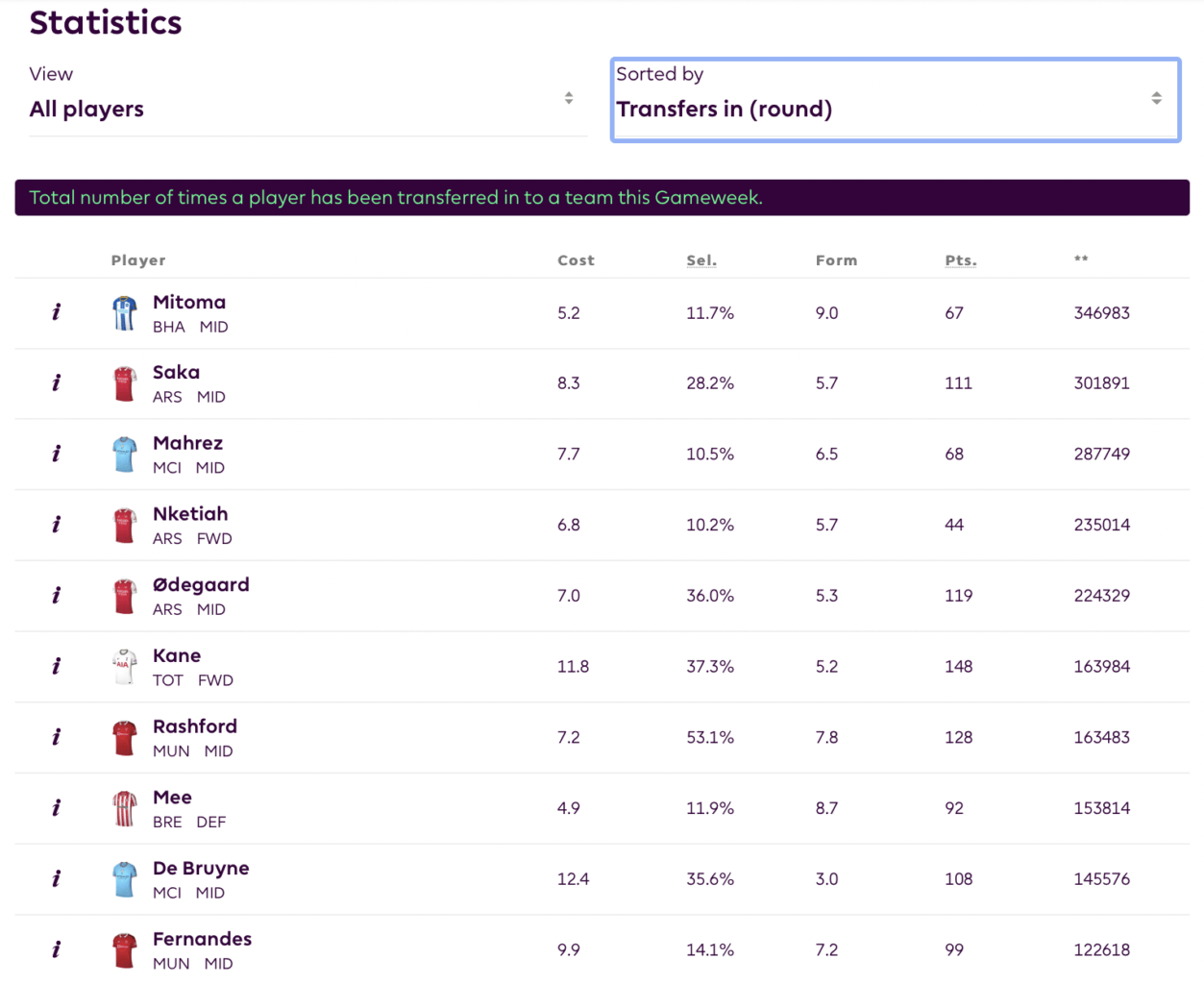 Given that Gameweeek 23 is a double gameweek it is interesting that a single gameweek player is the most transfered in. Kaoru Mitoma (£5.2m) has now returned in each of his last five Premier League matches. The midfielder has back-to-back double digit hauls in Gameweeks 21 and 22. So far the midfielder has 346,000 transfers in.
Bukayo Saka (£8.3m) does play twice in Gameweek 23. Saka has had over 301,000 transfers in so far and is the second most popular transfer target ahead of Gameweek 23. Saka has returned in four of Arsenal's six Premier League matches since Gameweek 17.
Riyad Mahrez (£7.7m) is the third most popular transfer in. The midfielder was substituted on the 59th minute in Gameweek 22, however this hasn't put FPL managers off investing. Mahrez is still a differential, he is currently in just 9% of FPL teams. He has had over 287,000 transfers in since the Gameweek 22 deadline.
Eddie Nketiah (£6.8m) is currently the most popular forward for FPL managers to invest in. He, like Saka, Mahrez and Odegaard has two fixtures in Gameweek 23. Over 235,000 managers have purchased the forward ahead of Gameweek 23.
Martin Odegaard (£7.0m) will also play twice in Gameweek 23. He is Arsenal's highest scoring FPL asset so far this season. Odegaard has had over 224,000 signings so far.
Top transfers out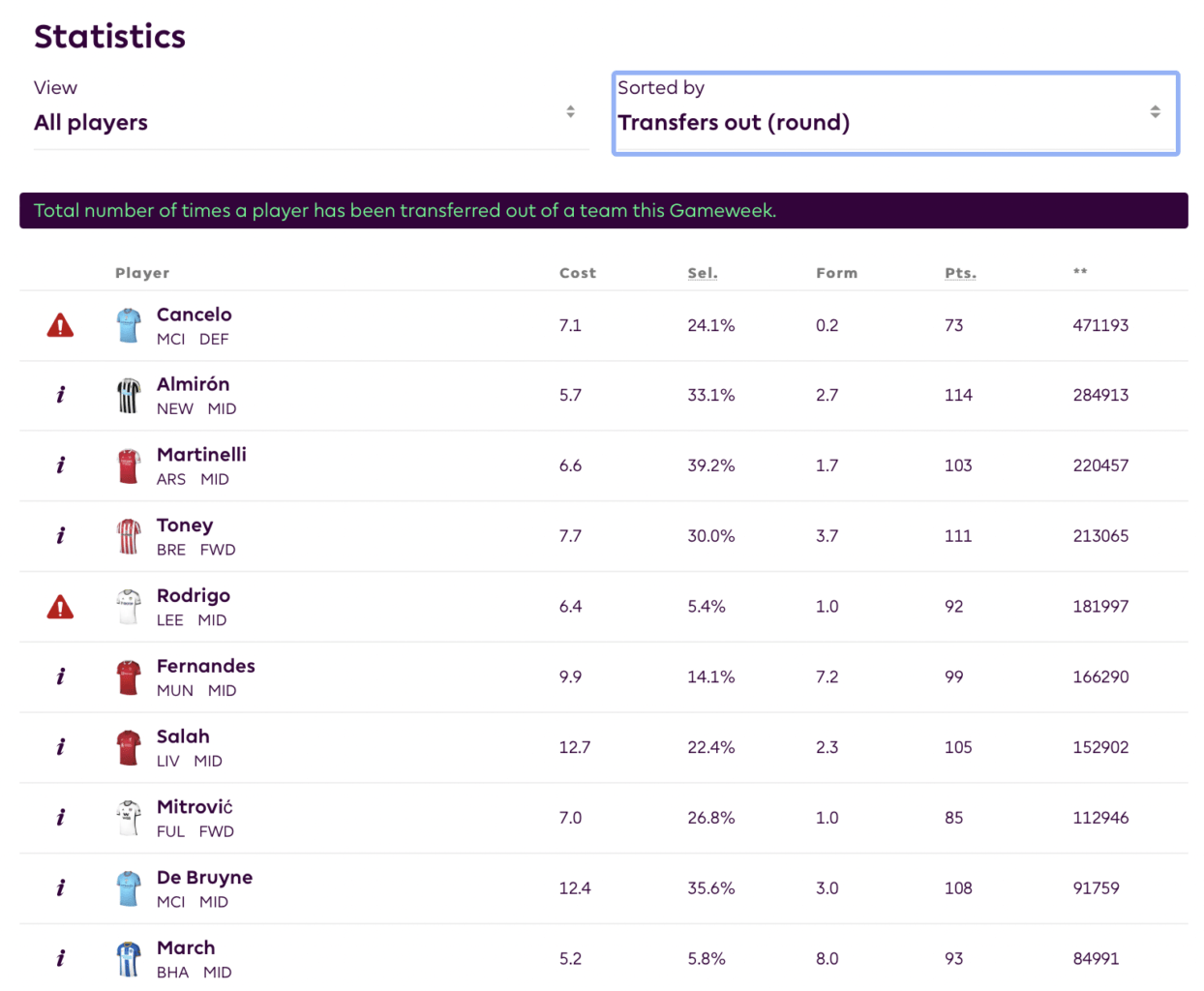 Man City's Joao Cancelo (£7.1m) has joined German side Bayern Munich on loan for the rest of the season. He is the second most expensive defender in the game and no he will not play again this season he is an easy sell for managers. Over 471,000 managers have sold Cancelo ahead the Gameweek 23 deadline. Selling Cancelo will also allow managers to have three playing City players for the double if they want them.
Miguel Almiron (£5.8m) was in fantastic form ahead of the World Cup, returning in returning in seven of the eight fixtures between Gameweek 9 and 16. However, since the restart Almiron has returned just once with a goal in Gameweek 17. He has since returned five blanks. Almiron has been sold by over 284,000 managers.
Despite having two fixtures in Gameweek 23 Gabriel Martinelli (£6.6m) is the fourth most transferred out player. Martinelli has failed to returned in the last four gameweeks. With Arsenal playing twice many managers want to use that Arsenal space for a more in form player. Many managers are also worried that Martinelli is now a rotation risk having been substituted for Trossard in the last two matches. Martinelli has been sold by over 220,000 managers.
Brentford's Ivan Toney (£7.7m) won't play in Gameweek 25 as Brentford's fixture against Man United has been postponed. Toney has also failed to returned in each of the last two Premier League matches. Many managers are looking to invest in Arsenal's Eddie Nketiah for the double and he will also have a match in Gameweek 25. Therefore many managers are moving Toney on for the Arsenal man. Over 213,000 managers have parted company with Martinelli.
Leeds' Rodrigo (£6.4m) was ruled out of Double Gameweek 22 through injury. Rodrigo will also miss Gameweek 23 and therefore over 181,000 have transferred him out.
---
You can catch up with all of our great FPL articles here.