Is there fixture congestion in January?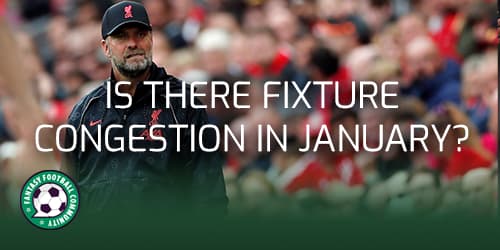 With the announcements of the double gameweeks in January five clubs have additional matches to play in the new year. Alongside these rescheduled games we also have the League Cup and FA Cup third and fourth rounds. As well as any potential replays in the third round and the League Cup. This could lead to a very hectic schedule for a number of clubs. Here we take a look at the potential fixture congestion and what this might mean for FPL.
Depending on how many competitions clubs are still a part of they could potentially have a very busy January with the FA Cup, League Cup, Premier League and rescheduled matches.
January fixtures
Week
Midweek Matches
Weekend Matches
26/12-1/1
Gameweek 17
Gameweek 18
2/1-8/1
Gameweek 19
FA Cup Third Round
9/1-15/1
League Cup Quarter Finals
PL GW19 Rescheduled Fulham v Chelsea
Gameweek 20
16/1-22/1
FA Cup Third Round replays
PL GW20 Rescheduled City v Spurs
Gameweek 21
23/1-29/1
League Cup Semi Final Leg 1
FA Cup Fourth Round
30/1-5/2
League Cup Semi Final Leg 2
Gameweek 22
January is a very busy month for football and there could be fixture congestion for some clubs. There are three different competitions all scheduled for the month and every weekend and midweek has fixtures in it.
Chelsea and Fulham play twice in Gameweek 19 but their second fixture against each other is after the weekends FA Cup matches.
Man City and Spurs are scheduled to play twice in Gameweek 20. However if either club requires a replay in the FA Cup their match would once again need to be rearranged.
Will this be an issue?
There is potential for some clubs to play every midweek and weekend throughout January. The following clubs are playing their next League Cup match ahead of Gameweek 17 . If they progress then they could play as many as nine fixtures in January.
Manchester City
Liverpool
Leicester
Wolves
Nottingham Forest
Brighton
Newcastle
Bournemouth
Southampton
Manchester United
In order for these teams to play nine matches they would need to stay in the League Cup. As well as require a replay in the third round of the FA Cup, which they win to progress to the fourth round of the competition.
This many fixtures could be an issue for clubs especially on the back of the Qatar World Cup. Players could need rotation and rests to ensure their fitness.
Of course not all of these clubs will win every match. Man City and Liverpool, and Newcastle and Bournemouth for example face each other in the League Cup. This means that one of them will not play League Cup games in January.
What does this mean for FPL?
FPL managers should ensure that their Unlimited Transfer squad has a bench which is able to cope with the potential for rotation. Having a squad of 15 regularly playing players will help FPL managers to avoid the risk of a 0 point return with no one to come off the bench.
Managers should also be careful of investing heavily in clubs that have the potential for the most fixtures. Once the League Cup matches in December are played managers should use this knowledge to consider the amount of games that their players may have to play.