How many premiums should FPL managers own?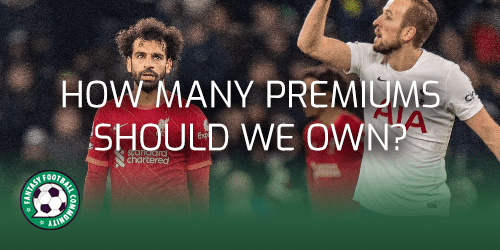 With unlimited free transfers available, one of many major questions relates to the number of premiums we should pick.
Mohamed Salah, Kevin De Bruyne, Harry Kane and Erling Haaland are all superb options but we surely can't have them all. As FPL is a game of budget management and squad balance, what is the optimum number that we should proceed with?
Ultimately, a lot depends on whether expensive defenders like Trent Alexander-Arnold and Joao Cancelo will be selected.
TWO PREMIUMS
Using FPL Team, it's easy to draft a squad with two expensive attackers. If Haaland is intended to always be captain, there isn't much value in having more than two.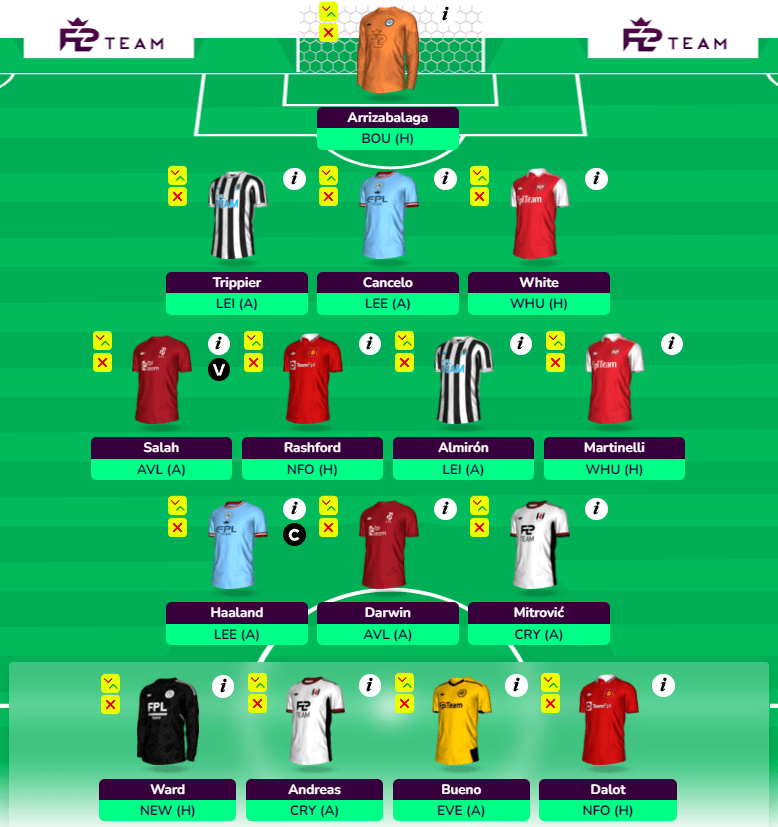 PROS
This squad has around £3m left to spend, so a defender could easily become Alexander-Arnold or Reece James. It also allows Miguel Almiron to instead be one of many midfielders priced around £8m. Names like Dejan Kulusevski, Mason Mount and Phil Foden.
Perhaps some would prefer Rashford to become team-mate Bruno Fernandes. Or just keep it in the bank, knowing there's both a great squad and plenty of flexibility for future transfers.
CONS
Whoever isn't chosen out of Salah and De Bruyne, both that player and Kane will have high ownership that could devastate your global rank.
THREE PREMIUMS
As Kane is around £1m cheaper than both Salah and De Bruyne, let's try some drafts with two expensive forwards. As it sacrifices Darwin Nunez, Salah is here to cover Liverpool's attack.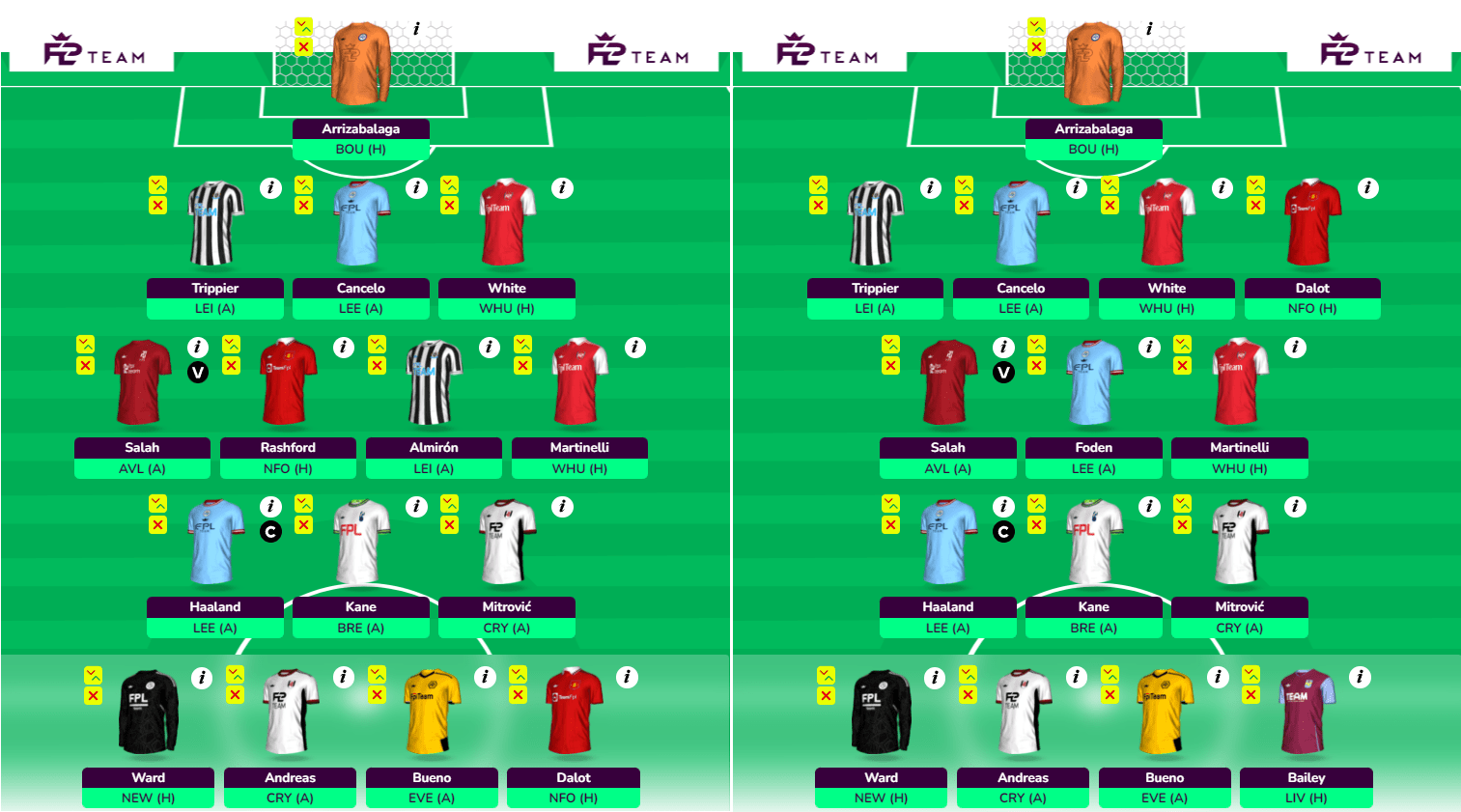 PROS
For safer managers, it lessens the fear of being without top, well-owned players. On the right, there's even a 4-3-3 iteration where Almiron is downgraded, which still offers the opportunity for an £8m midfielder.
CONS
Naturally, squeezing in a third premium requires sacrifices elsewhere. This may mean no access to the promising pool of mid-priced midfielders or removing Cancelo as a compromise.
It very likely takes Nunez off the table, which won't feel great.
FOUR PREMIUMS
Is this even possible? Well yes, it is.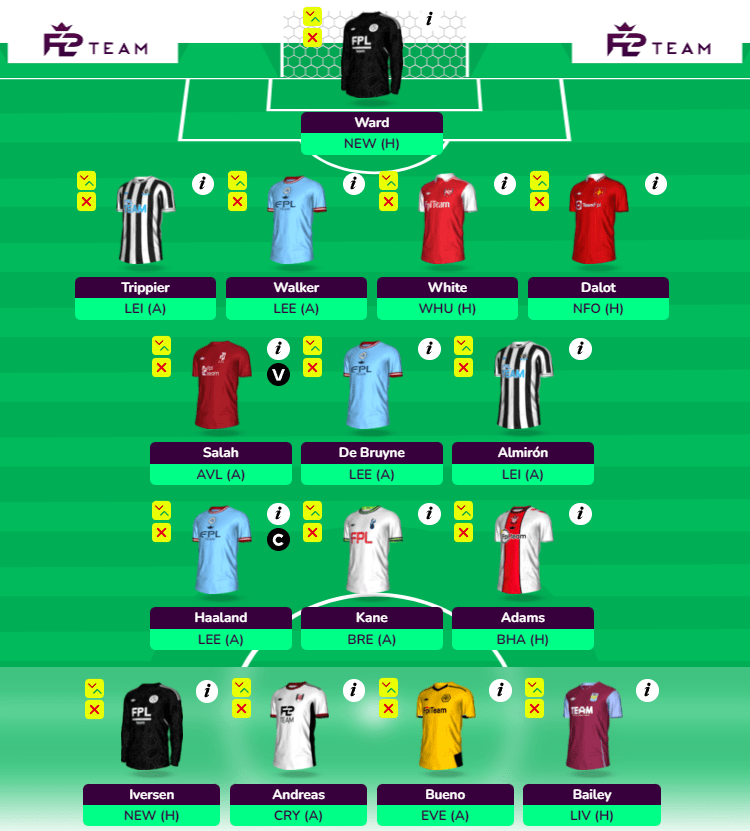 PROS
It's a cool thing to brag about.
CONS
For all the highly-owned assets you now have, it loses so many more. No Cancelo, Rashford, Nunez or Gabriel Martinelli, with Aleksandar Mitrovic having to become Che Adams.
Only one of these can have the captain's armband, so there's no need to have this many premiums.
Therefore the 15-man squad lacks flexibility and the subs bench is extremely bare.