Gameweek 8 best wildcard team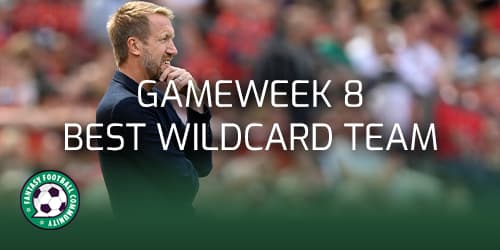 Looking at the Gameweek 8 best wildcard team. Using the Fantasy Football Scout season ticker, we can see which teams have the best run of fixtures. This can then aid FPL managers in picking out some of the best assets for the run ahead.
The wildcard gives managers the opportunity to change their entire team for any reason. FPL have given the community two wildcards to use in each half of the season. In addition, unlike any other season, FPL have also provided managers with unlimited transfers during the World Cup.
Fixture ticker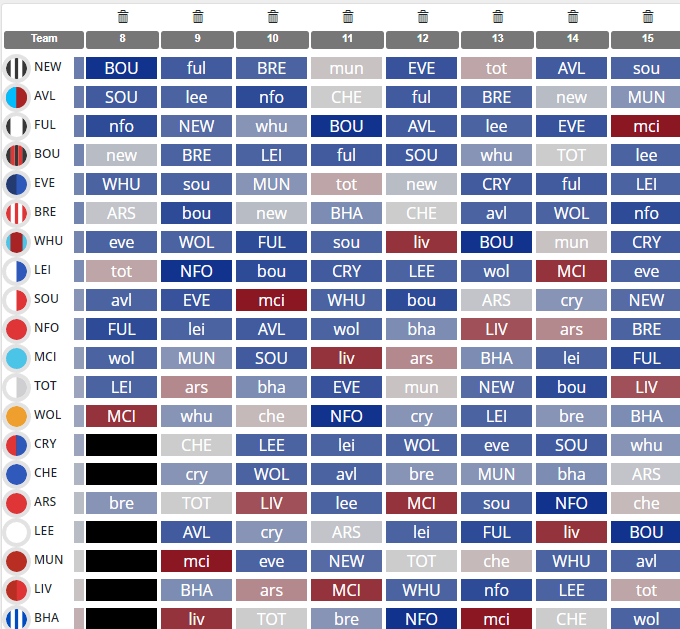 We can see that Crystal Palace, Chelsea, Leeds, Man United, Liverpool and Brighton have all had their matches postponed. This is an additional factor we have to think about when building the best long term wildcard.
The best wildcard
Using Live FPL managers can utilise one of many fantastic tools available on site to build a wildcard draft. It is important to remember that any transfers we do make using this site are not confirmed, so be sure to use the Official FPL website to confirm wildcards when ready.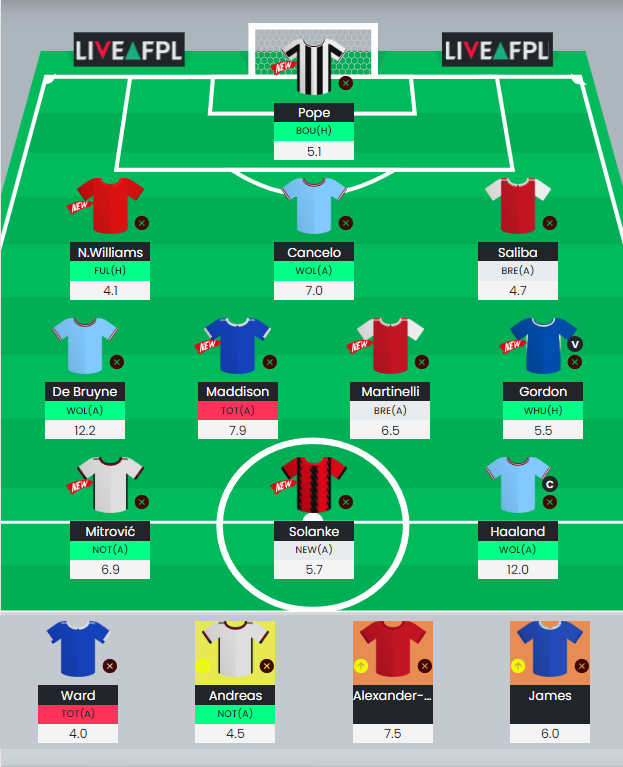 Goalkeepers
Newcastle rank first on the fixture ticker, suggesting that investing in their assets could be beneficial to FPL managers. They have also put up some great underlying defensive stats. £5.1m Nick Pope has to be a consideration for the Wildcard due to his both his potential for clean sheets and ability to collect save points.
£4m Leicester goalkeeper Danny Ward sits at one of the cheapest prices in the game. For this reason, and the fact he plays, Ward makes a solid back up option long term.
Defence
Man City remain one of the best teams in the league for underlying defensive stats, for that reason and his attacking capability £7m Cancelo makes the team. £4.1m Neco Williams remains one of cheapest players in the game, his wingback position gives him his appeal, along with the fact he will be mostly benched.
£4.7m William Saliba is one of the cheapest ways into the Arsenal defence, he showed his ability to collect attacking returns through his assist in Gameweek 4 and goal in Gameweek 3. His price means he is another player that can be brought in and out of the starting 11.
Due to the matches postponed in Gameweek 8, £6m Reece James and £7.5m Trent Alexander-Arnold sit on the bench ready to come in Gameweek 9, where they both face good fixtures. Both players show excellent goal threat and distribution potential. When both of their clubs finally settle into their usual groove, Trent and James will be two of the most wanted defenders in the game.
Midfield
There are several factors as to why £12.2m Kevin De Bruyne makes the cut. Man City remain top for most key attacking data points and are the highest scoring team in the league. The Belgian midfielder shows a good returning rate and superior distribution stats. Having De Bruyne there also allows for an easier switch to £12.9m Mohamed Salah when the Egyptian hits his usual run of form.
£7.9m James Maddison faces a game against Tottenham in Gameweek 8. Although tough on paper Spurs have kept just two clean sheets from their first six matches. The midfield maestro then goes onto play fixtures against Nottingham Forest, Bournemouth, Crystal Palace and Leeds, so the long-term potential is there.
Amongst all teams in the league Arsenal have displayed some fantastic offensive stats this season and although Arsenal have some tough fixtures, investing in the Arsenal attack could still be a good idea. For that reason, £6.5m Gabriel Martinelli makes the cut. Everton rank fifth on the fixture ticker and have potential in their fixtures for attacking returns. £5.5m Anthony Gordon looks the part and leads the Everton attack in most matches. With two goals in his last three matches, it could be time to consider the young attacker.
Fulham rank third on the fixture ticker and one of the cheapest attacking options within the game is £4.6m Andrea Pereira. The midfielder has already managed two attacking returns this season and can be rotated in and out of the starting 11 depending on fixture.
Forwards
Not only do Fulham rank third on the fixture ticker but penalty taker and £6.9m striker Aleksandar Mitrovic has now returned in five of the six matches he's played in. The forward sits as one of the most offensive stat dominant players in the game. For those reasons, has to be considered for the wildcard.
Bournemouth rank fourth on the fixture ticker and offer up some very cheap players. However, it is £5.7m forward Dominic Solanke that gets the nod. The Cherries recently parted ways with their manager and in their first match secured a 3-2 win. Solanke came away with a huge 12 points in FPL for his goal, assist and bonus points. With a new manager, taking penalties and great fixtures ahead, Solanke should be considered.
Man City forward and £12m Haaland is currently the most owned player in the game. There is plenty of reasons for this. The striker has not failed to register an attacking return in a single game he's played in. He also sits as the highest scoring FPL player so far. Haaland should be one of the first names into any wildcard.
---
To find out who has the best fixtures in Gameweek 8, take a look here.