Gameweek 5 best free hit team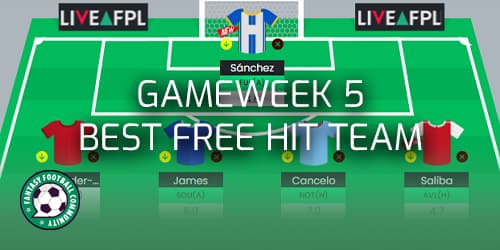 With a new gameweek upon us we take a look at the free hit chip. Using the Fantasy Football Scout members area we can use the help of the season ticker and underlying stats to determine the gameweek 5 best free hit team.
The free hit chip in FPL allows managers, within the same budget and formational limits, to select a team for one particular gameweek. Managers can attack any given gameweek with the free hit whether that be to utilise a good set of fixtures, in-form teams or players or a mixture of it all. Experienced FPL managers usually tend to use the chip in blank gameweeks however.
Fixture ticker
The Fantasy Football season ticker has many benefits. FPL managers can select any period of fixtures whether that be one match, ten matches or however many we'd like to indicate which teams have the best fixtures in that given period.
We will look at gameweek 5 specifically to see which teams have the easiest fixtures to help us build the best free hit team for the round ahead.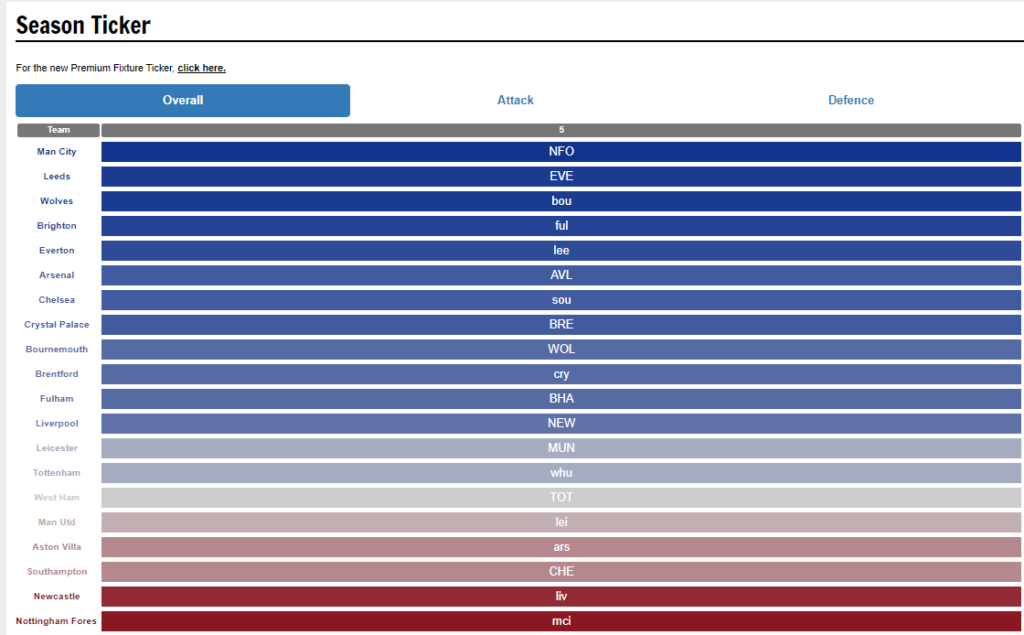 Who has the best fixtures?
We can see that Man City, Leeds, Wolves Brighton and Everton have the best five fixtures according to the fixture ticker. Teams like Arsenal and Chelsea trail just behind but still have great fixtures. Liverpool stand out as one of the only teams sat around mid-table worth investing in.
Who has the worst fixtures?
Man United, Aston Villa, Southampton, Newcastle and Nottingham Forest all land at the bottom of the fixture ticker. All teams could be worth avoiding when building a free hit team.
Best free hit team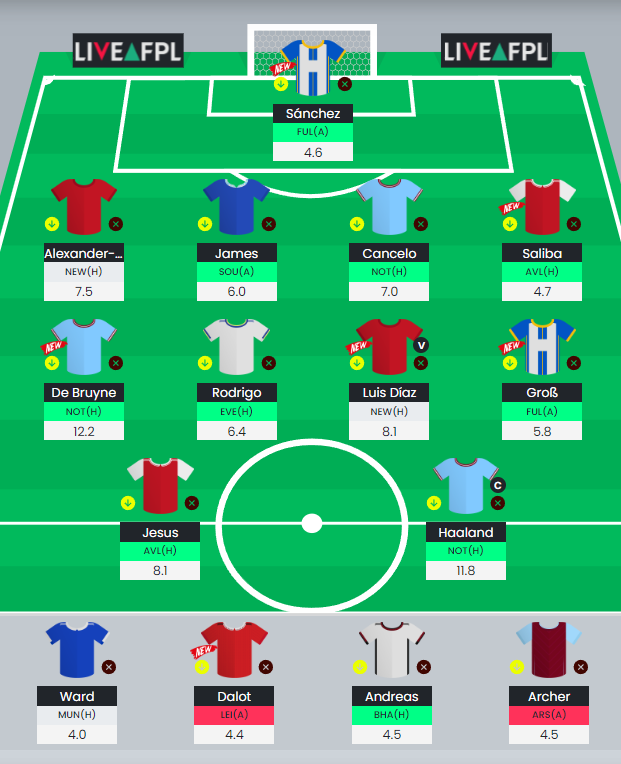 Goalkeepers
Brighton rank fourth on the season ticker and only conceded a single goal in the first four gameweeks of the season. They also have some of the best underlying defensive stats in the league so far. £4.6m Sanchez could be an easy selection for Gameweek 5. £4m Ward of Leicester comes in as the only playing keeper in the game at his price so makes second choice.
Defence
Although Liverpool rank 12th on the ticker defender and £7.5m Trent has shown FPL managers what he is capable of. His 17 point haul against Bournemouth in Gameweek 4 and high ownership could mean he's an easy selection against Newcastle.
Chelsea face Southampton in Gameweek 5 which means it could be a great opportunity for the £6.1m defender Reece James to extend his great start to the season and beyond his 22 points total. Man City come top of the season ticker and for that reason the inclusion of £7.1m defender Cancelo is a comfortable one.
£4.6m defender Saliba comes in at a price hard to ignore. Arsenal have shown a lack of clean sheets this season but that's likely to change. Saliba already showed his potential for attacking returns after securing a goal and assist in back to back gameweeks.
Midfield
One of the biggest exclusions in this free hit is that of £13m midfielder Salah. His absence is largely due to the inclusion of Man City midfielder and £12.2m Kevin De Bruyne. The Man City ace has dominated underlying offensive stats like big chances created, chances created and crossing amongst all players so far this season.
Leeds rank second on the fixture ticker with a home match against the struggling Everton. This could indicate investing in their team could be a great idea. For that reason the in-form midfielder Rodrigo should be considered. Brighton's Groß might also be a great option. The £5.8m midfielder is now the second highest returning FPL player amongst midfielders.
Although Liverpool rank near the lower half of the fixture ticker their fixture is still blue which means the match could be a good one for them and managers who are tempted in investing. Liverpool rank as one of the best attacking teams in the league and £8.1m midfielder Diaz could be the in-form attacker to include at a great price.
Forwards
£8.2m Arsenal striker Jesus makes the team this week. The forward remains the highest owned player in the game and backing against that ownership could be an issue. He faces Aston Villa next who have lost three out of their four games already this season so could be a great option.
£11.8m Man City striker Haaland currently sits as the highest scoring FPL player in the game amongst all players. Gameweek 5 opponents Nottingham Forest come in the top two worst teams for shots conceded and shots on target conceded whilst Haaland comes in the top two players for big chances and shots in the box. For those reasons not only is Haaland a great selection but a great captaincy option as well.
---
To see which players have the best records against their opponents in Gameweek 5, check this out.