Gameweek 18 best wildcard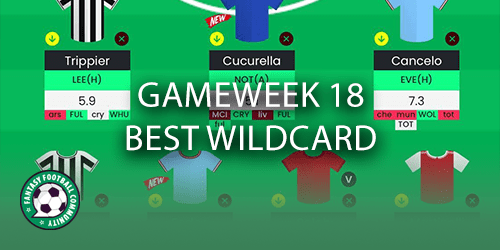 Looking at the Gameweek 18 best wildcard team. Using the Fantasy Football Scout season ticker we can see which teams have the best run of fixtures. This can then aid FPL managers in picking out some of the best assets for the run ahead.
The wildcard gives managers the opportunity to change their entire team for any reason. Managers activate their wildcards for several reasons. Whether that be to target fixture swings or just change their team up, the wildcard can be precious to our planning.
Fixture ticker
We can see from the ticker below, the teams at the top have the easiest fixtures, whilst the teams at the bottom have the toughest fixtures up to Gameweek 24 (a seven match period).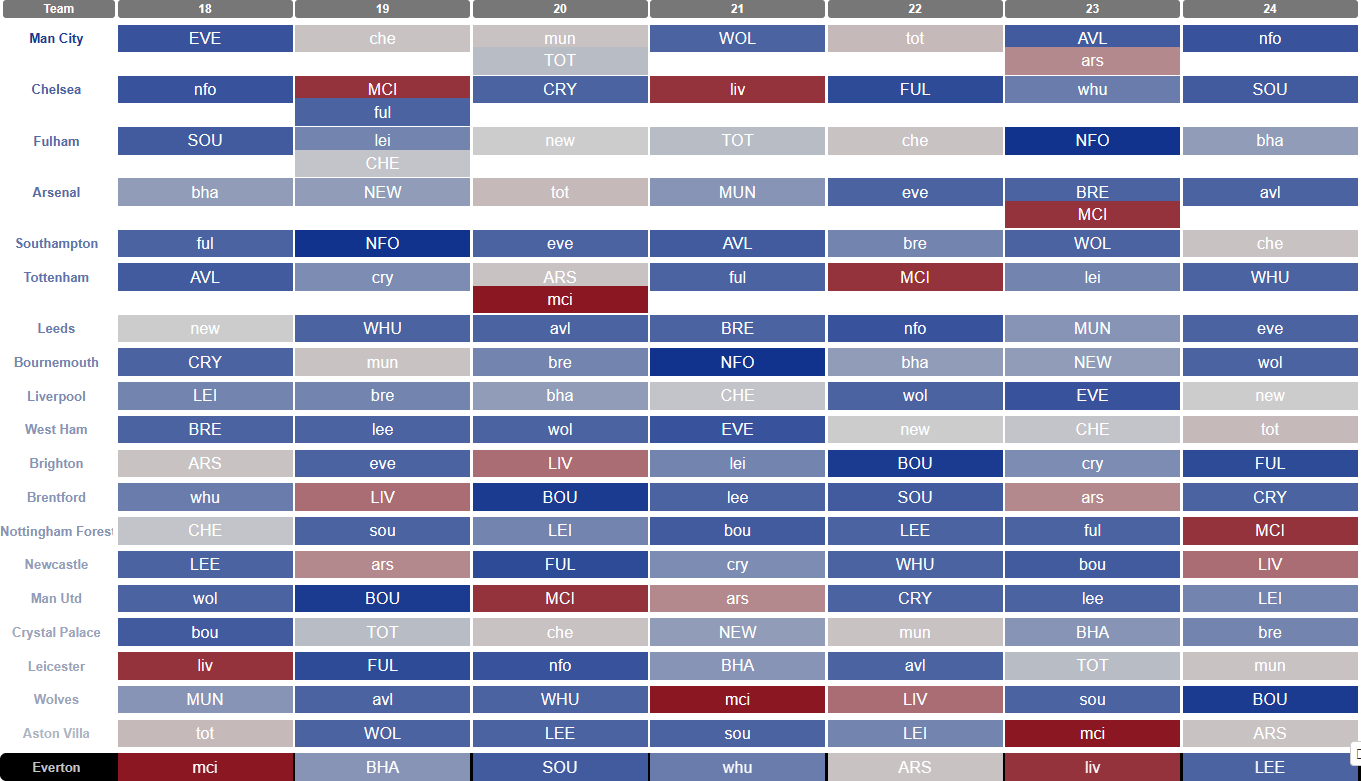 Who has the best fixtures?
We can see that Man City rank at the top of the fixture ticker but they also have two double Gameweeks ahead. Chelsea, Fulham and Arsenal also rank in the top five and all have one double Gameweek ahead. Southampton complete the top five with the best fixtures until Gameweek 24. For that reason, including players from these teams in the wildcard could be beneficial.
Who has the worst fixtures?
Everton, Aston Villa, Wolves, Leicester and Crystal Palace all rank as the bottom five teams with the worst fixtures. For that reason, avoiding players from these teams on the wildcard could be beneficial.
The best wildcard team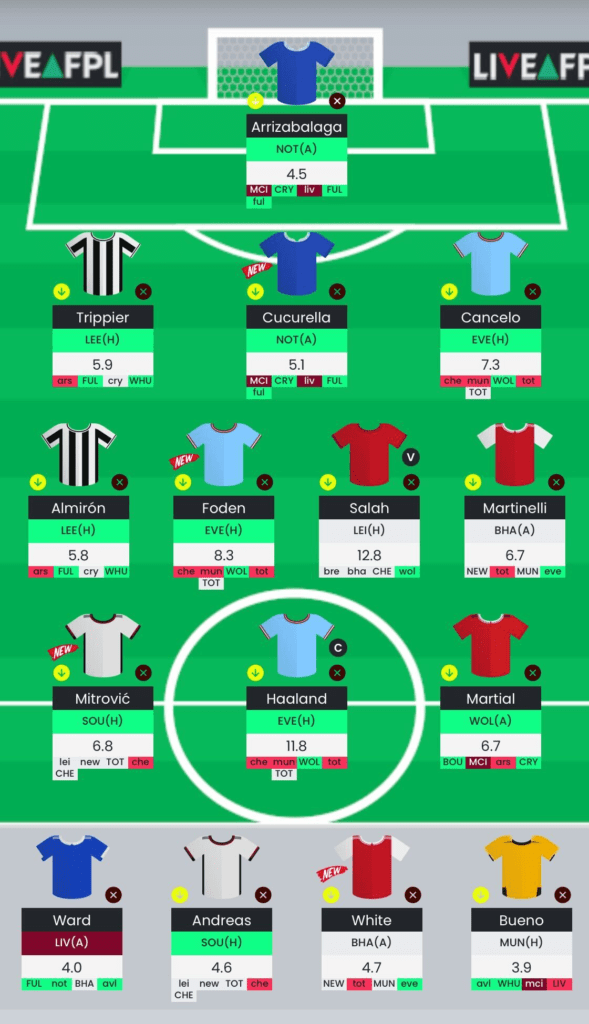 Goalkeepers
Chelsea rank second on the fixture ticker with a double Gameweek ahead so they should be considered. For that reason, it could be wise to invest in Kepa Arizzabalaga (£4.5m). Finding a budget goalkeeper in a top team can be difficult so when one emerges, managers should take advantage of that.
Leicester's Danny Ward (£4.1m) is the cheapest playing goalkeeper in the game and because of that, makes a perfect backup goalkeeper.
Defenders
Chelsea have shown defensive capabilities at times and do have a double Gameweek ahead. With Reece James out it could be wise to invest in Marc Cucurella (£5.1m).
Newcastle have proven to be a great team to invest in this season, especially in defence. Kieran Trippier (£5.9m) is an easy inclusion when considering his clean sheet and distribution potential in any given match.
Man City have two double Gameweeks ahead so investment is vital. Finding nailed players in their backline can be a tough task but one player that is nailed is Joao Cancelo (£7.4m) who has also shown attacking capabilities in the past.
Arsenal also have a double Gameweek in Gameweek 23 but there are strong indications they could have another one in Gameweek 21. Either way, buying into Arsenal is key so Ben White (£4.7m) could be a great enabling option to cover the defence.
Wolves may have some of the worst fixtures in the next six Gameweeks but they also have one of the cheapest playing players in the game to help enable the pricier options within our teams. He is likely to stay firmly on the bench.
Midfielders
Newcastle have been a phenomenon this season and offer up some of the best value for money in the game. The standout option is Miguel Almiron (£5.8m) who, at the time of writing, sits as the highest scoring midfielder in the game.
The fact Man City have two double Gameweeks ahead means a better chance for Phil Foden's (£8.3m) game time. The midfielder has already bagged seven goals and three assists in his 14 matches played so far.
Liverpool have been producing some of the best attacking stats in the league in the last six matches and one way managers could take advantage of that is via Mohamed Salah (£12.8m). The Egyptian looks back to his best after securing two double-digit hauls in his last three matches.
Arsenal's approaching double Gameweek makes their attacking assets even more appealing, especially Gabriel Martinelli (£6.8m).The Brazilian has proven fantastic value for money this season and his three returns in his last four suggests he could maintain that.
Andreas Pereira (£4.6m) has been one of the best enablers in the game so far this season. At such a low price, it could be wise to include him, even if it is as first sub on the bench until his double Gameweek.
Forwards
Erling Haaland (£12.2m) is essential. The striker sits as the highest scoring player and highest owned player in FPL whilst also dominating offensive stats amongst all players in the league.
Fulham have a double Gameweek coming up so it could be a very easy inclusion in terms of the in-form Aleksander Mitrovic (£6.8m). The striker has already netted 10 times this season whilst also creating one assist.
Fitting a Man United attacker into our teams could be key due to their recent and impressive offensive stats. Anthony Martial (£6.7m) has two great fixtures ahead to take advantage of and when fixtures get tougher, we have two very good bench options to consider until we have the flexibility to remove him.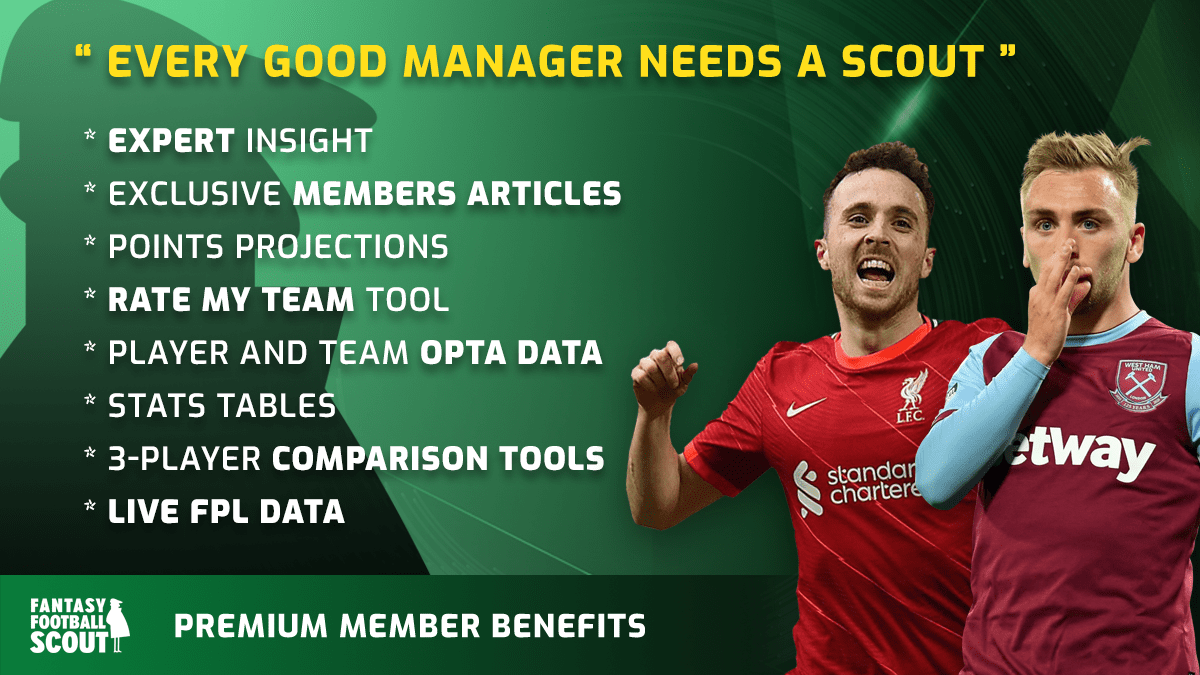 ---
What should we expect from Gameweek 18? Take a look at the head-to-heads stats here.