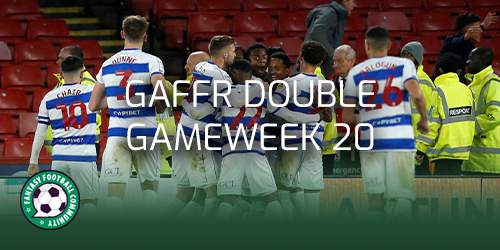 We look at the GAFFR double Gameweek 20. Picking out the chips available to use, the teams that have a double Gameweek and some of the best assets in the game to target. We try to cover all of the key factors to get you prepared for the double Gameweek.
Double Gameweeks can be one of the most important periods in any season. Managers will do well to know which teams are doubling, what chips are available and who some of the key targets are ahead of the Gameweek. This way we can prepare.

Which teams have double Gameweeks?
It is absolutely key to understand which teams are doubling in the round ahead. That way we can target those teams for investment. The teams that have a double in Gameweek 20 are:
Birmingham (Stoke and Swansea)
Blackpool (Luton and Middlesbrough)
Cardiff (Sunderland and Hull)
Coventry (Watford and Wigan)
Huddersfield (Blackburn and QPR)
Hull (Millwall and Cardiff)
Luton (Blackpool and Stoke)
Middlesbrough (Bristol City and Blackpool)
QPR (West Brom and Huddersfield)
Reading (Preston and Watford)
Rotherham (Norwich and Sheffield United)
Sheffield United (Burnley and Rotherham)
Stoke (Birmingham and Luton)
Swansea (Wigan and Birmingham)
Watford (Coventry and Reading)
Wigan (Swansea and Coventry)
Which teams have the standout fixtures?
Coventry
Luton
Middlesbrough
QPR
Reading
Swansea
Watford
Who are worth investing in?
Coventry defender Bidwell (£5.5m) and Coventry striker Viktor (£8m).
Luton defender Bree (£6.1m) and Luton striker Adebayo (£7.5m).
Middlesbrough defenders Jones (£6.6m) and Giles (£6.1m). In addition, Middlesbrough striker Akpom (£6m).
QPR defenders Paal (£5.2m) and Laird (£5.7m). Also, QPR midfielders Chair (£8.4m) and Willock (£8.5m). Furthermore. QPR forward Dykes (£7m).
Reading midfielder Ince (£6.2m).
Watford midfielders Sarr (£10.9m) and Sema (£7.1m). Also, Watford forward Pedro (£9.7m).
Sheffield United midfielder Ndiaye (£7.8m).
What chips are available to use?
This is a list of chips that have been made available by GAFFR after Gameweek 15, but some may have been used in the lead up to Gameweek 20. Let's take a look.
Unlimited transfers- Mangers receive unlimited transfers in the build-up to the Gameweek they want to plan for.
Follow the leader- Upon activation, managers will receive 2.5x points for their captain and players from same team score x2. Vice Captains will score 2x and players from same team score x1.5 points. Emergency captain and players from same team score x1.5.
Triple Triple- All captains receive x3 points.
Goalfest- Each goal scored adds an additional five points to total. This includes penalties and goals scored by substitutes, but Captain multipliers do not apply to the five-point bonus.
Jeepers Creepers- Both keeper scores are included. Bonus points awarded to keepers: +2 points per clean sheet in a half, +3 points per save and +10 points per penalty saved. Captain multipliers do not apply to the bonus scores.
Park the bus- Defenders have their points doubled but captain multipliers are not included.
---
You can stay up to date with all of our latest GAFFR articles here.