Who is in FPL Marc's first draft for 2022/23?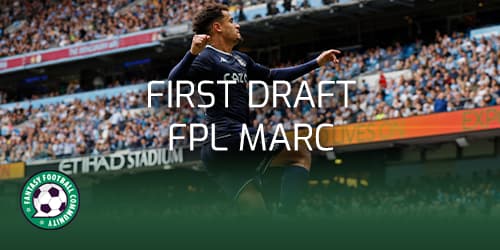 After two summers of distractions, many Fantasy Premier League managers used this supposed downtime to immediately start thinking about next season. Here is FPL Marc with his first draft FPL squad for the 2022/23 season.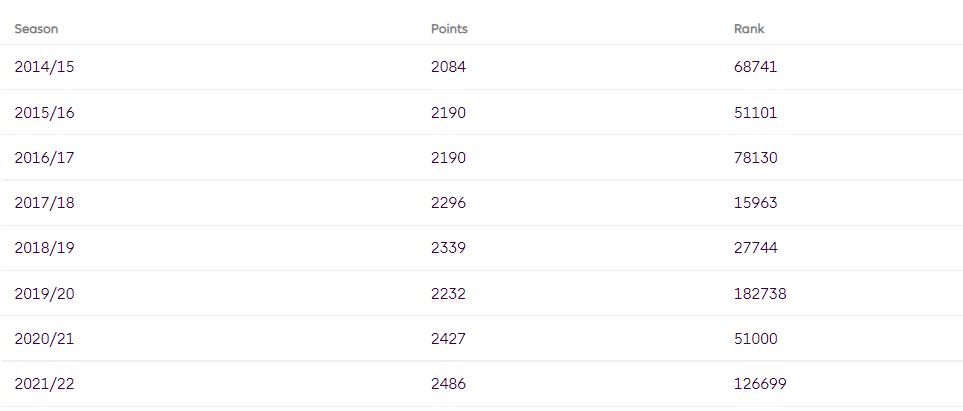 My history
Before 2014/15, I was actively playing FPL but once deleted my team out of rage and therefore couldn't use that e-mail address again. So I can't remember how good or bad those ranks were.
The subsequent eight seasons have been mostly good, six of which ending between 15k and 80k. But, sadly, I've always been at a safe distance from brilliance.
Well, not this time! After a strong finish to the generally awful 2021/22 campaign – where I was at 485k after Gameweek 29 but ended with nine successive green arrows – I want to continue that momentum into 2022/23.
Early team reveal
Since the invention of Twitter, I have become a much safer manager. No more Yannick Bolasie hat-trick captaincies. That's probably a bad thing because FOMO (fear of missing out) and EO (effective ownership) now affect most decisions.
Whilst I intend to break one habit by starting with either a 4-4-2 or 3-5-2 formation, my current draft sticks to the personnel template.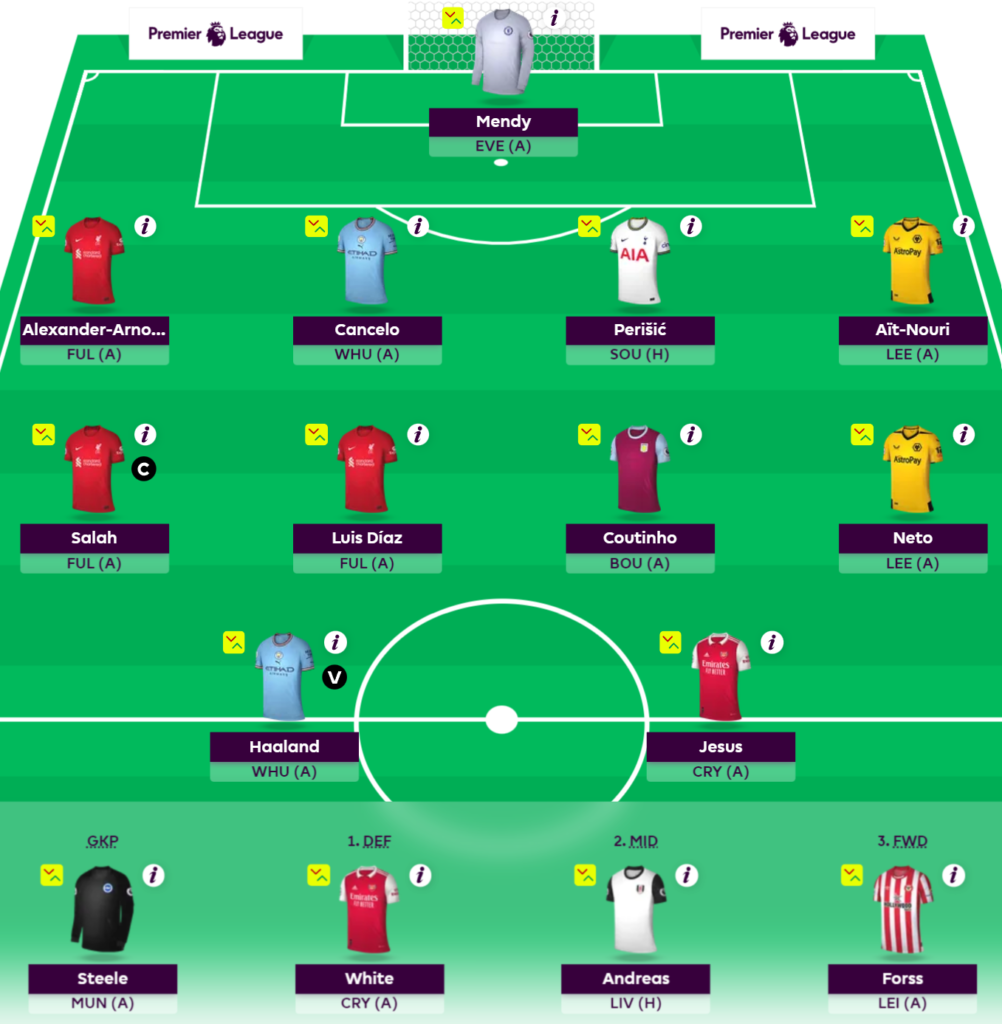 This covers almost everything – the big defences, Mo Salah (£13.0m), Erling Haaland (£11.5m) and Gabriel Jesus (£8.0m). Although there is a temptation to save money by getting Aymeric Laporte (£6.0m) or Kyle Walker (£5.0m), I will try sticking with Joao Cancelo (£7.0m).
Honestly, I'm not convinced about Ivan Perisic or Pedro Neto (both £5.5m). The former arrives at Spurs, where Antonio Conte tends to rotate his wing-backs. Add this to a highly-congested autumn schedule and the introduction of five substitutions per match, I can't see this going well.
The Neto love-in is all about theory. Wolves have great early fixtures and the Portuguese winger looked good during his handful of late-season cameos but does that justify 22% ownership? Having said that, not many other £5.5m midfielders hold any appeal. Neto just feels like a trap to me.
Additionally, those Luis Diaz (£8.0m) and Philippe Coutinho (£7.0m) places are up for grabs. I think it's good to have two mid-priced midfield slots, where the contest includes James Maddison (£8.0m), Mason Mount (£8.0m), Bukayo Saka (£8.0m) and Harvey Barnes (£7.0m). If a standout Man United option emerges from Jadon Sancho (£7.5m) and Marcus Rashford (£6.5m), they will also appeal.
Other thoughts
Whilst this team covers 'almost' everything, the heartbreaker is having no Son Heung-min (£12.0m). I have attempted several other drafts, some that squeeze in Son and some where new Chelsea signing Raheem Sterling (£10.0m) is the consolation prize. In fact, Sterling is one of my favourite FPL names of recent times.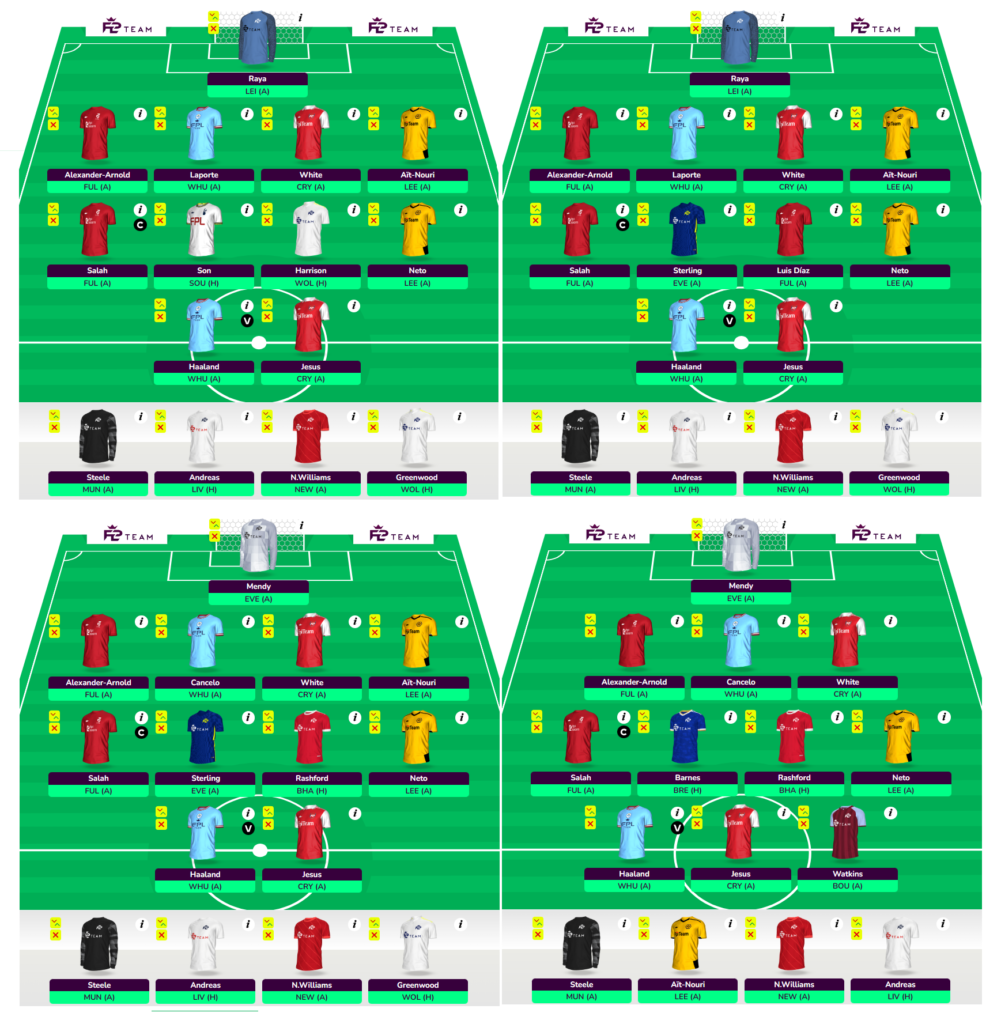 There's no chance I'll start with five-at-the-back, as it's a principle I'm strongly against. That's where Neco Williams (£4.0m) steps in. Usually, I like my initial teams to cover a range of price points, with £0.5m in the bank.
However, the introduction of unlimited transfers during the World Cup break essentially means we will use two Wildcards by Gameweek 17. With this in mind, managers can now be aggressively short-term and attack the early fixtures.
It just feels like, for most teams, I'd rather have their midfielder than forward. Plus, there are sides like Brentford and Leeds that have great fixtures but don't convince. The Bees were freefalling pre-Eriksen and that's a situation they're about to replicate, whereas Leeds have sold their two best players and have bought many in response.
No doubt my daily tweaking will take me to some new, exciting places but I have a feeling that Gameweek 1 will end up being pretty close to this team reveal.