FPL Manager: expert advice for Gameweek 2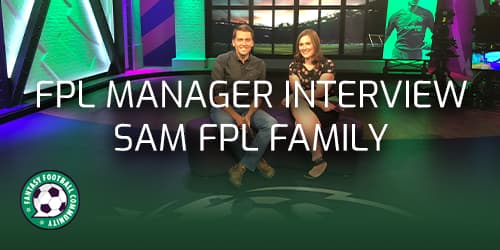 The FPL community is full of fantastic FPL experts and content creators. These people spend their lives looking at underlying stats, watching matches and trawling through press conferences to make informed FPL decisions. Each week we will talk to one expert to get their thoughts on the upcoming Gameweek. This week Sam from FPL Family gives her expert advice for Gameweek 2.
Sam from FPL Family has been creating videos and podcasts with her husband Lee for a number of seasons. She is part of the Premier League's expert panel, regularly appears on official video content and is a one of the ever present guests on The FPL Pod. We asked her some questions ahead of Gameweek 2.
Tell us a little about you

The FPL Family was Lee's idea and I must admit that I was definitely not convinced when he first suggested the idea. Lee and I have played FPL together for over 12 years now. When the FPL Family was born in 2017 I never believed it would take off in the way that it has. In the last five years we have done so many fantastic things. From appearing on the FPLShow and FPLFYI, to being on stage at Fantasy Football Fest it has been a fantastic journey.
Both Lee and I have appeared on The FPL Pod for the Premier League for a number of seasons now. This year the Premier League have had a shake up and asked me to be their resident expert. This means I will be on every episode of the pod. I am so excited about this!
Lee and I will also both appear on the second Premier League podcast Off The Bench. This will be recorded just after the final matches of a Gameweek to review the action. Lee is on the first of the podcasts reviewing the action in Gameweek 1.
In addition to my appearances on Premier League content as well as the videos, streams and podcasts we record for FPL Family I am also Marketing and Branding Manager at Fantasy Football Scout.
Let's talk Gameweeek 2, what are the standout fixtures for you?
The big match this week is definitely the London derby between Chelsea and Spurs. Obviously this one has the added drama of the Antonio Conte factor. This game is a difficult one to call on paper, for me you play any players you own in this one, but maybe avoid the captains armband here.
Man City's first home fixture of the season against Bournemouth is appealing. They Manchester side have a fantastic record against newly promoted sides and therefore they are a team that I would be looking to invest in. There is definitely a case for captaining a City player in this one.
Liverpool's Monday evening clash with Crystal Palace also stands out for me. As does Aston Villa v Everton, there could be a couple of great picks from Aston Villa ahead of this one.
Who are your top Gameweek 2 targets?
At the time of answering this we have only one match played in Gameweek 1 and therefore a lot could change. However, Aston Villa's defence looks like a good target. Everton have lost key players this summer and had a difficult pre-season. Matt Cash and Lucas Digne both have good potential for attacking returns and clean sheets in this one.
I also think West Ham could be good differential targets for this one. They had a difficult Gameweek 1 fixture against Man City and therefore a lot of FPL managers might have left them in the watch and see category. However, with Forest in Gameweek 2 the likes of Bowen, Antonio or Cresswell could be good targets for Gameweek 2.
Who do you think is the best differential for Gameweek 2?
Obviously we haven't even seen him play in Gameweek 1 yet but Leon Bailey against Everton. Bailey is only owned by around 6% of the game and he faces Everton in Gameweek 2. His season last year was so disjointed as a result of injuries but he has had a great pre-season and manager Gerrard has issued him with rave reviews. I think he could be a great budge enabler and differential this season in general if he stays fit.
Who are you planning to captain in Gameweek 2?
Depending on performances and results in Gameweek 1 I am currently planning to give the armband to Mo Salah in Gamweweek 2. Salah was the highest scoring player in FPL last season and I think that he will likely be up there again this season.
Have you a plan for you Wildcard?
I am going to have to change my normal FPL strategy this season. I previous seasons I have held the Wildcard until late in the window to enable me to plan for a later second Wildcard.
However, with the World Cup and the unlimited transfer window I'll now look at one of the following Gameweeks for the Wildcard.
Gameweek 5 – There is a nice fixture swing to target here
Between Gameweek 8 and 9 – There is an international break here so additional time to make the most use of the Wildcard
Gameweek 11 – Again there is a good fixture swing window here
Depending on the opening three or four Gameweeks of the season I will move my strategy accordingly.
Top top for the FPL season
Pick the premiums carefully and sesinbly. Don't try to put too many into your team and compromise the rest of your squad. Look for value differentials to support the premiums you do have moving early on differentials who are playing well with give you good boosts to mini-league positions and overall rank. Think about the impact of moving early on Jarrod Bowen last season and try to find those picks again this time around.