Form Vs Fixture Charts for Gameweek 16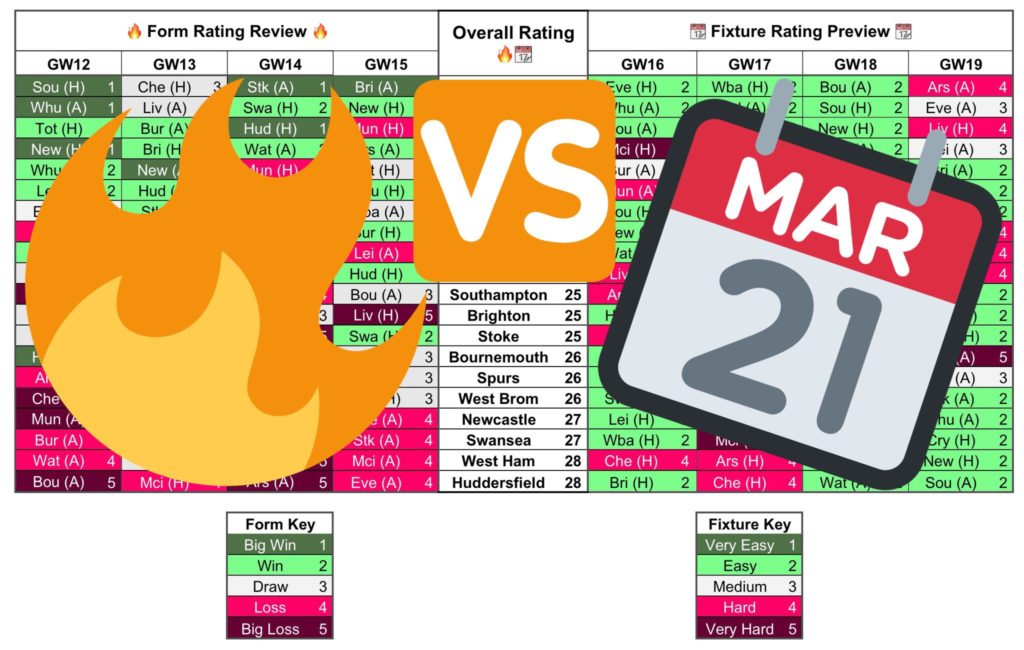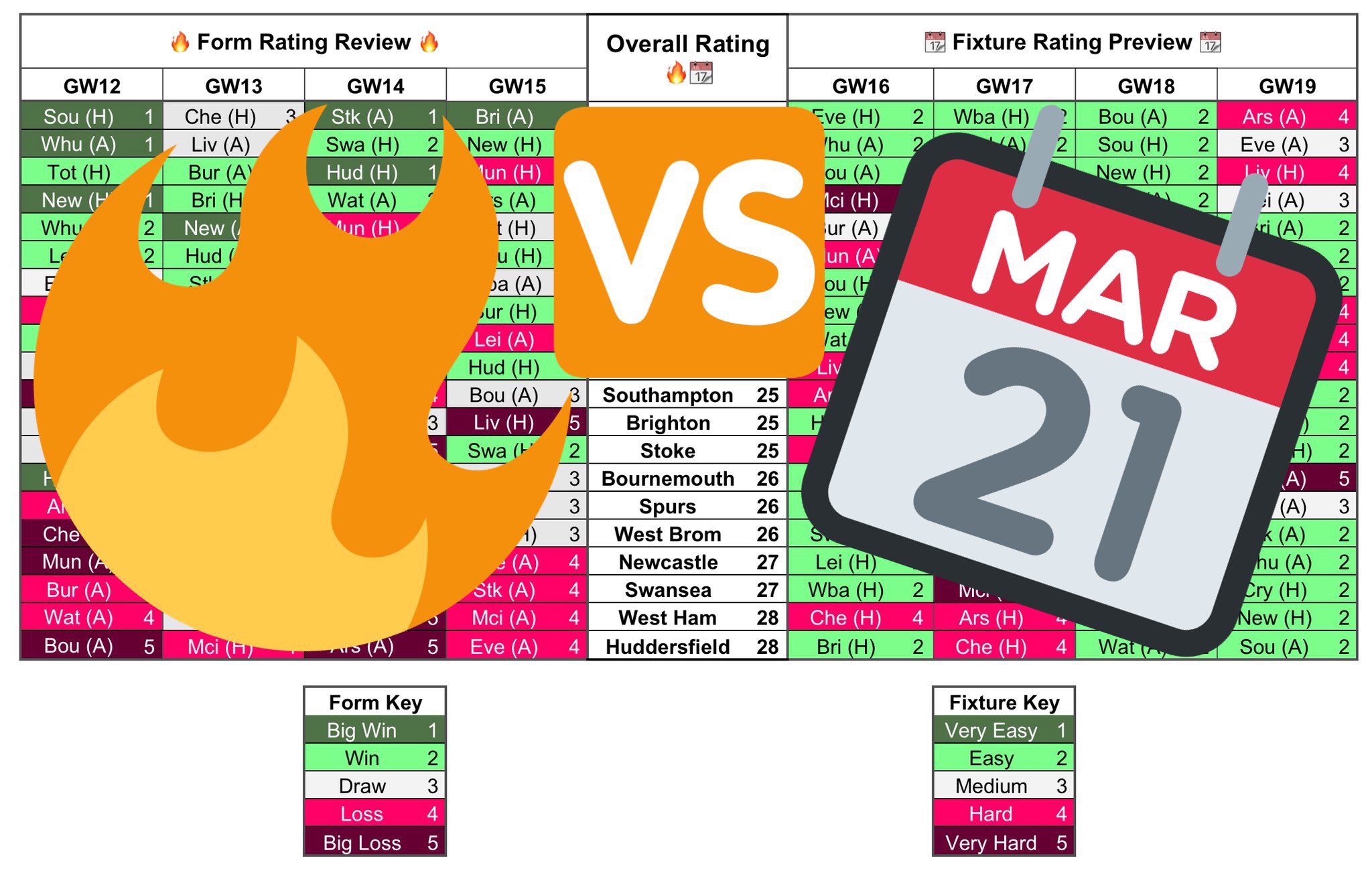 The leading teams in last week's charts performed and maintain their lead at the top of our Gameweek 16 charts.

Front Runners
For Gameweek 16, Liverpool and Chelsea maintain their margin at the top of the tree, after scoring 8 goals between them in Gameweek 15. They're both unbeaten in their last 4 games, with just that draw in Gameweek 13 hindering their form. Both have a strong run of fixtures, particularly in the next 3.
For Liverpool, Mo Salah is certainly the choice player here, having returned in his last 7 games. Coutinho was mightily impressive in Gameweek 15, and could potentially be an essential part of Klopp's side going forward.
Rotation looks to be a problem for Firmino, Mane and Coutinho; plus the full backs too. If it's a defensive player you're looking for, Simon Mignolet could be the solution – he likes a penalty save!
Chelsea have an incredible run of games in the next 4 and beyond. Eden Hazard has to be essential after that performance against Newcastle. Alvaro Morata is also a strong option, but could face a one game ban if he acquires another yellow card before the New Year.
In defence, Marcos Alonso is the key player here, who's always an attacking threat. If budget constraints don't allow you to splash out on Alonso, Christensen and Courtois are more budget friendly, but the former could be rotated when David Luiz is fit.
Form Teams
Only the Manchester clubs can match the record of our front runners, having won all of their last 4 games. Arsenal have dominated recently, other than in that spectacular home game against Manchester United.
From Manchester United, it's difficult to recommend many players due to Lukaku's lack of form and Pogba's ban. David De Gea is top of the list after managing 8 points last time out, despite failing to keep a clean sheet. It was a superb performance and he is so reliable between the sticks.
It's always difficult forecasting who to select from Manchester City, due to Pep's rotation. Kevin De Bruyne is the only player to start every Premier League game and so could be worth investment. At the back, clean sheets have been hard to come by in recent times, but Walker and Otamendi can provide attacking returns and bonus points.
Arsenal showed their defensive frailty last time out and now Mustafi is an injury doubt. Clean sheets still look hopeful for Gameweek 16, with the wing backs Bellerin and Kolasinac having good chances of attacking returns.
In attack there's plenty of options: there's an argument for investment in Aaron Ramsey, Alexandre Lacazette, Alexis Sanchez and Mesut Ozil. All of them are getting regular starts and are consistently in the points.
Fixture Teams
Our front runners have a a good run of fixtures, as do Watford and Crystal Palace. Zaha isn't as prolific out on the wing now Benteke is back in the side, so from an attacking point of view, the cheap option of Reuben Loftus-Cheek is the best bet here. Palace are starting to generate some clean sheets and Sakho is always around the bonus points and a threat from set pieces.
The Watford wing backs, Kiko and Zeegelaar, are the best options from the Watford back line. They're struggling for clean sheets but have plenty of opportunities for attacking returns and bonus points in Gameweek 16. In attack, the Brazilian Richarlison should come back into the points returns now that the tricky fixtures have been overcome.
We're now on the brink of the busy Festive Fixture Schedule, with seven gameweek's in 25 days, plus EFL Cup action for some. Don't forget to check out all of the statistics of how much rest each team has between games here.