Fantrax Draft Gameweek 14: The Gold League Experience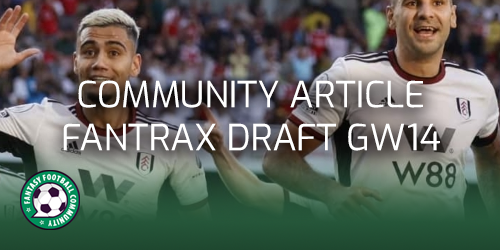 Will from Fantasy Football 92 is back to talk us through his Fantrax Draft Gold League competition. Here, he looks back at Gameweek 13 and upcoming trades.
"Seven years of drafting. A 'Draft We Must' league title. An 'International Genie League' title. A 'Draft Community League Champions Cup' title. It's not often you get to brag about your Fantasy Football achievements, so I'm grabbing this opportunity with both hands!"
Why the (not so) humble brag? Well, my Togga/Fantrax experience has inadvertently landed me with my biggest and toughest task so far – qualification to the Draft Community Gold League – and here I am writing about my experience. This is unarguably the toughest league, one where I could genuinely finish dead last… hopefully not, eh?
FANTRAX DRAFT REVIEW
This double-header brings Gold League clashes against @andrew6569 and @StkSuffolkA alongside an attempt to go 3-0 in the cup against @fpleezeya!
After 12 weeks we've achieved an astonishing first…. back-to-back Gold League wins! I aim to discuss moves and motives whenever I record a victory, which is why it hasn't happened often.
Opponent Andrew had his own bad luck, seeing Conor Gallagher depart early with illness and having to start a benched Ryan Sessegnon. I was worried when Trent Alexander-Arnold registered Trent-style numbers and Jadon Sancho bagged an assist but I snuck into Fulham's game with a narrow lead. This allowed Andreas Pereira and recent signing Aleksander Mitrovic to do the business.
Assessing the Kevin De Bruyne trade, I compare Son Heung-min to Mohamed Salah and Michael Olise to Jack Harrison. As predicted, the two supposed big hitters scored an identical 6.5 points, whereas Olise was absolute mustard against Wolves. When he starts (particularly at home), Olise is going to be a silky Fantrax menace with unlimited upside. It was proven right here, with a 20.5 point return containing one assist and five key passes.
I've struggled with goalkeepers but thought Gavin Bazunu was good for saves and a potential clean sheet at Bournemouth. For once, I was right on the money as three saves, a clean sheet and 17.25 points arrived. It shouldn't be underestimated how valuable a good goalkeeper stream can be in Fantrax, as it sets the tone for a good week and allows other assets to score more poorly than expected.
Fulham's Pereira has started collecting ghost points, while the Mitrovic trade continues to be absolutely spectacular. Apart from a certain Norweigan meatshield, Mitro is arguably the game's best forward right now. A score of 100.25 points is very respectable and worthy of a comfortable victory that takes our record to 5-6.
Then the weekend arrived and it was back down to earth with a very, very heavy bump.
South Suffolk Analogue just seems to love facing my Fantrax Draft team. His side put up 125 in the Gameweek 2 hammering and was even better this time with an unbeatable 130.25, ensuring I faced the Gameweek's highest score yet again this season. SSA is having a great campaign and sits third in the league with an 8-4 record. However, I'm sure he wishes he could face my side every week.
My goalkeeper choice was good once more and the Fulham lads delivered again in a big way, especially Pereira – one of the league's form midfielders right now. But it was disappointing elsewhere, particularly with Olise and Luis Sinisterra, who are usually partial to the odd ghost point. Not this time.
At one stage, I was within 11 points of SSA but there was a devastating few minutes where William Saliba's clean sheet disappeared whilst James Maddison and Ollie Watkins scored. It meant I was miles behind by the time Kurt Zouma scored with the clearest handball since Diego Maradona's.
A mediocre score of 76.25 was once again underwhelming, so there are not many good streamers to speak of this week. Yet I can take some consolation from the fact that I would've beaten seven other managers.
Actually, I'm not sure that is a consolation.
Next week I face @wrigavin, who is the only guy in the Gold League unluckier than me! Out of 108 managers, I have faced the third most points. Gavin is top of that dubious league table, so something has to give this week.
CHAMPIONS CUP – THE TITLE DEFENCE
Now we're talking! This is becoming my favourite part of the week, as all of the good luck I'm lacking in the Gold League is being gifted to me right here in my defence of the cup.
This week in 'The Group Of Death' I took on fpl_eeezeya who had a similarly underwhelming time. Thanks to Pereira, my boys had enough to ensure I went 3-0 (yes, three and oh!) and maintain a perfect start. Getting out of this group would be an achievement in itself but the start has been superb and I'm a few wins away from getting into those knockout rounds once again.
My next match-up is the toughest of them all. I face @FantraxFlukes, the name at the top of the whole Community League with a league record of 11-1. Eek. Let's hope the good luck continues here, I'm gonna need it.