Expert Insight: What can we learn from FPL Rabbi?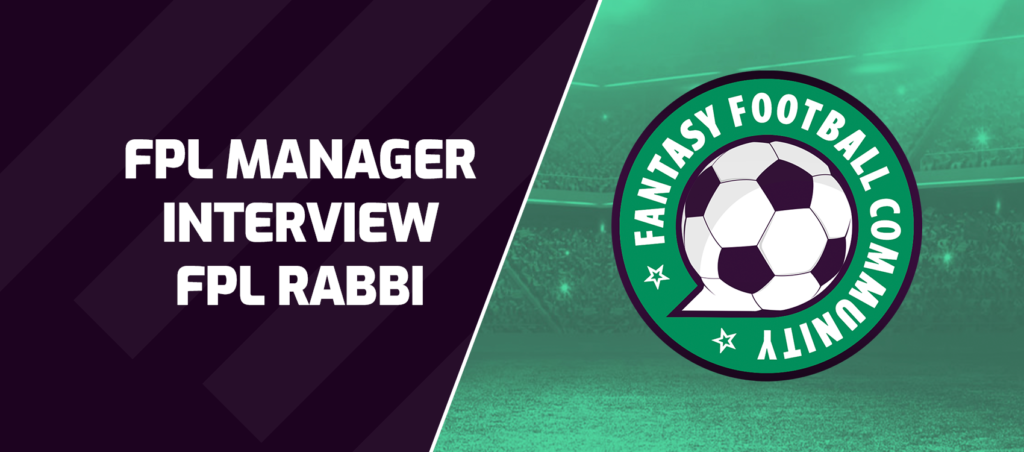 We had a chat with FPL Rabbi – Daniel – to get some expert insight, to find out what his strategy has been so far this season and what his plans are for the coming Gameweek's.
FPL Rabbi is part of the Fantasy Football Scout Network and FFS International as well as a podcaster with Doubtful75FPL. Daniel has a best OR of 8806.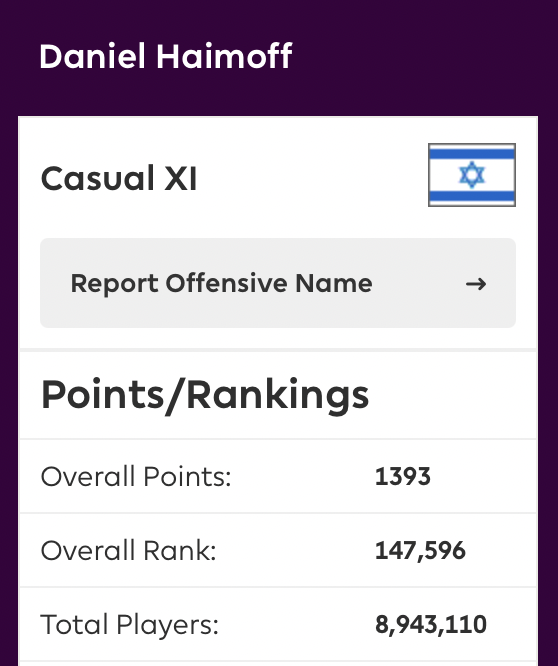 The 2021/22 Season so far
How often are you taking hits this season? Is that more than you would normally take?
My season is divided to two periods. Gameweeks 1-17 and then Gameweek 18 onwards when all the postponements started.
Last season I took way too many hits, so I decided to do my best to cool down unnecessary hits this season. Up until Gameweek 17 I've been very patient. Also made some good calls in my Gameweek 1 team and had a decent bench so didn't really need to take any hits.
In the first 17 Gameweeks I took only two double hits (-16 in total), both times to get Ronaldo in. Both times those hits repaid themselves immediately and gave me a green arrow. In Gameweek 17 I found myself without any forwards (Ronaldo, Dennis and King) after their matches have been postponed and that led me to take six more hits in the next five Gameweeks, these were much less successful.
How are you deciding who wears the captain's armband? Form/Fixtures/Historic record against opposition etc
Usually, I try to find a good combination between fixtures and form.
I like to attack the fixtures but this season early on it was clear that Salah is having a prime Ronaldo/Messi-like season, so wasn't really worth going against it.
How many chips have you played and do you have a plan for when you think you will look to play your remaining ones?
I've played only my First Wildcard so effectively I have five chips for the remaining 15 Gameweeks, which makes it a chip every three Gameweeks, something that could be massive and change the course of my season.
If Liverpool get a Double Gameweek 26 against Norwich and Leeds at home I would of course play the Triple Captain chip on Mo Salah, but that actually makes the triple captain chip invalid in my opinion and takes out the edge of that chip as the entire world and their dog would play the Triple Captain chip on Salah that gameweek.
I don't have a plan in place for the Bench Boost or my Free Hits because of the uncertainty this season brings, regarding DGW announcements and such. Optimally I'd like to play my Bench Boost chip before my Second Wildcard, just so I wouldn't have to carry an expensive bench for the rest of the season, even if it means playing it in a small Double Gameweek with single Gameweek players on my bench that have a good fixture. I did it last season and it was a massive success.
As things are going Gameweek 36 could be a huge Double Gameweek so that's always an option for the Bench Boost. As for wildcard, Gameweek 28 has quite a fixture swing for some teams so I'm keeping that in mind.
Who has been your best transfer in so far this season?
I'll start from my worst transfer probably. Ahead of Gameweek 4 I was on the fence between Adama Traoré and Ismaila Sarr before the clash between them. Although Adama's 3 points beat Sarr's 2, the next two Gameweeks Sarr outscored Adama 24-3 when the latter also loses his place in the 11.
My best transfer was somewhat lucky when I was planning to start Heung-Min Son in Spurs' in their, then supposed to be, Double Gameweek. He got injured, so I was planning to move him on for Maddison whose Double Gameweek also got canceled. As a last resort really, reluctantly opted for Bruno Fernandes who went on to score 23 points in Double Gameweek 22.
What is your preferred system at the moment? (3-4-3, 4-4-2, 3-5-2 etc)
At the moment, with Chelsea's blank gameweeks (and also sub-or performances), as well with budget mid options, I'll probably be on 3-5-2. I am however changing between it and 4-4-2, depending which budget option has a better fixture or a Double Gameweek.
FPL Plans for the coming Gameweeks
Which player(s) are you looking to target ahead of the Gameweek 24 deadline?
I was planning to bring Salah back instead of Bruno Fernandes with my two free transfers but after the Double Gameweek 25 announcement for Man Utd I'll keep him two more Gameweeks.
I do need to move on Rudiger so I'll probably get Laporte back (had him Gameweeks 7-11) so I could get something from the best defence in the league, because at the moment, solely with Cancelo who's EO is around 100%, I'm not really getting anything.
What are your thoughts on Salah and when we should bring him back into our FPL teams?
As I stated above, my plan was to bring in back or Gameweek 24 but at the moment I'll roll the dice with Bruno's next three fixtures (away to Burnley, Home to Southampton and Brighton in Double Gameweek 25) and get him back for Liverpool potential Double Gameweek 26.
Which PL teams should FPL managers be looking to target/double up on over the next 4-5 Gameweeks?
If we take into consideration that most of us are already on 4-6 players from Liverpool and City combined and that we're probably shifting away our Chelsea assets because of their upcoming blanks, I think we should be very aware of the upcoming doubles and attack those fixtures.
I, for example, already have four Double Gameweek players in De Gea, Bruno Fernandes, Ronaldo and Cucurella and I might take a punt on a Brighton budget midfield option such as Mac Allister or Moder (which would then allow me to bring back Salah for Bruno in one move). The Double Gameweek makes Man Utd and Brighton obvious picks for the next couple of Gameweeks, although be aware that Brighton do blank in Gameweek 24.
I'm also aware that more doubles could drop in at any given moment. Teams like Villa, Leicester and Arsenal still have four matches to be rescheduled each. I'll want to move for their assets if they get a Double Gameweek announcement, which might mean that I play one of my Free Hit chips if I'd be too far away from those moves with just free transfers.
What is your target for the end of the season?
I've spent most of the season around 50K-70K but ever since the postponements started, I've had a string of bad luck, with my entire forward line blanking in consecutive gameweeks and even worse, West Ham's doubles dropping at a time I had been offline and couldn't make any transfers. The means I am currently 150K.
I feel most difficult thing is to mentally put this period behind me and to just keep going as if nothing had happened. My goal at the moment is a top 20K-30K which I still think is possible with multiple Double Gameweeks on the horizon and five chips still at my disposal. Won't be easy though.
The Final Word
One piece of advice for FPL managers….
Do your part, do your homework, take your calculated risks and remember if there are postponements or changes to the schedule there is nothing you can do. When things go wrong, take a deep breath and move on from it and to the next Gameweek without dwelling.