Brighton's Enock Mwepu retires from football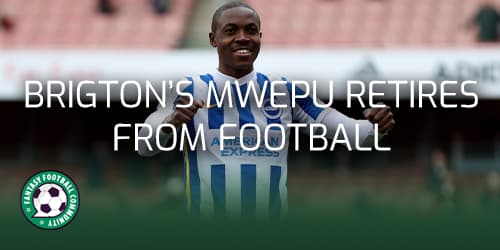 Brighton have today announced the sad retirement of Enock Mwepu. Mwepu retires as a result of a hereditary heart condition discovered whilst the player was away on international duty.
Brighton today reported on the retirement of Mwepu. The midfielder who is just 24 was taken ill while on a flight to join up with his national team, Zambia, during the international break. The player spent some time in hospital in Mali before returning to Brighton. Once back with his club Mwepu underwent further cardiac tests which concluded that his illness is due to a hereditary cardiac condition.
The heart condition that Mwepu has been diagnosed with shows itself in later life. It was not evident on any previous tests that the club regular run on all their players. The condition that Mwepu has been diagnosed with can be exacerbated by playing sport. Mwepu has therefor been advised by medical professions, for the sake of his life, to stop playing football. As a result Mwepu retires from football.
Club Statements: Mwepu retires
The Brighton club chairman has stated:
We are all absolutely devastated for Enock. He and his family have had a traumatic few weeks and while we are just thankful he has come through that period, he has seen such a promising career cut short at such a young age.

As a club we will give him all the love, help and support we possibly can to make a full recovery, and then as he decides on the next steps in his life.

Tony Bloom – Brighton Chairman
The new Brighton manager stated:
I am so sorry for Enock. Before I arrived I looked at all the squad, and he was a player I was so excited and looking forward to working with. We will do everything we can to help him

Roberto De Zerbi – Brighton manager
The club have promised to help Mwepu 'make sure the condition is managed with the appropriate treatment for him to otherwise live a long and healthy life.'
Mwepu's career
Mwepu begun his career in his Zambia, before signing for Austrian club Red Bull Salzburg. He made 81 appearances of the club scoring 11 goals and playing in the Champions League.
He made his move to the Premier League to join Brighton in the summer of 2021. Since then he has made 27 appearances of the club scoring three goals. Brighton's 5-2 win over Leicester last month was his final match for the club.
The player also won 23 caps for his country Zambia during his football career.