Double Gameweek 22 announcement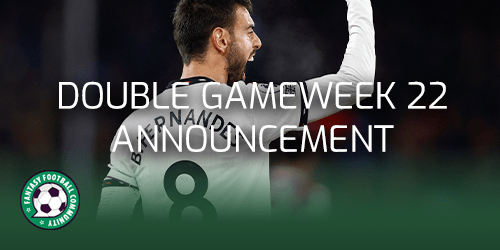 FPL managers have been waiting for the announcement of the next set of rescheduled fixtures. Today Manchester United announced a new date for their fixture against Leeds. This means Man United and Leeds will both likely play twice in Double Gameweek 22.
Manchester United announced that their Premier League fixture against Leeds will be rescheduled for the 8th of February. This will mean that it is part of Double Gameweek 22.
Fixtures
Fantasy Football Scout have announced what that Double Gameweek would look like.
Double Gameweek 22 would see Manchester United play Crystal Palace and Leeds. With Leeds playing twice against Nottingham Forest and Man United.
Conditions of the fixtures
Much like the Gameweek 20 doubles for Spurs and Man City, this announcement has caveats. The two teams will only play twice as long as neither Man United or Leeds need a replay in the FA Cup. This is because the match is scheduled during the midweek of the FA Cup fourth round replays.
Man United face Reading a week on Saturday in the FA Cup. Leeds will play either Accrington Stanley or Boreham Wood who are yet to play their third round replay due to a frozen pitch.
Keep an eye on the Fantasy Football Community and Fantasy Football Scout social media accounts over the FA Cup fourth round weekend. Here FPL managers will get news of the confirmation of the fixture if it is to be played.
Community Chatter
The FPL community have reacted to the news of another potential Double Gameweek.
FPL Magnifico suggests it's time to invest in Leeds' Gnonto.
Whilst Ryan is considering the Triple Captain chip on a Man United asset.