Community Team Reveal Gameweek 21 – FPL Inzaghi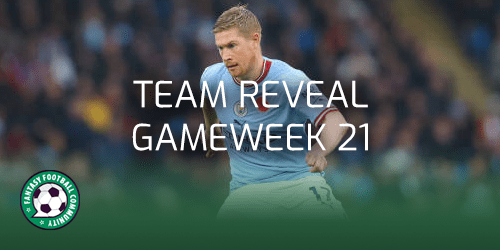 Each Gameweek brings an FPL community team reveal. As a result, that person gives insight into their transfers, captaincy and future plans.
---
Ahead of Gameweek 21, it's the turn of FPL Inzaghi (Ryan) to tell us what he is doing to his team.
Hi Ryan and thanks for the team reveal. So how did Gameweek 20 go?
I scored 81 points to secure the tiniest of green arrows from 96k to 92k. It was an underwhelming week, despite playing my Triple Captain chip on Erling Haaland for a measly 8 points, totalling 24. Despite this, I'm happy to remain under 100k and within reach of the top 10k.
What does your defence look like?
Uncertain is the best word to describe it. Can Ben White keep out a resurgent Man United? Will Nathan Ake even start versus Wolves? Will Liverpool's woes continue against Chelsea to the benefit of Kepa?
Kieran Trippier is so highly-owned that he's almost a dead player in my starting 11. It's a close call between starting White or Luke Shaw but Arsenal's clean sheet odds are higher as the home team and being without Casemiro will hurt Man United's defence.
With little attacking threat to separate the two, I'm opting for White over Shaw this week.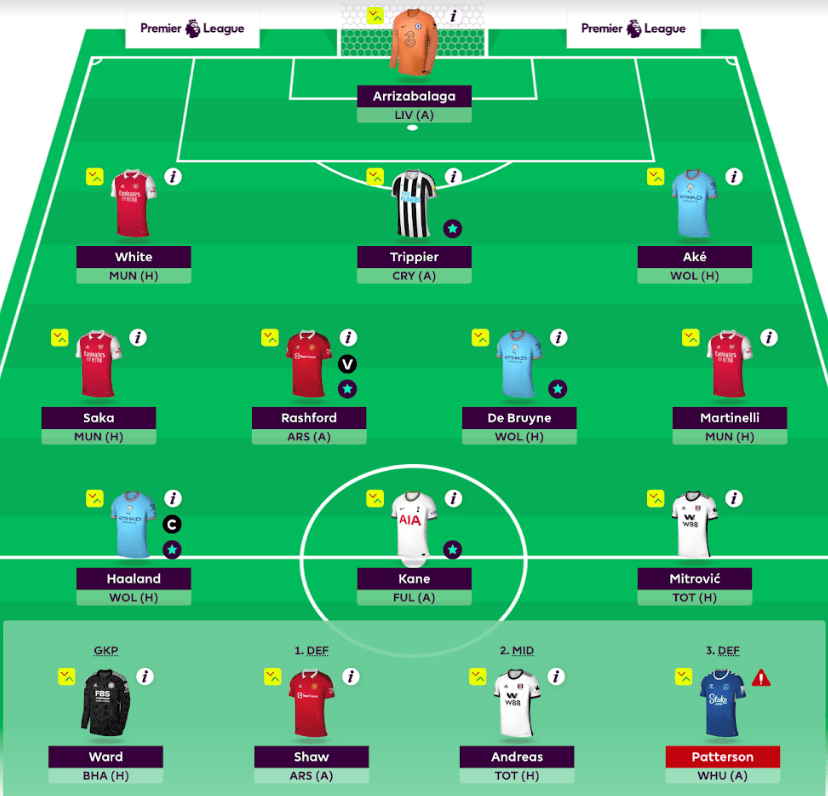 Meanwhile, what about your midfield and attack?
Three-quarters of my midfield starters face each other – Bukayo Saka, Gabriel Martinelli and Marcus Rashford. This can significantly reduce a team's points ceiling, as players typically rob points off each other. A high-scoring United win would suit me perfectly but both sides also have strong defences, which could make this the opposite.
Kevin De Bruyne was stuck on the bench against Spurs, with Pep Guardiola citing tactics. He did miss training earlier in the week for personal reasons which may have impacted his selection but I'm confident the Belgian returns to Sunday's starting XI.
Haaland and Harry Kane complete the threemium with nice fixtures against Wolves and Fulham. Since buying him in Gameweek 18, Mitrovic has scored zero, five, zero and zero in a run that includes a suspension and two penalty misses!
Fulham are a threat, especially at home, and I'm hoping Mitrovic repays the debt he's accrued over recent weeks.
So what are your transfer plans for Gameweek 21 and beyond?
I'm rolling my free transfer this week for two reasons. Firstly, there isn't an obvious move to make in my team. Although Brighton strongly appeal, I only have £0.1m in the bank so can't upgrade Andreas Pereira to either Kaoru Mitoma or Solly March.
Secondly, there will be double and blank gameweek announcements coming soon which will significantly impact our transfer plans. Rolling allows me to be armed with two free transfers when responding to these. If you're able to, I strongly recommend doing the same.
Finally, what about captaincy?
Despite his recent struggles, Haaland gets the armband again. Although De Bruyne comes close, there is a slight doubt over his expected minutes, as seen on Thursday night.
Good luck and thank you for the team reveal!
No problem. I'll update my team on Twitter and on my YouTube channel – give me a follow, I'd love to meet you and chat FPL!