Community Team Reveal Gameweek 8 – FPL Inzaghi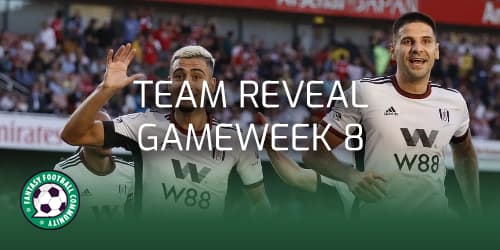 Each Gameweek brings an FPL community team reveal. As a result, that person gives insight into their transfers, captaincy and future plans.
---
Ahead of Gameweek 8, it's the turn of FPL Inzaghi to tell us what he is doing to his team.
Hi FPL Inzaghi and thanks for the team reveal. So how did Gameweek 6 go?
It brought a large drop, largely due to not having Kieran Trippier and handing Mohamed Salah the armband over Erling Haaland. Of course, Gameweek 7 then brought a green arrow despite scoring zero points!
My global rank is currently at 620k.
What does your defence look like?
After starting with big-at-the-back, I've used the Wildcard to shift funds further forward. Currently, I'm lining up with a 3-4-3 formation.
Nick Pope is in goal, with the perfect recipe of making a lot of saves but also playing for a solid defence. Even if Pope loses a clean sheet, he has other avenues for points whilst any clean sheet could see him secure bonuses.
Kieran Trippier is the second Newcastle defender who, like Pope, has other avenues to points via set-pieces. So he is still able to return regardless of a clean sheet.
Keeping his place for now is Joao Cancelo but he'll likely make way for Trent Alexander-Arnold before Man City's Gameweek 12 blank.
And I've gone with the ultimate troll – Lucas Digne! You may be shocked to see him in there but, with a fixture run of Southampton, Leeds, Nottingham Forest, Chelsea, Fulham and Brentford, it's a punt worth taking.
Reece James blanks this week but stays there for afterwards, as he remains a stand-out option. The fifth defender is Vladimir Coufal, also with a nice run of opponents.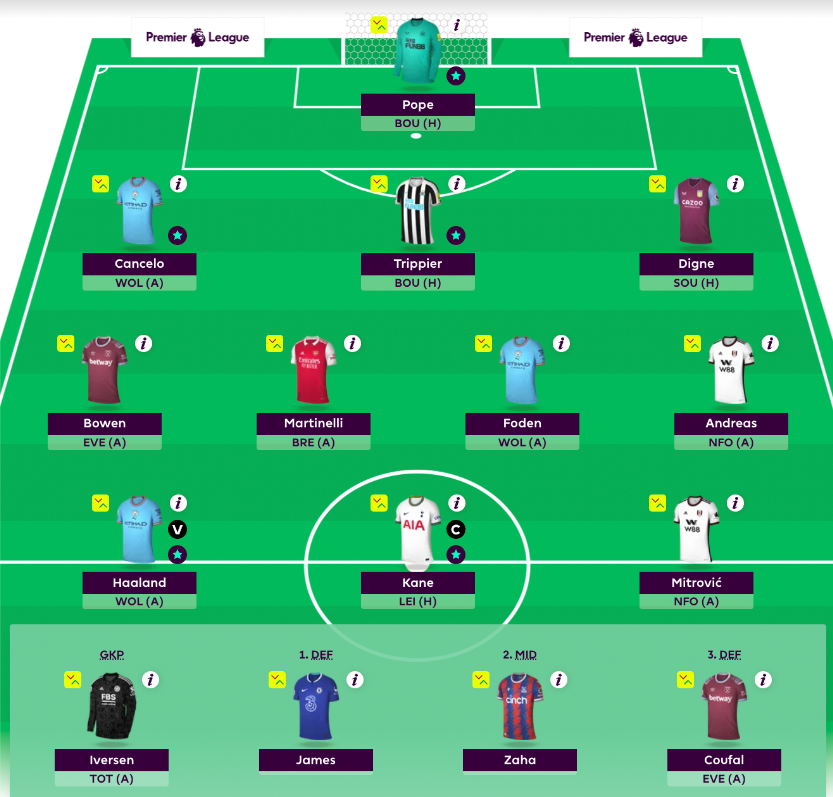 Meanwhile, what about your midfield and attack?
The big question for me regards the second premium player: Kevin De Bruyne or Harry Kane. I'm on Kane at the moment as he presents a great captaincy option for both this week and Gameweek 11 when Man City and Liverpool clash. Although De Bruyne is a tempting option and allows me an easier route back to Salah, I'm on Kane for now.
Elsewhere, I'm hoping Jarrod Bowen's form can turn around for those West Ham fixtures, while Phil Foden is a one-week punt before becoming James Maddison.
Keeping their place in the squad is Gabriel Martinelli, Andreas Pereira and Erling Haaland, although the Arsenal man's days are numbered as he may make way to fund the return of Salah and Trent Alexander-Arnold.
Up front, Aleksandar Mitrovic was always going to come into the team and I'm expecting big things from the Serbian. Wilfried Zaha is there despite blanking in Gameweek 8 and facing Chelsea in Gameweek 9. Having him there saves me one further transfer down the line.
So what are your transfer plans for Gameweek 8 and beyond?
I'm conscious of not booking in too many future transfers on the Wildcard. Whilst it feels slightly sub-optimal this week with Zaha and James blanking, the Wildcard is meant to set managers up for the long-term and that's what I've tried to do here.
Pending injuries/suspensions, I'd ideally move Foden to Maddison in Gameweek 9 and roll the next transfer, before eventually selling Kane to Ivan Toney and upgrading Bowen to Salah.
Finally, what about captaincy?
It's on Kane at the moment for the home fixture versus Leicester but it's hard to look past Haaland's form. This will go right up to the deadline.
Good luck and thank you for the team reveal!
No problem. Make sure you check out my YouTube channel for helpful videos and team reveals all season long: