Community Team Reveal Gameweek 23 – Ryan (Football Chatbox)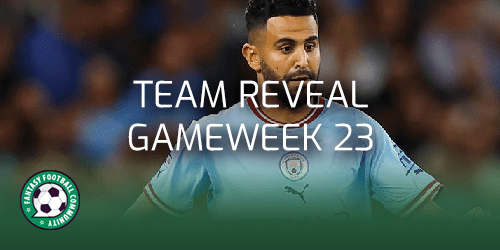 Each Gameweek brings an FPL community team reveal. As a result, that person gives insight into their transfers, captaincy and future plans.
---
Ahead of Gameweek 23, it's the turn of Ryan (Football Chatbox) to tell us what he is doing to his team.
Hi Ryan and thanks for the team reveal. So how did Gameweek 22 go?
Gameweek 22 went very well. Triple Captain Marcus Rashford delivered and I climbed from 1,077,937th to 632,128th – a green arrow of almost 41%. So I'm really happy with the result and looking forward to Gameweek 23.
What does your defence look like?
I've probably got the most template defence starting right now – Kieran Trippier, Luke Shaw and Ben White. On the bench, Serge Aurier and Hugo Bueno looked like good options a few weeks ago but could now be rotation risks that need sorting out before Gameweek 25. I'm happy to keep it like this for now and then reassess for Gameweek 24.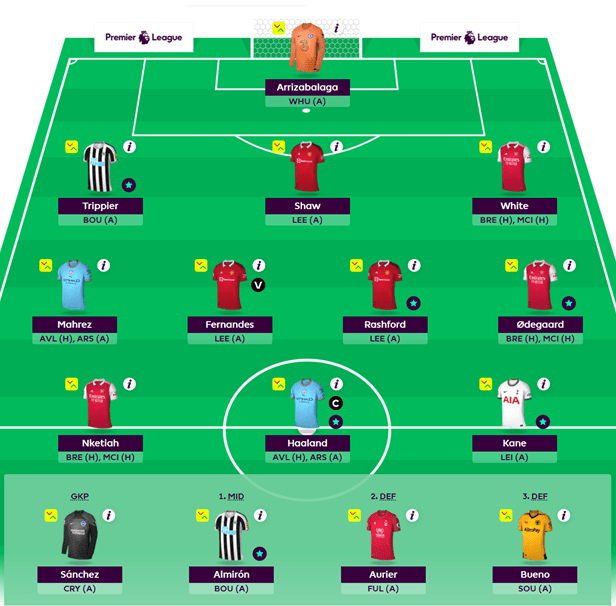 Meanwhile, what about your midfield and attack?
In midfield, I've got Riyad Mahrez and Martin Odegaard's doubles and Man United players Rashford and Bruno Fernandes. I initially brought Bruno in for a quick one-two with Kevin De Bruyne but am now thinking of keeping him for the game against Leeds. This hasn't yet been decided, though.
I could still move Bruno to KDB but it would need to be for a four-point hit that moves Luke Shaw to a defender who will play in Gameweek 25.
In attack, Haaland is ever-present and with him is the double of Eddie Nketiah. I'm not too worried about Nketiah at the moment – there's a chance that Gabriel Jesus comes back by Double Gameweek 25 but one of my podcast co-hosts is an Arsenal fan and doesn't think Mikel Arteta will rush him back.
For now, it's not a pressing matter. Alongside these two, I've got Harry Kane, who keeps ticking along with points and I'm happy to keep him for the rest of the season.
So what are your transfer plans for Gameweek 23 and beyond?
I'm happy with my starting XI unless something comes up from the press conferences. As mentioned, I still haven't decided on moving Fernandes back to De Bruyne and the hit needed to accommodate this.
After that, I will probably roll the Gameweek 24 transfer before deciding how to bring in Salah or another Liverpool player.
Finally, what about captaincy?
Captaincy will be on Haaland, with the game against Aston Villa where I'm expecting most of his points to come from. I believe the Arsenal game will be very cagey and low-scoring. If I still had my Triple Captain chip, I would probably use it here on Haaland.
Good luck and thank you for the team reveal!