Community Team Reveal Gameweek 12 – FPL Shake n Bake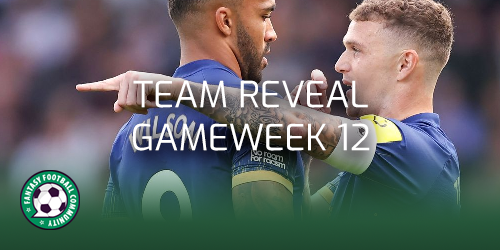 Each Gameweek brings an FPL community team reveal. As a result, that person gives insight into their transfers, captaincy and future plans.
---
Ahead of Gameweek 12, it's the turn of FPL Shake n Bake (Brett) to tell us what he is doing to his team.
Hi Brett and thanks for the team reveal. So how did Gameweek 11 go?
It's never a great week when three of your top five scorers are on your subs bench, is it? Gameweek 11 compounded the disastrous Wildcard of Gameweek 10, which has already seen my rank drop by 220k. I wish FPL had an undo button!
Originally, I had planned to enter Gameweek 12 with two free transfers but the Reece James injury changed plans. I brought in his Chelsea team-mate Marc Cucurella, expecting another clean sheet at Aston Villa, only for the Spaniard to be replaced at half time for a one-pointer.
Ironically, if I'd left James in the squad, I'd have had James Justin's six points come in from the bench. To paraphrase Ronan Keating: sometimes you play FPL best when you play nothing at all.
My only returns came from the reliable Harry Kane and Kieran Trippier, alongside budget enablers Andreas Pereira and Marc Guehi (who came off my bench) as I stumbled my way to 43 points. It was a drop to 383k.
What does your defence look like?
Very different to how it started the season. I've got three budget options in Guehi, Justin and Ryan Sessegnon, plus Trippier and Cucurella. I went with Sessegnon on my Wildcard as, with Emerson Royal suspended and Antonio Conte saying Matt Doherty was not ready to play, I expected him and Ivan Perisic to be nailed as wing-back options. Only for Doherty to immediately play and look like the great FPL option we know he can be.
Due to James Maddison's suspension, I'm having to line up with five defenders for Gameweek 12.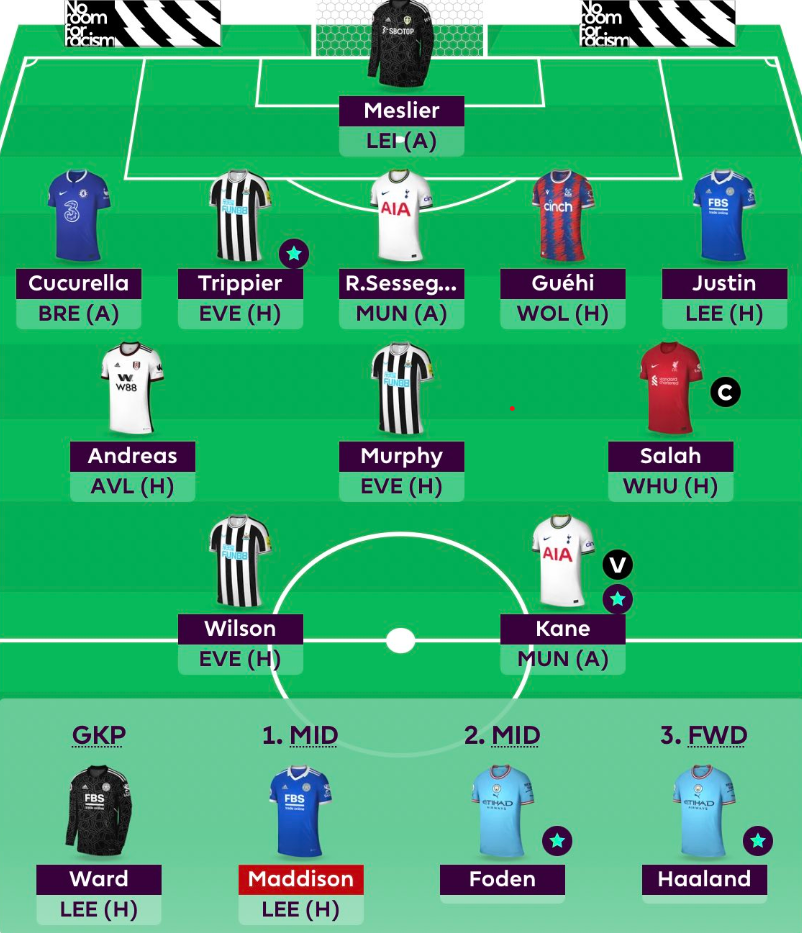 Meanwhile, what about your midfield and attack?
This is where my Wildcard let me down. My heart ruled my head, so in came Maddison and Callum Wilson. Both were reasonable, logical moves (Wilson bagged a Gameweek 10 assist and Maddison had both form and fixtures on his side) but they've backfired, as the players I sold have continued banging the points in – Ivan Toney and Bukayo Saka.
As well as Maddison, my midfield has Man City duo Kevin De Bruyne and Phil Foden, plus budget options Andreas and Jacob Murphy (another benched return of Gameweek 10). Up front, I have Wilson, Kane and Erling Haaland.
So what are your transfer plans for Gameweek 12 and beyond?
With three Man City players and the suspended Maddison, one of them has to go for me to field 11 players. The axe is falling on De Bruyne to accommodate a Mohamed Salah who is starting to look back to his old self. Four goals in two games, with the touch and spin for Sunday's goal showing a player full of confidence. Liverpool's slight tactical switch will hopefully get him back to his best.
From Gameweek 13, I'm getting Saka back. I miss owning him and really didn't want to sell but I needed to dispose of Arsenal assets before Blank Gameweek 12. And I will even consider him for Gameweek 14 captaincy, against Nottingham Forest.
Mason Mount could possibly come in for Maddison but it would only have been a one-week punt before Saka. I've decided against taking such a points hit.
Finally, what about captaincy?
The Egyptian King shades it over Harry Kane for me. West Ham have only kept two clean sheets in the league. If Salah is revitalised, Liverpool should put them to the sword.
Good luck and thank you for the team reveal!