Community reactions: price releases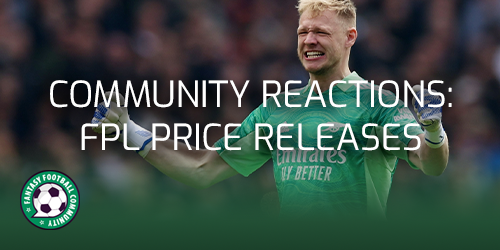 Over the course of the day there have been five prices releases. The first one from Official FPL themselves tweeting the Arsenal prices. This was followed by Man City, Brentford, Brighton and Leeds revealing their own prices. We take a look at the community reactions to the prices.
The FPL community was immediately full of conversations about must haves, bargains and what that might mean for other assets.
Ones to watch
FPL Haul picked out his players to watch after the Brighton price releases. Haul's watchlist of defenders is already highlighting great budget potential.
Meanwhile, FPL Endeavour has been sharing his thoughts on Brighton's new £5.5m forward Undav. Undav scored 25 goals and returned 10 assists last season. With Brighton regulars for high expected goals last season he could offer great FPL returns if he starts and finishes the chances.
While FPLFlynn was very happy with the Brentford pricing.
Who next?
Whilst some managers were assessing the prices already released others were thinking ahead to who might come next. Andy discussed his thoughts on where some of the other key FPL assets might be priced. FPL Trivela also questioned whether Chilwell might be £6m if Reece James is £6.5 or £7.0m.
Every Point Matters asked in a poll what Ronaldo would have to be priced at for managers to invest in FPL.
New prices, new clubs?
Other FPL managers considered whether the price on a player might be more attractive if they move. Mev suggested that if Cucurella moves to City that he would be a great pick at £5.0m.
When will the game be live?
However, one of the biggest community reactions to the price releases today was, when will the game be live?
---
To see our initial reaction to the FPL price releases click here