Bundesliga Fantasy Matchday 12 expert picks and team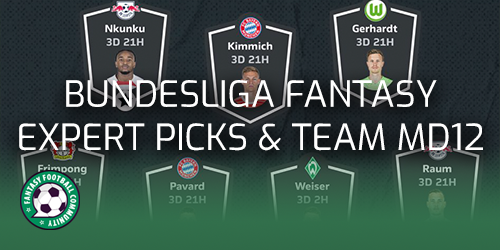 With a new round ahead, we look at Bundesliga Fantasy Matchday 12 expert picks and team. @FPLGunnersaurus (Jay) joins us to give his three top picks for the Matchday ahead. In addition, he also shares his squad going into the new round with his general thoughts.
Twitter is full of the most experienced fantasy football players around. Those managers can be some of the best people to look to when trying to gain clarity when making their own decisions within their teams. Seeing Matchday 12 expert picks can help for the round ahead.
Top picks – Michael Gregoritsch (FOR – 9m – 9% owned – SC Freiburg)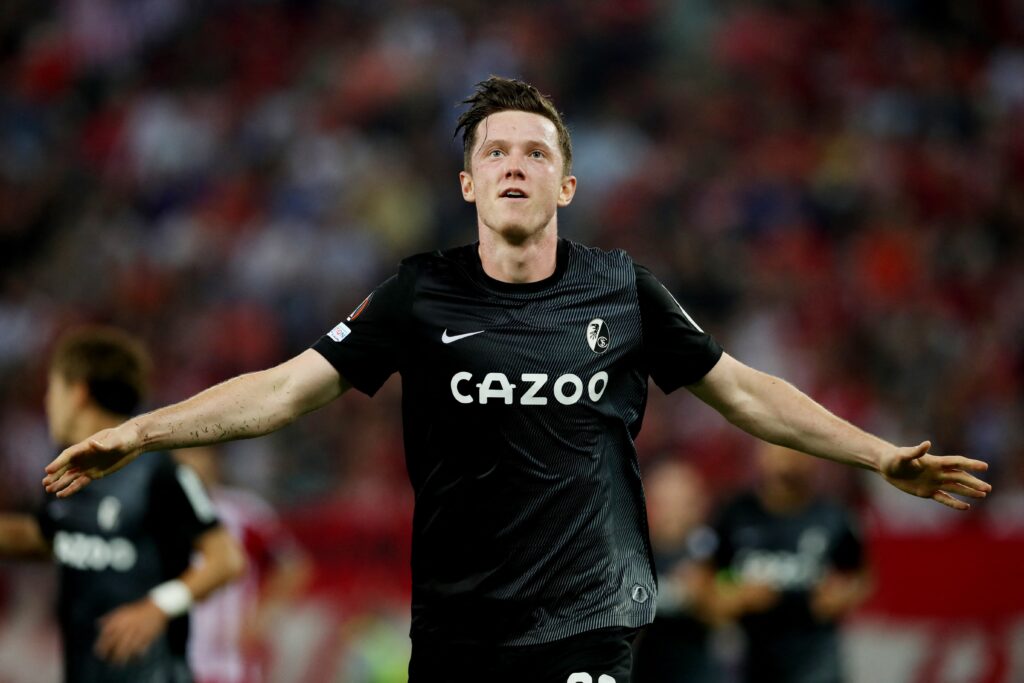 It's operation target Schalke time again! Schalke are really struggling, having lost five games on the bounce now. It doesn't get any easier hosting third place Freiburg in one of the Sunday stand-alone fixtures. At home Schalke concede on average three goals a game and have an overall 1.86xGA (1.71xGA at home), ranking fourth worst overall (and fourth worst at home too). Freiburg meanwhile rank third best for overall expected goals at 1.82xG.
Gregoritsch hasn't scored since Macthday 8 which saw him return big with 19 points in Bundesliga Fantasy. But against a team currently leaking goals for fun, one would expect the Austrian to add to his four goals scored so far. Likely to be the last great star forward option of the weekend, it would be worth having Gregoritsch in your squad should your other two forwards fail to deliver.
Jesper Lindström (MID – 12.5m – 5% owned – Eintracht Frankfurt)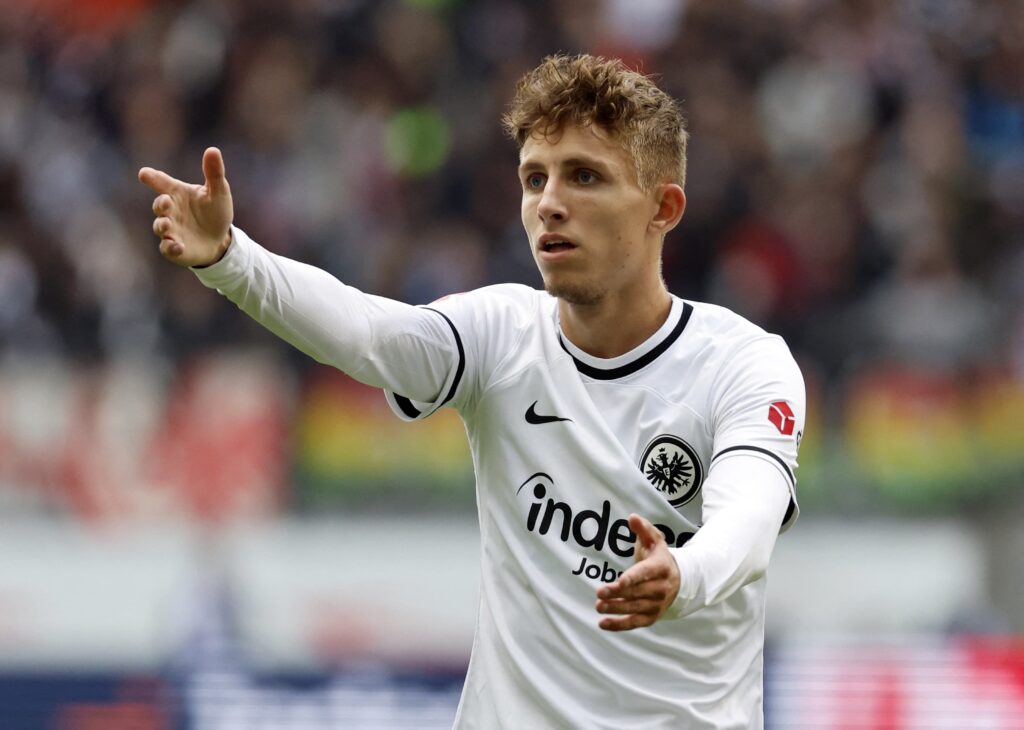 Lindström was the top midfield target for Matchday 9 against Bochum. To the surprise of everyone Bochum beat Frankfurt 3-0 at home. However, since then the Dane has scored three times in two games and, discounting that Bochum game, is a man very much on top of his game. In the games either side of that freak defeat, Lindström has returned Bundesliga Fantasy hauls of 18 points, 17 points and 17 points again. Now a more expensive option than teammate Daichi Kamada, he's worth the additional outlay on current form.
Frankfurt host Borussia Dortmund in the Saturday evening fixture. Lindström makes for a great star midfielder option should you need him. Dortmund have lost their last three away games too, conceding three goals in two of those games. Frankfurt meanwhile have been scoring big at home, already having recorded home wins of 4-0 and 5-1. Whether it's Lindström or Kamada, a Frankfurt midfielder is almost essential for Matchday 12.
Paulo Otávio (DEF – 7.8m – 3% owned – Vfl Wolfsburg)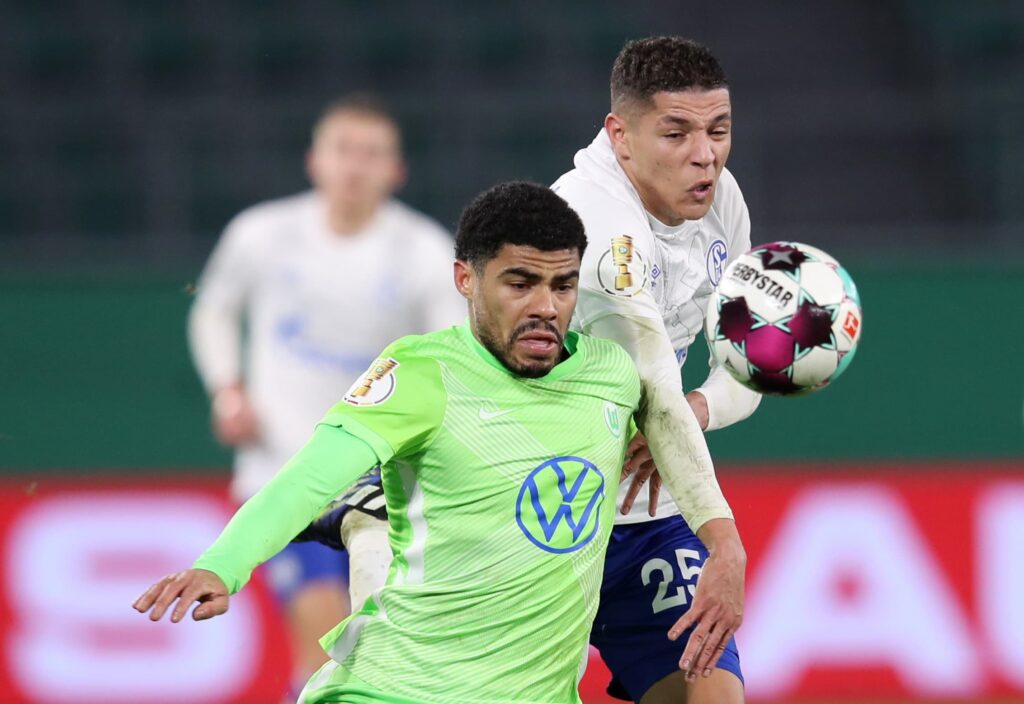 Wolfsburg host Bochum on Saturday afternoon and the prospects look good for Otávio to continue his good run of Bundesliga Fantasy form at home. In his last two home outings the Brazilian has returned fantasy scores of 15 points and 16 points, recording three assists, this in spite of Wolfsburg conceding twice in each of those games.
Bochum rank worst for expected goals against away from home at 2.32xGA which bodes well for attacking prospects in terms of potential assists and goal attempts. Bochum also have the fourth worst expected goals away at 1.19xG so Wolfsburg might also keep a clean sheet this time out. A differential pick for sure but Otávio's home form added to Bochum's woes away from home make the left-back a very enticing option for Matchday 12.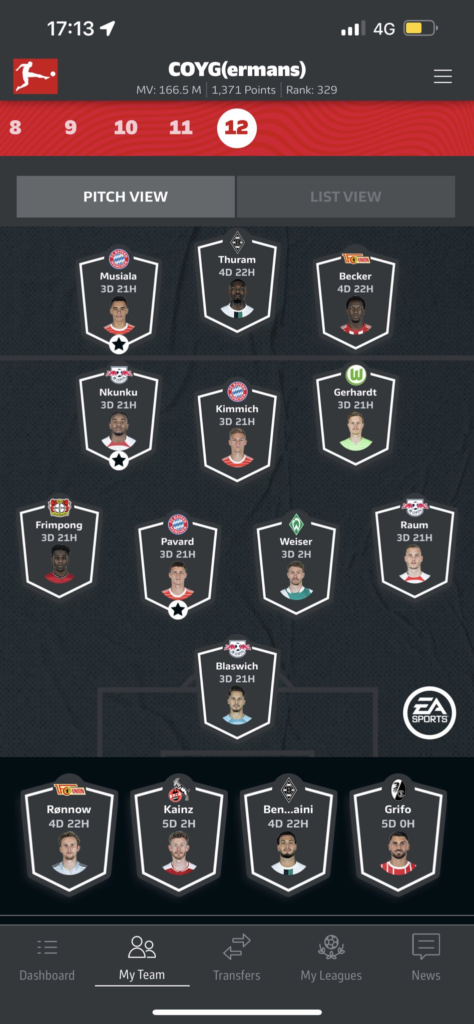 Notes
Transfers Out: Becker, Gerhardt, Frimpong, Raum and Bensebaini.
Transfers In: Gregoritsch, Lindström, Otávio, Günter and Sosa.
Goalkeepers – Rønnow (6.5m – FCU) and Blaswich (3.3m – RBL)
Defenders – Pavard (12.3m – FCB), Weiser (4.4m – SVW), Sosa (12.1m – VFB), Otávio (7.8m – WOB) and Günter (13.5m – SCF).
Midfielders – Kainz (9.7m – KOE), Kimmich (17.3m – FCB), Nkunku (16.9M – RBL), Lindström (12.5m – SGE) and Grifo (15.1m – SCF).
Forwards – Musiala (14m – FCB), Gregoritsch (9m – SCF) and Thuram (13.1m – BMG).
2m in the bank.
---
You can stay up to date with all our Bundesliga Fantasy articles right here.