Best UCL differentials for the last 16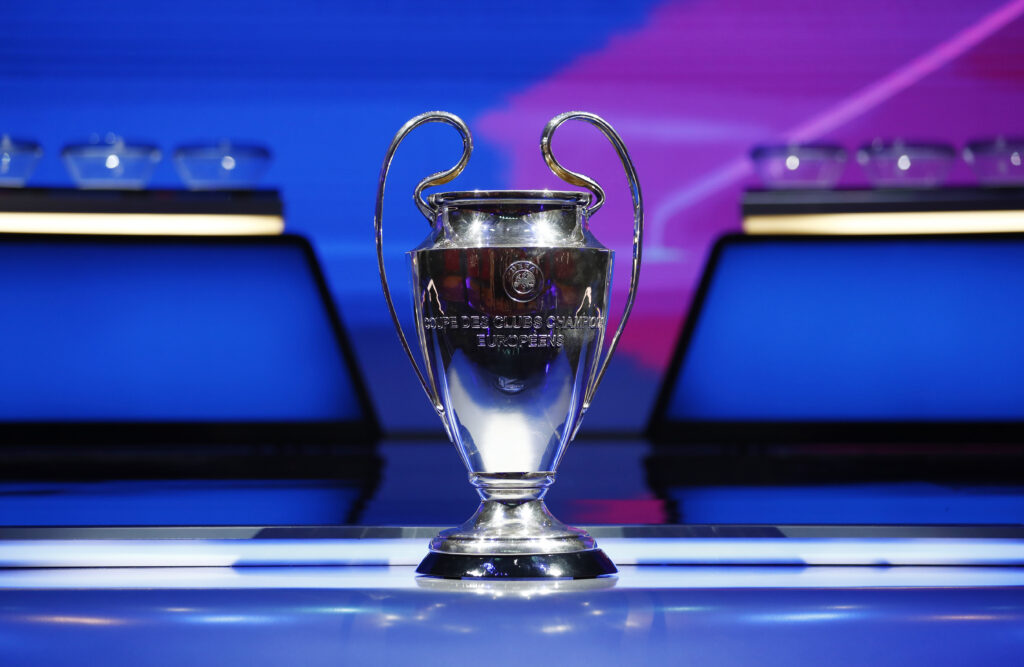 With the Champions League making it to the final 16 stages, fantasy managers will have some big decisions to make. FPL Reaction who is 349 in the game, takes a look at the best UCL differentials to invest in.
Welcome back to another edition of my differential articles.
Differentials are vital in climbing rank in such a short space of time.
To gain major rank rises at this point in the competition picking out players that other managers won't is essential. In this article I'll pick out some of my favourite differentials for the Last 16.
Injury updates will also be shared through my personal twitter account.
Pablo Sarabia
Team: Sporting
Position: Midfielder
Cost: 8.1 million
Ownership: 0%
Club form
Sporting are in a period of excellent form. ln the last 10 matches in all competitions they have won an impressive eight and losing just twice. This is already enough reason to look at buying into the attack.
In the same 10 match period Sporting have managed to scored 24 goals. They are averaging 2.4 goals per match, making their attacking players attractive options.
In the UCL they have drawn with Ajax and Dortmund. From their six matches in the group stage they won three and lost three, meaning they finished second behind Ajax.
Over the group stages Sporting scored 14, averaging 2.3 goals scored per match. This shows that both UCL scoring form and recent scoring is both great. Increasing Sporting's reliability in front of goal.
Opponents
Sportings opponents in the last 16 are Manchester City. As a result Sarabia is likely to be a differential pick. Although Man City domestically have shown they currently have the best defence in England, their European defensive form does not reflect that.
Man City failed to record a single clean sheet in the group stages from the six matches they played and conceded 10 goals. This indicates that they shouldn't be regarded as defensively formidable in the UCL.
Prior to his arrival at Sporting, Sarabia didn't really ever find form at PSG. This is reflected in his stats. However, was never really given a first team place in the team consistently. Now at Sporting and playing nearly every game Sarabia has been given that trust and the all important minutes to thrive.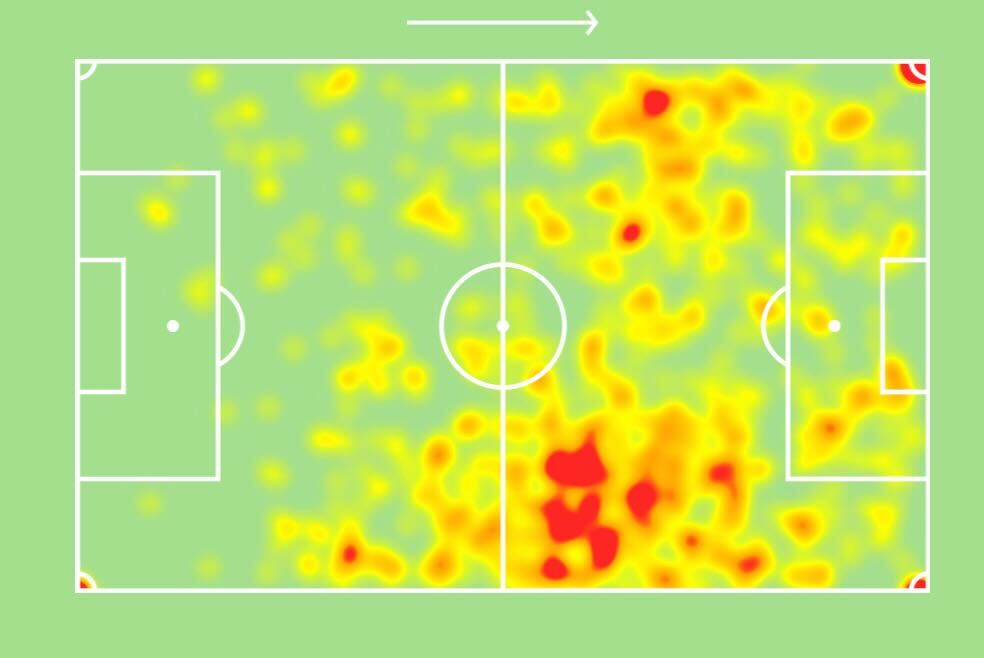 Reasons to target
Although predominantly playing on the right hand side, he has shows his versatility on the left flank too. He also shows great positioning in the opponents box, which indicates how attacking Sarabia can be.
This season Sarabia has played 17 matches, scored six goals and created five assists. He also has 11 goal contributions in 17 games played, impressive considering he started slow.
In terms of short term form it's even more promising. In his last four matches Sarabia has managed four goals and two assists, catching him in form could be key.
The last two penalties Sporting have had Sarabia has took and scored both. Having penalties massively bolsters his stock going forward.
Sarabia is in form and against a team who are struggling for clean sheets in the champions league. This could make Sarabia fantastic UCL differential for the last 16.
Raheem Sterling
Team: Man City
Position: Midfielder
Cost: 10.2 million
Ownership: 0%
Club form
Man City domestically have been ruthless. At the time of writing the English club are currently already a huge nine points ahead of second place Liverpool. A show of just how strong they've been this season.
In the last 10 matches Man City have shown superb recent form. City's nine wins and one draw in all competitions, reflects one of the best current forms in Europe. This form is unmatched by nearly every team left in the UCL.
In regards to goals there's been a few! Man City have scored 31 goals in 10 games, averaging 3.1 goals per match. This is one of the highest scoring averages amongst all the clubs remaining in the UCL for current form.
UCL historically
The Man City and UCL history has been full of drama. From Pep 'overthinking' tactics in semi finals and being bundled out my weaker sides, to losing the final against fellow English club Chelsea last season. The motivation will be there and Man City will really be doing everything to finally win their first champions league trophy.
In the group stages Man City managed four wins and two defeats. This saw them take top spot in the group. In the group Man City scored a huge 18 goals, averaging out to three goals scored per game. This is only 0.1 goals scored off their current 10 match form average, showing that Man City are consistent goal scorers. An attack we as UCL managers have to buy into.
Rotation has always been an issue when picking out a Man City player. Two things worth mentioning is that ahead of the UCL deadline we will see the Man City lineups. This means managers can see if Sterling is playing or not. Secondly Sterling has started the last three Premier League games for Pep including games against Chelsea and Arsenal. This is an indicator that Pep is giving Sterling his trust.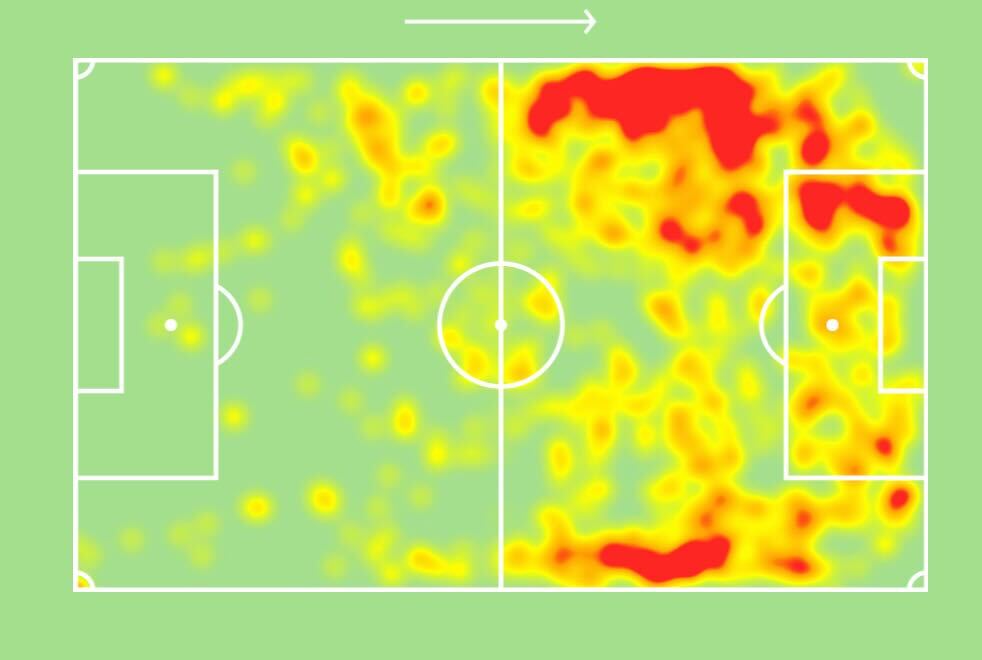 Reasons to target
Sterling's heat map shows that he is versatile and can be used on both sides of the offensive line. Although in-game he is classed as a midfielder, he is basically an advanced forward from the wing with huge darker red positioning in the opponents box which shows great potential for attacking returns.
His Premier League numbers show his potential.
2017/18 – Played 33 matches, scored 18 goals and created 11 assists, 29 goal contributions in 33 games.
2018/19 – Played 34 matches, scored 17 goals and created 10 assists, 27 goal contributions in 34 games.
2019/20- Played 33 matches, scored 20 goals and created 1 assist, 21 goal contributions in 33 games.
Sterling can offer up some fantastic numbers when in the mood and his talent for both scoring goals and creating assists gives him multiple routes to points. This is something we as fantasy managers look for in assets.
With the lineup provided, a great fixture and playing in one of the biggest scoring teams in Europe, Sterling could be a huge UCL differential.
Alberto Moreno
Villarreal
Defender
4.3 million
2% owned
Club Form
Villarreal have surprised many in their progress to the last 16 especially when they drew with Man United, Young boys and Atalanta. Finishing only one point behind Man United and four clear of Atalanta the Spanish team are high in confidence.
They have won seven, lost two and drawn one match in their last 10. This is very impressive form for a team that contains very cheap UCL Fantasy assets.
Defensively Villarreal have not been fantastic but they have recorded four clean sheets in the last 10. This is reasonable considering their players in-game value.
Offensively the Spanish side have scored 30 goals in the last 10 in all competitions, averaging 3 goals per match. But why are their offensive stats such a huge factor in picking Moreno? In part this is due to his average positioning this season.
Reasons to target
The majority of Moreno's movement is on the left flank. This suggests he's been, more often than no, playing out of position. This highlights huge potential in attacking returns.
In the last five matches for Villarreal Moreno has been positioned on the left wing and playing ahead of the left back. Thus while Moreno is classed as a defender in the game, he plays left wing currently and so has a much higher chance of attacking returns.
Furthermore, in the last four matches Moreno has scored one goal, registered one assist and kept two clean sheets. Resulting in four returns in four matches in his new position.
There's no telling how long Moreno can hold out his advanced position, or if he can even secure a defensive position. But what we can be sure of is that he's been instrumental in their latest good offensive form.
Moreno's price is a massive factor in this pick. Arguably you could price him much higher than 4.3 million and so makes him worth the selection. This price also enables the rest of your squad and gives you more money for those expensive tacking options.
With great recent form, playing out of position and at such a low price Moreno has to be considered as a really good UCL differential.
Dusan Tadic
Ajax
Forward
9.2 million
1% owned
Club Form
Ajax have arguably been one of the strongest teams in the top leagues this season. Ajax have managed an amazing nine wins in their last 10 matches in all competitions.
The Dutch team managed an incredible 38 goals in their last 10 matches, averaging a 3.8 goals. This is the best current scoring form of any team still playing in the UCL.
Although Ajax drew teams like Sporting and Dortmund in the group stages, they still managed to win six matches out of the six they played. WIth 20 goals in those matches 6, an average of 3.3 goals per match, Ajax are ruthless in front of goal.
In the last 16 Ajax face a Benfica team who have lost four of their last 10 matches. In that time they have conceded 14 goals with. This is an average of 1.4 goals conceded per match. When you combine Benfica's inconsistent form with Ajax's scoring form, UCL managers could hit the jackpot for attacking return points.
Reasons to target
Haller seems to be the main man for Ajax at the moment, but make no mistake Tadic could on any given day out perform Haller.
Tadic currently takes the Ajax penalties which already puts him a step ahead of Haller for having more routes to points. Penalties is a massive factor in deciding who to pick as one of our teams assets as we already know.
Last season Tadic played 34 matches domestically, scoring 14 goals and creating 17 assists. 31 goal contributions in 34 games, an amazing feat.
This season Tadic has shown again why he shouldn't be forgotten. Domestically Tadic has played 21 matches, scored seven goals and assisted another 15. He has accumulated to 22 goal contributions in 21 matches, on course to beat last seasons amazing numbers.
The stats don't just show that Tadic is in form and returning lots, they also show that Tadic is both a scorer and provider and so combined with penalties Tadic could be a huge differential going into the last 16.
Andy Robertson
Liverpool
Defender
6.4 million
4% owned
Club form
Liverpool currently sit second in the Premier League. With Man City arguably already getting one hand on the trophy, many think the nine point gap could be insurmountable. This puts Liverpool in a position where the UCL trophy will be priority.
In the last 10 in all competitions the reds have managed a very solid six wins, three draws and one defeat. Reasonably good considering the strength of English football at the moment.
Defensively however they only have three clean sheets in the same period. This is lower than expected, however their underlying defensive stats domestically suggest Liverpool could keep clean sheets at in any given game. They are second best in each of the following areas:
Clean sheets with 11
Goal attempts conceded in the box
Shots on target conceded
Headed attempts conceded
Attempts from set plays conceded
This seasons UCL campaign has been an impressive one for Liverpool. Liverpool were said to have been in the group of death with Porto, Atletico Madrid and AC Milan. However, the reds came away with six wins out of six.
Style of play
Klopp plays a very attacking style of play which is heavily reliant on the attacking defenders. At times Trent can take the spotlight but in a great run of form and slightly over shadowing Trent at the moment is Andy Robertson.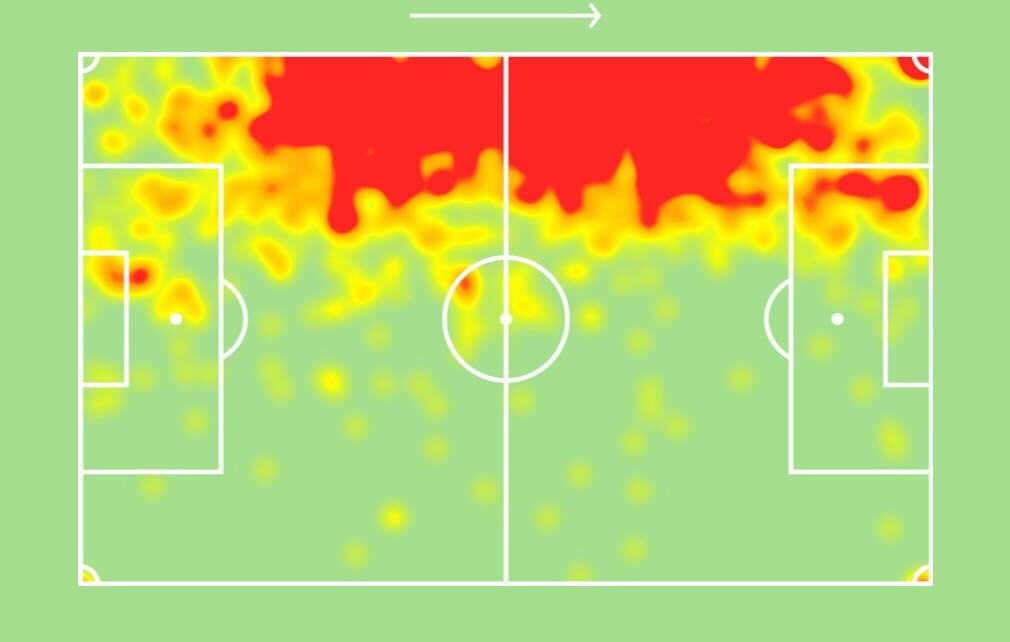 Reasons to target
Probably one of the most attacking heat maps from a left back I've seen when researching. Not only does Robertson's positioning dominate the opponents half more than his own, but his movement in the oppositions box is even more impressive.
Robertson has some set piece duties on the left side, as well as corners. This gives him an additional route to points that many other defenders don't have.
This season the Scotsman has played 16 matches domestically scoring one, creating another eight and keeping six clean sheets. He has accumulated 15 returns in 16 matches which justifies his price.
His more recent form even more impressive. In the last two games Robertson has registered two double-digit hauls in the Fantasy Premier League game. Returning three assists and a clean sheet.
Robertson has fantastic form and plays in one of the best attacking sides in Europe. His set piece route to points and heavy positioning in the oppositions box makes him an excellent UCL differential.
Kingsley Coman
Bayern
Midfielder
8.6 million
2% owned
Club form
Bayern have always been feared. Their ruthless offensive line continues to deliver and beat some of the best teams in Europe every year. Nine points ahead, at the time of writing, in the German domestic league the Giants have seemingly secured first place. This means their focus will likely be on the Champions League.
Recent form suggests they are as formidable as always. With nine wins and only one loss in the last 10 matches in all competitions they are a team to fear. They have one of the best recent form runs across the European leagues.
Bayern have returned 30 goals in their last 10 matches. Averaging three goals scored per match, one of the highest of the UCL teams remaining.
UCL form
In the UCL that relentless form didn't stop. Bayern have won all of their last six matches, including back to back wins against Barcelona. During that time they also scored 22 goals, an average of 3.6 goals scored per match. This is very high and is further motivation for UCL Fantasy managers to look to invest in Bayern offensive assets.
Bayern play newcomers Salzburg next in the last 16, Although Salzburg progressed they only managed to keep one clean sheet. This suggests they could have a tough time against the German giants.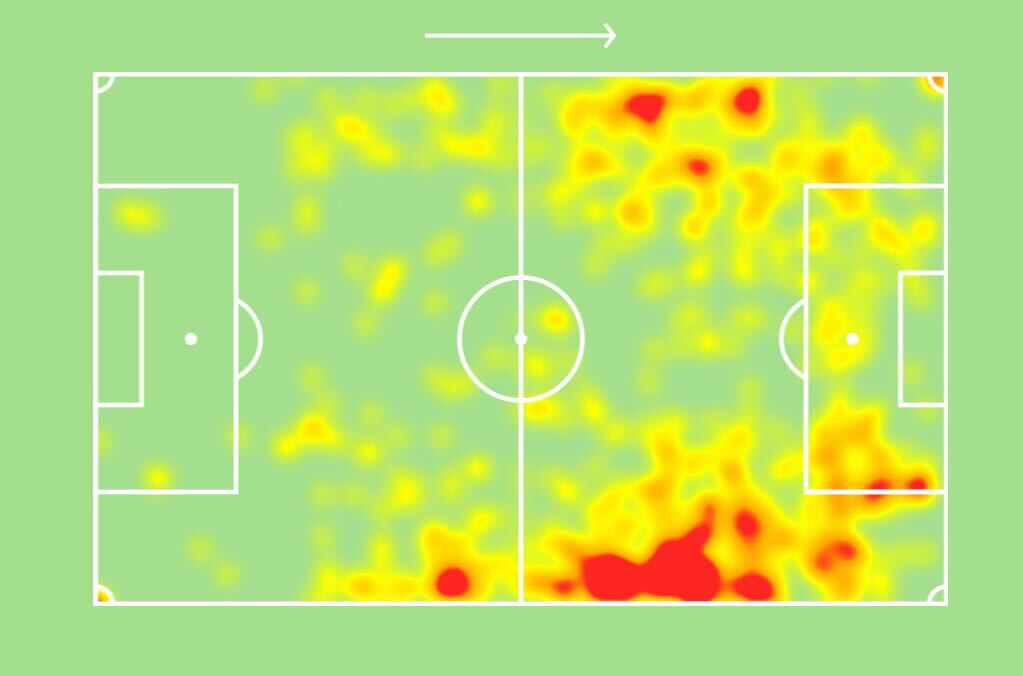 Reasons to target
Coman has plenty of versatility playing on both the left and the right flank. He also spends a lot of time in the opponents box, giving him huge huge attacking potential.
The Frenchman has struggled since joining Bayern and that's shown in both his attacking numbers. However, this seems to be changing this season.
Since coming back from injury Coman has played 12 matches domestically, scored four and assisted two. That form isn't as impressive as we'd expect but with four of those goal contributions in the last five matches, Coman seems to be gaining form and momentum.
In the Bayern UCL campaign the same increase of form and momentum has also been apparent. Playing in matchday 3 to matchday 6 and starting every game Coman got a return every single match.
Although historically Conan's stats aren't impressive with Bayern. However, what is obvious is that his increased reliability within the team and attacking returns form are both a huge improvement to what he's shown before. This suggests he could be a real force of an asset and a fantastic UCL differential.
Laporte
Man City
Defender
5.1 million
2% owned
Laporte as a centre back goes under the radar in most fantasy games just because of his position. However, when you look deeper into the underlying stats he makes for a great UCL differential.
Club form
Man City currently sitting comfortably clear at the top of the Premier League. They haven't just scored their way there, but have also been resolute at the back domestically compared to other teams in the league.
This season Man City are:
The best for clean sheets with 14
The best for goals conceded with only 14
Top for goal attempts in the box conceded
First for shots conceded
Top for headed attempts conceded
Top for attempts from set plays conceded
First for big chances conceded
Although this defensive form hasn't shown in the champions league yet, the potential is there.
There is some rotation as always with Man City. However, as we get to see the lineups before making our moves Laporte could be a great UCL differential, especially as he's played the last 10 Premier League games.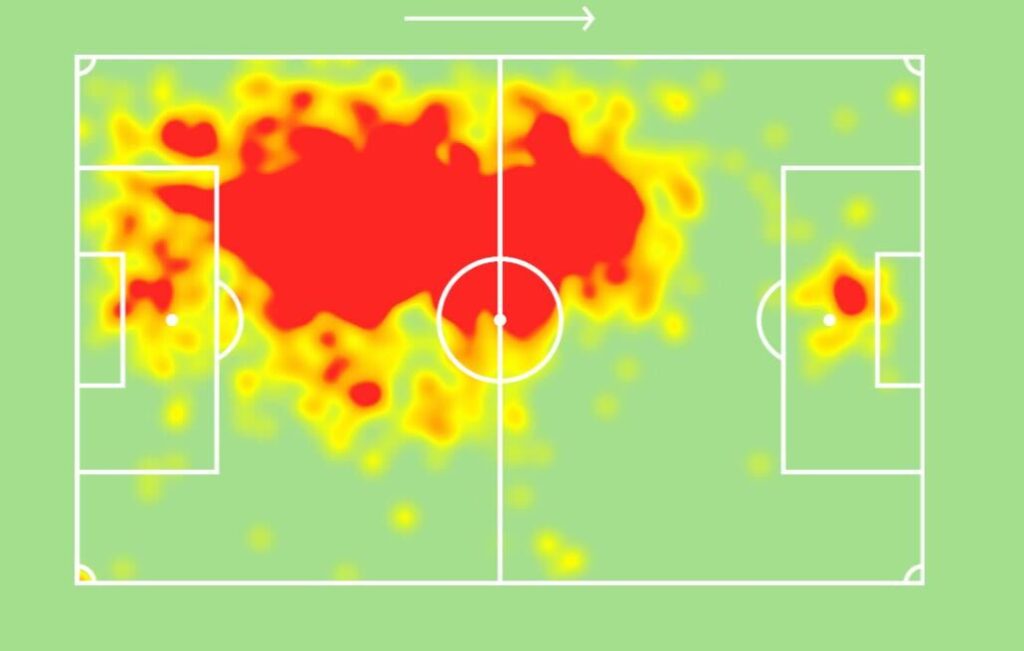 Reasons to target
You could confuse Laporte's positioning with that of a left back. However, because Man City are that dominant all of their outfield players are pushed right up the pitch. You can also see a huge darker positioning patch in the centre of the oppositions box showing real attacking threat from Laporte.
Man City are top for corners taken in the domestic league this season, third for goals directly from corners and second for direct attempts from crossed corners. This means that Laporte's chances of scoring from a corner or set-piece are increased.
Laporte is second amongst all defenders in the Premier League for goals scored with three. He is third for headed attempts, joint third for total attempts and top for shots in the box with 25 this season. These numbers are exciting when looking for attacking return potential.
In FPL
In terms of recent Fantasy Premier League form, Laporte has returned points in his last nine matches. His six clean sheets, two goals and two assists gives him 10 returns in 9 matches played.
Laporte has the form, the underlying attacking stats, recent attacking returns and a really good enabling price to be considered for those UCL fantasy teams for the last 16.
Final Word
Thank you for reading!
One last reminder that these differentials could be absolutely key. Many top managers will have similar teams, so making your team that little bit different although holds risk also holds massive reward.
Good luck! FPL reactions