What will the results be in Gameweek 6?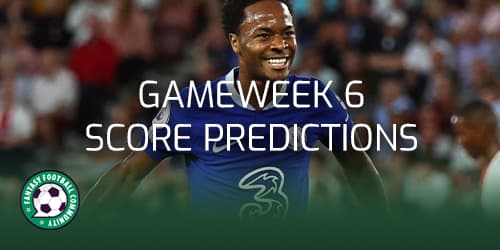 Our community score predictions panel are back. Here they take a look at the what they expect to happen in the Gameweek 6 fixtures. The Gameweek 6 community score predictions are there to help managers make key decisions. When making FPL decisions many FPL managers mentally predict the outcome of matches and use this to target players. Here they predict what the results will be in Gameweek 6.
The community score predictions panel is back for another season. In these articles we will ask the panel to consider the questions that FPL managers ask themselves ahead of setting up their teams
Who will win?
Will there be a clean sheet in this match?
How many goals can I see being scored?
How many players do I want to play in this game?
Our community score predictions panel share their predictions for Gameweek 6 and consider what this might mean for our FPL plans.
Gameweek 5
The panel predicted the outcome of the matches correct 23 times. They predicted the scoreline correctly a further 6 times. There is still one further match in Gameweek 5, the results of this match will be added at the end of Gameweek 6. FPL Shake n Bake won this week with an impressive one points. FPL Shake n Bake has now retaken the lead after slipping to second last week.
FPL Shake n Bake – 41
=FPL Reactions – 38
=Pilot Flame – 38
FBL Thinker – 36
El Statto – 33
FPL Rabbi – 31
FPL Inzaghi – 29 (no predictions registered in Gameweek 4)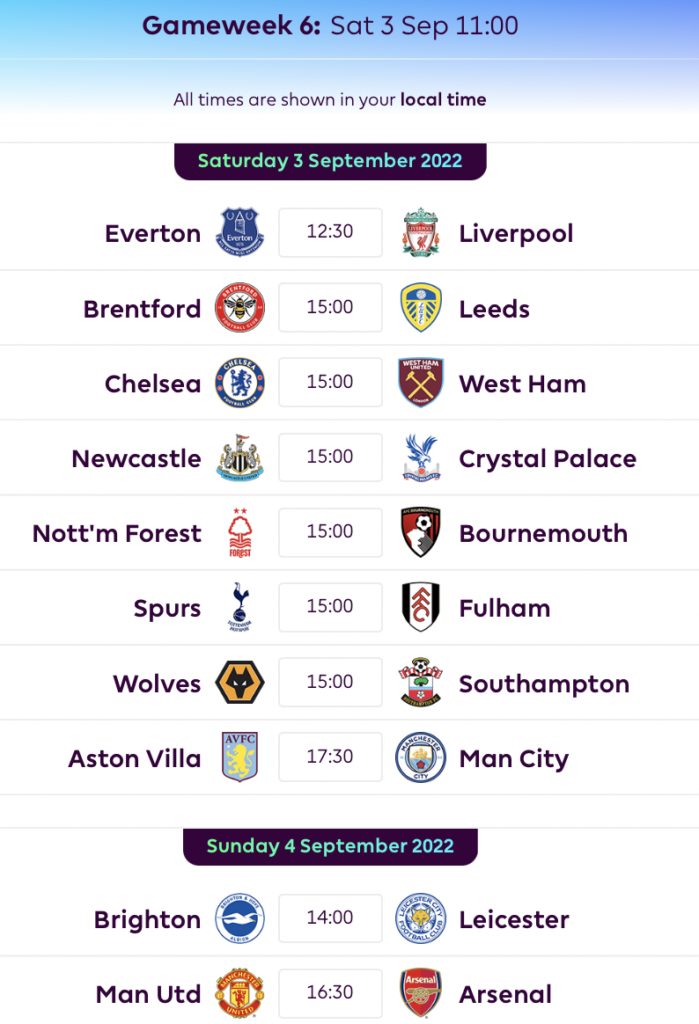 Gameweek 5 community score predictions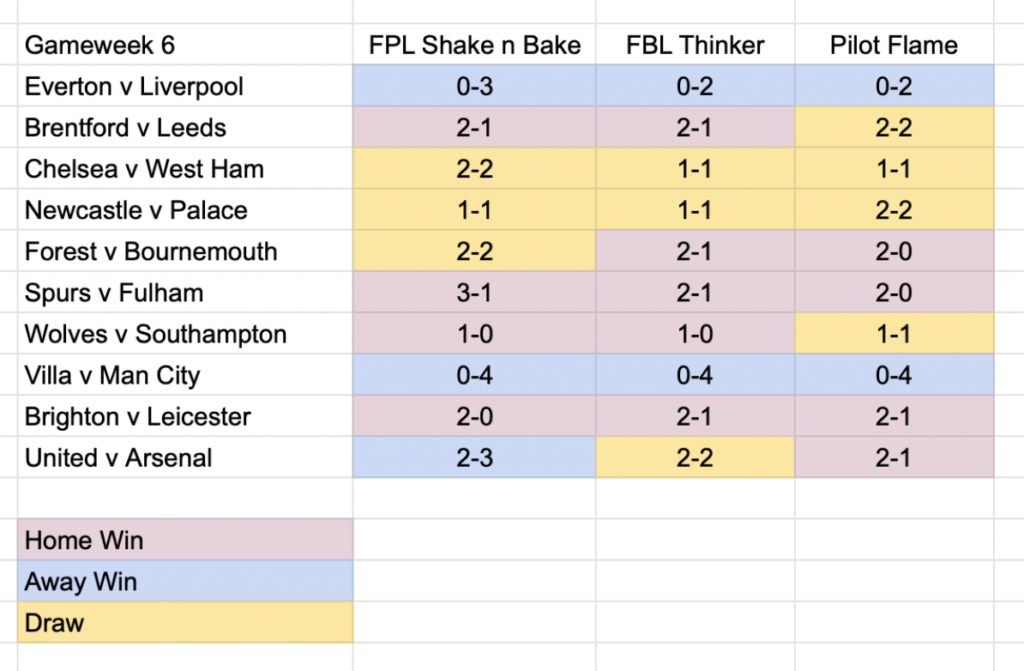 Key talking points
The panel are unanimous in their feelings that Spurs and Brighton will win at home in Gameweek 6. They also all believe that Liverpool and Man City will win away. With the exception of Pilot Flame they also believe that Brentford will beat Leeds and Wolves will beat Southampton. They are very divided in their thoughts on Man United v Arsenal.
The panel are predicting 11 clean sheets this week. They all, believe that Man CIty and Liverpool will keep a clean sheet. Therefore they could be worth staying invested in, even without a clean sheet in their last two matches. their current poor defensive form.
Between them the panel have predicted 87 goals will be scored. Man City, Spurs and Liverpool are predicted to score the most goals in Gameweek 6. Therefore these are potentially attacking teams for FPL managers to target.