Top three teams to target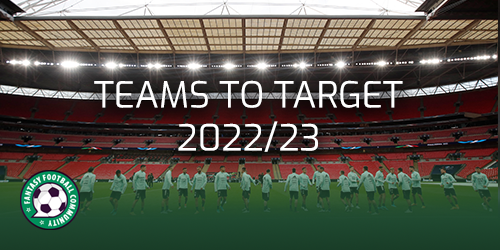 With the fixtures for the 2022/23 season now released we take a look at the top three teams to target for the new campaign.
When assessing the best teams to target it is important to consider a number of factors. These include fixtures, budget and form. With the game not yet live and players still on their preseason breaks fixtures will take priority when considering teams to target.
However, when it comes to teams to target it won't just be about the opening Gameweeks of the season. Many FPL managers will automatically target big teams such as Liverpool and Man City regardless of fixtures. But managers should also consider longer periods of fixture runs, periods without meeting big six opposition and good budget enabling teams.

The Fantasy Football Scout Fixture Ticker have Arsenal at the top for the opening five Gameweeks. They are followed by last years top two in Liverpool and Man City. These are the best three teams, based on the fixtures, for FPL managers to target ahead of the new season.
Team to target: Arsenal
Arsenal were popular with FPL managers during the 2021/22 season. FPL managers will be pleased to see them high on the Fixture Ticker for the new season. Arsenal face Palace, Leicester, Bournemouth, Fulham and Villa in their opening five fixtures. This will likely see players such as Bukayo Saka, Aaron Ramsdale and one of the defenders heavily targeted.
Most FPL managers will be expecting Saka to rise in price ahead of the new season. This might be disappointing for FPL managers who will hope to have him at a budget price again this season. However, with great fixtures to start the season the midfielder looks like he might become part of the FPL template this summer.
Arsenal are also rumoured to be in the race to sign Gabriel Jesus from Manchester City. If the player joins up with Arteta, who he worked under at City, he will likely be a favourite amongst FPL managers. Jesus as a regular starter for Arsenal and with a favourable fixture run could be an excellent FPL pick for Gameweek 1.
Team to target: Liverpool
Liverpool's Mo Salah was the most heavily owned player in FPL last season. Teammate Trent Alexander-Alexander was the most heavily owned defender in the game in 21/22 too. Their popularity in FPL next season is likely to remain high. However, with great fixtures for the opening five weeks managers could want to treble up.
Owning Salah alongside Trent and then either Diogo Jota, Luis Dias, Andy Robertson or Darwin Nunez will be popular. However, FPL managers may need to make budget sacrifices elsewhere to be able to afford three Liverpool assets.
Nunez could be a good forward option, depending on his price and depending on whether he makes the starting XI. Managers will want to watch Liverpool's pre-season closely before choosing him as one of their Liverpool picks.
Team to target: Man City
As Champions in 2021/22 Man City assets were always going to be popular in FPL. However, their popularity will rise further with the fixtures. Joao Cancelo and Kevin de Bruyne were likely to be high on FPL managers Wishlists, the fixtures will likely confirm their selection.
Much like with Liverpool though FPL managers may want to consider the treble up. Plumping for another defender such as Reuben Dias alongside Laporte, Foden alongside de Bruyne could be the way FPL managers move. However, most managers will be watching pre-season carefully to see how new signing Haaland fares. If Haaland starts regularly in pre-season and is able to successfully adapt quickly to City's system he will likely be highly desirable amongst FPL managers.
Man City have the additional benefit of remaining high on the fixture ticker when it is rolled out to Gameweek 10.

Investing heavily in Man City for the opening Gameweeks of the season looks a great option for FPL managers. Both in the short term (Gameweeks 1-5) as well as beyond (Gameweeks 1-10).