Tips from the world's best FPL manager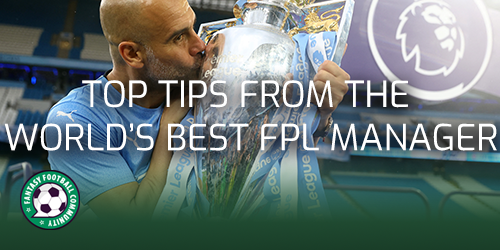 Ahead of the 2022/23 season the world's best FPL manager, Fabio Borges, shares the secrets to his success. Will you try to copy his strategy?

Fixtures over Form
We never know when a good period of form starts and when it ends so I think it is better to mainly focus on long-term stats since they give you a better view of what each player can deliver on average Fixtures, on the other hand, are very important, since on average, every player does better in easier fixtures

Fabio Borges
Transfers are precious
Don't sell a player just because he blanked and someone else scored a hat-trick. Always try to buy reliable players that you feel confident having for at least four Gameweeks, even if they blank in the first three.

By picking set-and-forget options and sticking with them through bad times, you can use your precious transfers on weaker spots in your team without having to take too many hits

Fabio Borges
Ignore price rises
Price rises don't affect me either, because I don't follow price changes at all and I only decide if a player is good value in the moment I'm making that decision. My squad value is very low so I couldn't afford De Bruyne and Mohamed Salah. But I think the points I gain during the season by waiting for pressers/info far outweigh the points I lose for having a lower team value by the end of the season.

Fabio Borges
Avoid confirmation bias
I think it is almost impossible to avoid confirmation bias completely but it's always in the back of my mind. And I always try to keep an open mind when assessing my options. I never make emotional transfers or decisions, that's very easy for me to manage. My background as a poker player is extremely useful when things go wrong because one of the most important skills in poker is the ability to control your emotions.

Fabio Borges
Luck is a factor
Just because you had a bad Gameweek doesn't necessarily mean that you made bad decisions. At the same time, just because your captain hauled, it doesn't mean you made a good decision either. Always analyse your decisions with a critical eye but without being too harsh on yourself. After all, most factors in every football match are out of your control and happenstance plays a huge part in your team's points in a single Gameweek

Fabio Borges
Utilise xG data
Four seasons ago, I found out about xG. And since then it's the only stat I use (along with xA) when making FPL decisions. Of course, it is not perfect but if the model is reliable – and you know how to interpret it – I believe it is, by far, the most useful stat for FPL.

Fabio Borges
This interview was originally published as a thread on the Fantasy Football Scout Twitter.

Keep abreast of all of the new players in the Premier League. Our pinned article highlights all the completed transfers so far during this window.