Should we free hit in Gameweek 25?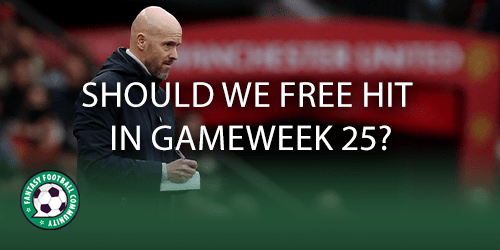 The new round of Fantasy Premier League is upon us. One of the biggest questions on the minds of many mangers is should we free hit in Gameweek 25? With the help of the the Fantasy Football Scout fixture ticker and other factors, we can find out if it is the right time to use the free hit.
Gameweek 25 consists of both blanks and double Gameweeks. This means that some teams will not play, some will play one match and some will play two matches. For that reason, it could be absolutely vital to cement a chip strategy. So, should we free hit in Gameweek 25?
Fixtures
Below we can see the fixtures mapped out for the rest of the season. The fixtures are rated in difficulty order from teams with the easiest fixtures at the top, to teams with the toughest fixtures at the bottom. We can also see that Brighton, Manchester United, Brentford and Newcastle do not have a fixture in the round ahead.
In addition, Liverpool, Everton, Arsenal and Wolves all face two fixtures in Gameweek 25 and so have a double Gameweek. It is also worth taking into account that there is a huge double Gameweek scheduled in Gameweek 29.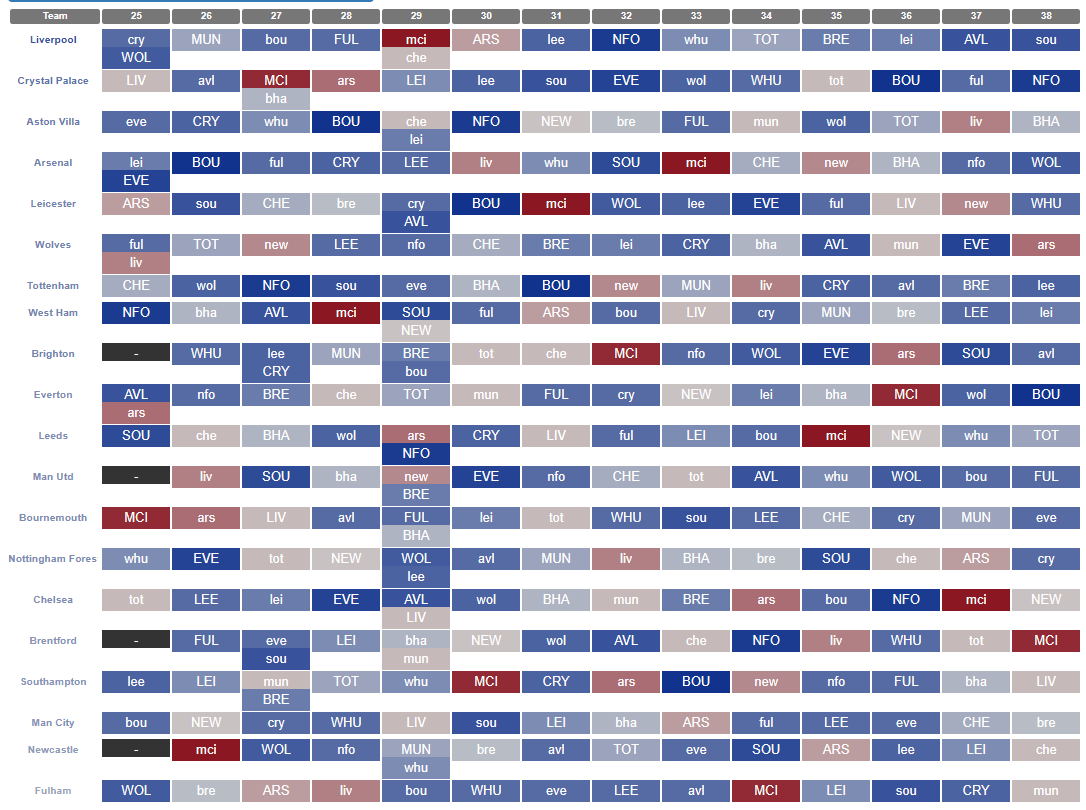 Gameweek 28
One of the vital factors that the fixture ticker does not show is that 12 teams are possibly or likely to blank in Gameweek 28. Those teams include Brentford, Brighton, Fulham, Leeds, Leicester, Liverpool, Manchester City, Manchester United, Southampton, Tottenham, West Ham and Wolves.
The teams that are playing in Gameweek 28 include Arsenal, Aston Villa, Bournemouth, Chelsea, Crystal Palace, Everton, Newcastle and Nottingham Forest.
This Gameweek should be a huge factor in whether to use the free hit in Gameweek 25 or not.
Gameweek 29
Aston Villa, Bournemouth, Brentford, Brighton, Chelsea, Leeds, Leicester, Liverpool, Manchester United, Newcastle, Nottingham Forest and West Ham all have a double Gameweek in Gameweek 29. With this being immediately after blank Gameweek 28, it could be a difficult time to navigate without a free hit.
Gameweek 32
Another round that the fixture ticker does not take into account is Gameweek 32. Eight teams will possibly or likely blank in this round. Those teams include Brighton, Chelsea, Fulham, Leeds, Manchester City, Manchester United, Newcastle, and Tottenham.
This is another opportunity where the free hit could become useful for managers.
Gameweek 37
There is a huge chance that there will be a big double Gameweek during this round. So making sure we also take this into consideration when looking for the best time to use the free hit is another important factor.
Gameweek 25 key players
On many occasions, making sure we have key players can be more beneficial than making sure we have a full team of players in smaller blank Gameweeks. Here is a list of key players going into Gameweek 25:
Three Arsenal players (Those assets could include three attackers or two attackers and a defender).
One or two Liverpool attackers, preferably Mohamad Salah (£12.7m) and if adding to him, Darwin Nunez (£8.7m).
A Liverpool defender with attacking threat, preferably Trent Alexander-Arnold (£7.3m) and if not then Andrew Robertson (£6.8m)
A Wolves defender, Everton defender or both.
Manchester City striker Erling Haaland (£12.2m).
The wildcard factor
For managers that have already used their second wildcard it could be extremely damaging to use the free hit this week especially with the bigger doubles and bigger blanks remaining. The Gameweeks ahead will be very tough to navigate with two chips so having none or one could be detrimental to rank and mini-league position.
Should we free hit in Gameweek 25?
There is a lot of factors to consider and every team is different. However, the bigger picture suggests no. With bigger blank and bigger double Gameweeks remaining this season, it could be very beneficial to hold onto the free hit until then.
Key players are a factor going into Gameweek 25 so making sure you have them, even with the use of hits, could help hold onto that all important free hit for the rounds ahead.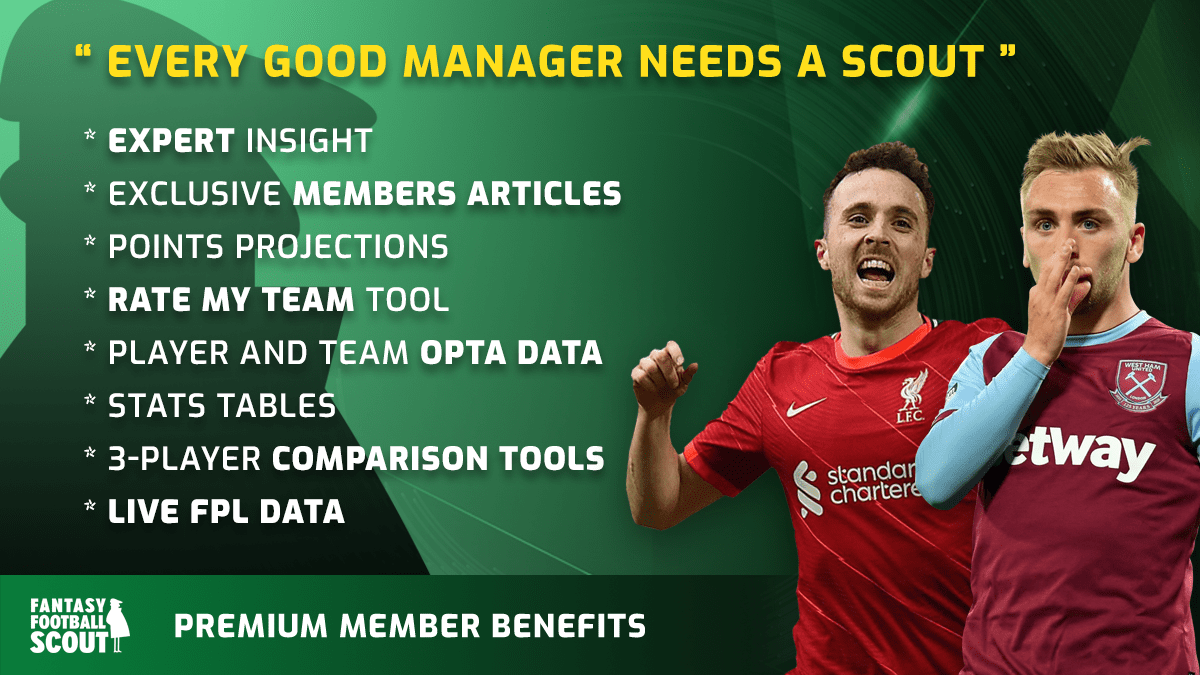 ---
Who are the best picks in each position for Gameweek 25 in FPL? Find out in our top picks article right here.