MLS Fantasy Round 4 team reveals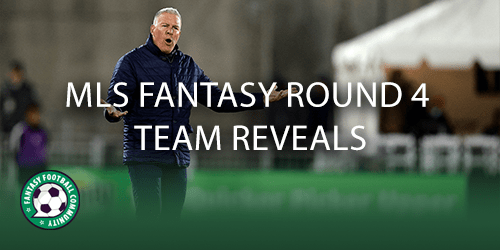 The brand new campaign continues! We take a look at MLS Fantasy Round 4 team reveals from some of the most experienced managers around. They share their thoughts on their teams going into the new round including captaincy.
Looking at some MLS Fantasy Round 4 team reveals can be extremely beneficial for new managers. Seeing some of the best assets, who managers will be looking to captain and their general thoughts can help bring clarity within our own teams.
@dmpwright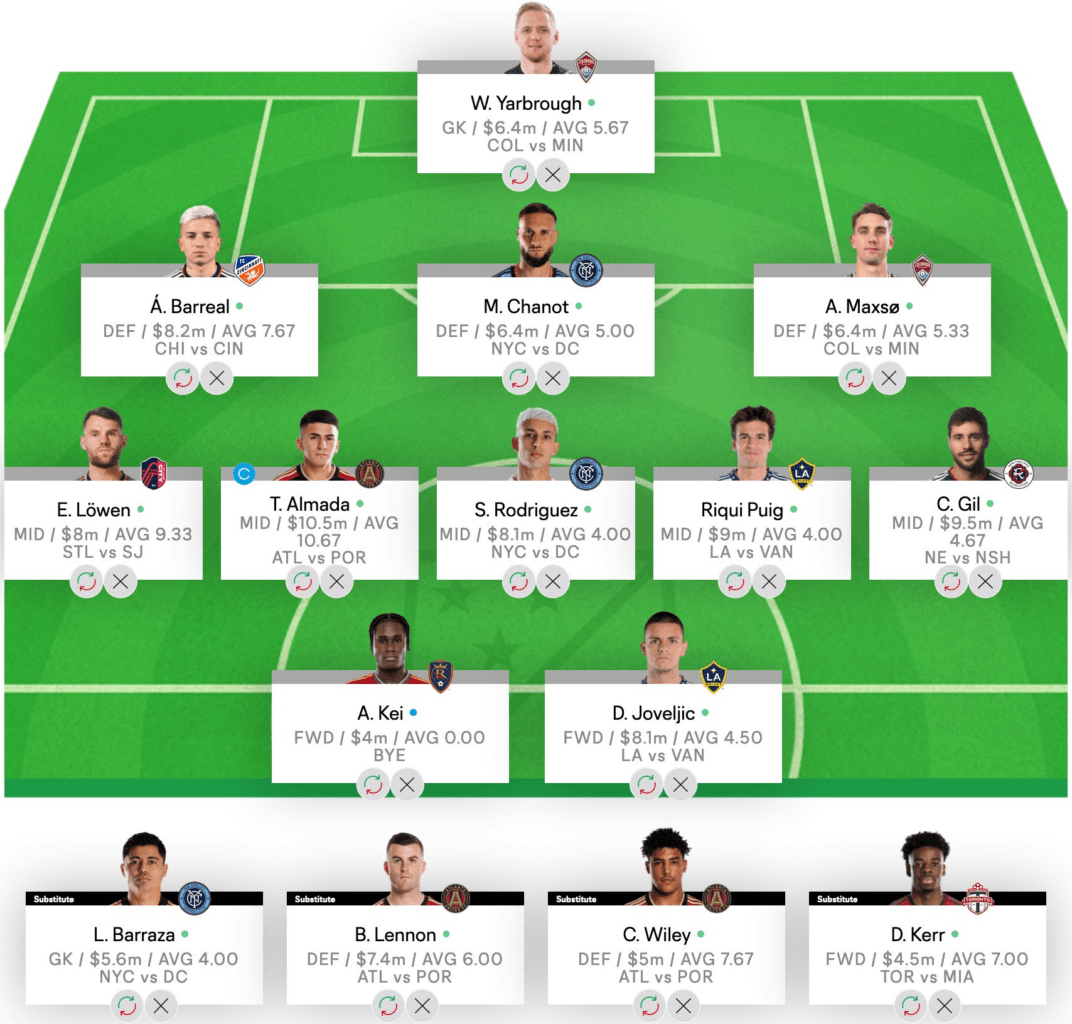 Notes
Several teams have a decent chance of a clean sheet this week. They include Atlanta, NYCFC, New England, NYRB, Orlando, Colorado and LA Galaxy.
I have taken both Barraza and Chanot from NYCFC, who often do well defensively and offensively at Yankee Stadium due to the unique nature of the pitch. Yarbrough or Bond will be my fallback goalkeeper should Barraza not score well.
In defence, I have taken Lennon and Wiley for their offensive and clean sheet potential. Barreal also stands a good chance of attacking returns, while Maxsø plays goal-shy Minnesota.
All of my defenders also stand a good chance of a price rise.
In midfield, Thiago Almada will be my captain. Santi Rodriguez and Löwen are also locks in my team; Riqui Puig has had a slow start to the season but I expect him to rack up plenty of bonus points at home to Vancouver .
Carles Gil is reportedly an injury doubt; if he doesn't start, I may pivot to Facundo Torres (if he starts), Shaqiri or Velasco.
I may also take Lodeiro, depending on how both Seattle and LAFC line up.
In attack, $4.5m Deandre Kerr should start again for Toronto – he is a lock in my team for his price and having scored last week.
My other non-scrubbed forward spot is up for grabs – I like LA Galaxy's chances against Vancouver, so have currently opted for Joveljic, but Klauss, Bouanga and Jordan Morris are also in my thoughts.
Like last week, watch out for rotation among the sides who played in the CONCACAF Champions League in midweek!
@Mahoney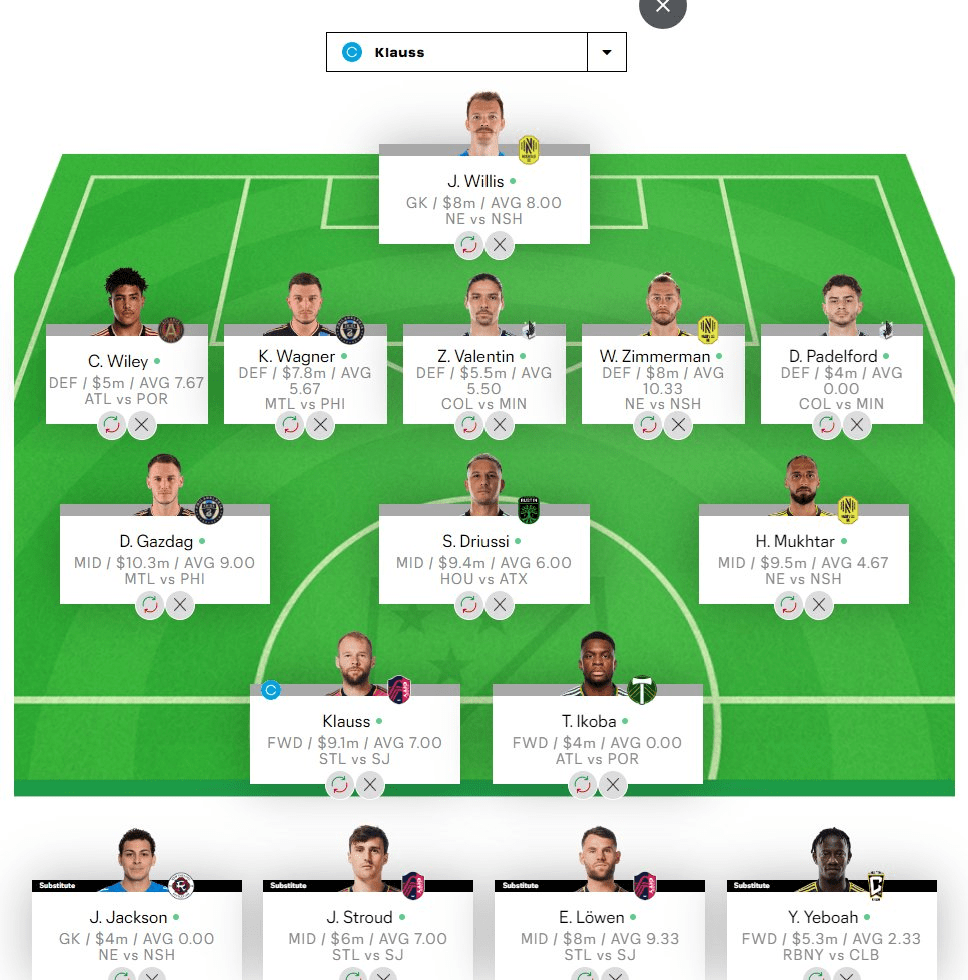 Notes
Week 3 = 63 points (consistent but not great) with OR green arrow rank gain to 4.2k.
Sticking with Nashville and Philly.
Jumping on the St. Louis bandwagon with Klauss, Stroud and Lowen, they have been quite fortunate but maybe making their own luck.
Bench hasn't produced so mixed that up a bit .
Added Wiley from ATL for a cheaper defensive option and to put more money in midfield.
Will come back to my CLTFC options for the home NYRB game next round.
@_FutboIOscar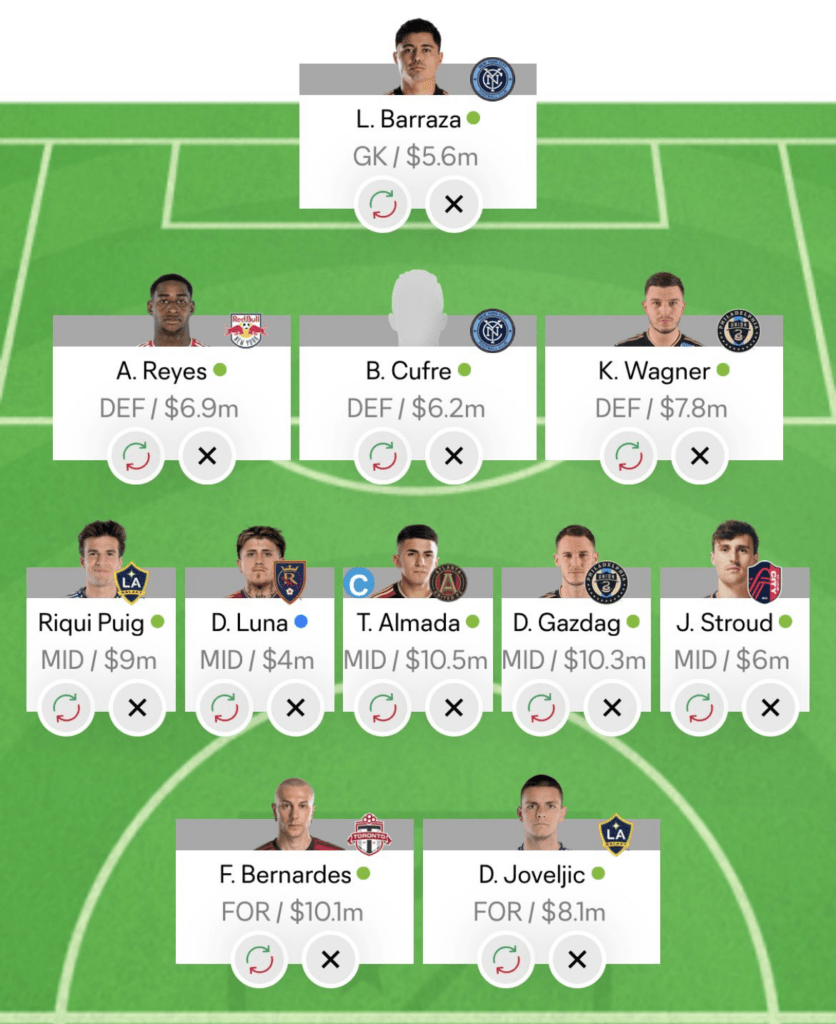 Notes
I picked up 88 points in Round 3. Caleb Wiley's 21 point-return helped me rise to 77th in the world.
Luis Barraza (5.6m) – NYCFC have a favourable home fixture this week against DC United and he is likely to get another rise.
Kai Wagner (7.8m) – The German left-back faces a Montreal side whom are yet to score a goal this season. Watch out for rotation as he played a full 90 minutes in the CCL in midweek.
Thiago Almada (10.5m) – The Argentinian playmaker sits on two goals, two assists and 10 chances created so far. He has got a very good chance of adding to that against Portland Timbers who are without several key players this week.
Ferderico Bernadeschi (10.1m) – The Italian attacker has got two goals to his name so far. I think he has got a good chance of getting on the scoresheet against an Inter Miami side whom are without key player and defensive midfielder Gregore for six months.
Riqui Puig (9m) and Dejan Jovelijic (8.1m) – I chose to include the LA Galaxy duo as they can be used for ther Switcheroo if Wiley, Luiz Araujo and Ferreira do well on the bench.
For captaincy I would look at Atlanta of NYCFC assets as they have favourable fixtures at home.
@melvinmbabazi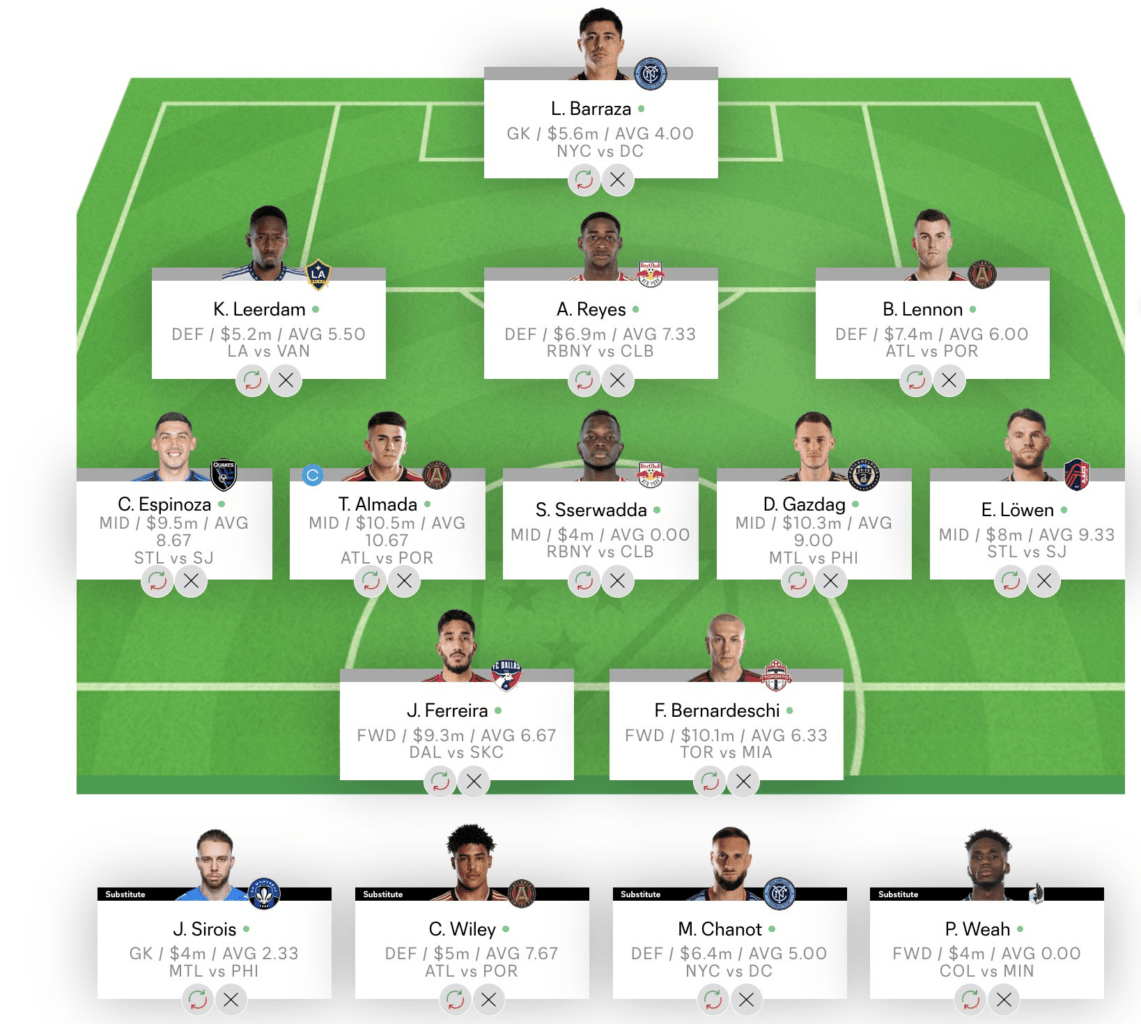 Notes
Defenders: Brooks Lennon (ATL; 7.4m) vs Portland: A favourable home fixture vs Portland Timbers and he got six assists last season. He presents an ideal opportunity for points on both sides of the pitch.
Midfielders: Thiago Almada (ATL; 10.5m) vs Portland: He averages 10.67 points per game and also ranks high for shots and final third passes. I back him to do well .
Forwards: F. Bernadeschi (TOR; 10.1m) vs Inter Miami ; Inter Miami concede a lot away and I think Berna can capitalise on this.
Jesus Ferreira (DAL; 9.3m) vs Sporting Kansas City; He tops Dallas players for shots , key passes and crosses in 2023 and scored a brace in round two.
My captain is Almada.
@Anurag_B_ST4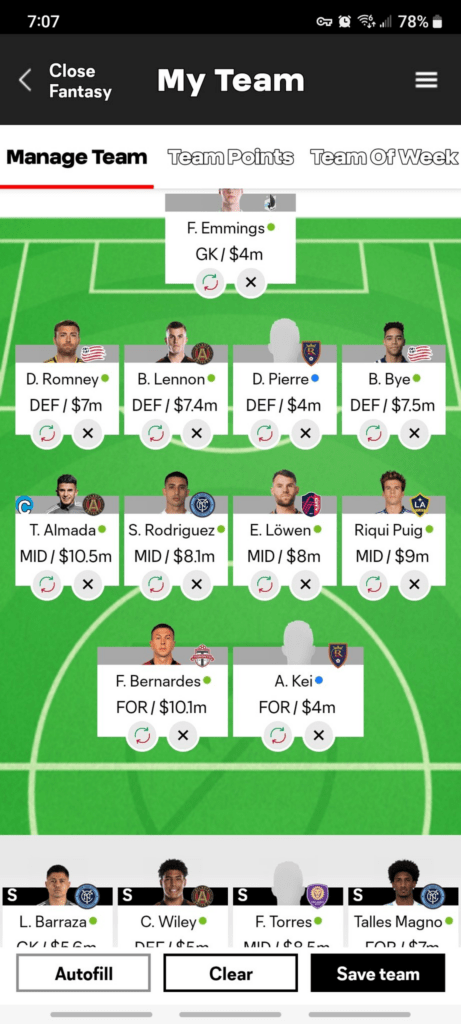 Notes
Barraza – He is the cheapest goalkeeper. He also has a good home game.
Romney, Bye – NE has a better defence at home despite a potentially tough opponent in Nashville. Bye has attacking potential as well.
Rodriguez – Has a good home game, but hasn't yet returned since coming back from injury. He has been racking up BPS points, surely his first return is coming!
Puig – Despite being underwhelming in the first two games for LA, he is the main man. It was away the first two games so has a good home game this week. He has a chance to show the player he can be/shown before. Torres – Orlando's main guy. Despite CCL midweek, Orlando have a very good home game this week against a Charlotte team that defensively look very shaky. With this week's games, many happening at the same time and his price it is easy to find an alternative if he isn't starting.
Bernardeschi is the most expensive player, so some may ask if you are willing to spend so much on him or spread the funds. Miami are not great away from home and just lost their DM and captain Gregore due to a long-term injury.
Bern is Toronto FC's main man and on all set pieces. Despite his criticism of the team as a whole post last week's first ]home match draw, could we see a better team performance from Toronto FC against a team that isn't great away from home and lost a defensive backbone due to injury?
Lastly, probably everyone's chalk trio picks and captain, A triple ATL presence: Wiley, an OP Def playing in an LW spot for the past three games and coming off a huge score even if Etienne or Greek God is ready to start and it affects Wiley's minutes in the team, just for his price rise, he is fine to have on the bench.
Lennon, an attacking Lennon, he looks like one who has more attacking threat and bps potential.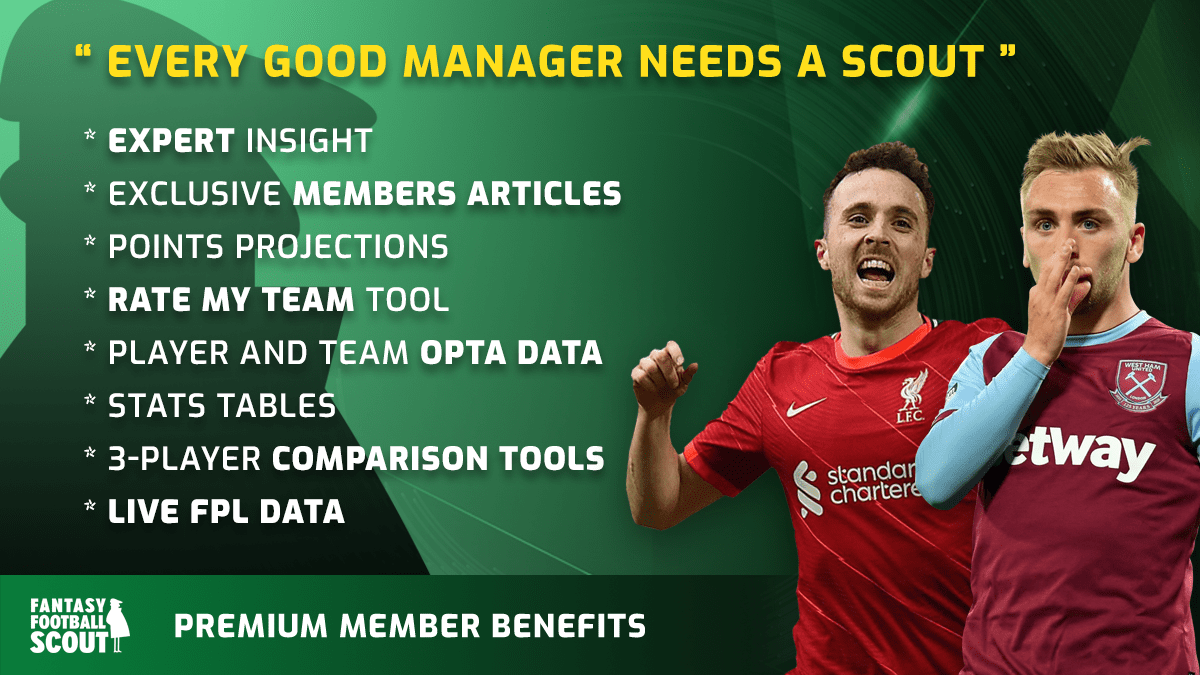 ---
Keep up to date with all of our articles right here.