MLS Fantasy Round 1 team reveals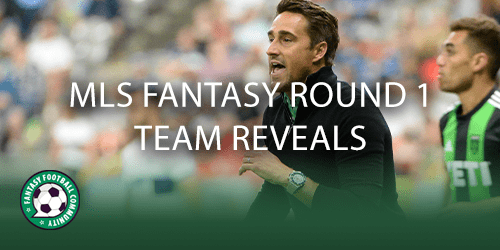 The brand new campaign has arrived! We take a look at MLS Fantasy Round 1 team reveals from some of the most experienced managers around. They share their thoughts on their teams going into the new round including captaincy.
Looking at some MLS Fantasy Round 1 team reveals can be extremely beneficial for new managers. Seeing some of the best assets, who managers will be looking to captain and their general thoughts can help bring clarity within our own teams.
@melvinmbabazi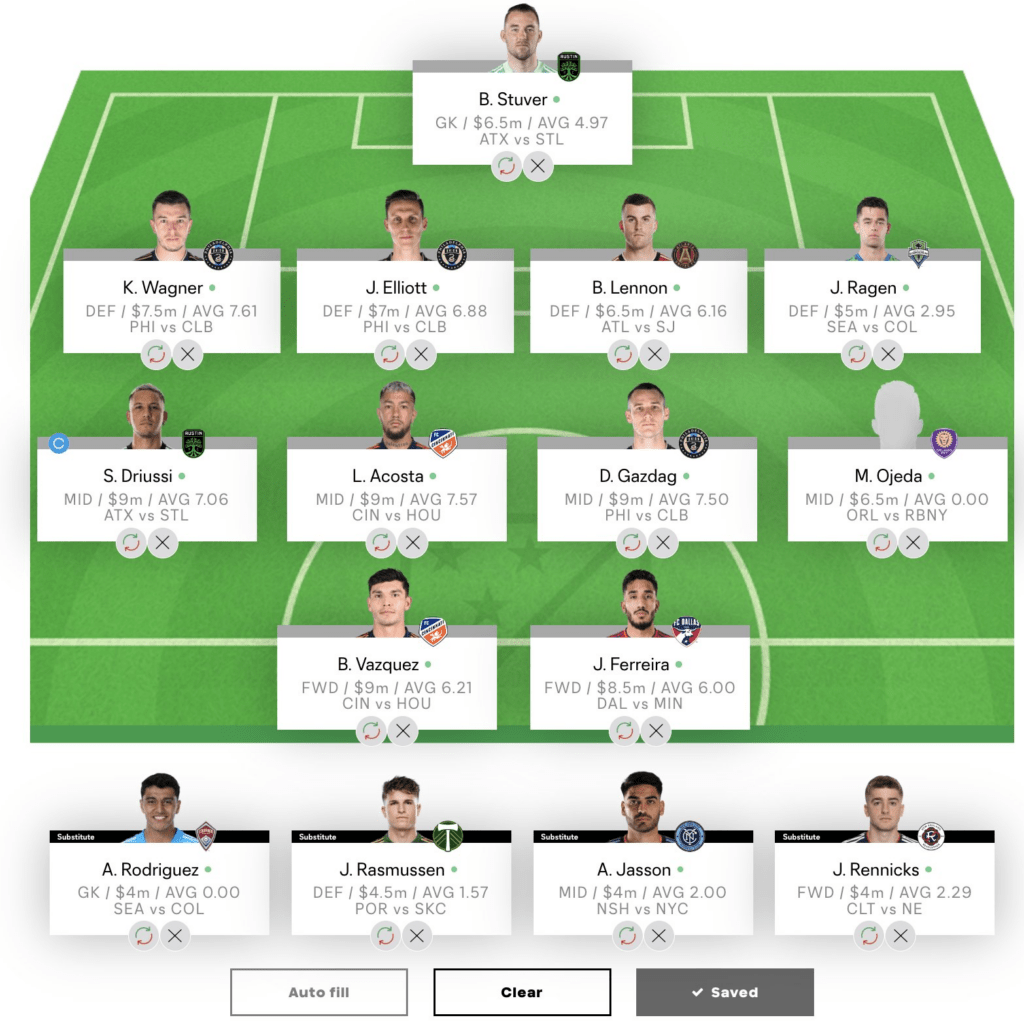 Notes
Brad Stuver, Austin FC ($6.5m): One of the best keepers in MLS last season and hosts newcomers St. Louis city.
Brooks Lennon, Atlanta ($6.5m) : Six assists last season and sometimes plays as right-wing back or winger, with Atlanta favourites for a GW1 victory.
Luciano Acosta, FC Cincinnati ($9m): Top assister in the league in 2022 with 19 assists and a favourable game against Houston.
Sebastián Driussi, Austin($9m): MLS top scorer last season with 25 goals . Austin have the best winning odds.
Captain Sebastián Driussi : Safe pick.
@dmpwright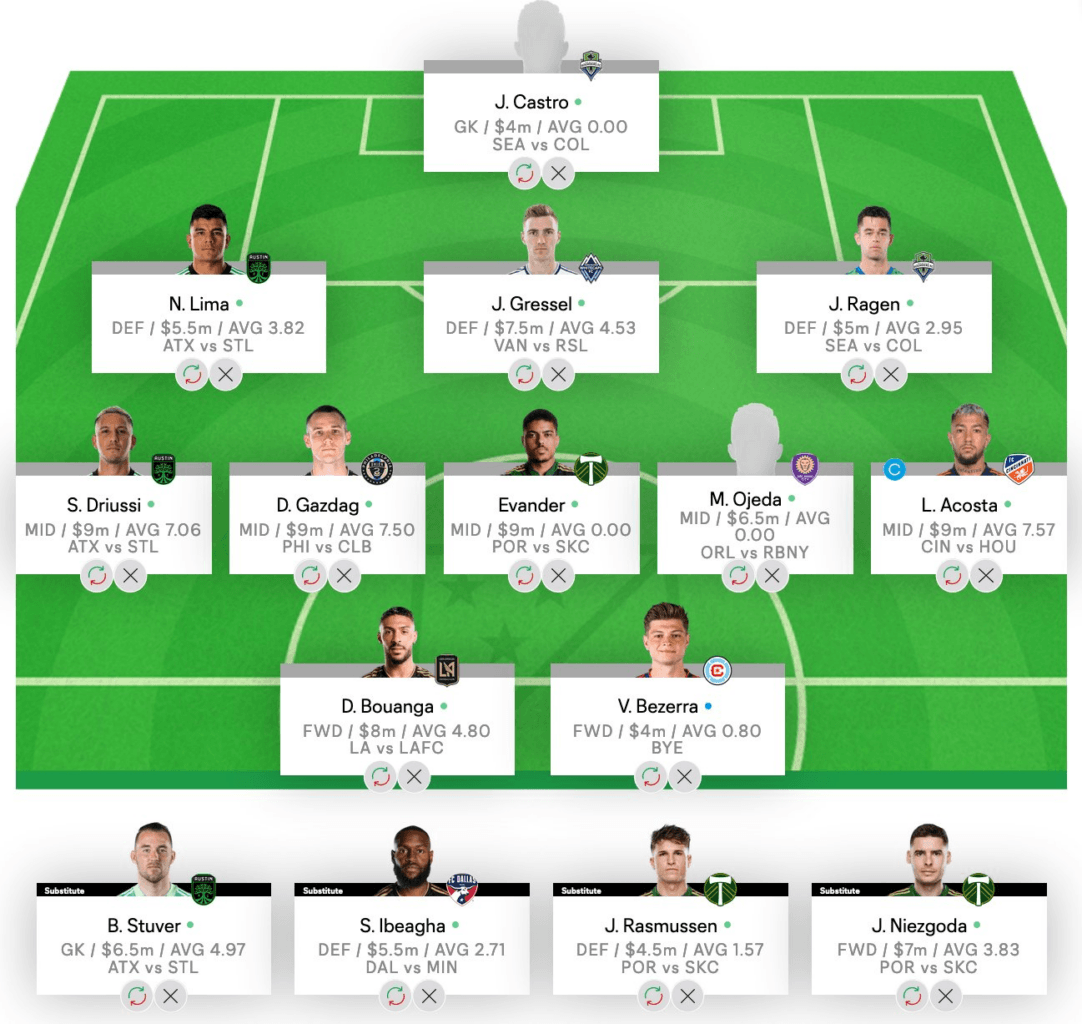 Notes
My team is not fully locked in at this stage.
My Goalkeepers are definitely up for debate. I'd like to run two GK's (ideally one of Stuver or Willis on the front end and Bingham, who looks likely to start for Portland, on the back end). However funds are tight for round 1. For that reason, I may just roll with Stuver or even Bingham if I need the funds elsewhere.
My defence is relatively set. Gressel is OOP (out of position) and playing in midfield for Vancouver, while Ibeagha is a placeholder for the cheapest Dallas starter.
I'd like Wagner (and possibly Barreal, who also plays OOP) but I'm not sure I can justify spending up for two premium defenders this week.
The midfield is also pretty set. Ojeda is a steal at $6.5m; I am also considering Puig (who is a bonus point magnet). If I can find an extra $0.5m from somewhere as El Trafico is often a high-scoring affair.
My captain is likely to be one of Lucho Acosta or Driussi: Driussi has a favourable matchup against MLS debutants St. Louis City, but has less of a floor compared with Lucho Acosta.
My forwards are also up for debate. Chicago have a bye this week, so Bezerra is a scrub for any bench players that do well.
Bouanga also plays in El Trafico and has had a prolific pre-season while Niezgoda is good value at $7.0m, providing he starts.
I'm also considering Swiderski and Jesus Ferreira as things stand.
@Anurag_B_ST4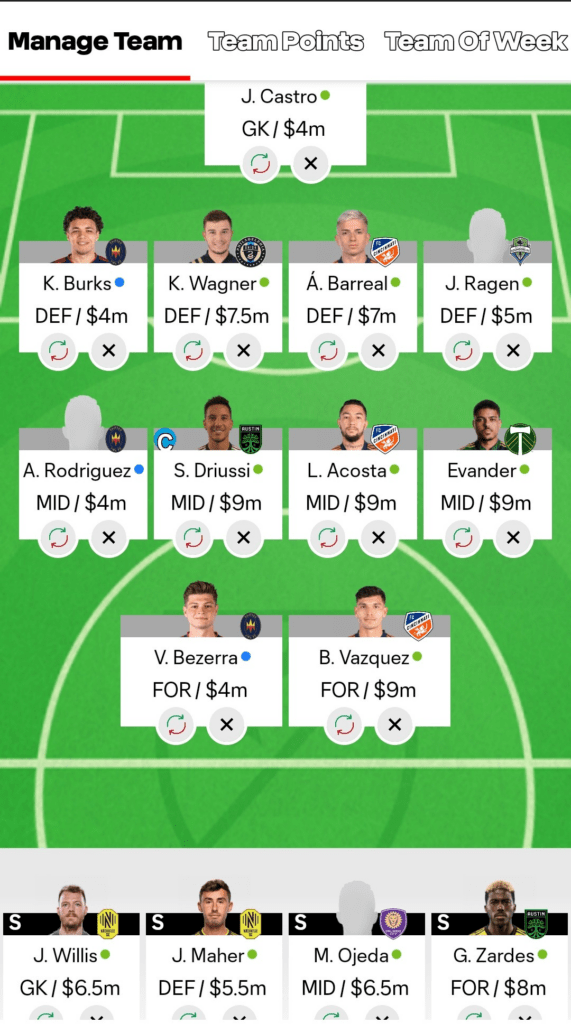 Notes
Willis, Maher – Early kick-off game, Nashville has a decent defence, Willis, one of the more popular GK selections for Week 1. Maher, the defensive partner with Zimmerman, has some defence bps potential.
Wagner – Fixture may not be that "as great" (CLB, may be unpredictable), chalk pick, on all/most set pieces and a very attacking fullback (Led in crosses among defenders).
Ragen – Seattle have a decent chance of a clean sheet. He also has defence BPS potential, pairing with Yemar at Cb (centre-back).
Evander – The big incoming signing by Portland this offseason. He led Europa GS in assists, SKC is missing some of their main defence due to injuries.
Ojeda – A new signing by Orlando this offseason, cheaply priced, bit of a punt, playing on Orlando's wing.
Barreal, Acosta, Vazquez – Triple Up on Cincy, has a favorable fixture, Acosta, the talisman of the team, Barreal, a potential OOP option, LWB/RW. Vazquez, his striker partner Brenner may not be available, so goals reliance will fall on him.
Driussi, Zardes – Plays expansion team, STL, Driussi the heart of Austin Attack, may have overperformed last season but could he repeat or get close to those numbers? Zardes, him and Driussi can make a deadly 1-2. Zardes has had some incredible seasons before. He did not have the creativity behind him in previous seasons but with Driussi and Fagundez behind him we could we see the Zardes we have seen before?
With the unlimited transfers and rolling lockout, keeping an eye on the line-ups is key. This is just in case any other players are playing OOP or a bargain player option comes up or some other players show up as a potential option.
Utilizing the Switcheroo strategy in four positions, GK and three outfield, so have left some money in the bank for this strategy.
@Mahoney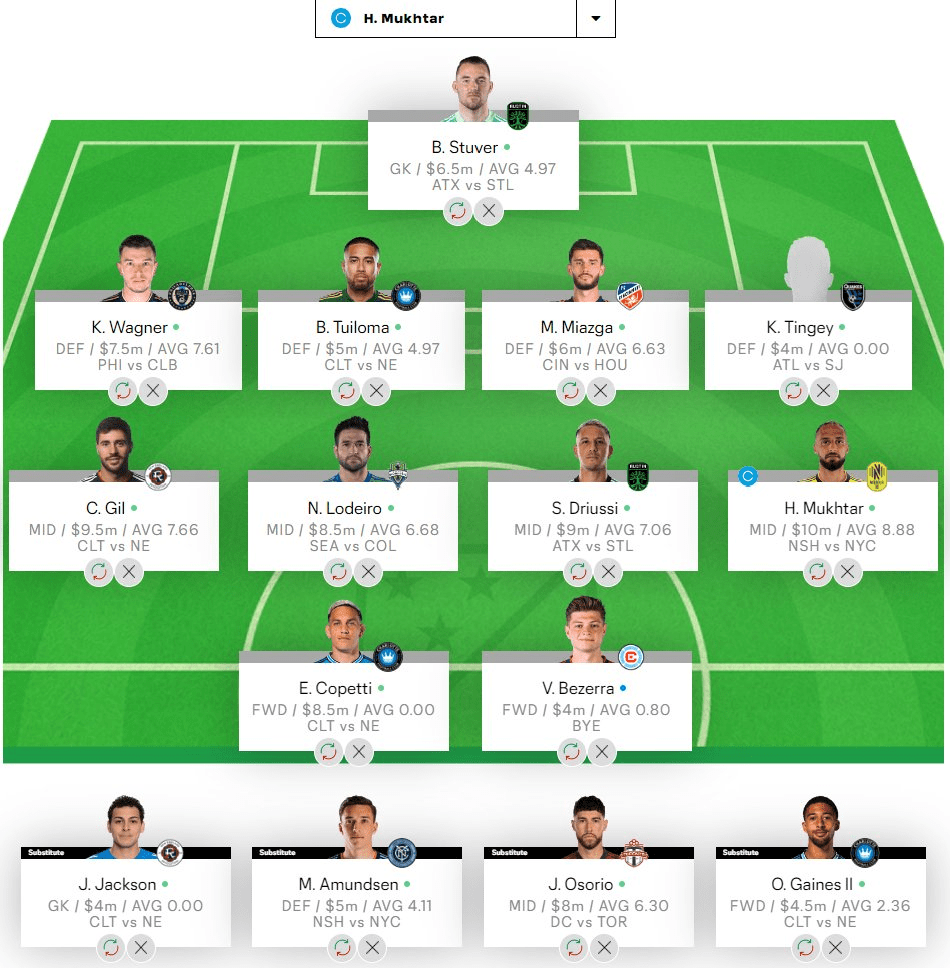 Notes
Quality at the back with Stuver and Wagner.
Miagza and Tuiloma offer nice value on points/$ – Studs across the middle – Looking for Copetti to be involved and CLTFC to score more this season.
Solid bench options for the money with Gaines as the flier.
@_FutboIOscar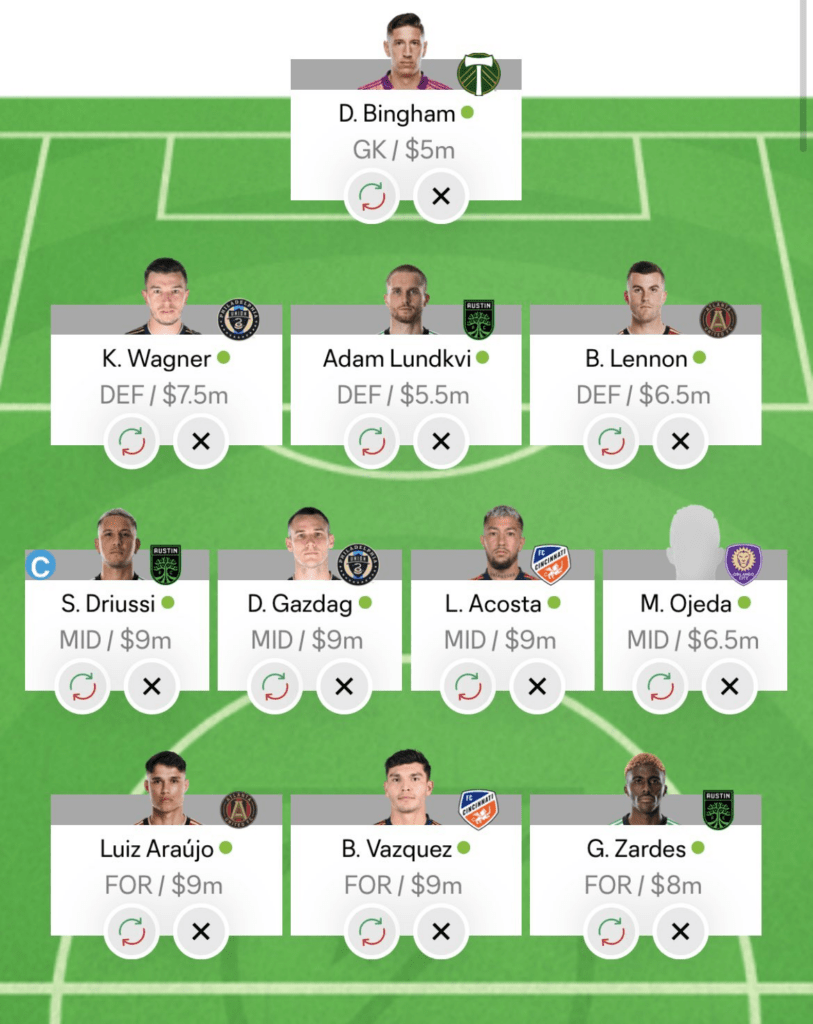 Notes
I am pretty set with my team.
Triple Austin as they have favourable fixtures to start with.
Double ups on Atlanta, Cincinnati and Philadelphia with good fixtures.
Contemplating going with a 3-5-2 formation instead of 3-4-3.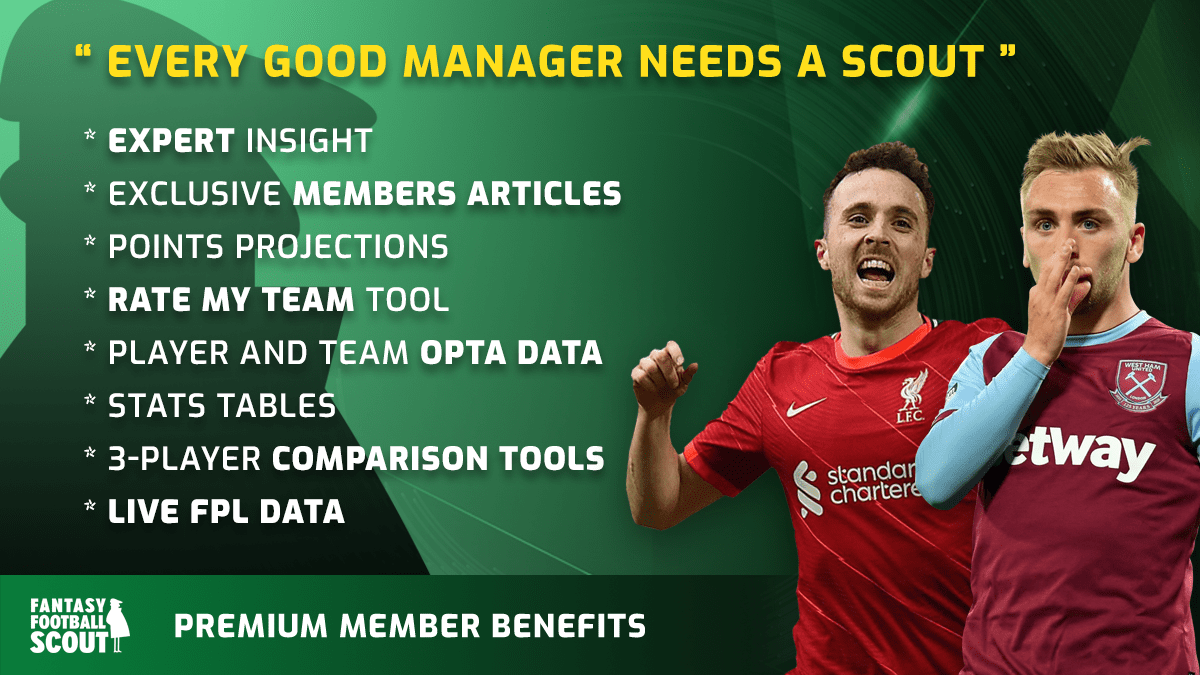 ---
We cover a wide range of different fantasy games, check out of the different articles we provide right here.