Gold League experience: Community Draft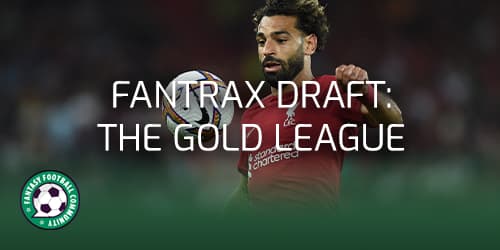 Will from Fantasy Football 92 is back with his top tips for Fantrax draft. Every week he will be talking us through how his draft season is going, what is happening in his league and his plans.This week he talks about his Gold League experience.
Seven years of drafting, a "Draft We Must" league title, a "International Genie League" title and (most importantl) a Draft Community League Champions Cup title…it's not often you get to brag about your Fantasy Football achievements so I'm grabbing this opportunity with both hands!
Why the (not so) humble brag? Well, my Togga/Fantrax experience has inadvertantly landed me with my biggest and toughest task of all. Qualification to the Draft Community Gold League and (in partnership with the Fantasy Football Community) I am tasked with writing about my experience. This is unarguably the toughest league on Twitter so I could genuinely finish dead last…hopefully not eh?
After last week's overwhelming success, I took on @SthSuffolkAnalogue and was reminded just how cruel this league will be at times this season.
Yep, pretty comprehensive!
I'm heading into Gameweek 3 with a 1-1 record thanks to a resounding loss to a strong @SthSfflkA team this week. I came into the week feeling like I had every chance of claiming an unexpected 2-0 record. This was thanks to better matchups for some of my better players. In truth, it was almost all over before the 3pm matches. This was mostly thanks to a dismal Coutinho display and the fact that Ollie Watkins finally seems to be showing up. I was down 34.75 – 5 with only one player in hand. Not looking good.
The blows kept coming as Ilkay Gundogan opened the scoring for City in their Bournemouth rout. When I saw Gundo was starting I knew I was in trouble to be fair. At the same time Patrick Bamford limped out of the Leeds match with just 27 minutes on the clock.
3pm Matches
I'm currently on holiday in Rhodes, meaning that I was blessed to have every live Premier League game available to watch. Unfortunately, in this case it meant I just had more angles to watch my team get crushed. Should've been there a week earlier.
Dan Burn continues to be a decent streaming option and he handily cancelled out Kieran Trippier's clean sheet for my opponent. While Jack Harrison is the star of the show at the moment, grabbing himself another clean sheet from another four key passes. He's definitely back to the form of two seasons ago and is probably the pick of my draft so far. He's going nowhere fast, I've already fended off a couple of trade offers for him.
Despite the uphill battle, my team were hanging in there and I managed to get the deficit to within 40 points. A deficit that felt doable with Mo Salah still to play on Monday night. That is until Aaron Ramsdale let James Maddison's strike squirm under him. Game. Over.
Saturday evening
David De Gea then did the same (but a whole lot worse) for Josh Da Silva in the late kick off. But by that time I was already back by the pool, sipping mojitos while listening to a sub-standard but well-intended/received 80s tribute band. Admittedly, I did periodically pop back into the bar to watch the Manchester United demolition unfold. The Schadenfruede on offer as a Liverpool fan was too much to resist.
Monday night
Salah turned it on in the Monday game to be fair to him, producing a whopping 19 ghost points but my bed had been made 48 hours previously. Hats off to my opponent South Suffolk Analogue who now sits top of the table with a perfect record and an impressive points average. A difficult start to my Gold League experience.
Next week I take on @wrigavin, another opponent I have faced plenty of times. I will say this 38 times this season but this will be a really tough one!
Waivers and Trades
Much more to report on this week, as there always is following a loss!
Firstly, I've splashed out on a new signing. Spending 60 of my 100 FAAB dollars on new Nottingham Forest man Emmanuel Dennis! Time will tell whether it's a well placed gamble. However, I wanted a forward and Dennis is the high upsde guy I went for. The Nigerian scored 10 and assisted a further six for a woeful Watford side last year. I expect him to take it up a notch in a team that has shown some early solidity so far. He will have to compete for his place but surely that will only see him strive to perform better. I firmly believe that you need at least two decent forwards in this league. You can't be running a 4-5-1/5-4-1 formation and expect to score the big numbers. Streaming forwards is very difficult this season too.
My first trade has also gone through, acquiring another Forest forward in Brennan Johnson, giving away Villa forward Leon Bailey. Johnson was someone I liked the look of pre-season but he's struggled over the first two weeks. He's a real talent though and I expect he will pull through.
With the Ings/Watkins partnership coming together in Gameweek 2, Bailey's game time looks limited. Therefore, I was pleased to get shot of him before I was forced to drop him on to the waiver wire. I have a lot of irons in the fire as far as trades go so watch this space. I'm known as a bit of a wheeler dealer and expect to be somewhere round the 20 mark by the end of this season. Whatever happens, it certainly won't be dull!
For more on the Draft version of the game click here.