Gameweek 15 FPL community reactions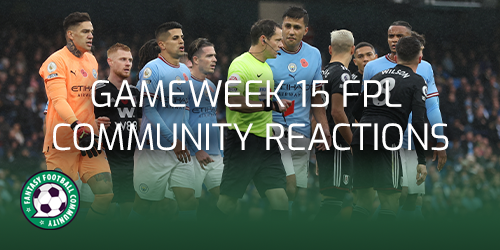 We take a look at some of the best Gameweek 15 community reactions from FPL Twitter as the round plays out. With both positive and negative reactions to some of the key events including FPL assets.
Reactions in the FPL Gameweek 15 community can help other FPL managers by highlighting things like player minutes, player form, team form and anything else that could have implications within our fantasy teams.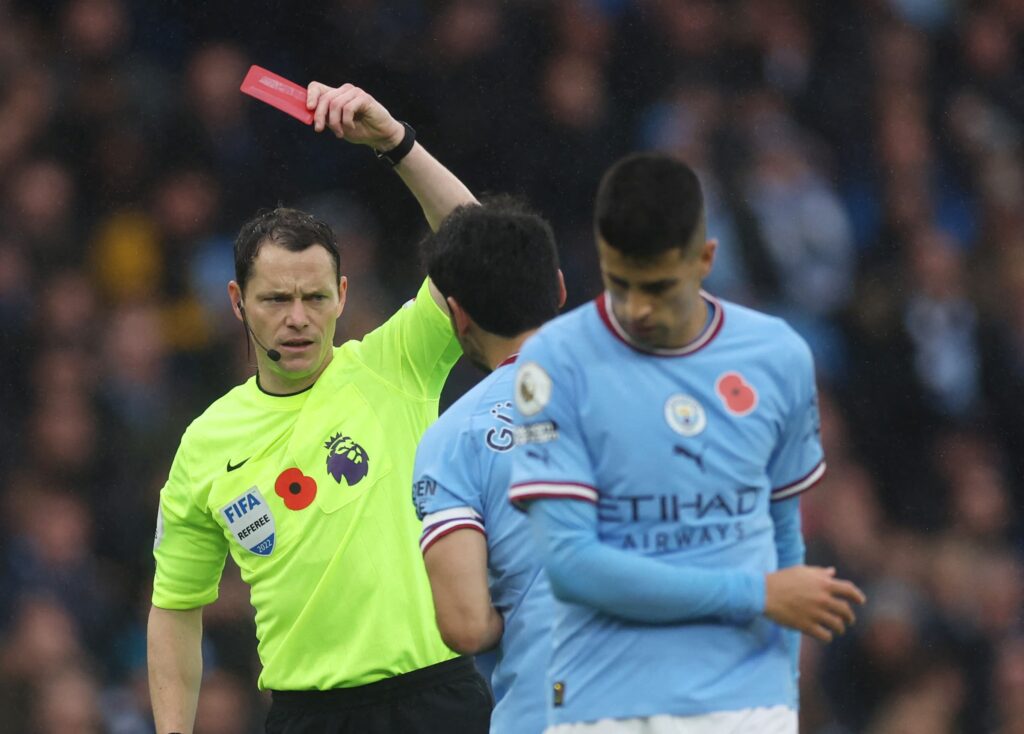 @FPLReaction
Louis picked out one of the most controversial moments in the Gameweek. Man City defender Joao Cancelo ((£7.4m) has been one of the most consistent defenders in FPL this season. His 69 points have made him the second highest scoring player in his position.
It was a week to forget for the Portuguese defender. Joao Cancelo played just 25 minutes before he received his red card for his foul in the box. That foul then led to an equaliser from budget enabler and Fulham midfielder Andreas Pereira (£4.6m) whom many would have left on the bench.
@LetsTalk_FPL
Many within the FPL community felt what Andy was going through. Man City striker Erling Haaland (£12.1m) was heavily rumoured to be sat on the bench for their Gameweek 15 match against Fulham. The forward came on for just 26 minutes and ended up scoring the winner from the penalty spot.
Haaland still sits as the most owned and highest scoring player in the game. His relentlessly consistent form and high ownership is enough to scare any manager who backs against him and that was the case this week as many found alternative captaincy options due to the rumours.
@FF_EyeTest
Aritravo highlighted another key moment in the Gameweek. Due to the rumours of Haaland not starting, many FPL players chose to back the ever consistent, Man City midfielder Kevin De Bruyne (£12.5m) for the captaincy.
Kevin De Bruyne scraped an assist in Man City's edgy 2-1 victory over Fulham. In addition, the Belgian also picked up two bonus points. This meant that the midfielder hit 14 points for those that gave him the armband.
@FPLHints
Ash needed a return from a player that has returned just four times this season. Although that was the case, Bournemouth midfielder Philip Billing (£5.3m) came good. The budget enabler managed an impressive seven points for his goal.
Billing's great FPL performance was tailed by teammate and striker Dominic Solanke (£5.7m). Solanke's six points came from his goal. Another successful Bournemouth asset was midfielder Marcus Tavernier (£4.9m). He managed a huge 16 points for his goal, two assists and bonus.
@OfficialFPL
Brighton midfielder Leandro Trossard (£7m) has been a top target in the community as of late. The Belgian managed to score against both Chelsea and Man City in recent Gameweeks. This has led to a big rise in his ownership.
It was another successful Gameweek for Leandro Trossard. The midfielder returned five points for his assist against Wolves. Trossard has a nice fixture against Aston Villa next up. This could lead to even more managers bringing the in-form attacker in.
---
What did the top 10k ranked managers do in Gameweek 15? You can check that out right here.