Gameweek 13 best wildcard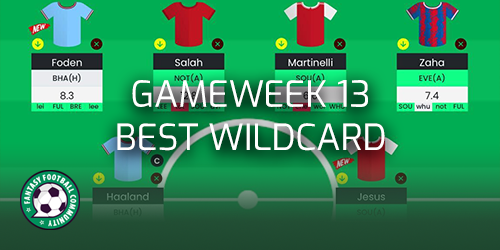 Looking at the Gameweek 13 best wildcard team. Using the Fantasy Football Scout season ticker, we can see which teams have the best run of fixtures. This can then aid FPL managers in picking out some of the best assets for the run ahead.
The wildcard gives managers the opportunity to change their entire team for any reason. FPL have given the community two wildcards to use in each half of the season. In addition, unlike any other season, FPL have also provided managers with unlimited transfers during the World Cup.
Fixture ticker
We can see from the ticker below, the teams at the top have the easiest fixtures, whilst the teams at the bottom have the toughest fixtures, up until Gameweek 16.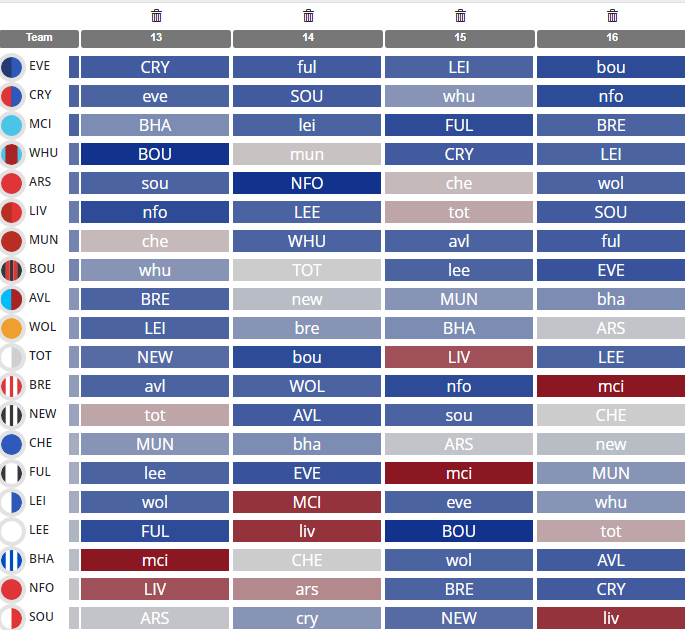 Who has the best fixtures?
Everton, Crystal Palace, Man City, West Ham and Arsenal are amonsgt the top five teams for having the easiest fixtures. This could indicate investing in these teams may be beneficial on the wildcard.
Who has the worst fixtures?
We can see that Southampton, Nottingham Forest, Brighton, Leeds and Leicester are amongst the bottom five teams for having the toughest fixtures. This could indicate avoiding those teams on a wildcard could be beneficial.
The best Wildcard team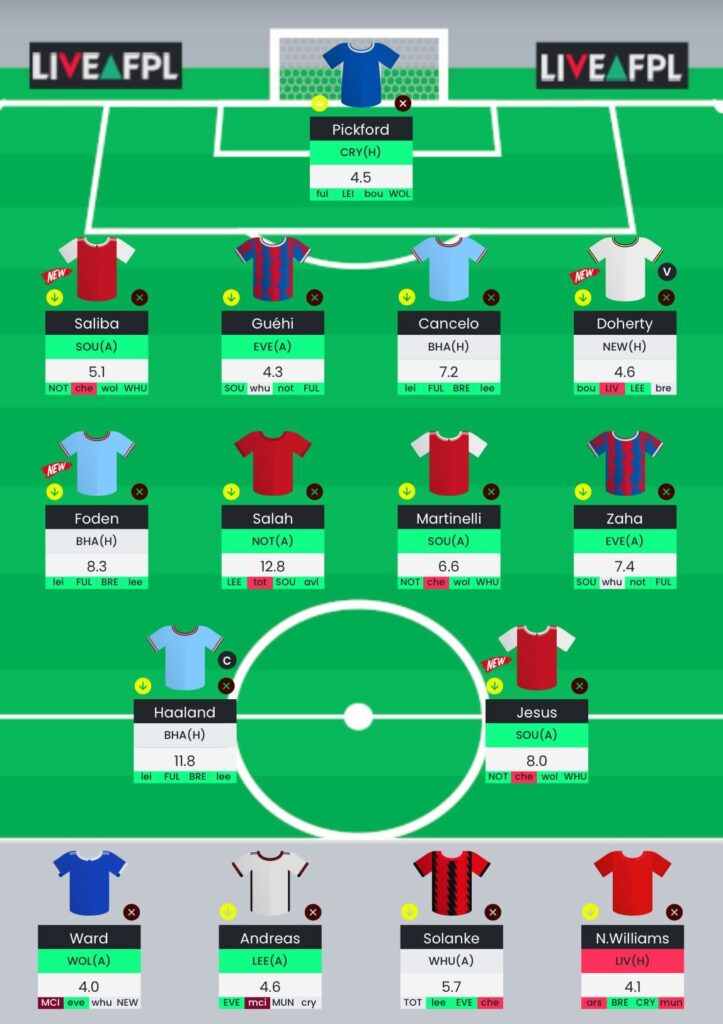 Goalkeepers
Everton rank first on the fixture ticker for having the easiest fixtures up until the World Cup. That could indicate goalkeeper Jordan Pickford (£4.5m) as a worthy selection. Everton concede plenty of shots in the box and this could increase the likelihood of potential save points. Pickford is backed up Leicester goalkeeper Danny Ward (£4.1m).
Defenders
Arsenal defender William Saliba (£5.1m) currently ranks as the third highest scoring defender in FPL. Not only is the clean sheet potential there but Saliba has already proven he has plenty of attacking threat so far. Crystal Palace have some great fixtures ahead and for that reason it could be worth including Marc Guehi (£4.4m). Guehi comes in at a good enabling price and also has clean sheet potential moving forward.
Man City's Joao Cancelo (£7.3m) could be seen as a must moving forward. The Portuguese international is the highest scoring defender in FPL. He also plays for one of the best defensive units in the league, as well as having fantastic attacking potential. Tottenham use a wing back system which could indicate that their wing backs could have high attacking potential. Excluding their Liverpool match they also have great fixtures. It could be worth investing in the cheap Matt Doherty (£4.6m). The defender has now collected back-to-back returns in his last two matches. With increasing minutes and returns, Doherty could be a great pick.
Nottingham wing back Neco Williams (£4.1m) will likely stay as the third substitute on the bench up until Gameweek 16.
Midfielders
Man City rank third on the fixture ticker. In addition, the league favourites are sustaining some of the best offensive stats in the league. Because of this, it could be wise to invest in the highest scoring midfielder in the game, Phil Foden (£8.3m). Liverpool man Mohamed Salah (£12.8m) has failed to hit high standards set by other premiums in FPL so far. However, with four goals in his last two matches, there's clear signs he could eventually become a must have again.
Arsenal have also sustained some of the best attacking stats in the league. Gabriel Martinelli (£6.7m) has been a huge contributor towards that. Offering brilliant value for money and outscoring most of his more expensive counter parts, he could be an easy inclusion. We have already seen that Crystal Palace have great fixtures ahead. For that reason, it could be worth furthering our investment in them by including an attacker. Wilfried Zaha (£7.5m) has now hit two returns in his last three matches. What is even more appealing is that he is also the team's penalty taker.
Fulham's Andreas Pereira (£4.6m) will be used if necessary. The midfielder has an amazing price-tag. Combined with his attacking threat, he could be seen as one of the best bench options of the season.
Forwards
Man City and Arsenal have two of the best attacks in the league. For that reason, it could be worth doubling up on both of their attacks. The games most owned and highest scoring player in FPL Erling Haaland (£12.1m) simply has to make our wildcard teams. It could also be worth including 60% owned Gabriel Jesus. The Brazilian has already racked up six returns this season, including a massive 19-point haul.
Bournemouth man Dominic Solanke (£5.8m) could be a great addition to the bench. The penalty taker has bagged back-to-back returns in his last two matches. If the fixture is right, then he could easily replace someone in the starting line-up.
---
Are you using the free hit in Gameweek 13? Check out our best free hit team here.